Spicy Mint Pulao: a delicious and flavorful Indian rice dish using fresh mint, peas, spices, and peanuts. Perfect for light /work lunch or side.
We are almost in the middle of the week and can't wait for the long weekend to start here in USA (Labor Day).
I so wanted to post this one-pot recipe for you'll on Monday but just couldn't because of some end minute hoopla 😉 So presenting the very easy and delicious Spicy Mint Pulao or Pilaf.
In our house, we always keep heaps of mint in the fridge…
I mean, seriously, sometimes I feel like a mint hoarder but it's just so useful and goes into so many things
(you can add them in water for a refreshing minty flavor or face packs or just crushed mint on top of salads or sandwiches, meats, soooo many uses).
This Spicy Mint Pulao recipe is very easy and kind of addicting, as mint with peanuts and chilies (added in the mix) gives it such a refreshing flavor.
You just need a deep dish pan with lid or pressure cooker (with cooker – its done in about 5 minutes).
It's a great recipe for Vegans too.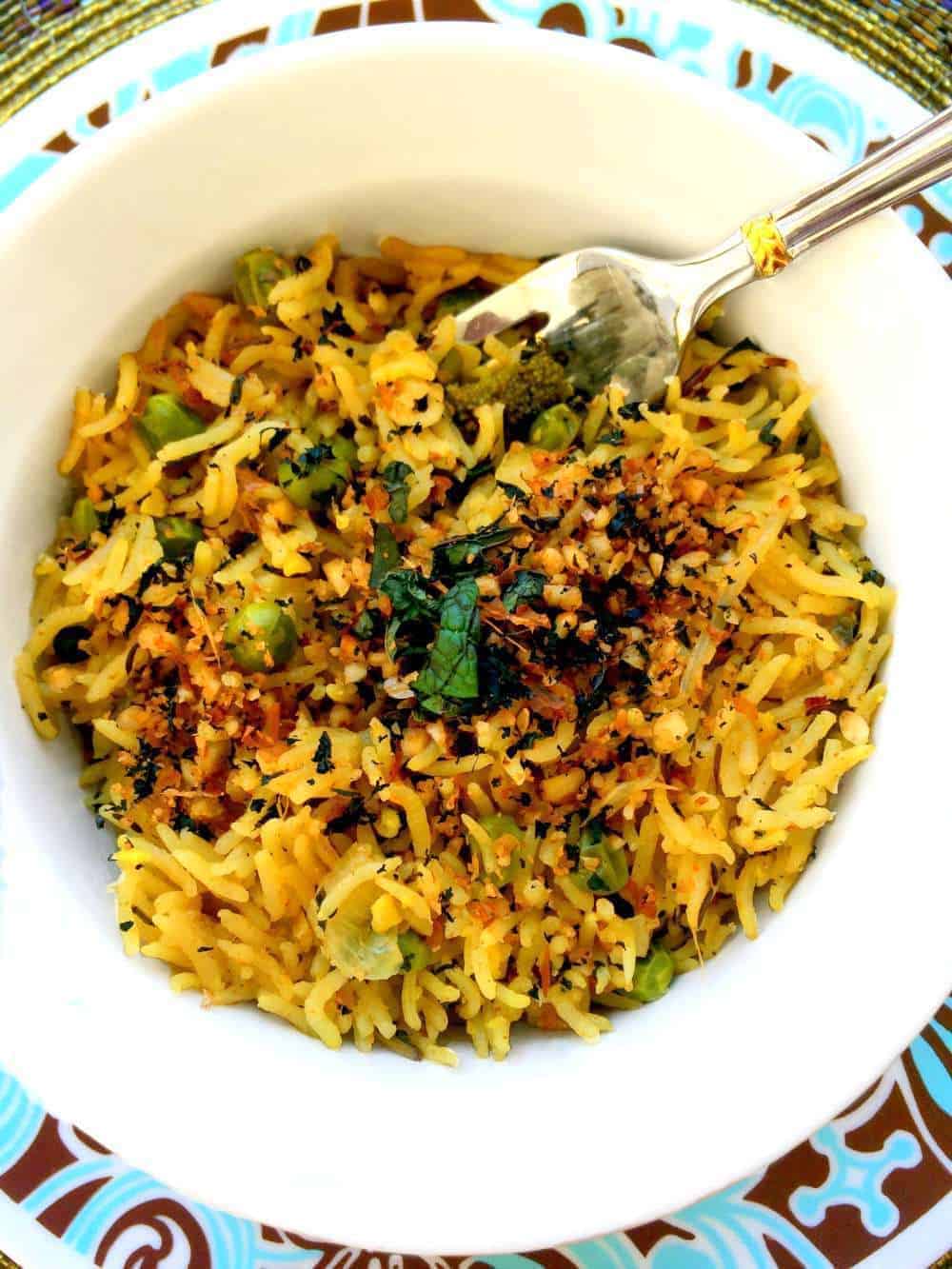 You can even make this Spicy Mint Pulao in a large batch and keep it in the fridge for reuse for up to 2 more days.
This infact, makes a great work lunch as it has all your grains and veggies combination that makes it filling and healthy.
Definitely, give it a try and let me know how it turned out.
NOTE::
If you want to share pictures of any of my recipes that you tried, please email me or share them on Twitter or Instagram with #easycookingwithmolly.
I would love to see them and would share my favorite ones on my social media too – Hugs, Molly
---
As always, I Looove when you try my recipes and send me pictures & feedback.
You can tag my recipes tried by you using #easycookingwithmolly on any of the social media below:
Connect with Me Here: Facebook / Pinterest / Instagram / Twitter / Subscribe to our Newsletter / Google+
Spicy Mint Pulao: a delicious and flavorful Indian rice dish using fresh mint, peas, spices, and peanuts. Perfect for light /work lunch or side.
Ingredients
Tools:
1 Deep Pan with Lid or Pressure Cooker
Hand Blender or Any Grinder
For Pulao:
1 cup Basmati Rice - (Soaked for 1/2 an hour and then drain the water)
1 Large Onion - Thinly sliced
1/2 cup Green Peas*
1/4 cup Broccoli - chopped
3 Tbsp Olive Oil (Any neutral tasting oil)
1.5 Cups Water
For Mint Mix:
1/2 Cup Mint Leaves**
1 Green Chili - Deseeded
1/2 Inch Ginger
1/4 Cup Peanuts - Roasted
Whole Spice Mix:
1 Bay Leaf
2 Cloves
2 Green Cardamom
1/4 Tsp Cumin Seeds
1 small Cinnamon Stick
1/2 Tsp Salt
1/2 Tsp Red Chili Powder
1 Tsp Garam Masala
Instructions


In a pan or pressure cooker, add oil, all whole spices and sauté.
Add onions and sauté till onions are slightly cooked (about 2 minutes).
Now add green veggies and sauté for another 2 minutes.
Add mint mixture, all remaining spices, rice and evenly sauté everything together for 2 more minutes.
Now add water: Follow as per Utensil
A) If using pressure cooker, then cover the lid and steam till 3 whistle and turn off the heat.
B) if using pan, cover with lid, lower the heat and let it cook for 15 minutes.
Notes
* Green Peas - Can be fresh or frozen
** Mint - Prefer Fresh mint leaves
Nutrition Information:
Yield:
4
Serving Size:
1
Amount Per Serving:
Calories:

190
Total Fat:

24g
Saturated Fat:

5g
Trans Fat:

0g
Unsaturated Fat:

16g
Cholesterol:

25mg
Sodium:

300mg
Carbohydrates:

30g
Fiber:

4g
Sugar:

5g
Protein:

14g