'Savory Potato Pancakes (Breakfast)' are scrumptious, quick and oh so addicting. Made within 10 minutes using few ingredients and it's totally vegetarian or vegan.
Hi Everyone and this is my special healthy recipe for you'll on today's Meatless Monday segment.
To me breakfast recipes are the most challenging as we definitely love to have variety every few days in our menu.
To top it all, keep it healthy and quick (as no matter how early you get up, you hardly have time for anything in the morning – Phew!!!
Maybe it's the phones that keep us on a constant itch to check for latest updates on everything 😉
I literally love this recipe as it can be customized to everybody's taste in your family or friends.
It can be made soft, crispy, extra browned or you can change the vegetable option and add something else.
But trust me with potato, it's a total hit with everyone especially with young ones.
Here's a version of an extra crisp and slightly browned pancake that was devoured within a minute with some extra ketchup 🙂
As usual, if you try any of my recipes, I would love to see a glimpse or share them with me on any of my social media or use the hashtag #easycookingwithmolly
Tried Our Recipe – AWESOME!!!
Now Quickly SNAP A PICTURE & TAG :
#easycookingwithmolly + @easycookingwithmolly on Instagram –>
Connect with Me Here: Facebook / Pinterest / Instagram
:: You May Also Like ::
Yield: 7
Savory Potato Pancakes (Breakfast)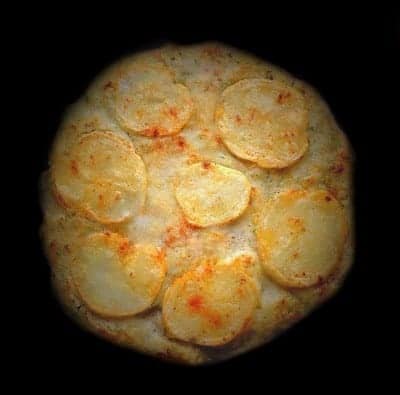 Large Bowl – For mixing the ingredients together. Large Non-Stick Flat Pan Ladle or Large Spoon – To pour the batter Flat Spatula – For flipping. Large Serving Plate
Ingredients
1/2 Cup Moong Dal Flour
1/4 Cup Rice Flour
1/4 Cup Whole Wheat Flour
1/2 Tsp Baking Powder
1/4 Tsp Baking Soda
2 Medium Boiled Potato – thinly chopped
1 Tbsp Grated Green Chili – optional
1/2 Cup Water
3 Tbsp Canola Oil – For making pancakes.
Seasoning:
1/4 Tsp Black Pepper Powder
1/2 Tsp Red Chili Powder (Optional)
1 Tsp Salt – As per taste
Instructions
In a large bowl, mix all the flours, baking powder, soda, green chilies and seasoning together.
Add water and make a thick smooth batter.
Heat the nonstick for a minute with 1/2 tsp of oil.
Pour 1/2 ladle of batter on the nonstick and swirl the batter (expand) using the ladle to make circular pancakes..
Add 4-5 slicked potatoes over it and let it cook on medium heat for about a minute.
Flip the pancake gently on the other side and let it cook for another minute (a minute for lightly cooked and two minutes for crispy)
Transfer to a serving dish and follow the steps above to make all the pancakes.
Serve Hot with choice of ketchup/chutney or enjoy them as is.
Notes
Moong Dal Flour – you can use any moong dal flour (green, yellow, any).
Nutrition Information:
Yield:
7
Serving Size:
2
Amount Per Serving:
Calories:

458
Total Fat:

10g
Saturated Fat:

1g
Trans Fat:

0g
Unsaturated Fat:

9g
Cholesterol:

4mg
Sodium:

609mg
Carbohydrates:

78g
Fiber:

8g
Sugar:

2g
Protein:

14g