Meatless Monday: Kale and Oats Indian Flatbread: delicious and easy Indian flatbread made using kale and oats flour.
It's super healthy and refreshing change from everyday bread/sides.
I think I'm in love with Kale 😉 … .It's one vegetable that I can't get enough, it tastes great raw or cooked and with so many benefits…I can say it's one real healthy affair.
Here are some details on: Kale Benefits . I'm sure many of you would have tried kale in smoothie, salads, toast, eggs and the list is endless.
So I wanted to give you one more option and that is Kale and Oats Indian Flatbread.
This Meatless Monday I'm sharing an easy recipe combining 'Kale and Oats' with some added ingredients to take Indian flatbread to a super healthy level.
If you are new to flatbread/paratha, they are traditional Indian flatbread that is usually triangular in shape, cooked over a pan with little oil.
They can be made plain/sweet/savory as per choice.
For this particular recipe, I'm using turmeric and flaxseed as I love the flavor of both in this combination however you can omit this step as per choice (it won't effect the ratio of any other ingredients).
I'm adding a little bit of whole wheat flour to the dough to give it a lighter soft or I can say melt in your mouth texture.
They can be eaten plain or you can serve them with hot pickle (just the way I do).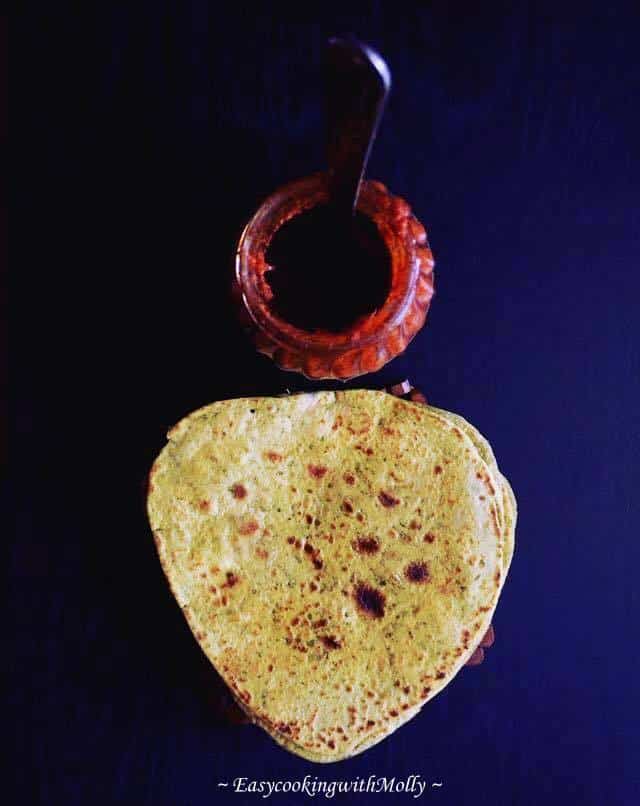 These Kale and Oats Indian Flatbread can even be stored for upto 2 days in the fridge.
And I feel it's a great way of using any extra raw kale that you are not able to consume right away and fear might go wasted.
If Kale is not available, you can use spinach or any other leafy vegetable of choice as a replacement.
I'm sharing this recipe on Meat free Mondays…
Yield: 10 Flatbreads
Meatless Monday: Kale and Oats Indian Flatbread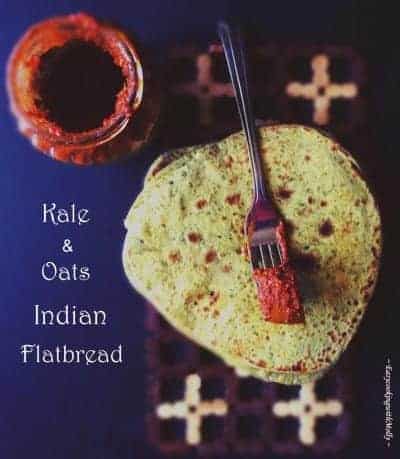 Delicious, healthy Indian flatbread made using kale and oats flour. It's super healthy and refreshing change from everyday bread/sides.
Ingredients
2 Cups Plain Oats - i'm using quick oats
1/2 Cup Whole Wheat Flour
1/2 Cup Kale (I'm using fresh, you may use frozen too)
1 Tsp Shredded Ginger (optional)
1 Medium Green Chili - Deseeded
2 Tbsp Flax Seeds Powder (optional)
1 Tsp Cumin Seeds
1 Tsp Salt
1/4 Flour (wheat or any other) - for making flatbread
Wet Ingredients for making Dough:
2 Tbsp Olive Oil
1/2 Cup Water
Instructions
! Make the Dough:
In a food processor, add oats and pulse to form a fine smooth powder/flour consistency (Can take upto 2-3 minutes depending on the food processor)
Now, add kale in the processor and pulse to form a smooth green mixture.
Add all the ingredients except water and pulse to mix everything evenly.
Add 1/4 cup water and mix everything to mix and start forming a dough.
Add rest of the water and form a smooth dough.
Turn off the processor and scoop the dough on a flat surface.
Knead the dough for a minute to remove any cracks or uneven texture.
! Make the Kale and Oats Flatbread:
Divide the dough into 12-14 equal circular balls.
Place a nonstick pan over medium heat to make flatbread.
Sprinkle some flour on a flat surface and roll the dough using a rolling pin make desired shape of flatbread (Could be round/square/triangle/anything)
Now place the shard flatbread on hot nonstick pan and let cook for a minute.
Turn the side and apply 1/4 tsp oil on the surface facing upwards.
Turn the oily side down and cook.
Apply 1/4 tsp oil on the side facing up and turn.
Cook both the sides evenly.
Follow the above procedure till all flatbreads are made.
Serve hot with choice of veggie or any side.
Nutrition Information
Yield
6
Serving Size
2
Amount Per Serving
Calories

369
Total Fat

14g
Saturated Fat

3g
Trans Fat

0g
Unsaturated Fat

9g
Cholesterol

17mg
Sodium

200mg
Carbohydrates

47g
Fiber

6g
Sugar

2g
Protein

14g