Dhaba Style Masala Chicken Taco is an Indian version of Taco filled with spicy sauteed chicken rolled in a homemade wheat tortilla.
I know many of you would go 'Whaaaa'? For me, it was quite a surprising name for me too but yes, that's what everyone named it in our family….
Now that the name has taken your fancy, please take a seat and I'll let you know 'When & How' they happened.
During my initial office days back in Gurgaon near New Delhi, w used to pass (We – Me and 4 other office colleagues)
Several Dhaba's (street style restaurant) during our work route and many times, we used to see cars lined up for food but we never got a chance to stop until…
.when we reached office and there was a power outage with the office generator not working properly as well – Yipeeee!!!!
(Yes, outages were common and used to happen back then for a couple of hours every day).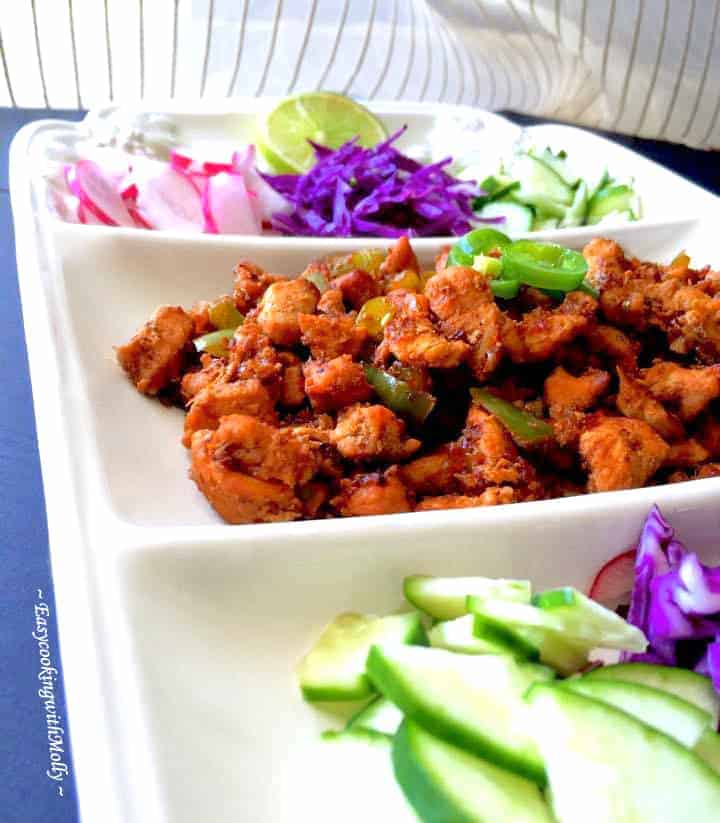 So, without wasting much time, OFF we go with a unanimous decision to one of the local dhaba and ordered a couple of local curry dishes along with dhaba style chicken – which my friends, is a thinly chopped chicken with or without vegetable cooked on a humongous hot tava (griddle).
The technique is to put everything on hot tava and use sharp-edged spatula's to chop cook the dish (it literally felt like hands doing break-dance to the tak–tak–tak sound of spatula hitting the tava) .
Within 10 minutes the recipe was made and served to us along with rice. The dish tasted absolutely delicious and spicy and more than anything we were mesmerized by the way it was cooked.
Also, most of the dhaba food cooked in India is cooked on request, fast, easy and using very basic ingredients (not very expensive) hence the food tastes absolutely divine.
So, I made the same dhaba chicken masala and served them over whole wheat Indian roti/naan along with fresh sliced veggies and some freshly squeezed lime – The Recipe Turned out to be a HIT!
Although, I've modified the recipe a little making it less oily and more home kitchen-friendly (void the humongous tava and sharp-edged spatula to chop chop).
I'm using bite-sized chopped chicken in a skillet or you can use any heavy bottom pan, to give it a crispy texture and make it quick.
In most of the dhaba's they use a lot of ketchup and instant sauce, hence I'm also using the same along with some chili sauce but you can use diced tomatoes or even tomato paste.
Try this recipe for your next meal/brunch and enjoy the freshness of the veggies with lemony dhaba style chicken and Do let me know 🙂
---
DID YOU TRY MY RECIPE – AWESOME!!!
Now Quickly SNAP A PICTURE & TAG :
#easycookingwithmolly at easycookingwithmolly on Instagram –>
Connect with Me Here: Facebook / Pinterest / Instagram
:: You May Also Like ::
Yield: 10
Dhaba Style Masala Chicken Taco
Dhaba Style Masala Chicken Taco are your delicious Indian Style Taco ready in 15 minutes and served on whole wheat roti or flatbread.
Ingredients
10 Cooked Small Roti
1/2 Lb Boneless Chicken
2 Medium Onions - Thinly Chopped
2 Medium Green Bell-pepper - Chopped into bite-size
1 Tsp Grated Ginger
2 Tbsp Tomato Ketchup
1 Tsp Red Chili Sauce - I'm using sambal
1 Tsp Lemon Juice
1 Medium Jalapeño - Sliced
2 Tbsp Oil - I'm using vegetable oil, you can use any light to medium oil
Spices:
1 Tsp Cumin Powder
1 Tsp Coriander Powder
1 Tsp Garam Masala
To Be Served On Side: (Optional)
1/2 Cup Red Radish - Thinly Sliced
1/2 Cup Cucumber - Thinly Sliced
1/2 Cup Red Cabbage - Thinly Sliced
1 Lime - Thinly Sliced
Instructions
Heat 2 tbsp oil in a skillet on medium-high flame.
Add onion and sauté for 2 minutes on medium heat (Or till onions turn golden)
Now, add ginger, chicken, evenly sauté and cook covered for 2 minutes on low heat.
Remove the cover, sauté the chicken evenly, add the spices and cook covered for 2 minutes (or till chicken is evenly cooked).
Once the chicken is evenly cooked, remove the cover and sauté on low heat.
Add, ketchup, chili sauce and sauté everything together for 2 minutes. (This will brown the chicken nicely and it absorbs the ketchup bs sauce).
Once everything is cooked evenly, add lemon juice and turn off the heat.
Take 1 Tortilla/Roti/Naan and add 2 tbsp of cooked chicken mince over it (in the center).
Add the chopped veggies, jalapeño and sour cream on top.
Serve open-faced or rolled (as per choice).
Notes
Roti - I'm using Wholewheat Roti.
Lemon Juice - I'm using fresh, you may use store-bought too.
Nutrition Information:
Yield:
5
Serving Size:
3
Amount Per Serving:
Calories:

401
Total Fat:

20g
Saturated Fat:

4g
Trans Fat:

0g
Unsaturated Fat:

14g
Cholesterol:

40mg
Sodium:

310mg
Carbohydrates:

38g
Fiber:

8g
Sugar:

8g
Protein:

19g