Step by Step process to make the famous North Indian Red Chili pickle which is also known as 'Lal Mirch ka Achar'. It's hot, spicy, ready in 5 minutes and can be stored in the fridge for up to a month.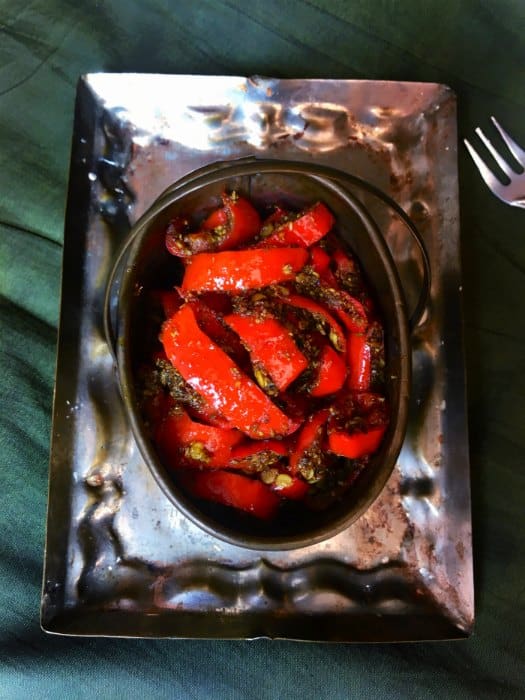 I'm in India for a few days of vacation which is a combination of a friend's wedding, family + friends meet-ups, shopping, eating out and copious amounts of food made by mom.
Or as it's lovingly known worldwide
'Maa ke Haathon ka Khana'
which is ALWAYS the highlight for all us kids living away from them.
Homecooked meals by mom, even a simple buttered toast or a plain flatbread (paratha) made by her is filled with soooooo much love and care that it's just beyond any meal served anywhere in the world.
Hence we always say there's 'Magic in their Hands'!!!
(I can go on & on and maybe this will become one of THE MOST Emotional post written till date on my blog)
So lets get back to the Achar/ Instant Red Chili Pickle 😉 which is absolutely droooooooliscious and her recipe!
My mom is pretty famous in our family for her cooking and hospitality, you'll never leave empty-stomach and empty-handed from their house.
She would rather have you stuffed with delicious food and she will happily pack some to go as well 🙂
Well, that's a mom and even after all this, she's ever-smiling and ready with a new recipe.
So this time, when I reached my parents home, I was welcomed with my favorite recipes cooked by her (4 A.M – India Time).
And an almost verbal list of recipes she has planned for me during the coming weeks…so that's the kind love and excitement we have with food+family.
Our discussion for the rest of the day continued about flight food, wedding preparations and calling cousins.
We finally attended the Big Fat Indian Wedding (300+ guests) + Tons n Tons of Food + Absolutely Gorgeous Colorful Indian Outfits –
It was an 8 days hectic, crazy and fun activities and now I'm back to spending time with close friend's and family.
So after all this, the first thing that I really missed having was pickle made by Mom and you just need to casually mention it to her.
And before you could say anything else, she has already instructed the local organic grocer to send us some of his best Red Chilies/Lal-Mirch.
HUGE – Bright Red in color and just became available in the market (Beginning of summer is the time for all these bright fruits n veggies in India).
The process of the Instant Indian Red Chili Pickle / Lal Mirch Achar is here:

Once, the fresh red-chilies were delivered home, I insisted mom to include me as her assistant in the Instant Red Chili Pickle process to which she agreed …
Provided I don't poke my fingers in my eyes after touching the chilies (can you believe she still thinks I'm gonna do that …..
We seriously had such a huge laugh about this but she was absolutely serious). Now, there are prominently
2 Types of Indian Red Chili Pickle:
– One is where you stuff the entire chili with pickle spices and fry and keep in sun for it to process eventually.
– Second is 'Instant' where you simply chop the chilies, use the same spices and lightly saute the chilies (this one can be consumed right away)

So, this is the Instant Pickle which takes about 5 minutes to make and can be served right after it's prepared.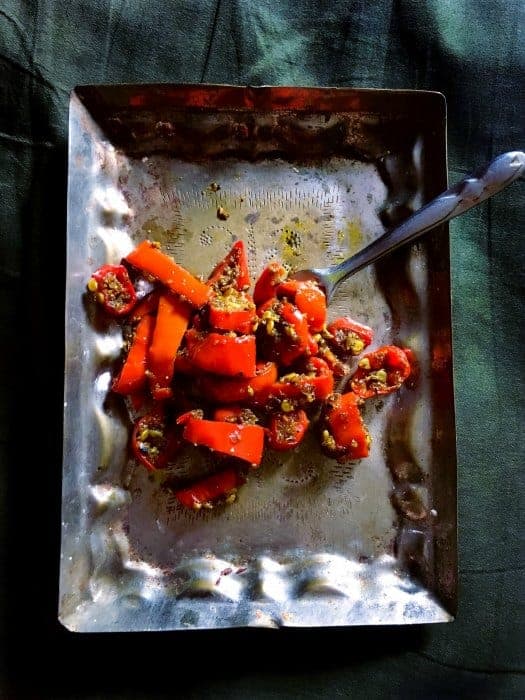 – Pro Tips for Making Best Instant Indian Red Chili Pickle –
Remove the seeds in chili to control the heat, less seeds means less heat/hot & more seeds means more spicy/hot
After, we thoroughly cleaned the chilies, we pat them dry using a paper towel or clean cloth (make sure the chilies are absolutely dry when you start mixing spices).
Then, you simply cut them into the desired size (thin/huge) and mix the homemade pickle-mix.
Toss everything together and lightly saute in mustard oil.
You may use Sesame Seed Oil but I Still recommend making pickles in Mustard oil as it adds to the spicy/tangy flavor.
Some of you may worry looking at the extreme red color of the chilies, but the pickle can be made almost as mild as you want, just remove the seeds.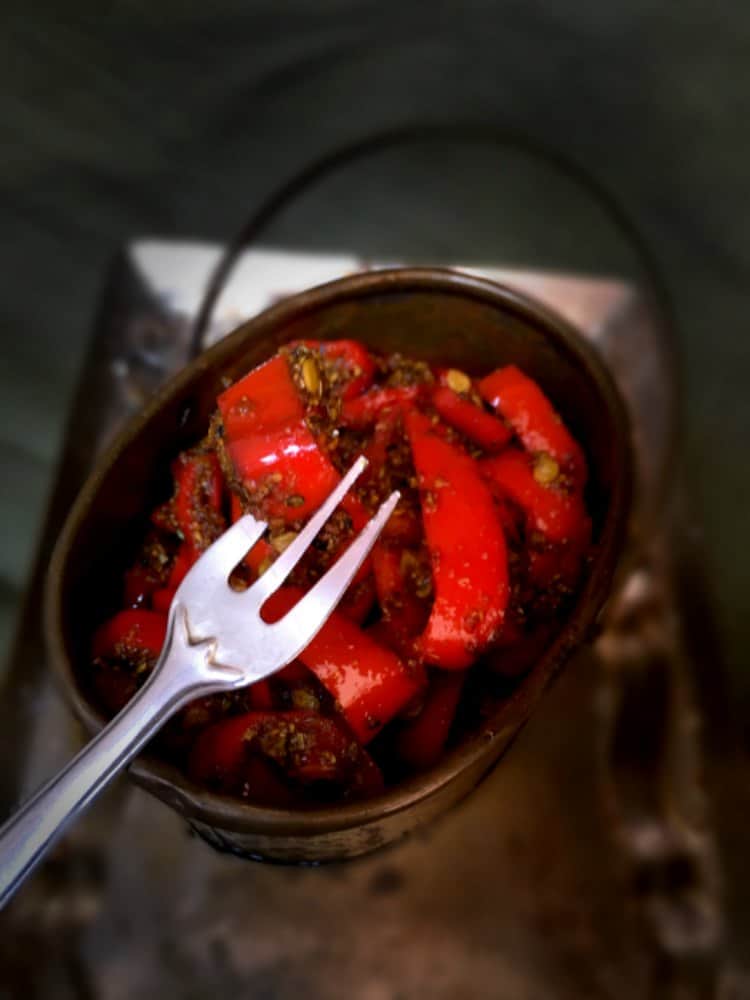 Once, the pickle was ready, we absolutely gorged on it with some hot potato flatbread and fresh curd, which is a typical Delhi Breakfast for you and can keep you going for a good half day.
I hope you really like this recipe and try it soon.
(If you're unable to find red chilies, you may use big green chilies or medium green chilies for the same).
We couldn't sign off this post without a picture of Mom holding our favorite pickle 🙂
(I'm telling you, there's MAGIC in those Hands)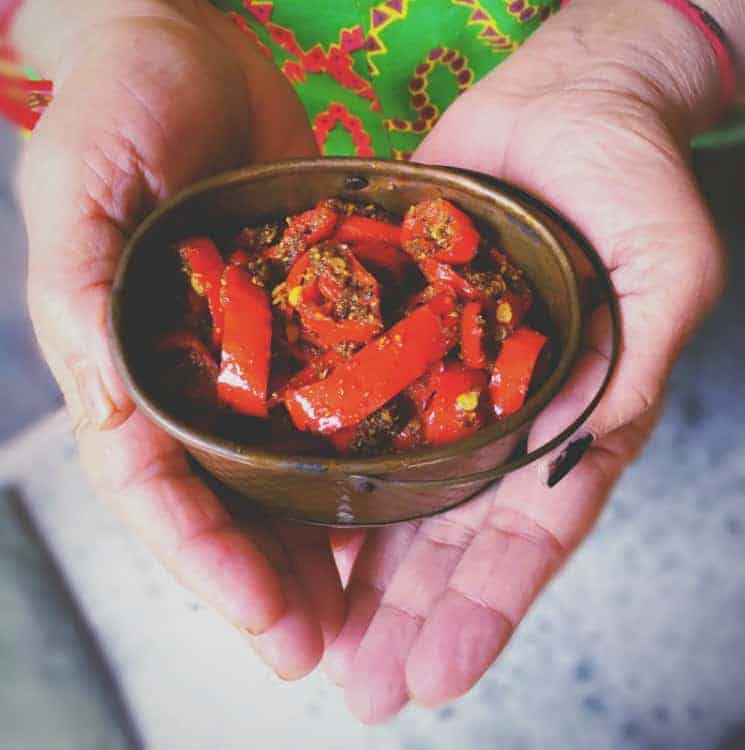 As always, I Looove when you try my recipes and send me pictures & feedback.
You can tag my recipes tried by you using #easycookingwithmolly on any of the social media below:
Connect with Me Here: Facebook / Pinterest / Instagram

You Can Also Try This:
Yield: 10
Instant Indian Red Chili Pickle (Lal Mirch ka Achar)
Instant Indian Red Chili Pickle: Step by Step process of an absolute famous pickle from North India, which is also known as 'Lal Mirch ka Achar'.
Ingredients
5 Big Fresh Red Chilies - washed and dry
4 Tbsp Mustard Oil
1 Tsp Salt
1 Tsp Red Chili Powder - use as per taste
1 Tsp Dry Mango Powder - also known as 'Amchur' - Optional (Used to add tang)
Pickle Spice-Mix:
1 Tsp Fenugreek Seeds - also known as 'Methi Dana'
1 Tsp Nigella Seeds - also known as 'Onion Seed' or 'Kalonji'
1 Tsp Fennel Seeds - also known as 'Saunf'
2 Tsp Coriander Seeds
2 Tsp Yellow Mustard Seeds
Instructions
In a medium wok/pan, heat the mustard oil till you see fumes rising from it (takes about a minute on high flames).
Close the heat and keep the oil aside to cool down (this process is very important as it removes the pungent mustard smell/taste from the oil).
Cut pre-washed and dried chilies (cut them into any size or shape of choice) and keep aside.
In a small pan, roast fenugreek seeds on low flame for a minute (till they slightly change color).
Add, the remaining pickle-spice mix and roast all the seeds for another minute and turn off the heat.
Cool down the roasted spices and then powder them using a mortar pestle or using an electric grinder (we need a smooth powder consistency).
Now, mix the powdered spices, cut chilies, salt, red chili, amchur and toss everything together.
Heat the cooled down oil (for 1/2 minute) and add this mixture.
Saute the mixture in oil for about 2 minutes and then turn off the heat.
The pickle is ready to eat now or you can store it in a clean, dry bottle for upto a month in fridge.
Nutrition Information:
Yield:
10
Serving Size:
1
Amount Per Serving:
Calories:

25
Total Fat:

2g
Saturated Fat:

0g
Trans Fat:

0g
Unsaturated Fat:

2g
Cholesterol:

0mg
Sodium:

240mg
Carbohydrates:

2g
Fiber:

1g
Sugar:

1g
Protein:

1g