'Monday' here you are and whatever we call you 'Mundane Monday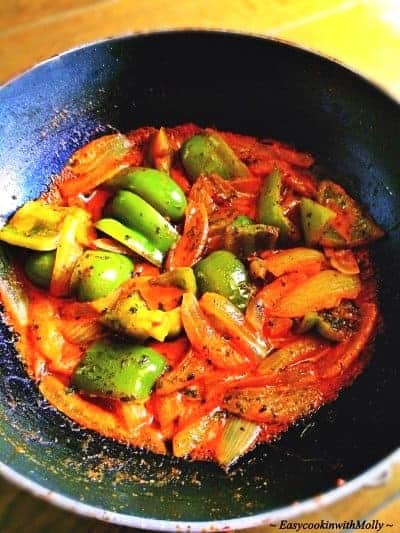 Monday Blue's /Manic Monday' nothing justifies the love-hate relationship we have with you.
As if that wasn't enough, today, we are greeted us with an equally gloomy-cloudy morning….
I mean "WHY"! After giving us an almost 80+ (temperature) weekend, today was quite a disappointment and is it just me who feel's that this year the weather is so unpredictable or someone else also feels the same?


This calls for an extra tall glass of morning Joe or juice along with some good music (whatever pick's you up) and to bring that rich color's of sun,
I'm going to share a gorgeous looking and scrumptious recipe of "Sauteed Peppers and Onions" that can be made for lunch or dinner.
Peppers and onions are sauteed but lightly still retaining their crunch and a mixture of yogurt, tomato and spices that gives it a beautiful blend of colors.
Because of the use of yogurt and tomato, it's a great mood booster too (Vitamin C – boost moods).You can eat it with bread or grains.
~ Share and Enjoy ~
Sauteed
Peppers with Onion
Serves: 4
Serving Suggestion: Serve Hot with
bread or rice.
Tools:
1 Large nonstick wok with cover/lid
1 Large Serving Dish
2 Small bowl
Ingredients:
3 Medium Green Bell Pepper (Capsicum) – Deseeded and cut into thick long slices
2 Medium Onions Cut into thick long slices
2 Tbsp Olive Oil
For
Sauce:
½ Cup Thick Yogurt
¼ Cup water
1 Tbsp Tomato Paste – I'm using organic tomato paste, you may use fresh tomato paste
3 Tbsp Tomato Ketchup
½ Tsp Ginger Paste
½ Tsp Garlic Paste
3 Tbsp Olive Oil
Spices:
½ Tsp Turmeric(Haldi)
1 Tbsp Cumin Powder (Jeera)
½ Tbsp Garam Masala
1 Tbsp Dry
Fenugreek Leaves (Kasoori Methi) OPTIONAL
½ Tsp Red Chili
Powder
1 Tsp Salt (As per your taste)
Method:
In a nonstick wok, heat 2 tbsp olive oil over medium flames for a minute.
Add onions and sauté for 2 minutes. (This will give onions a golden color)
Now add sliced peppers and sauté for 2 more minutes (This will cook the peppers slightly retaining the crunch).
Turn off the heat and transfer the cooked pepper-onion mixture to a bowl.
Making the Thick Sauce:
In a bowl, add yogurt, tomato paste, ketchup, cumin powder, red chili powder, salt, water and
whisk to a smooth but thick batter like consistency.

Sauteed Peppers with Onion

Heat the same wok and add 3 tbsp olive oil.
Add turmeric, stir and quickly add the yogurt batter into it.
Stir everything together, reduce the heat, cover and cook for 3-4 minutes. (This will cook the yogurt and tomato batter and will give it a much brighter orange-red color).
Uncover the non-stick, by now the sauce would have thickened and become slightly orange-red in color.
Now add the 'garam masala', 'fenugreek leaves' and saute on medium heat for 2minutes.
Add the cooked pepper-onion mixture, saute and cook for 2 more minutes (This will ensure that the peppers are evenly coated with the sauce.)
Turn off the heat, Transfer into serving dish and Serve Hot.