Zucchini Crepes – savory and crispy crepes made using a simple batter along with shredded zucchini.
Perfect for easy breakfast, brunches or even lunch.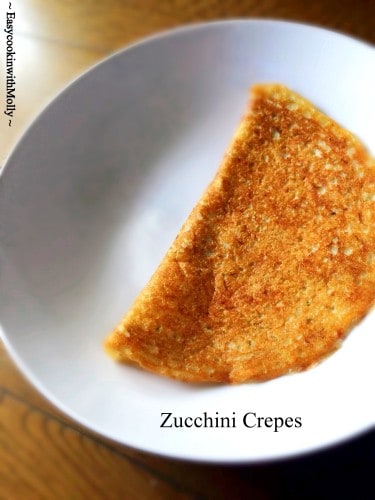 I'm always on the lookout to make easy, healthy but tasty recipes and because of spring, we are so blessed to have a beautiful variety of veggies and fruits.
My absolute favorite this season is 'Zucchini' – I mean the possibilities are endless.
Now zucchini being a neutral taste veggie, it easily blends with any kind of food…savory or sweet.
We have made muffins, bread, stir fry's, french toasts and do many dishes with it….But have you heard of Zucchini Crepes.
It blends perfectly with the batter, adds so much body or texture to it and gives it an awesome taste.
It's also a great way to introduce it to kids (If you peel the skin and grate, kids won't even know what's in the crepes).
So I recently made these zucchini crepes with a healthy mix of flour and they were a hit with family and friends.
I feel crepes is a great way to use those leftover veggies (like 1 carrot or 1 squash….I mean anything that's 1-2 in quantity).
The batter is a mix of brown rice flour (made at home in my coffee grinder), whole wheat, cream of wheat (which is soo good for the tummy), yogurt and water.
Mix in the grated zucchini along with some ginger (they both taste great together) and boom – You have a healthy, scrumptious and filling crepe ready.
As mentioned above, these Zucchini Crepes can be used for breakfast or brunch and you can serve it with steamed veggies along with drink as meal.
I really hope you try this fun and easy recipe ….while I think of another healthy fun recipe idea.
~ Enjoy & Share ~
List of Popular Indian Chutneys
List of Popular Indian Chutneys
---
As always, I Looove when you try my recipes and send me pictures & feedback.
You can tag my recipes tried by you using #easycookingwithmolly on any of the social media below:
Connect with Me Here: Facebook / Pinterest / Instagram / Twitter / Subscribe to our Newsletter / Google+
Yield: 10 Crepes
Zucchini Crepes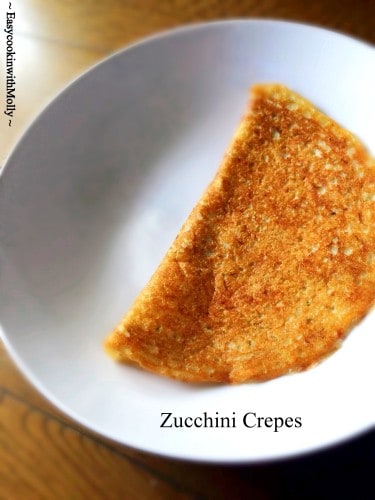 Zucchini Crepes - savory and crispy crepes made using a simple batter along with shredded zucchini.
Ingredients
Flour:
1/2 Cup Rice Flour
1/4 Cup Whole Wheat Flour
1/2 Cup Semolina – Thin or thick any variety
1/2 Cup Plain Yogurt
1/2 Cup Water
1/2 Tsp Baking Powder
1/4 Tsp Baking Soda
2 Medium Zucchini – Thinly Grated
1 Tbsp Grated Ginger (OPTIONAL)
1 Cup Canola Oil – For Frying. (You may use any flavorless oil of choice)
Seasoning:
1/4 Tsp Black Pepper Powder
1 Tsp Salt – As per taste
Instructions
In a large bowl, mix all the flour and seasoning together.
Add yogurt, water and make a thick smooth batter.
Now add the grated zucchini, ginger and whisk everything together to form a smooth and thick batter.
Heat the nonstick for a minute with 1/2 tsp of oil.
Pour 11/2 ladle of batter on the nonstick and swirl the batter (expand) using the ladle.
Let it cook on medium heat for about a minute.
Flip the crepe gently on the other side and let it cook for another minute (a minute for lightly cooked soft crepes and two minutes for crispy crepes)
Transfer the soft cooked crepes to serving dish and follow the steps above to make all the crepes.
You can stack them (open face) all together or serve in individual plate.
Nutrition Information:
Yield:
10
Serving Size:
2
Amount Per Serving:
Calories:

289
Total Fat:

24g
Saturated Fat:

2g
Trans Fat:

0g
Unsaturated Fat:

21g
Cholesterol:

1mg
Sodium:

298mg
Carbohydrates:

17g
Fiber:

1g
Sugar:

2g
Protein:

3g