Bacon and Mushroom Curry Fried Rice: quick fried rice recipe using bacon, mushroom, caramelized onions and peas.
It's spicy and filled with flavors.
The weekend was packed with so many activities, that we didn't get any time for the weekly grocery shopping but thankfully these Bacon and Mushroom Curry Fried Rice made our Monday Meal Super delicious!
You can call it Bacon and Mushroom Curry Fried Rice or an extremely flavorful fridge cleanup recipe as the ingredients used were the last of what we had in the fridge.
So I thought, why not make the BEST of what we have and turn it into this quick and yummy recipe that we all literally wanted tons of!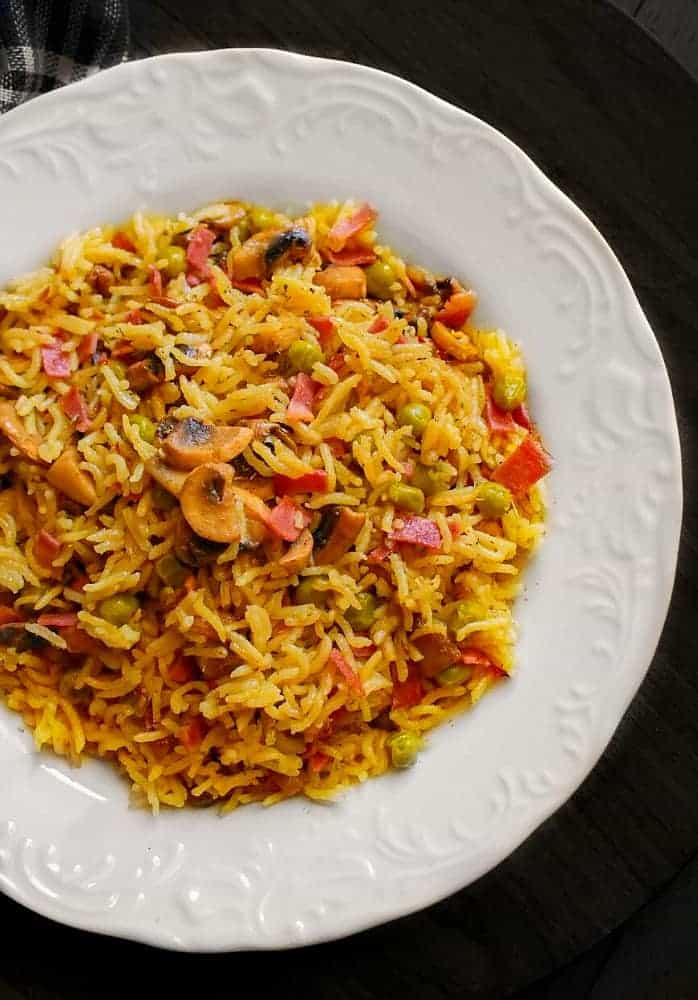 The recipe for the Bacon and Mushroom Curry Fried Rice is so easy that you'd want to make it again and again!
Also, it has a good amount of veggies to protein ratio. We used a lot of turkey bacon (which we thankfully always have in the fridge) and then I added a lot of mushrooms, peas, and onions.
The fun part was adding the 'Curry Powder'. I have cooked bacon with Italian seasoning but I sooooo wanted to try a recipe that combined Bacon + Curry Powder (as we love both).
And this I would say is a perfect fusion of both. The bacon adds such a meatiness to the recipe and the curry powder enhances the flavor with a 'Whoooooaaaa' factor (In a Good Way) 😉
The reason why this dish is so flavorful is that it's cooked in leftover bacon grease, which adds an amazing flavor without it being heavy.
Infact this Bacon and Mushroom Curry Fried Rice is one recipe where I didn't get any time to click more than 3-4 pictures as it was gone in minutes.
What you're seeing here is my portion of the dish as Mr. had already devoured his share and kept asking me if I wanted to share mine with him …. lol !!
So whether it's a fridge cleanup situation for you or just a quick meal or even 'I want to try something New', you gotta give this recipe a try soon and do let me know your thoughts about it?
It also makes for a great work lunch or picnic menu too. It can stay in the fridge for upto 2 days in an air-tight container.
:: You May Also Like ::
---
Tried Our Recipe – AWESOME!!!
Now Quickly SNAP A PICTURE & TAG :
#easycookingwithmolly +  @easycookingwithmolly on Instagram –>
Connect with Me Here:  Facebook / Pinterest / Instagram / Twitter / Subscribe to our Newsletter / Google+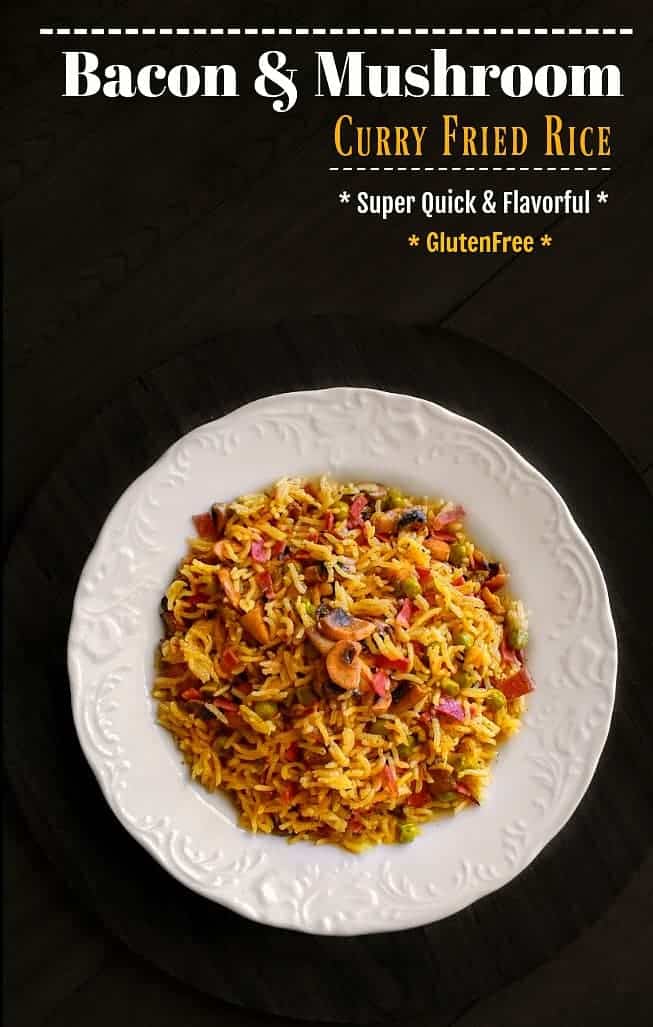 Molly Kumar
Yields 4 People
Bacon and Mushroom Curry Fried Rice
3 minPrep Time
10 minCook Time
13 minTotal Time
Ingredients
2 Cups Cooked Rice - I'm using brown basmati, but you can use any rice of choice
1 Small Onion - thinly chopped (I prefer red but use any)
4 Strips Bacon
1 Cup Chopped Mushrooms - chopped in bite size
1/4 Cup Frozen Peas - thawed
2 Tbsp Olive Oil
Spices:
1 Tsp Curry Powder
Salt - as per taste
1/8 Tsp Black Pepper Powder
1 Tsp Soy Sauce - optional
Instructions
Heat a large skillet and place the strips of bacon side by side(I'm adding all 4 strips but use as many the skillet can hold).
Reduce the heat to medium and cook the bacon evenly on both sides.
One cooked, remove the bacon.
In the same skillet, add olive oil and chopped onion.
Saute for 2-3 minutes till onions are slightly pink in color and cooked.
Now add the mushrooms, peas and cook for 3-4 minutes till they are softened and slightly cooked.
Add the spices and soy sauce (if using).
Saute this mixture on low heat for 30 seconds.
Finally add the rice and lightly saute everything evenly.
Increase the flame to medium and saute the rice for 2-3 minutes (lightly saute so you don't break the rice).
Turn off the heat and transfer to a serving bowl.
Serve immediately or store in air-tight container for later.
Notes
This Bacon and Mushroom Curry Fried Rice can be eaten as entree or served as a side too. Makes for a great office lunch or picnics too.
7.8.1.2
389
http://www.easycookingwithmolly.com/2018/08/bacon-and-mushroom-curry-fried-rice/