Easy 15 Minutes Thai Fried Rice: A quick recipe to make Everyone's FAVORITE Thai Fried Rice at home. It's absolutely filling and packed with flavors.
My Easy 15 Minutes Thai Fried Rice is one of my MOST requested recipe among our friends, family, and even kiddos.
It not only looks gorgeous but also very easy to customize as per you or your family's taste.
And Do you want to know what makes it even more convenient? It's Success® Boil-in-Bag Rice – Seriously where was it ALL MY LIFE !!!
Before we proceed with the Thai Fried Rice, let's talk about Success Rice :

Success® Rice is the ORIGINAL no measure, no mess boil-in-bag rice that cooks perfectly every time and is ready in 10 minutes.
Success® Rice is convenient and can be made on the stove or in the microwave without sacrificing its great taste or quality. It's a great pantry staple, which can be used to make a variety of meals – breakfast, lunch or dinner.
Conveniently packaged in premeasured colander-style bags, it's gluten-free, non-GMO and versatile.
With 4 varieties available, including Success® Whole Grain Brown Rice and Success® White Rice, and globally-inspired aromatic varieties of Success® Rice, including fragrant Thai Jasmine or Basmati Rice, there's a variety everyone in your family will love.
Especially with the recent Back-to-School routine, this comes in super handy and makes mealtime absolutely a breeze.
Infact, I used their Success® Jasmine Rice for making this Easy 15 Minutes Thai Fried Rice.
All I did was just take a bag of the pre-packaged rice and popped it into a pan filled with water.
While it cooked (10 minutes), I chopping and sauteing all the veggies, tofu and sauce.
After 10 minutes, I just lifted the bag out of the pan and let all the water drain (the bag has tiny holes just like a colander).
The rice came out perfectly done and fluffy. Gave everything a final stir and voila – you have the dish ready in 15 minutes!!
Getting back to my recipe, there is a secret ingredient that's added here to make it taste absolutely like a restaurant dish and that is a tablespoon of peanut butter 🙂
It not only enhances the flavor so good but also adds this gorgeous color.
And don't even get me started on 'How much the kiddo's loved it'. I've made this for endless parties or even small gatherings at our place.
And my friends couldn't believe that their kids were actually gorging on this bowl full of rice and wait did we mention VEGGIES (lolz).
So, I really hope you give this a try soon as this not only makes a great entree but you can use it as a side or even for packed lunches (as it tastes great even cold).
And, with Success® Rice, the mealtime for the busy back to school schedules will become less stressful.
Here's some info on the Success® Jasmine Rice: (used in my rice)

Success® Jasmine Rice is the only boil-in-bag Jasmine rice available. It has a sweet buttery fragrance, silky, smooth, white grains and delivers fully cooked rice in 10 minutes.
It's pre-portioned, BPA-free boil-in-bag means no measure, and no mess is involved.
It's gluten-free and can be incorporated into both Asian-inspired dishes and even mainstream recipes.
Click the links below to learn more about Success® Rice or Follow them on the given social media accounts for recipes and more: Success® Rice Website
It's available in grocery retailers nationwide and has an average retail price of $2.45 for the 14 oz., making it accessible and affordable for families.
*** (Here are some of my other Asian recipes to Try) ***
---
Tried Our Recipe – AWESOME!!!
Now Quickly SNAP A PICTURE & TAG :
#easycookingwithmolly + @easycookingwithmolly on Instagram –>
Connect with Me Here: Facebook / Pinterest / Instagram
Yield: 2
Easy 15 Minutes Thai Fried Rice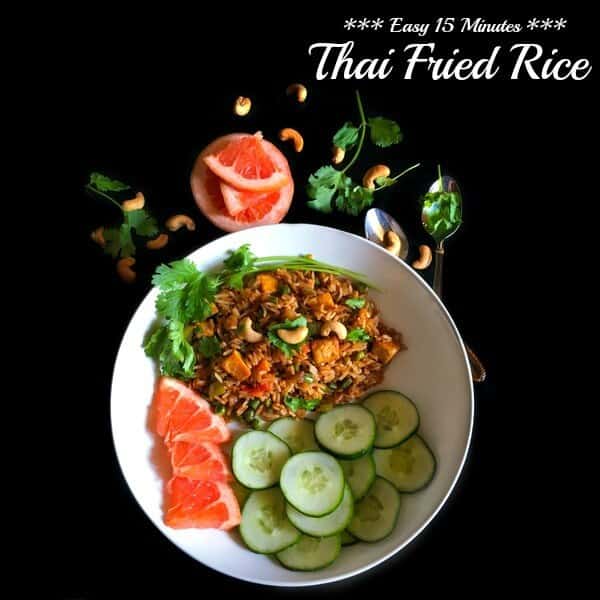 Easy 15 Minutes Thai Fried Rice : A quick recipe to make Everyone's FAVORITE Thai Fried Rice at home. It's absolutely filling and packed with flavors.
Ingredients
1 Bag Success® Jasmine Rice
3 Cups Water
1/2 Cup Peas - frozen or fresh
1/4 Cup French Beans - thinly chopped
1/4 Cup White Onions - thinly chopped
1/4 Cup Tomato - seedless and thinly chopped
1 Cup Firm Tofu - chopped into bite size
1/4 Cup Carrot - optional
1/4 Cup Pineapple - optional
5-6 Roasted Cashew - optional
3 Tbsp Sesame Oil -for stir fry
Sauce Ingredient
1 Tbsp Peanut Butter
Pinch of Garlic Powder
1 Tbsp Soy Sauce
1 Tbsp Oyster Sauce - optional
1/2 Tsp Fish Sauce - optional
1/4 Tsp Sugar
Salt - as per taste
Decoration
4-5 Sprigs of Cilantro - with stems
1 Cucumber - thinly sliced
1 Jackfruit or Orange - thinly sliced
Instructions


In a deep pan, add water and 1 Bag Success® Jasmine Rice and let it boil.
After the boil, reduce the heat to medium-low and cook for 10 mins or as per package instructions.
Heat a wok, add 1 tbsp sesame oil and saute the chopped tofu (till golden brown). Keep aside.
In the same wok, add 2 tbsp of sesame oil and saute all the vegetable together.
Now add all the sauce ingredients and stir for 5 minutes.
Add the cooled cooked rice and stir fry everything on high heat.
Turn off the heat and transfer to a serving plate.
Add the sliced cucumber, jackfruit on the side and cilantro on the other side.
Serve Fresh or store in fridge for 2 days.
Nutrition Information:
Yield:
2
Serving Size:
1
Amount Per Serving:
Calories:

581
Total Fat:

46g
Saturated Fat:

9g
Trans Fat:

0g
Unsaturated Fat:

34g
Cholesterol:

48mg
Sodium:

483mg
Carbohydrates:

86g
Fiber:

13g
Sugar:

38g
Protein:

40g
I was selected for this opportunity as a member of Clever Girls and the content and opinions expressed here are all my own.