Sweet Earth Foods Pizza Review: delicious and extremely flavorful pizzas that are ready in 10 minutes.
4 different varieties to choose from and available in frozen section of your local grocery stores.
If you thought Friday and Pizza was the BEST combination!!!
Then today's post is going to make it even happier and easier cause we are not only talking 1, 2 or even 3 but 4 different kinds of pizzas and that also ready in 10 minutes!!!
Seems like a dream but it sure became a reality for us as we got to try these 4 amazing NEW Pizza flavors from Sweet Earth Foods.
I've always been a huge fan of Sweet Earth Foods products as they are made using natural, eco-friendly, sustainable and plant-based meats hence always delicious and nutritious.
So, when they launched these NEW Pizza flavors, I had to try them asap and the best part, they have a pizza for all kind of Pizza Lovers.
And with these New Pizza Flavors, they just took Deliciousness to a whole new Healthy level!! The pizza toppings are made using natural ingredients and each crust is mixed with uber healthy ingredients too.
I'm going to start with the first one:
Truffle Lover's
Just like it's name, the pizza is layered with velvety caramelized onion sauce, gruyere cheese and spinach. It also has a whole wheat crust, that adds such an amazing chewiness to the whole pizza.
Along with that, the crust also has 'fortified with organic psyllium' and that definitely is one healthy ingredient that keeps your digestion on track.
I started with this pizza a couple of my family members don't eat meat and mushroom is always such a great option for that meatiness yet keeping it plant-based.
In every bite, you could taste the smooth cheesy layers and a perfect combination of meaty mushrooms with spinach.
——————-
Veggie Lover's
Now, this one was definitely a combination of all your summer veggies with a zesty tomato sauce and creamy cauliflower cream sauce (yep, you read that right – it's pure bliss).
It's a pizza that literally says California because of all the delicious veggies we get from our coast.
And now, lets talk Crust, this one just blew us all as it not only has cornmeal but also carrots, chia seeds and psyllium. Totally chewy and the flavors just POPS in every bite.
—————————
Herb Lover's
Now, this one got us MOST Excited as Who Doesn't Love Cheese and How about 5 kinds of Cheese in one Pizza (that's true love, right!!!).
Then it is layered with bright herb pesto and the deliciousness doesn't stop there as the crust is totally awesome too. It has rosemary infused focaccia-style texture that is light & aromatic in every bite.
You can distinctly taste the cheese + herbed pesto and you'd just keep wanting more of it.
————————
Protein Lover's
Now, this is definitely a FAV among all my protein lovers friends who are vegetarian or vegan. As this is all plant-based protein and it tastes AMAZING!!!
It is layered with zesty tomato sauce, smokey vegan plant pepperoni, Tuscan savory grounds and simply yummm. The crust is a mix of quinoa, chia, flax seeds and psyllium. Totally healthy yet delicious.
—————–
Once we went through all these delicious options it was very hard to decide which one to start with 😀
So we started with two of them 'Truffle Lover's & Herb Lover's'. Another great thing about these pizza's is that you do not need a pizza stone or special equipment to make it.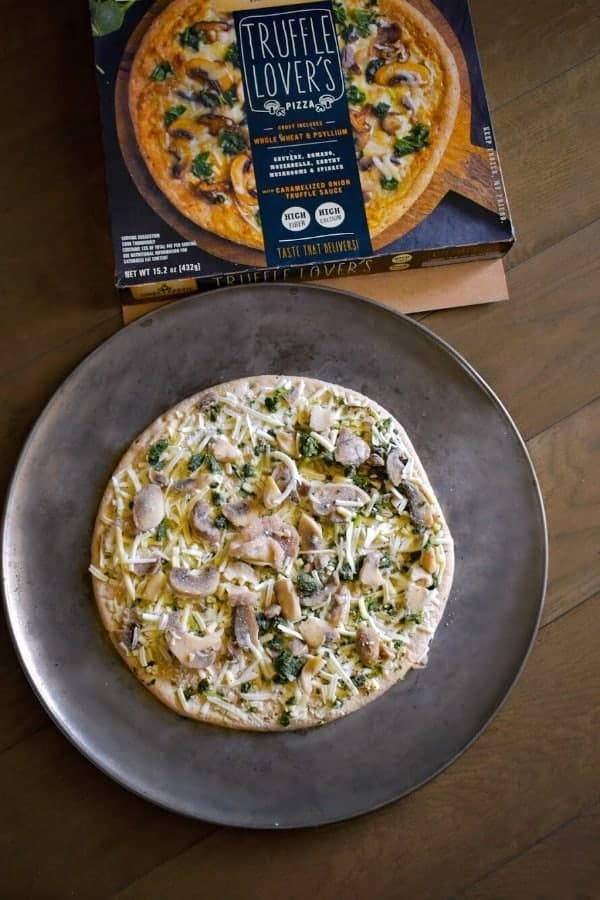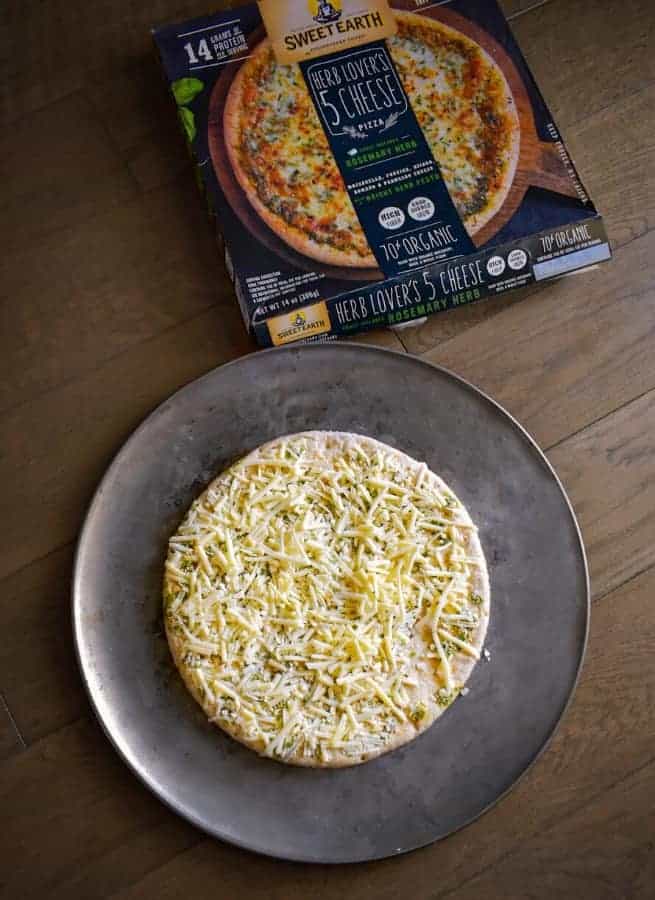 The pizza goes directly on your oven grill or even your normal grill and bakes in 10 minutes (please do bake as per instructions as each pizza differs).
Both the pizza came out absolutely bubbling – fresh and there was no spills at all.
I did let them cool for few minutes and then served it directly on a pizza block. The pizza cuts smoothly and there were no dry crumbs falling around when slicing the pizza..
Both the pizza that we tried were extremely flavorsful and with a chewy base.
So, I would definitely recommend you to grab these delicious pizza flavors from Sweet Earth Foods from your local grocers and enjoy a quick-delicious and healthy meal with your loved ones.
They make great options for a brunch party or weekday meal too.
---
Tried Our Recipe – AWESOME!!!
Now Quickly SNAP A PICTURE & TAG :
#easycookingwithmolly + @easycookingwithmolly on Instagram –>
Connect with Me Here: Facebook / Pinterest / Instagram / Twitter / Subscribe to our Newsletter / Google+
" This post is sponsored by Sweet Earth Foods, All Opinion are My Own"