Quick Cashew Coconut Chutney: extremely easy and fingerlicking delicious chutney/dip/sauce that can be served with Indian food/toast or chips.
This Quick Cashew Coconut Chutney can be stored in the fridge for up to 3 days.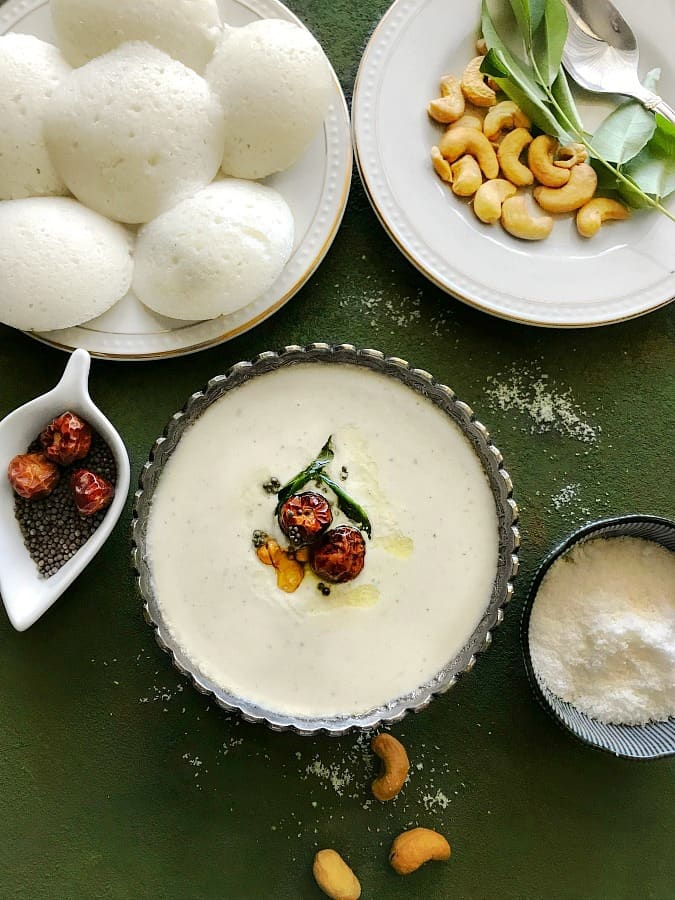 Chutneys or dip are a huge part of Indian cuisine and this Cashew Coconut Chutney is one of our very favorites.
It's a delicious mix of roasted cashews with coconut and few other ingredients that give this chutney an extremely creamy texture.
Apart from being amazingly yummmmmm, it's extremely versatile. You can use it with most Indian food like curries, crepes, snacks but also International bread/crackers/chips, etc.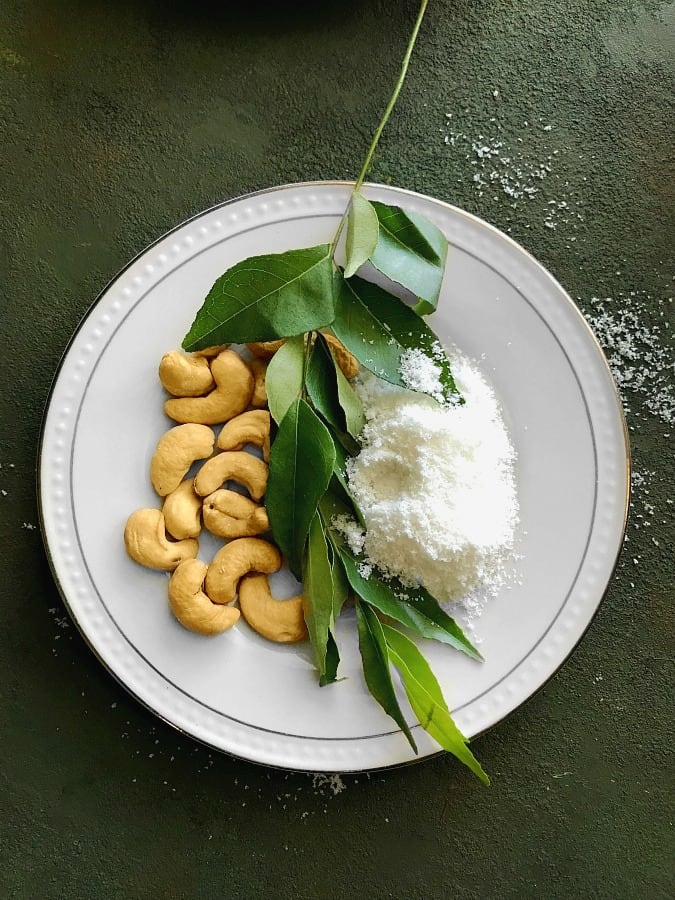 Here are few Important Tips to remember for this Chutney:
Cashews:
Need to be plain and roasted. You don't want any extra flavoring along with the cashews. If you're buying storebought roasted cashews, then remember to buy the lightly salted variety.
Coconut:
I'm using finely powdered dry coconut which is easily found in any Indian store but you can use freshly desiccated coconut too, just reduce the quantity a little or the chutney will feel too coconutty.
Base:
This is extremely important as if you don't have the right base, the taste/texture will not be upto it. I'm using a mix of plain yogurt (use vegan option if needed) and water. This mix is what gives it an extra creamy-smooth texture.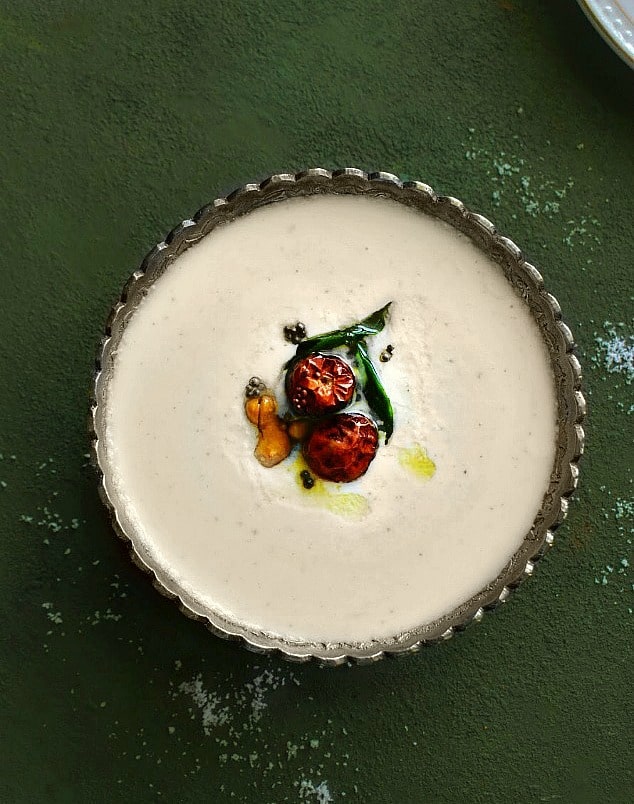 Just follow these simple tips and I can guarantee the taste will be amazing!
I made this chutney last weekend for a get-together at home and served it along with a bowl of fresh pita chips and it was a huge hit.
I actually made two version of it, one with more cashews and one with more coconut.
Both versions were an instant hit, so you could either try the recipe just as mentioned below or with a little variation.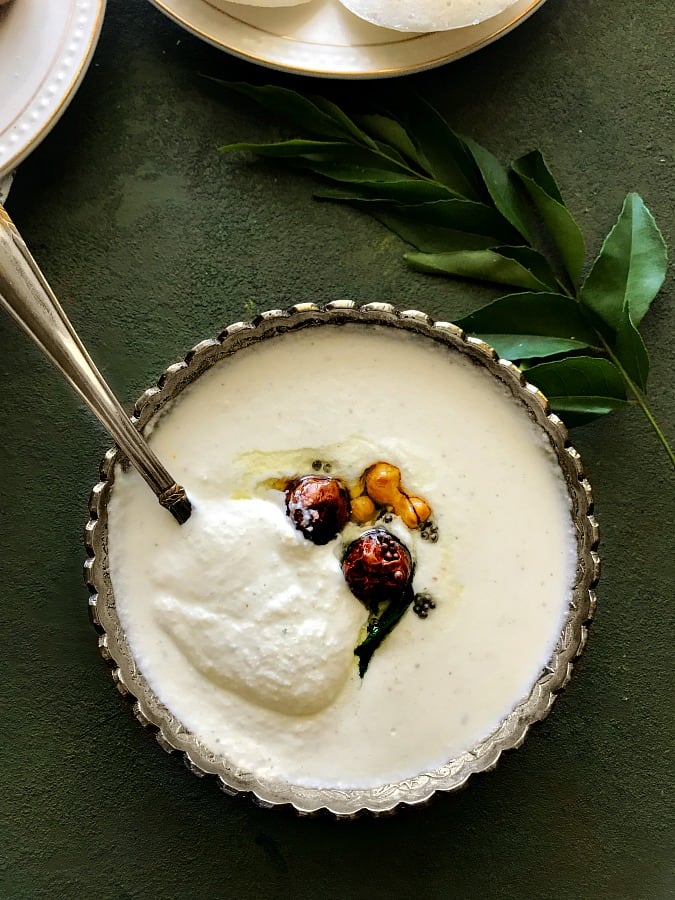 This Cashew Coconut Chutney can be made and stored in the fridge for upto 2-3 days.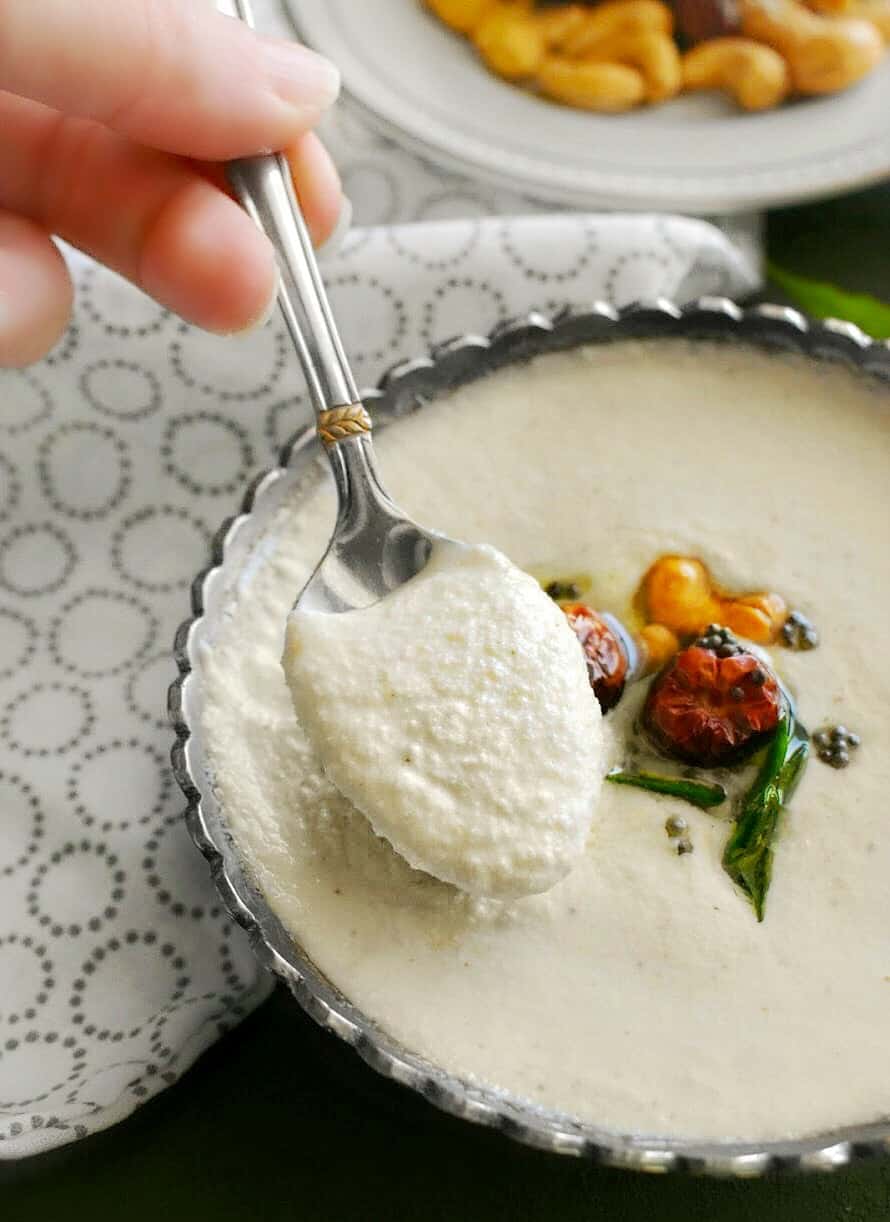 :: You May Also Like ::
---
Tried Our Recipe – AWESOME!!!
Now Quickly SNAP A PICTURE & TAG :
#easycookingwithmolly +@easycookingwithmolly on Instagram –>
Connect with Me Here:  Facebook / Pinterest / Instagram / Twitter / Subscribe to our Newsletter / Google+
Yield: 1.5 Cup Chutney
Quick Cashew Coconut Chutney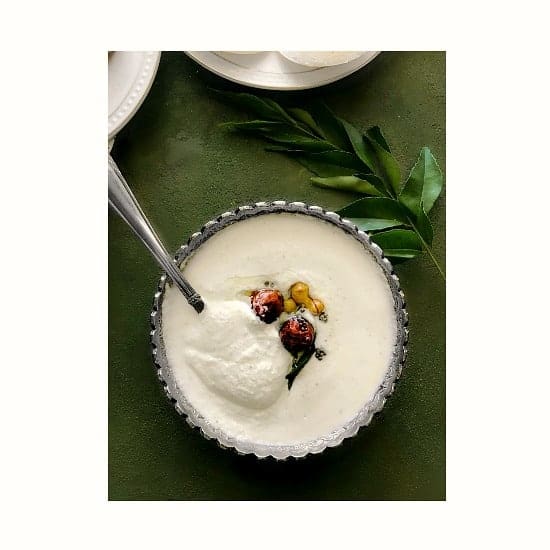 Ingredients
1/2 Cup Roasted Cashews - you can use storebought salted cashews as well
1/2 Cup Dry Coconut Powder - I'm using a finely powdered power easily available in any Indian store.
1/4 Cup Plain Yogurt
1/2 Cup Water
Salt - as per use
1 Small Dry Red Chilli - optional
2-3 Curry Leaves - optional
For Tempering or Chauka:
2 Tsp Ghee - you may use plain oil too
2-3 Dry Red Chilli - you can skip if you don't eat chillies
1/8 Tsp Mustard Seed
4-5 Curry Leaves - optional
Pinch of Asafetida - Hing in hindi.
Instructions
In a large blender, add all the chutney ingredient and blend to a smooth paste (you may add little water if it's too thick)
Transfer to a serving bowl.
Making the Tempering or Chauka:
Heat a small pan and add ghee.
Reduce the flame to low, add red chillies and mustard seeds (you may use a pan cover or lid as this is going to splatter a bit.)
Add rest of the tempering ingredients and stir for 1 minute on low flame.
Turn off the heat and pour the tempering over the chutney.
Serve the chutney with desired meal.
Nutrition Information
Serving Size
4-5 People
Amount Per Serving
Calories

192
Total Fat

17g
Saturated Fat

9g
Cholesterol

7mg
Sodium

124mg
Carbohydrates

9g
Sugar

2g
Protein

4g