This post is sponsored by the National Frozen & Refrigerated Foods Association (NFRA). All opinions are my own. For more inspiration during #JuneDairyMonth, be sure to check out delicious ideas from the NFRA at EasyHomeMeals.com
Pan Seared Fish with Fruit Salsa: "Crispy on the outside and buttery in the inside" fish seared in Land O Lakes® Butter with Canola Oil.
Pan Seared Fish with Fruit Salsa
Paired with fresh fruit salsa is bursting with summer flavors and is a perfect Al-Fresco family style meal that's ready in 20 minutes.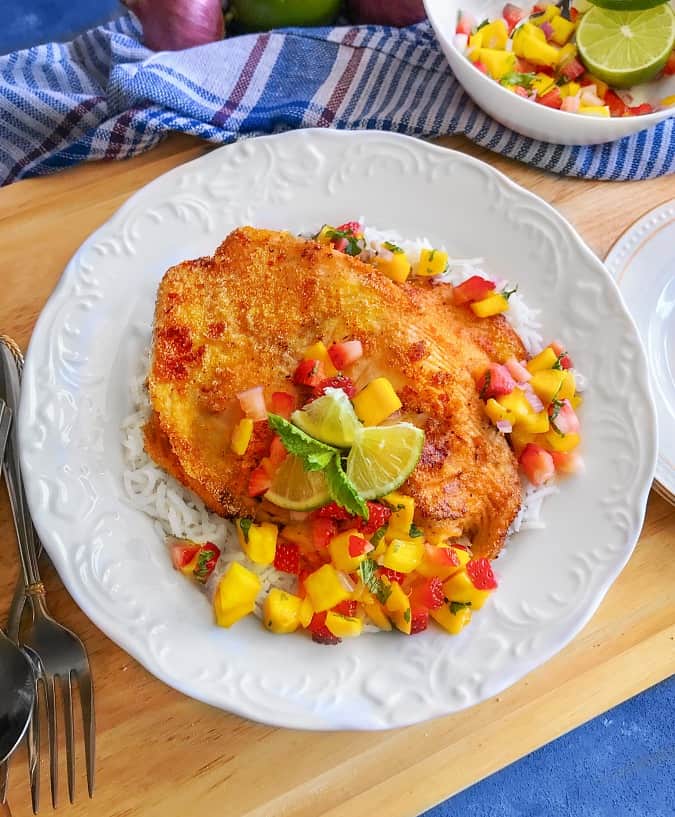 Summer is in full swing and so are the summer parties, bbq's and al-fresco style meal that can be prepared in few minutes and can be enjoyed with the whole family.
So here I'm with this Pan Seared Fish with Fruit Salsa that can be made in no time in your home kitchen but also looks straight out of a restaurant.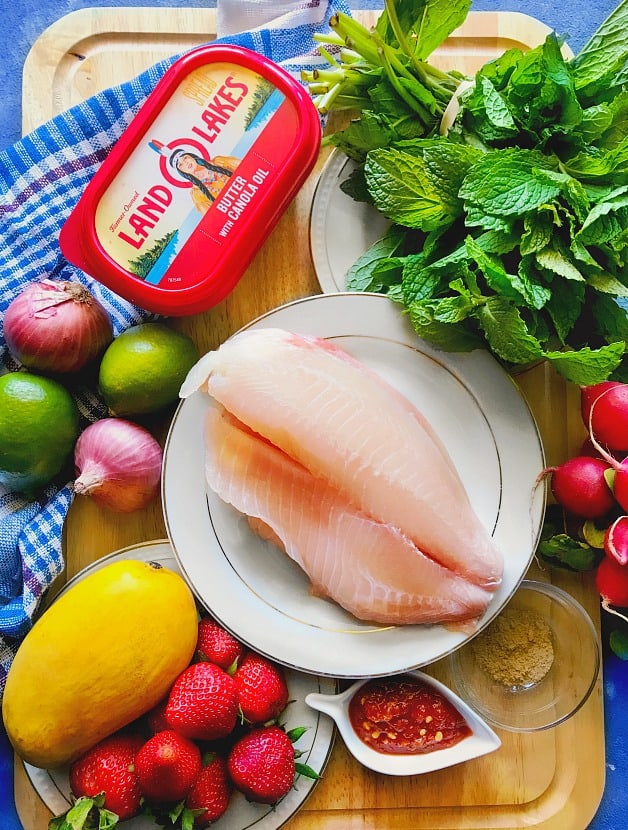 Fish is one of my favorite party foods as it doesn't need too much seasoning, cooks easily and is liked by all (adults + kids).
This summer season, I've decided to pair it with a mango-strawberry salsa (or you can call it a fruit salsa).
And to add that extra crispiness along with sweet-spicy flavors, I'm searing it using our favorite Land O Lakes® Butter with Canola Oil.
If you've never tried this technique before, then you are missing out on some Really Amazing Flavors!!!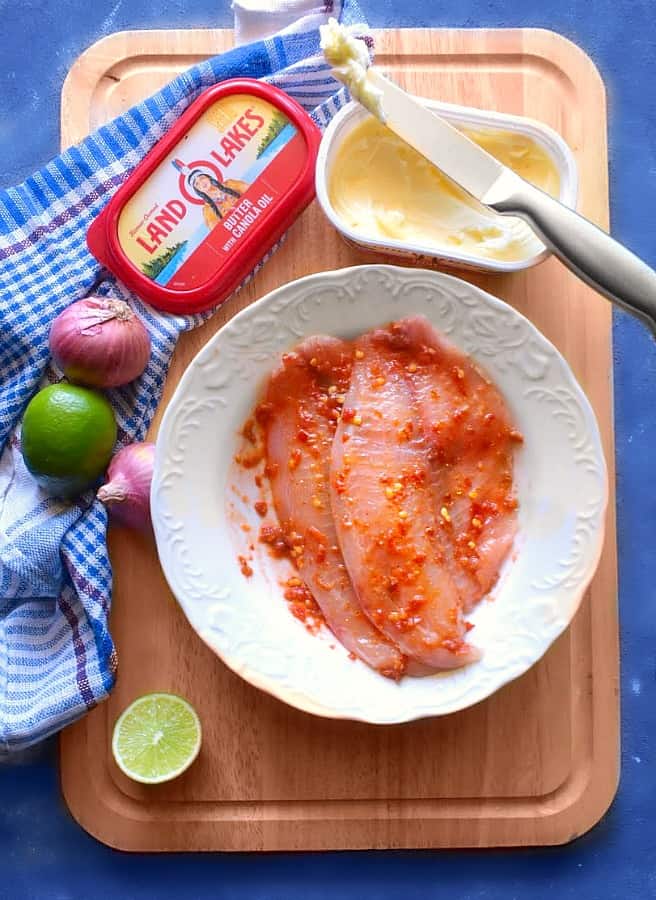 We are a huge fan of the Land O Lakes® Butter with Canola Oil, as it's made with really simple ingredients like:
Sweet cream
Canola oil
Salt
Which gives you the fresh butter taste you love with the spreadable convenience you want, right out of the refrigerator.
Apart from it being our regular breakfast essential (read Must Have's), we love using Land O Lakes® Butter with Canola Oil for sautéing and searing.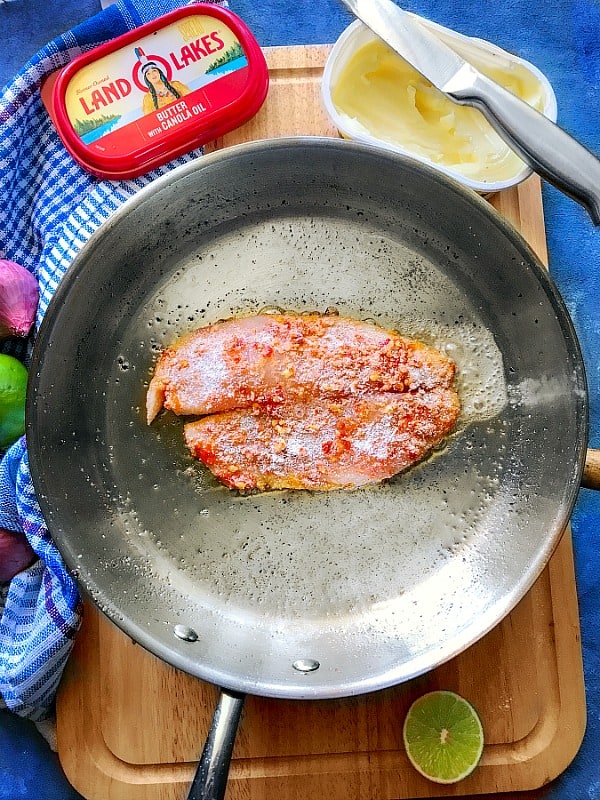 You can see above that we very lightly coated the fish with a spicy paste along with a sprinkle of homemade flour (mentioned in recipe ingredients).
 Then added 3tbsp of butter with canola oil to sizzle & sear the entire fish fillet.
This buttery sear gives it a bright golden crust that's extremely crisp yet light.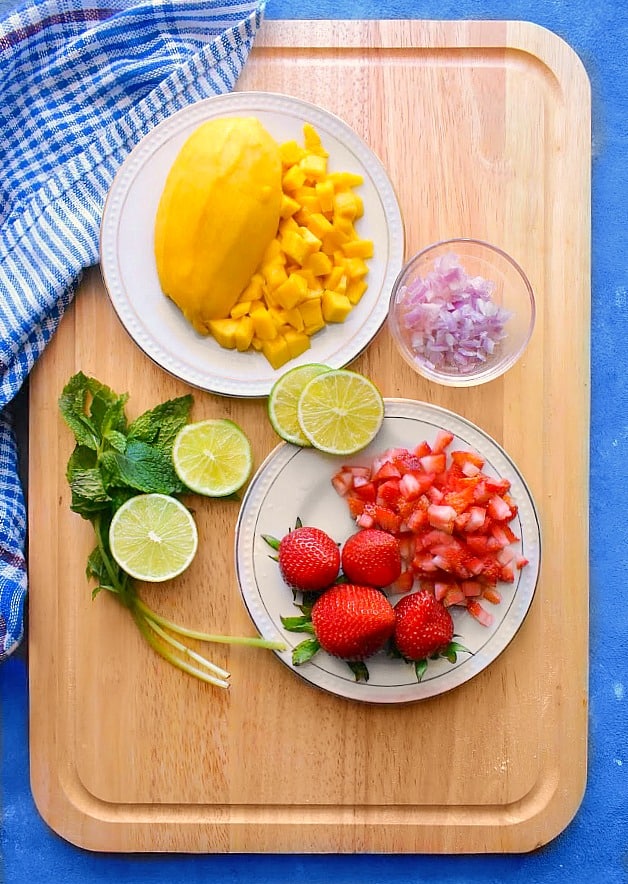 While the fish sears, you can make the fresh fruit salsa, cling wrap or seal it and keep in the fridge until you are ready to serve.
I recommend making a huge batch of this fruit salsa as it finishes really fast and you might not even get a second helping.
So make two batches and keep one in the fridge while you serve the first one.
I recommend serving the Pan Seared Fish along with steamed rice as that goes really well with the lightness of the meal.
However, you can serve it with any grain of choice like quinoa, couscous, etc.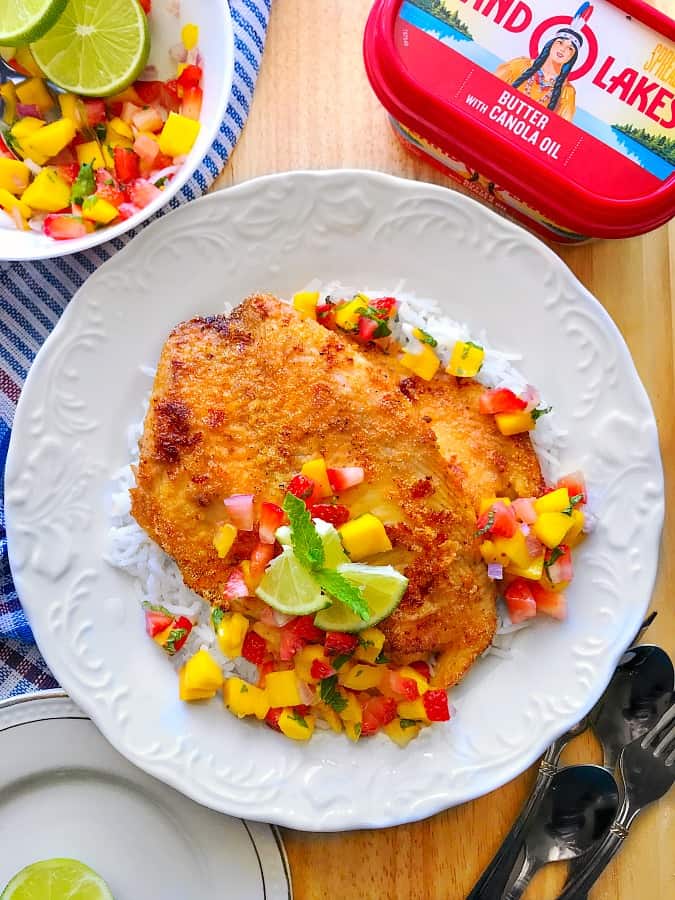 So this summer season, enjoy this Al-Fresco kind of Pan Seared Fish meal that's filled with light and fresh flavors.
Also, as mentioned above, use Land O Lakes® Butter with Canola Oil in not just your breakfast menu, but also to enjoy cooking light and flavorful meals.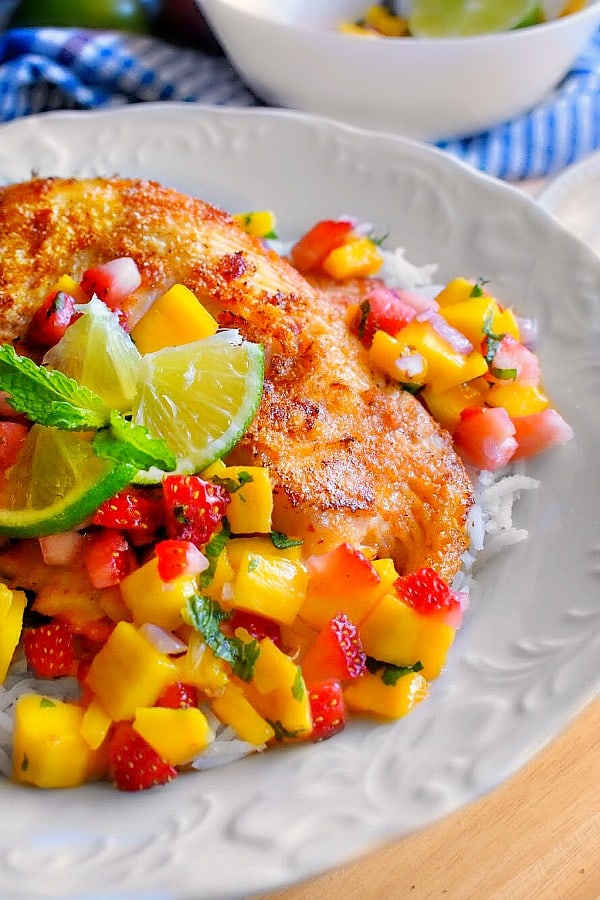 :: You May Also Like ::
---
Tried Our Recipe – AWESOME!!!
Now Quickly SNAP A PICTURE & TAG :
#easycookingwithmolly +@easycookingwithmolly on Instagram –>
Connect with Me Here:  Facebook / Pinterest / Instagram / Twitter / Subscribe to our Newsletter / Google+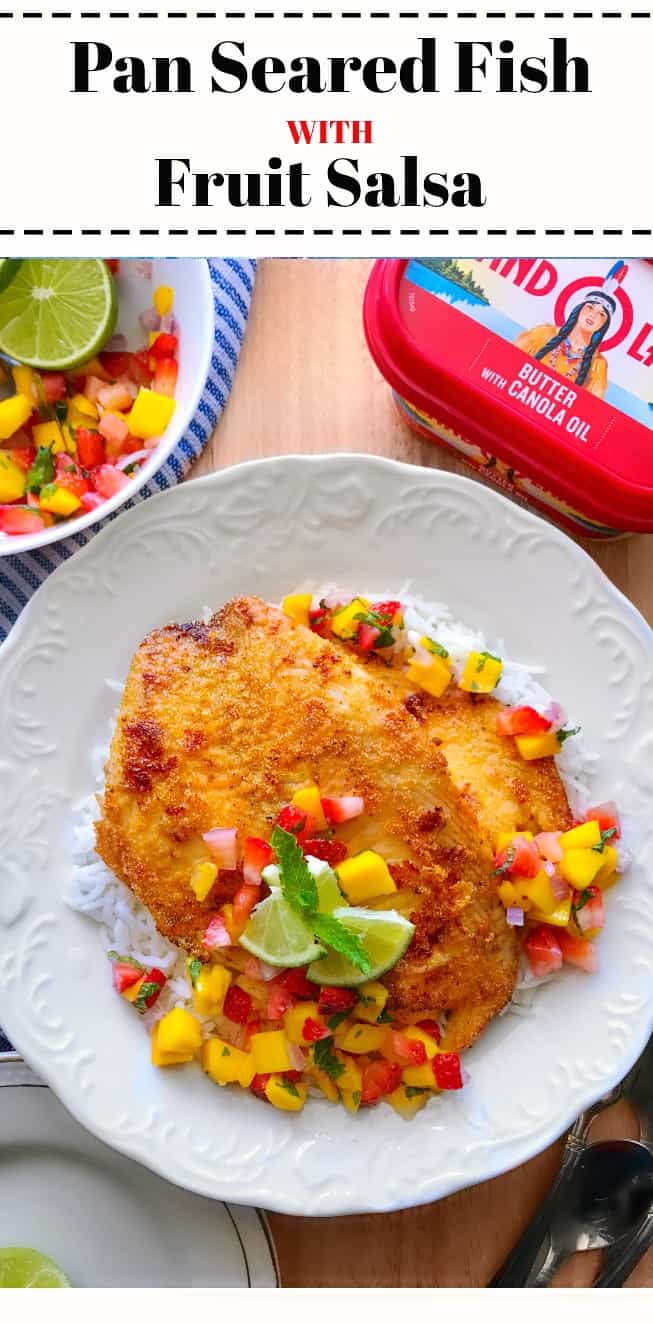 Yield: 4 People
Pan Seared Fish with Fruit Salsa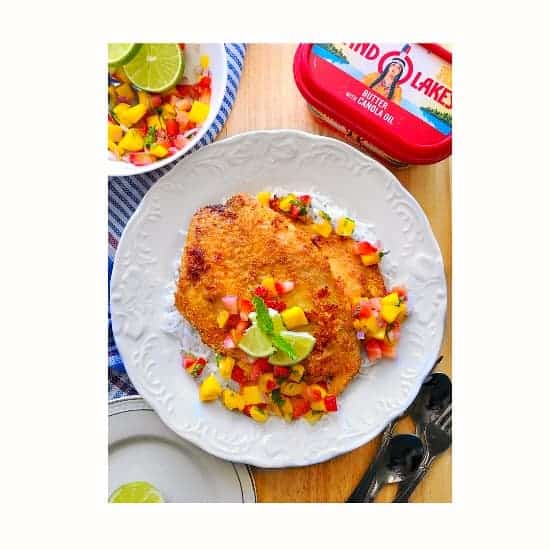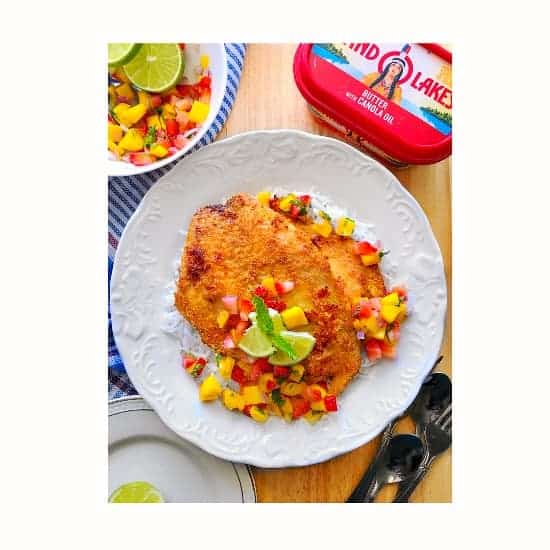 Ingredients
4 Tilapia Fillets - cleaned
3 tablespoons Land O Lakes® Butter with Canola Oil
1/4 Cup Rice - coarsely powdered
3 Tbsp Flour - you can use plain flour or any glutenfree flour if need be
2 Cups Rice - cooked as per package instruction or use any grain of choice
1 Lime - thinly sliced - for decoration
Few Sprigs of Mint Leaves - for decoration
<u>Fish Marinade:</u>
1 Tbsp Chili Sauce - use any as per choice
1 Tbsp Lemon Juice
1/4 Tsp Garlic Powder
1/2 Tsp Ginger Powder
1/4 Tsp Salt
1/4 Tsp Black Pepper
Pinch cayenne pepper - optional
1 teaspoon grated lemon zest
<u>Fresh Fruit Salsa: </u>
1 Large Mango - cleaned, peeled and thinly chopped (discard the seed)
1 Cup Strawberries - cleaned and thinly chopped
1 Small Red Onion - cleaned and thinly chopped
10 Mint Leaves - cleaned and thinly chopped
Juice of 1 Lime
1/4 Tsp Pink Salt - you can use regular salt too
1/4 Tsp Pepper
Instructions
Marinate the Fish: (5 minutes)
In a large bowl/plate, add the marinade spices and mix well.
Add the fish and coat the marinade on both sides.
Keep aside for 5 minutes
Make the Fruit Salsa:
In a large bowl, add all the fruit salsa ingredients and mix evenly.
Cling wrap or cover with a large plate and keep in fridge until ready to serve the fish.
Making the Pan Seared Fish:
Mix the rice powder and flour together.
Sprinkle the marinated fish evenly on both sides with the rice powder mix.
Heat a large skillet and add 2tbsp Land O Lakes® Butter with Canola Oil.
Let the butter with canola oil sizzle and melt for 30 seconds.
Add the coated fish and let it cook on each side for 2-3 minutes over medium heat or until crispy golden brown.
Remove the fish once cooked on both sides.
Serve the Pan Seared Fish with Fruit Salsa:
In a large serving plate or oval bowl, add rice.
Now place the pan seared fish on top of the rice.
Sprinkle fruit salsa on top and add sliced lemon and mint leaves.
Serve immediately with some fruit salsa on the side.
Nutrition Information
Serving Size
4 Pieces
Amount Per Serving
Calories

509
Total Fat

23g
Saturated Fat

4g
Cholesterol

35mg
Sodium

556mg
Carbohydrates

55g
Sugar

4g
Protein

21g
Visit Easy Home Meals for great recipes and meal solutions and to enter the June Dairy Month Sweepstakes for a chance to win up to $10,000 in prizes! #JuneDairyMonthBlog