A flavorful, healthy and super quick breakfast or anytime snack that's filled with delicious flavors.
Vegan Mango Matcha Chia Pudding has mango, coconut, & matcha.   
Hello Everyone and hope you had a great weekend or long weekend (all our friends in the USA).
As it was a Memorial Day long weekend, which meant BBQ parties, lots of drink, saucy food and after all heavy food, I was so looking forward to a light n quick breakfast.
Hence, these Vegan Mango Matcha Chia Pudding Recipe were just the perfect choice for a great healthy start.
They need absolutely no cooking and can be made in 5 minutes once your chia seeds are all poofed up.
As we went to few parties, hosted one at our place and after all that cooking/cleaning over the weekend, making breakfast felt like such a huge deal.
But I definitely wanted both of us to eat healthy after all breakfast is 'The Most Important Meal' of the day.
So here comes these Vegan Mango Matcha Chia Pudding Recipe.
It's an absolute no-cook recipe and I'm adding lots of fresh chopped mangoes in it as the combination of coconut-matcha-mango is simply divine!
If you've never made 'chia pudding' before, then this is a great recipe, to begin with as it's as simple as 'mix, keep for few minutes, and you have the chia seeds ready'to use.
All I did was just add chia seeds to coconut milk and let it poof or soaked (Once it's fully soaked, the seeds would become gelatinous and poof up double their size).
Now, I like my chia pudding on a little thicker side but if you like them thin, then just add little more milk or few drops of water.
That it for today and I'll be back with another quick and fingerlicking recipe soon and till then, please do try this Vegan Mango Matcha Chia Pudding Recipe for a refreshing and healthy bite.
Here's More Chia Pudding Recipe to Try: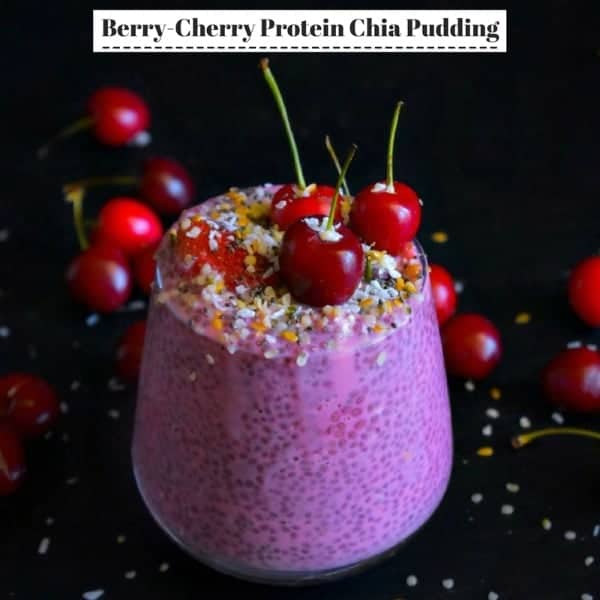 ---
As always, I Looove when you try my recipes and send me pictures & feedback. You can tag my recipes tried by you using #easycookingwithmolly on any of the social media below:
Connect with Me Here:  Facebook / Pinterest / Instagram / Twitter / Subscribe to our Newsletter / Google+
Yield: 3 Cups
Vegan Mango Matcha Chia Pudding Recipe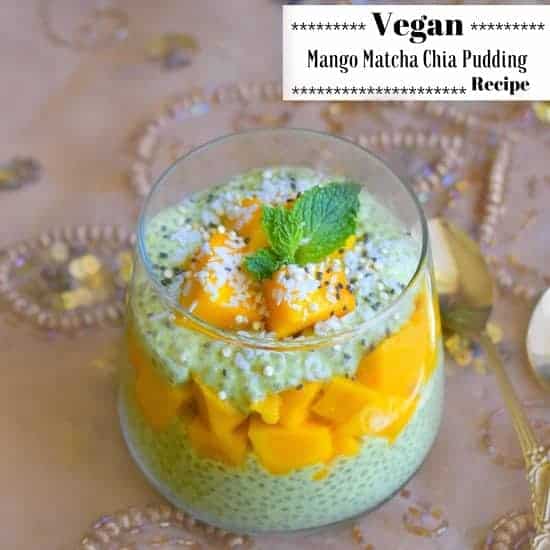 Ingredients
4 Tbsp Chia Seeds
1 Large Mango - peeled and chopped into bite size pieces
1/4 Tsp Matcha Powder
1.5 Cups Coconut Milk - you may use any milk of choice
1/4 Tsp Honey - you can use any sweetener or skip this step
Topping:
Coconut Flakes
Mint Leaves
Chia Seeds
Instructions
In a medium bowl, mix chia seeds, matcha powder with coconut milk and leave this mixture for chia seeds to expand (1hr or more).
Once the chia seeds have expanded completely, transfer them to 3 serving bowl.
Fill the bowls half way through and add chopped mango (about 2-3 tbsp).
Then add with matcha-chia layer till top.
Finally, add few chopped mangoes and mint leave.
Sprinkle with coconut flakes and chia seeds.
Serve Immediately or cover and store in fridge for 2-3 hrs.
Nutrition Information
Serving Size
1
Amount Per Serving
Calories

1