Stuffed Samosa Curry Buns: Soft, delicious buns that's filled with spicy samosa stuffing with a hint of curry. These Stuffed Samosa Curry Buns are a perfect snack to be enjoyed with Taj Mahal tea on a gameday.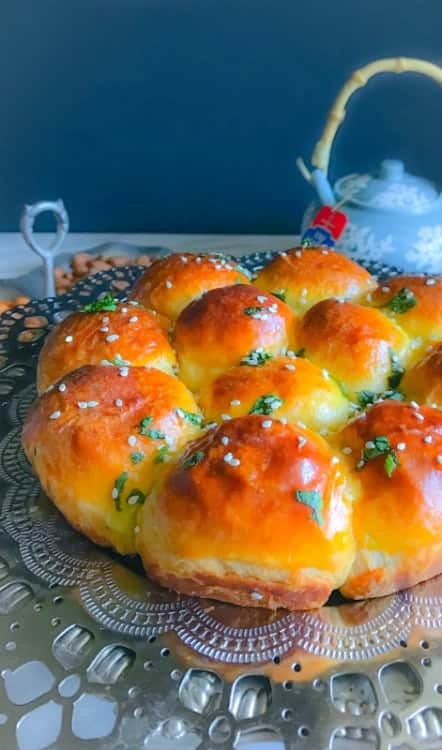 Stuffed Samosa Curry Buns
Hello Everyone, hope you're all set for an amazing weekend, and we have just the perfect recipe to make it better Stuffed Samosa Curry Buns .
Having grown up in India, we're always craving hot snacks with a great cup of tea.
And those cravings are 10 times more when there's a game of cricket or any major sports/entertainment event involved.
We are a cricket loving family (read – eat, love and breathe cricket) and the 'ICC Champions Trophy' (One Day International Cricket being held in England between June 1 to 18) gets underway today.
So the parties are all set (different days in different friends' house) and we are almost done with the menu too.
(And you can also check these Quick Ricotta Spinach and Corn Empanadas – made using Biscuit Dough)
While we decide the rest of the games' menu, we've got the perfect snack for you to munch on during the much awaited India vs Pakistan game this Sunday!
Can't wait for this game to begin! The first thing that comes to my mind as an Indian snack served along with tea is 'Samosa'!
So, here I'm giving a slight twist and a whole lot of ease to our samosa recipe and turning them into these Stuffed Samosa Curry Buns which are super easy to prepare and makes a great snack with 'Taj Mahal Tea'.
Now, before we go ahead and talk more about our stuffed samosa buns, let's share some facts on 'Taj Mahal' tea which is India's first premium tea brand –
"fostering excellence to savor the best & exquisite flavor of the best tea leaves from the choicest gardens of Upper Assam".
It's one tea brand that's been a family favorite for generations and I can never forget the moment when I first saw their advertisement saying 'Wah Taj'.
Those were the beginning era of advertisements and that particular Taj Mahal tea ad was a super hit with everyone.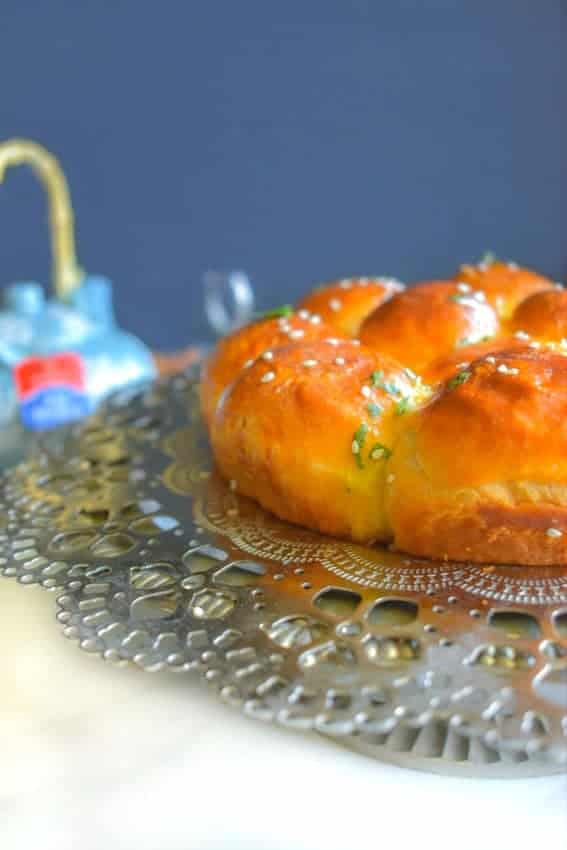 Definitely, check the dates near your city and make sure you visit the mentioned stores to win cool prizes or the sweepstake. Now, getting back to our Stuffed Samosa Curry Buns they are so easy to make.
It took me literally 30 minutes to make the filling, stuff each dough ball and bake this golden yummy delights.
How to Make Stuffed Samosa Curry Buns
Also, I feel during such game events, we need more finger-food kind of snack which are easy to move around with or even scream with joy when our fav team scores or gets a wicket 🙂
That's it this weekend and I'll be back with another delicious gameday or as we say Cricket recipe next week.
Till then, do enjoy these stuffed buns with a hot piping 'Taj Mahal' tea and don't forget to say "Wah Taj" !
You can also try these delicious 'Masala Naan Canapés with Ginger Flavored Tea' from my friend Sonal of Simply Vegetarian777.
---
As always, I Looove when you try my recipes and send me pictures & feedback.
You can tag my recipes tried by you using #easycookingwithmolly on any of the social media below:
Connect with Me Here: Facebook / Pinterest / Instagram
Yield: 16 Samosa Buns
Stuffed Samosa Curry Buns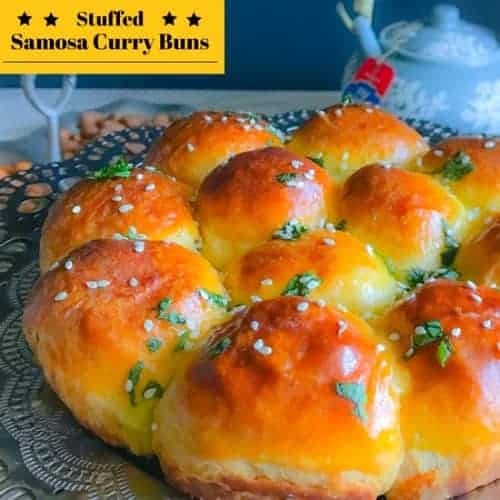 Soft, delicious buns that's filled with spicy samosa stuffing with a hint of curry. Perfect Indian snack for tea/coffee or gatherings.
Ingredients
1 Can Flakey Biscuit Dough - thawed
For Samosa Stuffing/Filling:
4 Large Boiled Potatoes - mashed
1//2 Cup Frozen Peas - thawed
1/4 Cup Frozen Carrots - thawed (optional)
2 Tsp Olive Oil
Spice Mix
1/2 Tsp Curry Powder
1/2 Tsp Turmeric Powder
1/4 Tsp Red Chili Powder
1/2 Tsp Coriander Powder
1/2 Tsp Dry Mango Powder - you may use lemon juice
1/2 Tsp Salt - use as per taste
For Coating the Buns:
1 Eggs - whisked (optional)
1 Tsp Melted Butter
1 Tsp Chopped Cilantro
Instructions
! Make the Filling:
Heat 2 tsp oil in a skillet.
Add frozen peas, carrots and saute for 2 minutes over medium high. (till they are slightly cooked and mushy).
Now, add the spice mix and saute everything.
Add the mashed potatoes and saute for another 2 minutes or till everything is slightly cooked.
Turn off the heat and cool the filling completely.
! Filling the Samosa Buns:
Open the biscuit can and slice each biscuit disc into half. (you'd get 16 halved discs)
Now, make balls of the half biscuit dough.
Take one ball and roll it into 2 inch thick round disc.
Take 1 tbsp potato filling and add it in the center of disc.
Press the edges on top together to close them.
Place the stuffed bun (edges side down) in the skillet/baking pan.
Similarly, fill all the buns and place them into the skillet/baking pan.
! Optional Step: If using Egg: Brush the whisked egg generously on top of each bun.
! Baking the Stuffed Samosa Buns:
Bake in the oven for 12 minutes at 375F (Look for golden baked crust, keep an eye as all oven are different).
Once the buns are baked, then turn off the oven.
In a bowl, mix butter and cilantro leaves.
Place the baked buns outside (while still hot) and slather each bun with this butter mixture for that golden shiny crust.
Transfer to serving tray and serve with hot tea.
Nutrition Information:
Yield:
2
Serving Size:
1
Amount Per Serving:
Calories:

452
Total Fat:

10g
Saturated Fat:

3g
Trans Fat:

0g
Unsaturated Fat:

6g
Cholesterol:

98mg
Sodium:

967mg
Carbohydrates:

79g
Fiber:

9g
Sugar:

7g
Protein:

13g
(This is post is sponsored by Brooke Bond Taj Mahal Tea. All opinion expressed here are mine)

And, now for a fun and exciting part, our favorite 'Taj Mahal' tea is holding sweepstakes – Wah Moments!
You guys can all take a shot, or many shots (1 entry per day is permitted) to win a Trip for 2 to Hawaii!
There are many more exciting prizes to be won as well! What's more, if you're around any of the following stores, you must go to pick up the ingredients for this recipe over the weekend!
There are going to be fun activations and you'll have a chance to get free boxes of 'Brooke Bond Taj Mahal Tea' as well! :
1.Cermak Produce – Naperville – Chicago – 9 June & 17 June
2. Tulsi Grocers– Schaumburg – Chicago – 10 June & 16 June
3. Patel Brothers Plano – Dallas – 3 June, 9 June & 17 June
4. INDIA BAZAAR#2 Valley Ranch , Tx 75063 – Dallas – 2 June, 10 June & 16 June
5. INDIA CASH & CARRY (Fremont) – SF – 2 June & 16 June
6. New India Bazaar – SF – 3 June & 11 June
7. INDIA CASH & CARRY – SF – 4 June & 18 June
8. TRINETHRA – SF – 9 June & 17 June
9. Patel brothers – NJ – 10 June & 17 June
10. Subzi Mandi – NJ – 9 June, and 16 June
———————- : Here are the sweepstake details : ———————-
1 Simple question, updated everyday, you can answer & participate everyday to increase your chances of winning!
Grand Prize – Trip for 2 to Hawaii
Weekly Prize – Tea Brewing Pot worth $220
Complementary Willow & Gaana+ subscriptions for all participants
———————- → Participate Now ← ———————-