Watermelon Vodka Slushie (2 Ingredients) watermelon slush using frozen watermelon chunks and vodka. A quick, easy and delicious drink that's perfect parties big/small or just a drink at home.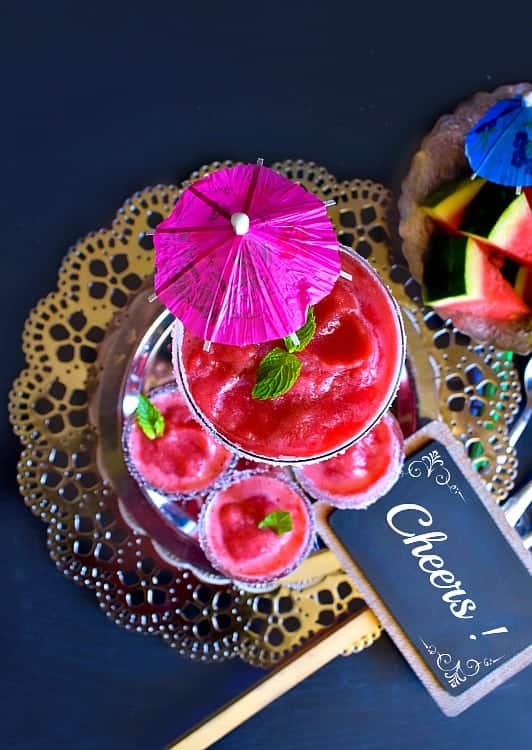 We just cannot get over this Watermelon Vodka Slushie (2 Ingredients) drinks!!!
Also, known as Watermelon Slush, this has been our favorite summer after summer and make for a perfect long weekend drink for just you or your party.
Finally, the long weekend is here and we are all set with our BBQ grill, food, and drinks.
And that means Monday is a holiday and a lot of people would even take Friday off for long-distance travel.
It's also the official go-ahead for the grilling season in USA, so you can imagine lots of grilling and BBQ happening around.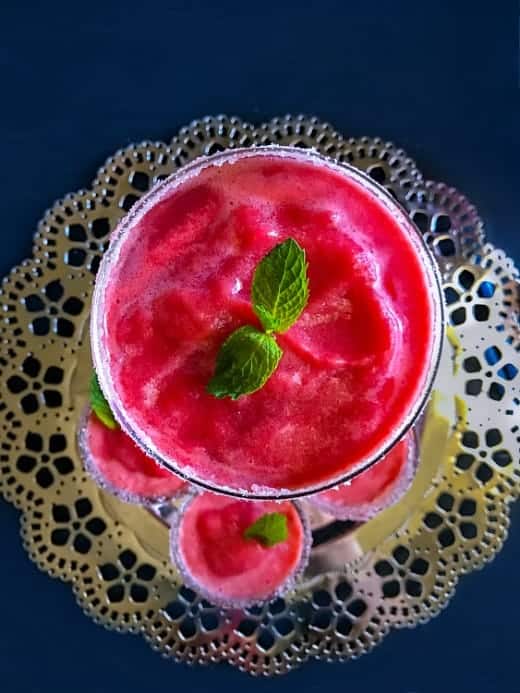 If you remember, last week, I had mentioned that the guys have already planned for a golf weekend and whoever is not going, will be staying back at our place.
Hence, I'm arranging a variety of food and drinks especially these 'Watermelon Vodka Slushie!
If you're a fan of boozy drinks, then this is your best bet for a party as it's only 2 ingredients and you can make tons of it in minutes (literally).
Ingredients for the Watermelon Vodka Slushie – Slush:
Watermelon, frozen into chunks or cubes
Vodka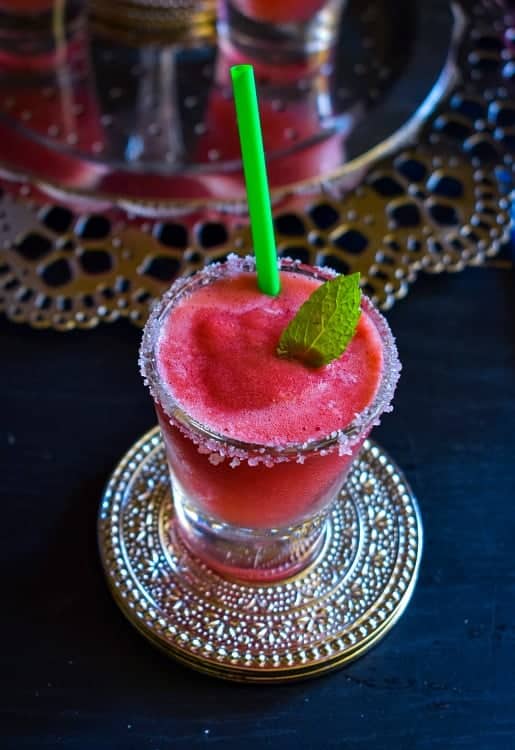 How to Make Watermelon Vodka Slush:
Chop the watermelon into chunks/cubs and slice the peel.
Remove any seeds.
Freeze the watermelon chunks for an hour or more.
Once the watermelon is frozen, remove it from the fridge.
Place the frozen watermelon chunks into a blender and add vodka.
Blend everything to form a Watermelon Slush or Slushie.
Pour into glasses and serve immediately.
Mix everything as per your desired ratio (more watermelon or more vodka) and your drink is ready.
You can even make these slushies and freeze in large batches and when your party day arrives, just keep outside to thaw.
Now, I've added some garnish here like fresh mint leaves and sweet-salty drink mix to the rim but go ahead and add it straight to your serving glasses and serve as is.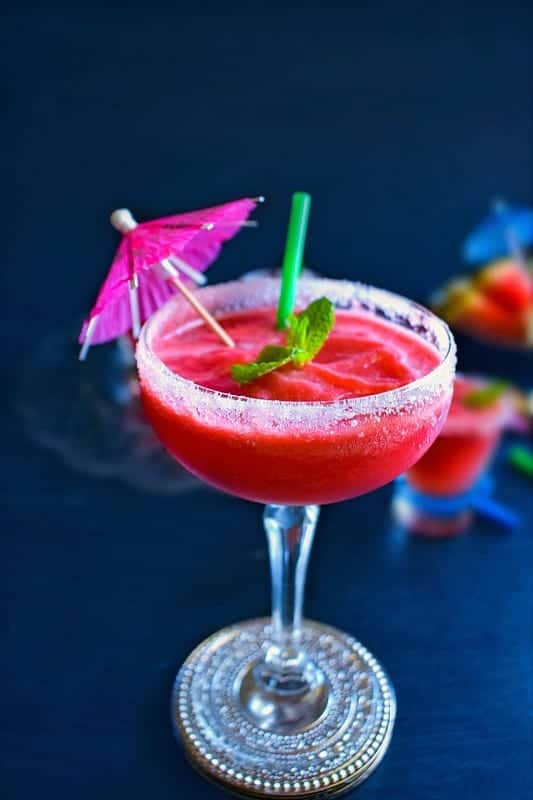 The only thing I cannot decide even to date is :
Whether I want to Eat the Slushie or Drink it ???

So I usually serve them along with spoons and straw for people to make their own decision.
Also, if you've noticed, I'm serving them in two sizes as some of my friends like to drink them as shots with little extra vodke – Yep, I'm being the Perfect host 🙂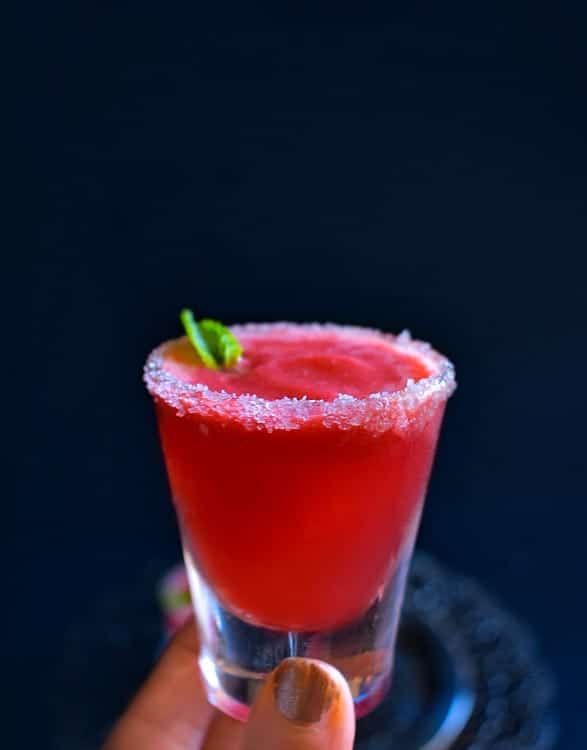 So, Cheers to the Long Weekend and you have to try this Watermelon Vodka Slushie !
Have a Great Weekend Ahead and here's a fun picture that I took of the vodka bottle and empty glasses 🙂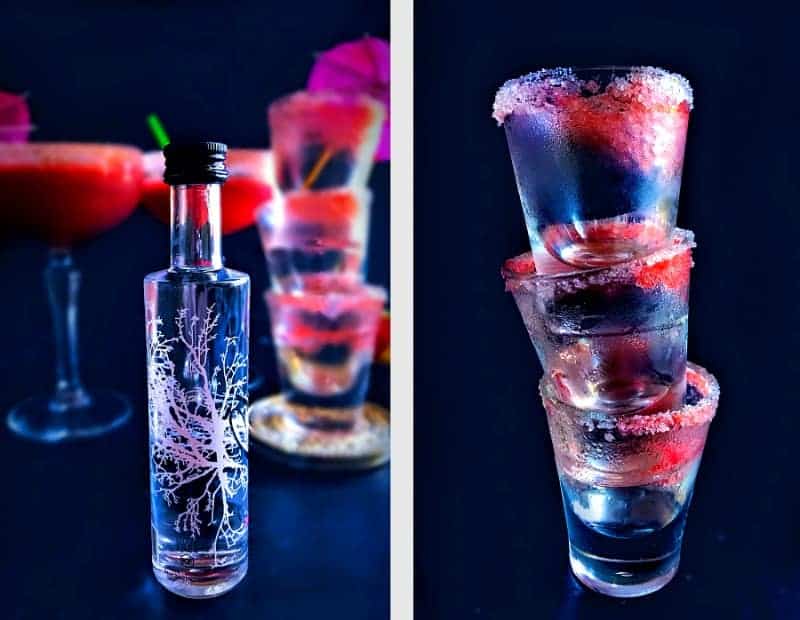 Tried Our Recipe – AWESOME!!!
Now Quickly SNAP A PICTURE & TAG :
#easycookingwithmolly + @easycookingwithmolly on Instagram –>
Connect with Me Here: Facebook / Pinterest / Instagram
:: You May Also Like ::
Yield: 10 Medium Glasses
Watermelon Vodka Slushie (2 Ingredients) How to make Watermelon Slush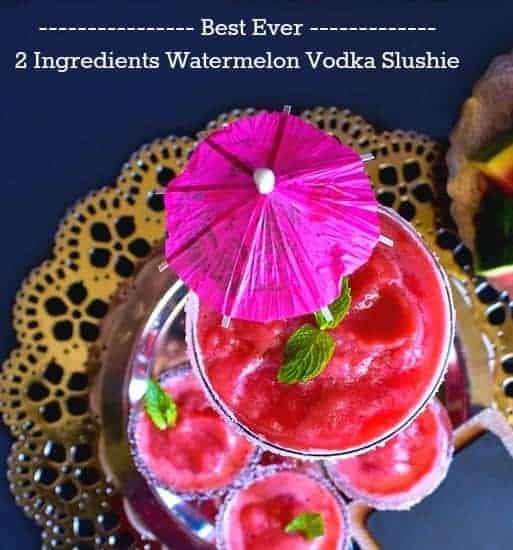 Watermelon Vodka Slushie (2 Ingredients) How to make Watermelon Slush: Filled with refreshing watermelon flavor with a splash of vodka. Perfect for party too. #watermelonslush
Ingredients
1 Medium Watermelon
1 Cup Vodka
Instructions
Cut the watermelon into bite size pieces and freeze for an hour or over night.
Remove from Freezer and thaw for 10 minutes.
Add watermelon chunks and vodka in a food processor and blend to form a smoothie like consistency. (If you like to make it slightly thinner, just add 1/4 cup of water or juice).
Transfer to serving glasses.
Decorate as per choice and serve immediately.
Nutrition Information:
Yield:
10
Serving Size:
2
Amount Per Serving:
Calories:

60
Total Fat:

0g
Saturated Fat:

0g
Trans Fat:

0g
Unsaturated Fat:

0g
Cholesterol:

0mg
Sodium:

1mg
Carbohydrates:

2g
Fiber:

0g
Sugar:

2g
Protein:

0g