Disclaimer: The post has been sponsored in compliance with FTC requirements and compensated by MTR Foods. All thoughts and opinions are my own.
Three Colored Breakfast Masala Upma (Savory Semolina Pudding): Instant and delicious breakfast upma prepared with a hint of ghee using three colors. A perfect breakfast treat for the entire family to enjoy.
I'm back with another wholesome and quick breakfast recipe using MTR Breakfast Mixes. This time we are using 'Masala Upma' which is a savory semolina pudding made using ghee and is usually served for breakfast or snacks in Indian homes. It's easy to digest, filling and wholesome too. Traditionally, it's made by sautéing semolina with ghee, seasoning and adding water. Just cover with lid and cook for 15-20 minutes to get a thick savory pudding. But the key to a good upma is proper measurement and mixing, however who has the time to do all that in morning or when you need a really quick snack? Hence I got these MTR Breakfast Mixes, which are super easy to make (mostly ready in 2-3 minutes) and excellent to taste.
Many of you might already know that we are quickly approaching 15 August, which is the Independence Day in India. Every year, I celebrate this day by creating some of our favorite Indian recipes and one of those recipes does include 'Three colors – (Saffron, White & Green), the colors that evoke a deep emotion of patriotism and affinity. As they say 'Absence Makes the Heart Grows Fonder', well in my case it's the distance which just makes me long for India, even more so on such special occasions.
So to celebrate this year's India Independence Day, I'm creating this 'Three Colored Breakfast Masala Upma (Savory Semolina Pudding)', which can be made using the MTR Breakfast Mixes. So, we no longer have to roast or measure any ingredient. Just boil some water, empty the entire packet content in it, add ghee (incase you are vegan, you can add coconut oil), cover cook for few minutes and you're done. The masala upma is ready in minutes and tastes smooth and yummy.
To impart them with the three colors, I've just divided the recipe into three equal parts and added 3 different food colors to them . Then take any cookie cutter , place few spoons of green colored upma on the bottom , then few spoons of white upma and finally top with saffron upma. Decorate with nuts or few sprigs of fresh coriander and you are ready with a that can make you the star of your breakfast game 🙂
Here's a pictorial of the Upma + Process:

Go Ahead and enjoy the scrumptious 'Three Colored Breakfast Masala Upma (Savory Semolina Pudding)' with your family or loved ones and celebrate the special occasions in your life.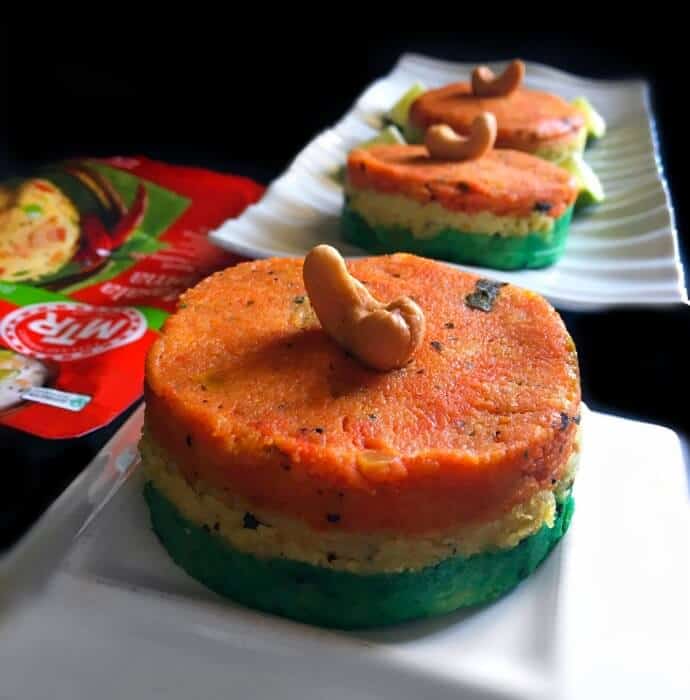 Yield: 6
Three Colored Breakfast Masala Upma (Savory Semolina Pudding)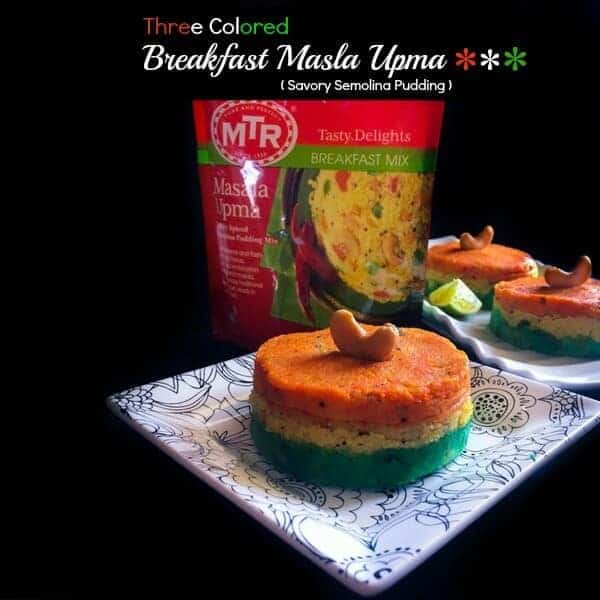 Prep Time 5 minutes

Cook Time 3 minutes

Total Time 8 minutes
Ingredients
1 Packet MTR Masala Upma Mix
1/2 Cup Water
2 Tbsp Ghee - clarified butter
Few Drops Orange Food Color
Few Drops Green Food Color
5-6 Roasted Cashews
1 Lemon - chopped into quarter
1 Circular Cookie Cutter - or any shape cookie cutter
Instructions
Bring water to a boil In a medium non-stick pan.
Add the entire packet content of the MTR Masala Upma.
Add ghee and stir everything.
Cook for 3 minutes and turn off the heat.
To Make 3 Color
Divide the upma into three equal parts.
Mix orange food color in one part and stir it evenly.
Mix green food color in the second part and stir evenly.
Assemble the Pudding
Take the circular cookie cutter and place the green upma as the bottom layer.
Press evenly inside the circle.
Next, add the non-colored upma and press evenly in the circle.
Lastly, place the orange color upma on top and press evenly in the circle.
Lift the cookie cutter upward and your 'Three Colored Breakfast Masala Upma' is ready.
Follow the process above to make the remaining upma pudding.
Transfer to serving dish.
Add a cashew on top of each and serve with a sliced lemon wedge on the side.
Do give these MTR Breakfast Mixes a try as they are easily available in Indian Grocery stores + Amazon and have many options to choose from :
Khatta Meetha Poha
Vermicelli Upma
KhamanDhokla
Dhokla
Poha
Oats Upma
Ragi Dosa
Oats Idli
Multigrain Dosa
Masala Idli
Masala Upma
Rava Dosa
Vada
Dosa
Rice Idli
Upma
Rava Idli

Here's some more Breakfast Posts:
Connect with Me Here:  Facebook / Pinterest / Instagram / Twitter / Subscribe to our Newsletter / Google+