Veggie-Cheese Dosa Roll-Ups (Indian Crepe Roll-Ups with Veggies & cheese): Bite Size Dosa roll-ups filled with colorful veggies+cheese is a breakfast delight for kids of all ages.
Made under 10 minutes and packed with flavors, they are definitely a MUST TRY for your next breakfast menu.
Mornings are forever challenging and getting your kids to eat breakfast is another thing leave alone trying to feed them the daily veggies 🙂
But every parent agrees that a sumptuous breakfast filled with carbs + proteins is key to keep them active throughout the day.
So here's my Veggie-Cheese Dosa Roll-Ups (Indian Crepe Roll-Ups with Veggies & cheese), which is a WIN-WIN for both parent and kids, as they are quick, fun and filled with the goodness of veggies.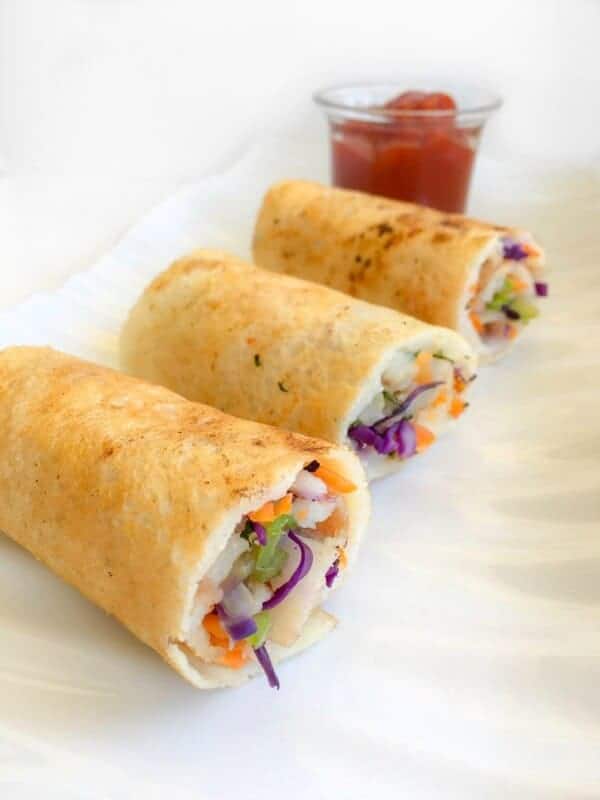 The roll-ups are bite size and filled with colorful veggies (Yes, just sneak in all of them), cheese (mozzarella + paneer/cottage cheese) and drizzled with their favorite tomato ketchup.
To make things even quicker, I made them using the 'MTR Dosa Mix' (from MTR Instant Breakfast Mix range) which are easily available in many Indian Grocers here in the USA.

Now, a regular Dosa (Indian Crepes) is made using a mix of lentil+rice that is soaked overnight (at least 10-12hrs).
Then ground to a fine paste which is again fermented for a minimum of 8hrs, so the entire process usually takes about 20-24 hrs.
Enter MTR Dosa Mix, which makes making Dosa a breeze as they are completely INSTANT, doesn't that sound wonderful – Right!
No grinding or fermenting required, just add the mix to water and your batter is ready.
Before I start making the dosas for the roll-ups, I've prepped the filling (thinly sliced veggies, grated the cheese), cause once the dosa is made.
You want to start adding the filling and rolling the dosas (hot dosa roll easily).
Once the dosas are rolled, cut them into bite-size pieces or if you want, you can cut them into halves (customize as per choice).
I recently had a couple of my friends come over for 'Breakfast' along with their lil munchkins and theseVeggie-Cheese Dosa Roll-Ups were put to test (with a couple of my mom friends getting their own homemade kids breakfast too).
Trust me, these roll-ups were an Instant HIT and gone like Abra-ka-Dabra!
OMG, even the pickiest of eater finished it completely (no crumbs left….that a good thing right 🙂
The kids ate in silence and moms watched lovingly ~ Seriously a picture perfect moment.
So, I think, we are soon going to have many more of these 'Breakfast Meetups' with Dosa Roll-Ups.
That's it for now and do stay tuned as, In the coming months, I would be posting a couple of more fun and delicious recipes using the MTR Breakfast Mixes.
In the meanwhile, do give them a try as they are easily available in Indian Grocer stores and have many options to choose from :
Khatta Meetha Poha
Vermicelli Upma
Khaman Dhokla
Dhokla
Poha
Oats Upma
Ragi Dosa
Oats Idli
Multigrain Dosa
Masala Idli
Masala Upma
Puttu
Rava Dosa
Vada
Dosa
Rice Idli
Upma
Ragi Rava Idli
Here's the picture guide to making the MTR Dosa Mix and The Roll-Ups:
---
Tried Our Recipe – AWESOME!!!
Now Quickly SNAP A PICTURE & TAG :
#easycookingwithmolly +  @easycookingwithmolly on Instagram –>
Connect with Me Here:  Facebook / Pinterest / Instagram / Twitter / Subscribe to our Newsletter / Google+
Also, Visit MTR Foods USA Facebook page -> Here
Yield: 7
Kids Breakfast - Veggie & Cheese Dosa Roll-Ups (Indian Crepe Roll-Ups with Veggies & cheese)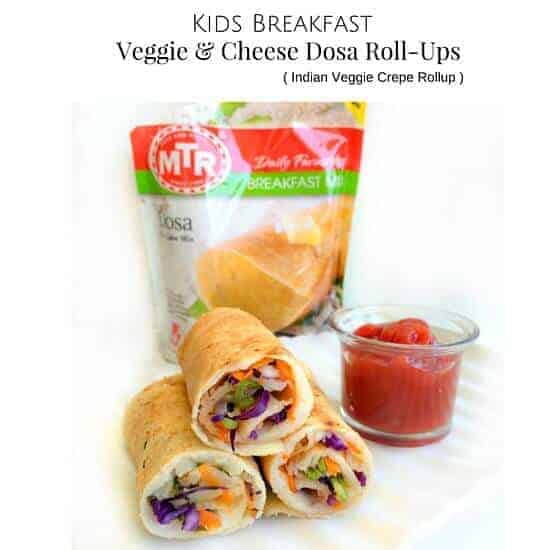 Ingredients
1 Packet MTR Dosa Mix
1/2 Cup Shredded Carrots
1/4 Cup Shredded Capsicum
1/2 Cup Shredded Onion
1/2 Cup Boiled n Crumbled Potatoes
1/2 Cup Paneer - can use cottage cheese
1/4 Cup Shredded Mozzarella
Salt as per taste
Pepper as per taste
1/4 Cup Olive Oil - NY light oil
Instructions
Heat the skillet over medium heat.
In a bowl, add a cup of Dosa Mix, water, and whisk to a smooth thick batter. (It should lightly coat the back of the spoon)
Add 2 ladle of batter to the hot skillet and swirl to make a thin circular crepe/dosa shape.
Add 1/4 tsp of oil all around the crepe.
Add 1/2 Tsp of shredded potato, carrot, onions, capsicum, cheese, and seasoning.
Lightly press everything to the dosa/crepe.
Roll the dosa/crepe lightly (making sure the filling stays inside and dosa doesn't break.
Remove the cooked rolled dosa to a plate.
Follow the steps above to make all the dosa rollups.
Cut the dosa roll-ups as per choice (I cut some into half and some into three's).
Transfer to serving plate and serve along with favorite ketchup/chutney.
Nutrition Information:
Serving Size:
1
Amount Per Serving:
Calories:

671
Total Fat:

62g
Saturated Fat:

12g
Cholesterol:

15mg
Sodium:

197mg
Carbohydrates:

27g
Sugar:

5g
Protein:

11g


Disclaimer : The post has been sponsored in compliance with FTC requirements and compensated by MTR Foods. All thoughts and opinion are my own.