Pizza Uttapam (Savory Indian Pancakes turned Pizza): Soft and delicious uttapam / savory Indian pancakes turned into 4 different pizza. Perfect for kids menu. These can be served as breakfast, lunch or dinner.
Today's recipe is all about kids and parents…kids who love eating pizza and parents who want to feed them more of vegetables and homemade food.
So, why don't we mix both of these choices and make something that pleases both? Sounds Awesome?!!
Made using MTR Uttapam – Breakfast Mix and ready in 10 minutes, it surely is a treat for kids of all ages.
Then quickly try this Pizza Uttapam (Indian Pancakes turned Pizza) which definitely makes everyone happy and did I mention it's 100% KIDS Approved 🙂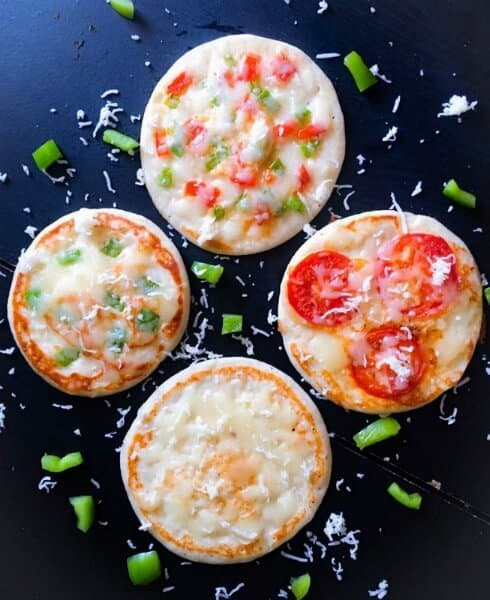 These Pizza Uttapam are absolutely delicious, soft and easy to make.
You can make them with any cheese/veggies combination that your kids love or simply hide the veggies in the pancake and sprinkle some cheese.
Whichever way you serve them, they will surely bring a smile to your kid's face.
Here's a glimpse of 4 different toppings I've used :
Plain Cheese
Cheese + Capsicum
Mixed Veg
Tomato + Cheese
Of all of them, the the 'Tomato + Cheese', and the Cheese Topping Uttapam was a Winner each time.
For my friends, who're wondering 'What is an Uttapam'?
It's a savory Indian pancake made using fermented (rice + lentil) mix and a very popular Indian recipe.
The batter is made mixing both the flours together and needs to be properly fermented.
Hence the Uttapam process actually starts 24-36 hours (depending on how hot it is) earlier than you make it.
But the MTR Uttapam Mix gives you the same flavor minus the hassles of doing the fermentation yourself.
Hence, you can easily make this Uttapam instantly and treat everyone to a delicious hot breakfast.
These MTR Breakfast Mixes have become quite a favorite among my family and friends here in the USA and an absolute necessity on Sundays.
A day when everyone in the family wants different things to eat and you absolutely don't want to spend hours in the kitchen.
That's when these MTR Breakfast Mixes come so handy, everyone gets their choice of food, you don't slog hours making them nor do you compromise on taste or quality.
Seriously, if you haven't tried them yet, you NEED to get them ASAP and try the Pizza Uttapam (Indian Pancakes turned Pizza) .
They are available in Indian Grocery stores + Amazon and have many options to choose from:
Khatta Meetha Poha
Vermicelli Upma
KhamanDhokla
Dhokla
Poha
Oats Upma
Ragi Dosa
Oats Idli
Multigrain Dosa
Masala Idli
Masala Upma
Rava Dosa
Vada
Dosa
Rice Idli
Upma
Rava Idli
Here's a quick look at 'What We Need to Make these Cheese Topping Uttapams & Also How We Made them' ->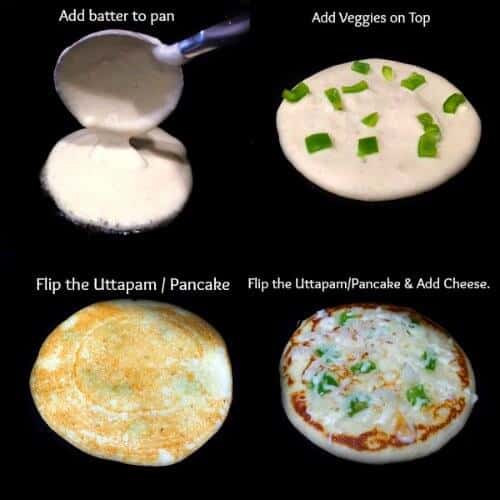 Try this Pizza Uttapam (Indian Pancakes turned Pizza) today and see your kids devour every bite of this delicious goodness.
*** Here's some great news for my friends who just do not have the time to fix themselves a proper meal ***
There are times when you are striving to meet a deadline, rushing to honor an appointment or just busy and do not have the luxury of stepping into the kitchen to fix yourself a healthy meal.
Guys, 'MTR Foods' has recently launched their Breakfast in a Cup range!
You may pick up anyone from the Upma, Poha or Khatta Meetha Poha.
Just add hot water, and voila in 3 minutes, you have a piping hot healthy meal!
So now, there are no excuses for missing a meal!
You Can Also Try:
---
Tried Our Recipe – AWESOME!!!
Now Quickly SNAP A PICTURE & TAG :
#easycookingwithmolly + @easycookingwithmolly on Instagram –>
Connect with Me Here: Facebook / Pinterest / Instagram
Yield: 10 Pancakes
Pizza Uttapam (Savory Indian Pancakes turned Pizza)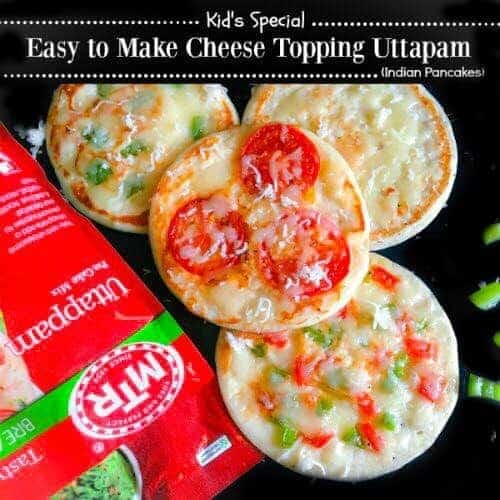 Pizza Uttapam (Savory Indian Pancakes turned Pizza) Soft and delicious uttapam / savory Indian pancakes turned into 4 different pizza. Perfect for kids menu
Ingredients
1 Packet MTR Uttapam Mix
1 Cup Cheese - shredded
1/2 Cup Capsicum - chopped
1 Tomato - thinly sliced
4 Tbsp Olive Oil - you can use any light oil
1 Cup Water
1/4 Cup Plain Yogurt
Instructions
Take a big bowl and prepare the MTR Uttapam Mix as per the package instructions. (I've used the entire packet content with 1 glass of water + 1/4 cup of yogurt).
Whisk the uttapam/pancake batter to a smooth paste (making sure no lumps are there).
Heat a non-stick pan and add 1 tsp of oil.
Add 1 and 1/2 ladle of the uttapam batter and swirl to form a thick circular shape.
Add chopped capsicum (2-3 pieces) and let the pancake cook for a minute.
Flip the pancake to the other size and cook for another minute on medium heat.
Now, flip the pancake (stuffing side up) and add cheese, let it melt for 20 seconds and transfer on serving dish.
Similarly make the other pancakes with capsicum, tomato or just cheese topping.
Serve Hot with choice of chutney or sauce.
Nutrition Information:
Yield:
7
Serving Size:
1
Amount Per Serving:
Calories:

171
Total Fat:

16g
Saturated Fat:

5g
Trans Fat:

0g
Unsaturated Fat:

10g
Cholesterol:

18mg
Sodium:

123mg
Carbohydrates:

3g
Fiber:

0g
Sugar:

2g
Protein:

5g
Disclaimer: The post has been sponsored in compliance with FTC requirements and compensated by MTR Foods. All thoughts and opinions are my own.