Savory Breakfast Poha Trifle (Savory Rice Flakes Breakfast): Indian poha loaded with carrot, nuts, curry leaves, and lemon juice.
Savory Breakfast Poha Trifle
We are adding veggies and nuts that fuel you up and get you ready for the day. Easy to pack and ready to serve using the 'MTR Khatta Meetha Poha' Mix.
'All Happiness Depend on A Leisurely Breakfast'! So have you had your breakfast today?
For me, breakfast is THE most important meal of the day and no matter how hectic my schedule is, I always sneak in some time to have a hearty breakfast.
Although I must confess that till date, weekday breakfast was simply either or few of these: smoothie/cereal/toast/avocado
Traditional Indian breakfasts (poha/upma/parathas/etc) were kept for the weekends.
Until I found these delicious MTR Breakfast Mixes and one of them happened to be 'MTR Khatta Meetha Poha' which (hold your Breath)
Just needs a cup of hot water and you have a ready to eat poha in 3 minutes!!
OMG, can you believe that ?….. I had to literally read the instructions 4-5 times, as I kept thinking I'm missing something.
You can see the result's here (I'm just adding a cup of hot water):
Nobody at home believed me till I made another packet in front of them and voila, the poha came out perfect, fluffy and tasted absolutely delicious….just like the one you make from scratch.
After noshing on it for a couple of days, I decided to make individual 'Healthy Quick Savory Breakfast Poha Trifle' cups by layering sauteed peas, shredded carrots, some nuts, and few other ingredients.
The result was this absolutely gorgeous and mouthwatering delight that was gone even before we were halfway through the breakfast…no-one touched the smoothie/fruits or anything else.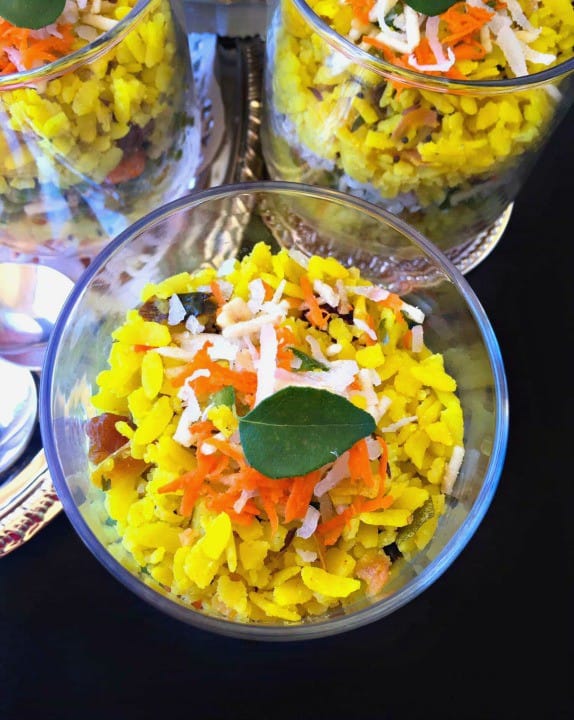 If you are wondering why the 'individual cups'?
First, it looks so pretty.
Second, the layers stay intact and you can eat the way you want (layer by layer or mixing everything together)
Third, which was most important for me, you can carry it anywhere in the house or outside on the go.
Especially, if you carry breakfast to work, these are a perfect fit – they don't spill (cover the cups with cling wrap) and you can make them overnight as they remain intact (just store in fridge).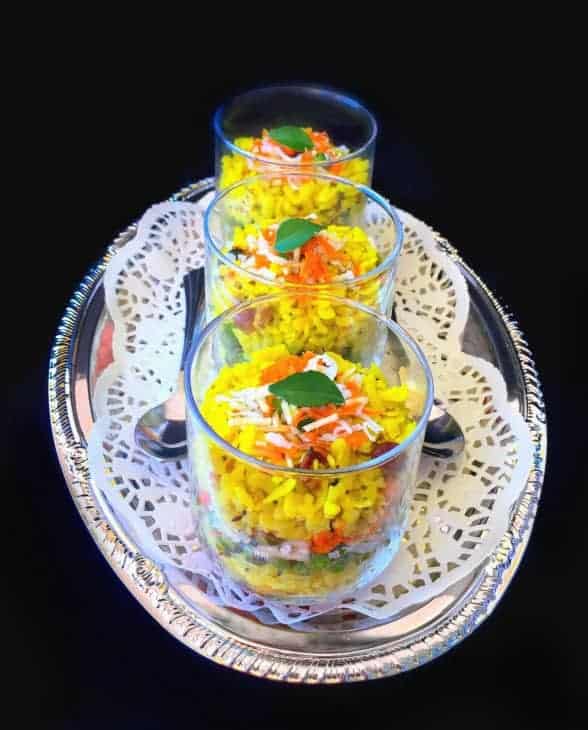 I'd also suggest making them in microwavable bowls for reheating + your colleagues are definitely gonna ogle at this gorgeous stuff while you nosh on it 🙂
(just kidding, you can take some extra to share).
These breakfast delights are definitely on a repeat at our home and I hope you get to try this soon.
Just look for 'MTR Khatta Meetha Poha' in your local Indian grocery store or you can order them through amazon too. Also, they are perfect for my Vegan and Glutenfree Friends.
Infact, there are lot of options to choose from in the 'MTR Breakfast Mixes' :
Khatta Meetha Poha
Vermicelli Upma
Khaman Dhokla
Dhokla
Poha
Oats Upma
Ragi Dosa
Oats Idli
Multigrain Dosa
Masala Idli
Masala Upma
Rava Dosa
Vada
Dosa
Rice Idli
Upma
Ragi Rava Idli
Tried Our Recipe – AWESOME!!!
Now Quickly SNAP A PICTURE & TAG :
#easycookingwithmolly + @easycookingwithmolly on Instagram –>
Connect with Me Here: Facebook / Pinterest / Instagram
:: You May Also Like ::
Yield: 3 Cups
Savory Breakfast Poha Trifle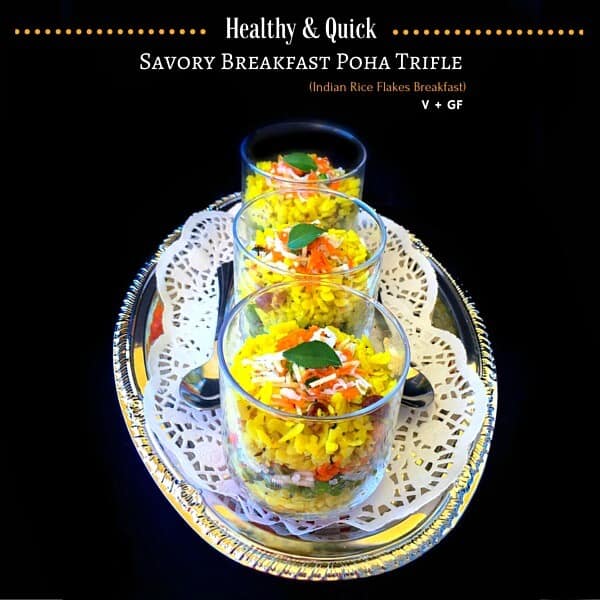 Savory Breakfast Poha Trifle (Savory Rice Flakes Breakfast): Indian poha loaded with carrot, nuts, curry leaves and lemon juice. 
Ingredients
1 Packet MTR Khatta Meetha Poha
1 Cup Sauteed Peas - you can use fresh or frozen
1 Cup Shredded Carrots
1/2 Cup Peanuts
1/4 Cup Potato Sticks/Chips - available in any grocery store
1/4 Cup Shredded Coconut - fresh/frozen or dry
1 Jalapeno - thinly chopped
5-6 Curry Leaves - optional - or you can use cilantro
Salt - as per taste
Instructions
In a tall cup, add a layer of shredded carrots (about 1 tbsp) and spread it evenly at the bottom of the glass.
Now add a layer of cooked 'MTR Khatta Meetha Poha' (about 2 tbsp) and spread evenly.
Add a layer of peas, potato sticks, coconut flakes, jalapeno, peanuts and spread them evenly.
Top it with 2 tbsp of 'MTR Khatta Meetha Poha'.
Now, if your glass can accommodate more layers, then go in the same pattern, making sure that the poha layer should be on the top.
Decorate the top layer with shredded coconut, peas, and some curry leaves/cilantro.
Serve fresh or store in the fridge for up to 2 days.
Nutrition Information:
Yield:
3
Serving Size:
1
Amount Per Serving:
Calories:

115
Total Fat:

14g
Saturated Fat:

4g
Trans Fat:

0g
Unsaturated Fat:

9g
Cholesterol:

0mg
Sodium:

100mg
Carbohydrates:

36g
Fiber:

7g
Sugar:

9g
Protein:

11g