Hyderabadi Dum ka Keema (Slow Cooked Minced Chicken) is an absolute 'Melt in your Mouth' recipe from the Royal kitchens of Hyderabad (India). It's an aromatic-spicy flavored minced meat (chicken) that's mixed with spices, few other ingredients and then slowly cooked to perfection. It can be enjoyed with any sides of choice (usually Indian Bread or Rice but can be enjoyed with regular bread or quinoa too).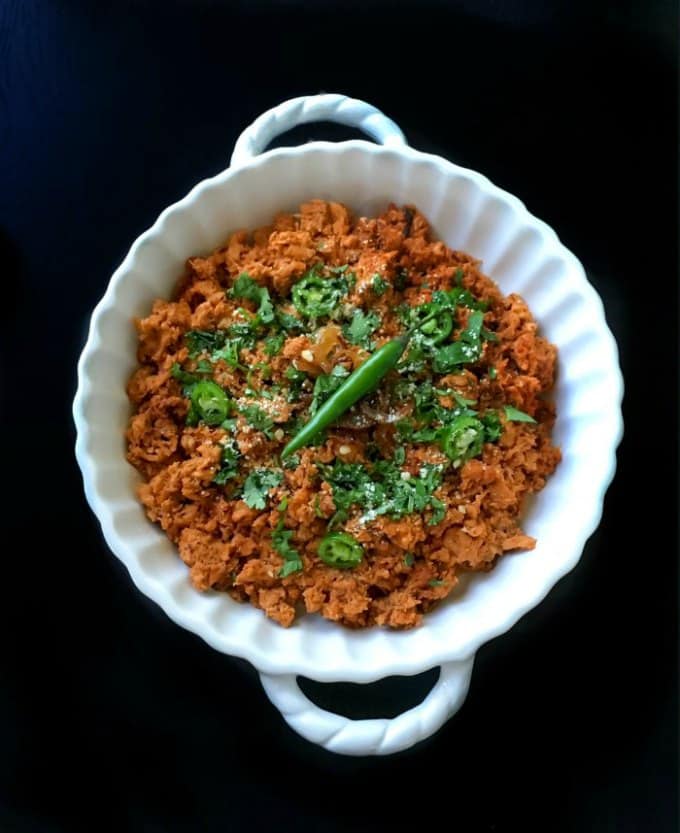 Whenever I visit India and eat out, I prefer to eat different Indian cuisines and every time gets amazed by the sheer number of dishes offered….I mean with 29 States and 7 Union Territories – the food is amazing and different.
Every state has it's known dishes and the spices/ingredients get changed dramatically. Hyderabadi Dum ka Keema was a recipe tried about 7 years back and till date I remember the first taste – it was unlike any other mince dishes that I had eaten.
You may ask what is it exactly and here it is – Hyderabadi (state of Hyderabad, India) Dum (slow cooked in a pot sealed with dough) Ka Keema (Minced Meat and in our case it's chicken). It's very different from the regular curry or meat recipes we usually eat in North India.
And 'me being me' had to figure out what's in it and how's it made. After a lot of coaxing and true ardent fan appreciation, the restaurant cook was kind enough to give me few pointers and that was it.
After the cook's recipe and speaking to few of our friends, I finally got the perfect Hyderabadi Dum ka Keema recipe. It's like 'Sure Shot HIT' if cooked exactly the same way (which is absolutely easy 😉
As I had mentioned earlier, the recipe is straight out of the kitchens of Nizams (Royal rulers) of Hyderabad State (India).
The Hyderabadi cuisine is actually a mix of Mughal, Turkish, Arabic, Telugu and Marathi cuisines, hence it's amazingly aromatic and filled with various spices.
Their most famous dishes are slow cooked meat, biryani's and till date, anyone who visits Hyderabad can sing to you about the Biryani's (Hint – Must Have :)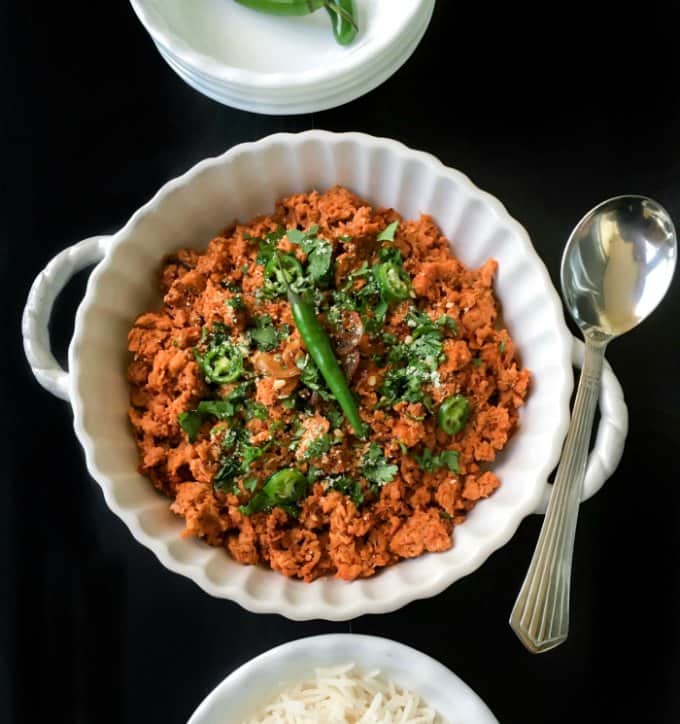 Now, coming back to our Hyderabadi Dum ka Keema which is fairly easy to make and the key to this recipe is 'marination'. The meat needs to be marinated with a mix of yogurt, spices, nut powder and fried onions (you can fry the onions at home or use store-bought).
That's it, there is no other chopping or grinding or cooking anything earlier or later. Just marinate and cook the marinated chicken after an hour or so.
The cooking is done on low flame and traditionally it was cooked in earthen pots with covers and those covers were sealed with a fresh dough (to minimize any aroma being escaped) and cooking in the earthen pot used to give this magnificent flavor).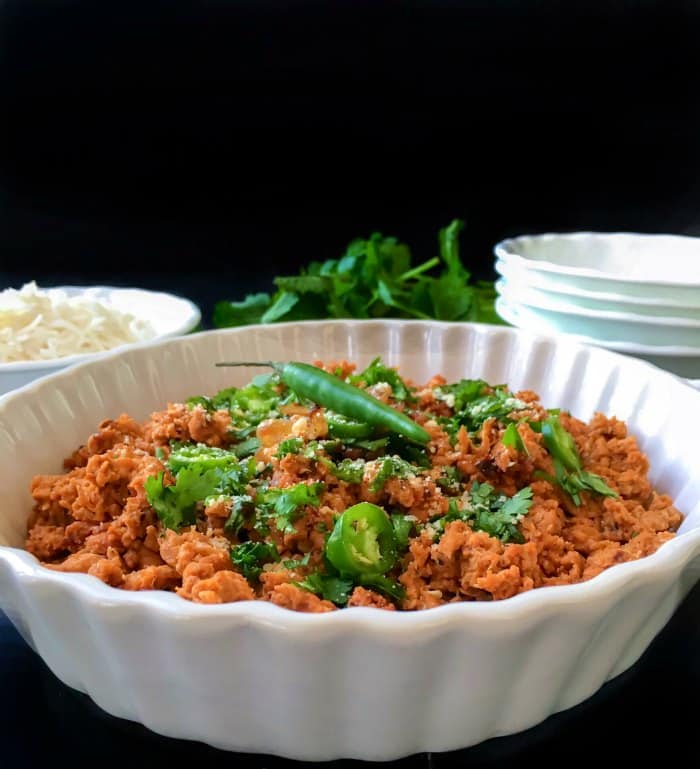 Because of all that marination and slow cooking, the recipe actually just melts in your mouth and the aroma is mind-blowing. If you haven't tried this recipe, then you Definitely are missing something.
It's one of those recipes from the 'Treasures of Indian Cooking' that cannot be found in every local Indian restaurant or every party.
It's a special dish that deserves the time taken to cook and should be enjoyed with family-friends as it's a treat to senses. I prefer eating it with plain basmati white rice (to give it a full comfort food feel) but it can be enjoyed with any sides.
This weekend or on your special cooking day, give this dish a try and it will DEFINITELY please everyone who tastes it.
---
As always, I Looove when you try my recipes and send me pictures & feedback. You can tag my recipes tried by you using #easycookingwithmolly on any of the social media below:
Connect with Me Here:  Facebook / Pinterest / Instagram / Twitter / Subscribe to our Newsletter / Google+

Molly Kumar
Yields 4
Hyderabadi Dum ka Keema
1 hrPrep Time
15 minCook Time
1 hr, 15 Total Time
Ingredients
1 lb Chicken Mince
1 Cup Yogurt
2 Cups Fried Onions - you can use store bought or fry at home.
1 Tbsp Ginger - Shredded or use powder
1 Tbsp Poppy Seed Powder
2 Tbsp Roasted Gram Flour
1 Tbsp Almond Powder - homemade or store bought
2 Tbsp Fresh Cilantro - thinly chopped
1 Large Green Chili - thinly chopped (optional)
1 Tbsp Ghee
3 Tbsp Olive Oil
Spices:
1 Tbsp Coriander Powder
1 Tbsp Cumin Powder
1 Tbsp Garam Masala
1 Tsp Red Chili Powder
Instructions
In a large bowl, add yogurt and mix to form a smooth consistency
Add fried onions, ginger, poppyseed powder, roasted gram flour powder, all the spices (except salt) and mix together.
Now, add minced chicken, mix everything evenly, cover and place in fridge to marinate for a minimum of 1 hour (max of 3 hrs)
In a large non-stick pan, heat ghee+oil over medium flame.
Add the marinated chicken mix and stir to mix the mixture with oil.
Reduce the flame to low, cover and cook for 10-12 minutes (stirring every 2minutes).
Once the chicken is cooked, remove the cover and cook opened for 2 minutes (to let absorb any leftover water).
Turn of the heat and transfer to serving bowl.
Sprinkle chopped cilantro+chilies.
Serve hot with fav side.
7.8.1.1
72
http://www.easycookingwithmolly.com/2016/01/hyderabadi-dum-ka-keema/