Curried Tomato Peanut Rice: a Super quick yet delicious rice dish made using curry powder, tomato chutney, and peanuts. It can be made spicy and stored for 2-3 days in the fridge. Great for packed lunch/picnic or easy to carry meal.
Curried Tomato Peanut Rice (Vegan + Glutenfree)

Curried Tomato Peanuts Rice – Winter is all about comfort food and adds a weekend to it and it's all about one-pot recipes or you can say easy-peasy 15 minutes recipes.
Have you already made plans for this weekend or want to take it easy …. at least that's what I'm doing.
I mean ever since Thanksgiving, there has been so many festivities/parties and go to events that I'm seriously so looking forward to tucking in with some cozy comfort food.
And watch tons of TV or maybe that's also too much….just catching up on sleep and read book – Sound's like a plan, Right?
When I say 'cozy – comfort-food – tucking in' there's ONLY one recipe that comes to my mind Curried Tomato Peanut Rice !!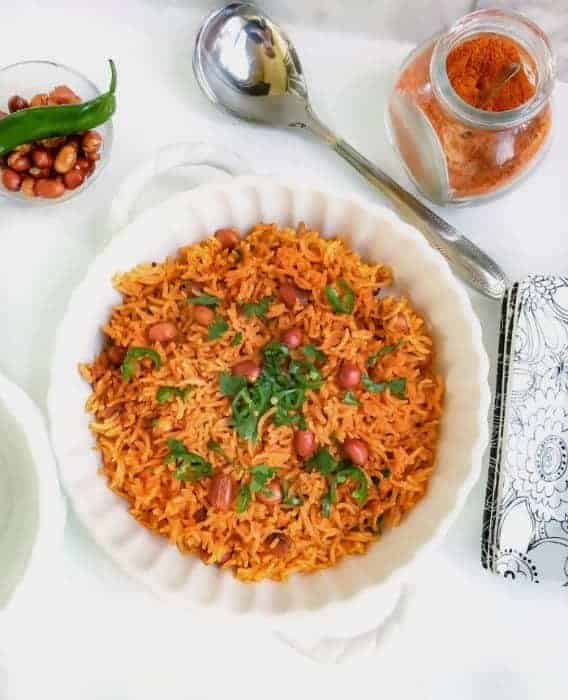 It's seriously is so easy to make and most of the ingredients are already there in your kitchen pantry.
Just saute and mix everything together for 10-15 minutes and you are ready with this 'Gorgeous Red-Orange Rice Dish' that takes you to a comfort-zone in every bite.
To make it even more simple, I'm using ' Zesteez – Tomato Chunky Chutney' to cook the entire dish hence there is no chopping/grinding process involved.
The chutney is delicious and has a mild flavor that works perfectly with any snacks or dish.
I made a big batch of this Curried Tomato Peanuts Rice to last me at least 2 meals (that sure is a Lazy Alert) over the weekend.
And even while making and clicking pictures to share with you'll hear, I've already nibbled on some of it 😉
Do give 'Zesteez' a visit and see their amazing chutney.
***************************** Have a Happy – Fun Weekend ******************************
Other Rice Recipes: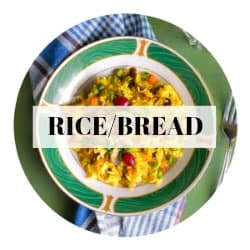 ---
Tried Our Recipe – AWESOME!!!
Now Quickly SNAP A PICTURE & TAG :
#easycookingwithmolly + @easycookingwithmolly on Instagram –>
Connect with Me Here: Facebook / Pinterest / Instagram
Yield: 4
Curried Tomato Peanut Rice
Curried Tomato Peanut Rice: super quick yet delicious rice dish made using curry powder, tomato chutney, and peanuts.
Ingredients
2 Cups Cooked Rice - I'm using basmati rice but you can use any rice.
4 Tbsp Chunky Tomato Chutney - available in Indian stores or online
4 Tbsp Peanuts - roasted
1 Tbsp Olive Oil - can use any light oil
1 Green Chili - thinly sliced
Few Sprigs Cilantro - chopped - for decoration
Spices:
1 Tsp Curry Powder
1 Tsp Salt - use as per taste
1 Tsp Chili Powder - use as per taste
Instructions
Heat oil in a non-stick pan and add the tomato chutney.
Saute on medium heat for 2 minutes.
Add peanuts, spices, green chili and saute for 2 more minutes.
Now, add cooked rice, saute and cook covered for 2-3 minutes over low heat. (this helps rice absorb all the flavors).
Remove the cover, saute lightly and let cook for another 2 minutes.
Switch off the heat.
Transfer to serving dish, sprinkle with chopped cilantro and serve hot.
Nutrition Information:
Yield:
4
Serving Size:
1
Amount Per Serving:
Calories:

255
Total Fat:

21g
Saturated Fat:

4g
Trans Fat:

0g
Unsaturated Fat:

13g
Cholesterol:

25mg
Sodium:

100mg
Carbohydrates:

62g
Fiber:

3g
Sugar:

9g
Protein:

16g
****** For this post, I was sent a set of Zesteez Chutney for review***********