Quick Curried Turkey Rice Bowl: quick and delicious curried turkey mince with steamed rice is a perfect light meal. Great for Meal Prep as this can be stored in the fridge for up to a week.
The recipe is #glutenfree and perfect for #ketodiet using cauliflower rice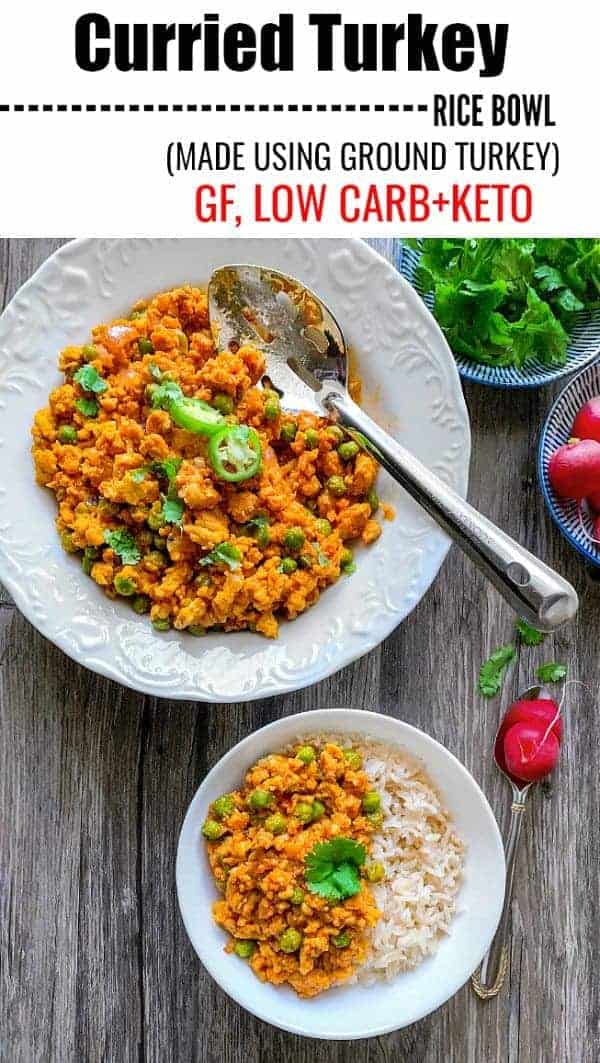 What is Curried Turkey Rice Bowl?
It's basically a bowl comprising of ground turkey curry with steamed rice.
Absolutely simple yet amazingly delicious. The recipe comes together in under 30 minutes and feeds 4 people.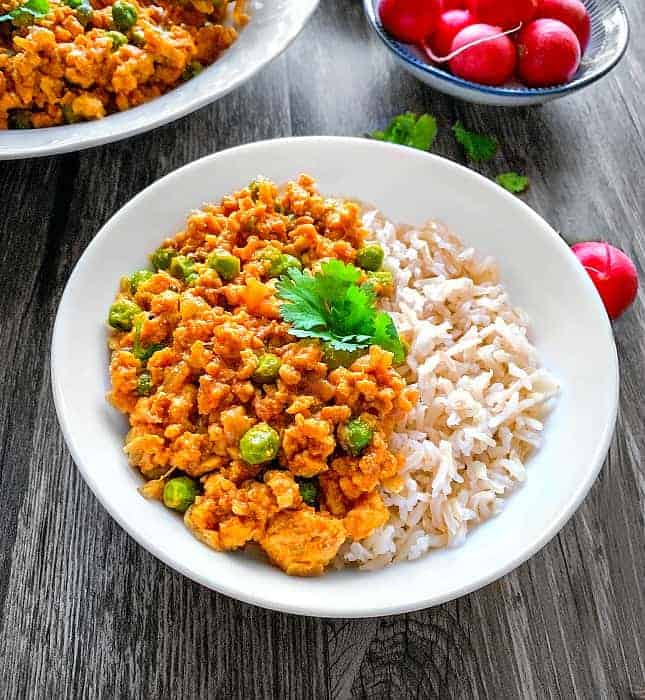 What You Need to Make Curried Turkey Rice Bowl:
Curry Powder: homemade or storebought, both works great.
Basic Curry Ingredients: you'll need onion, tomato paste, ginger+garlic
Yogurt or Sour Cream: this adds a creaminess to the dish.
Ground Turkey: I used lean ground turkey meat to make it even lower in calories.
Steamed Rice: I'm using brown rice, but goes great with white rice or even cauliflower rice (for keto).
Once you have all these things together, you can put together your Curried Turkey Rice Bowl in few minutes.
It tastes so good that you won't be able to stop at one bowl (I can guarantee you that) and this totally screams #comfortfood (without the calories).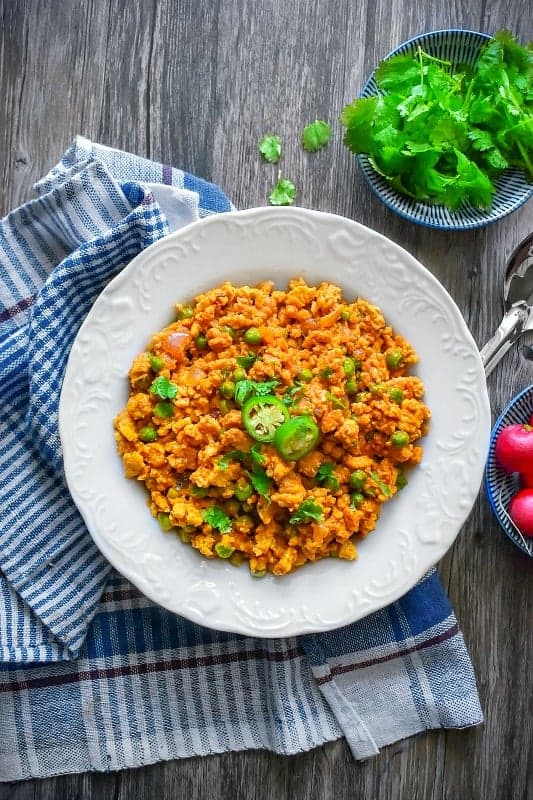 The First Step Make the Turkey Curry:
First thing first, you need to make the turkey curry using the listed ingredients.
This can be made in a deep pan/ pressure cooker or even instant pot. The choice is yours and you cook it as per you cook any other curry dish.
Since turkey cooks really fast, I'm making it on a stovetop using a deep pan.
Also, since it's a 'Turkey Rice Bowl', hence I'm not adding a lot of water in the Turkey Curry as I don't want it that thin.
For 'Bowl Recipes', I like to keep it thicker, saucy or absolutely less watery.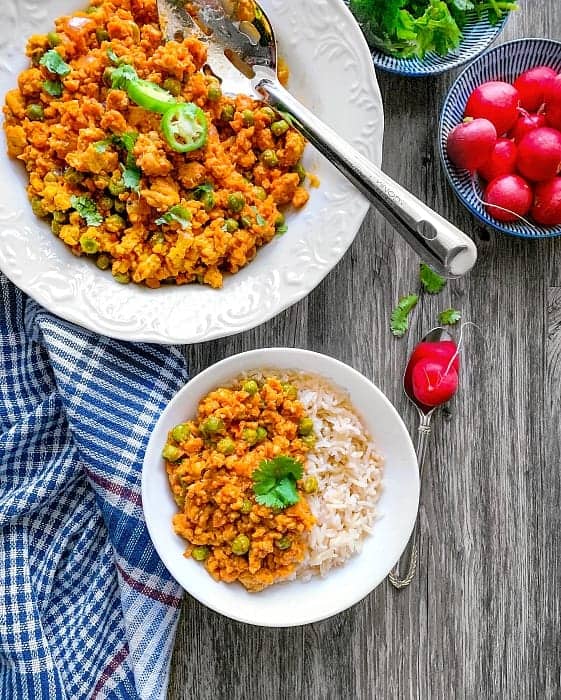 Also, these Curried Turkey Rice Bowl are a twist on a popular Indian minced meat recipe called 'Keema / Qeemah' which means minced.
It's traditionally made using red meat such as goat/lamb and some people even use chicken for it.
It's mostly served as a weekend brunch or holds a place during special dinner as the recipe calls for a lot of spices and above all pure ghee / clarified butter.
Now when you cook with red meat + all this spices and ghee, the recipe tends to get heavy and definitely takes longer to prepare as red meat takes longer to cook.
But when I replaced the meat with turkey (which is lean meat), it cooks much faster and needs less oil and spices.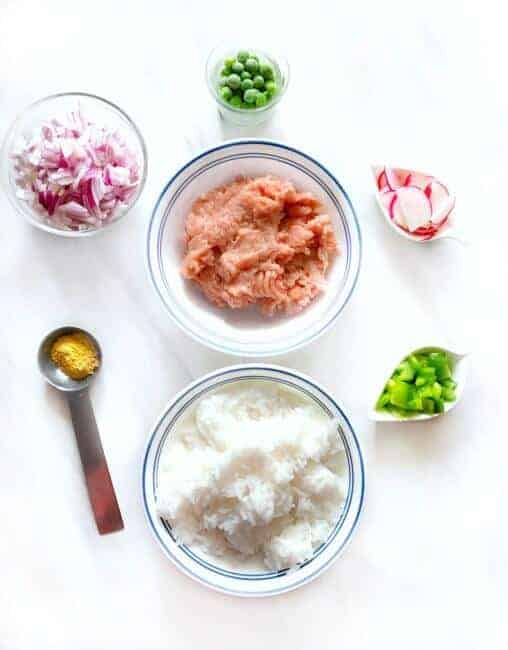 With so many benefits and on my quest to eat healthy yet delicious, I'm swapping turkey in many of my favorite meat recipes.
Did you know that turkey has 22 grams of protein in each serving.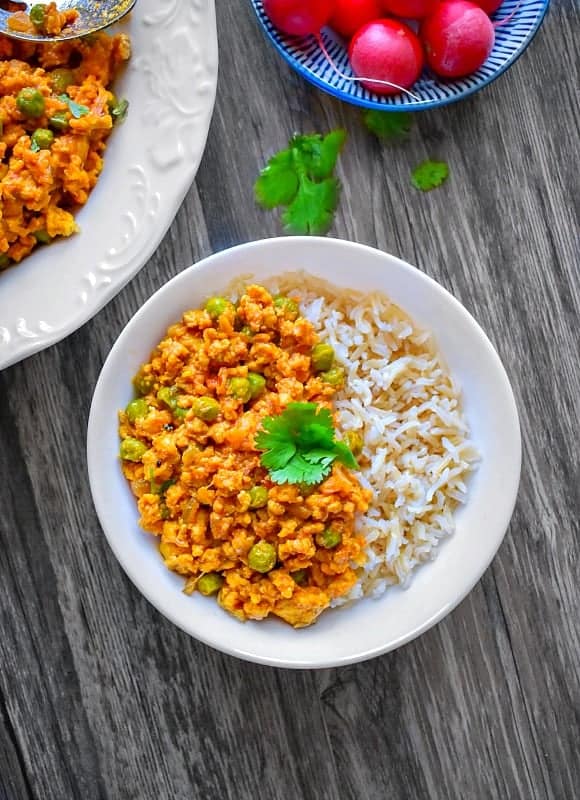 Now, coming back to the cooking part, if this is your first time cooking curry, you cannot find a recipe easier than this, as I'm using very basic spices like turmeric and curry powder.
And I'm also adding my secret ingredient 'tomato paste' which adds so much flavor along with this rich color.
So, chop some onion, get some peas and try making these Curried Turkey Rice Bowl for yourself or share with your entire family.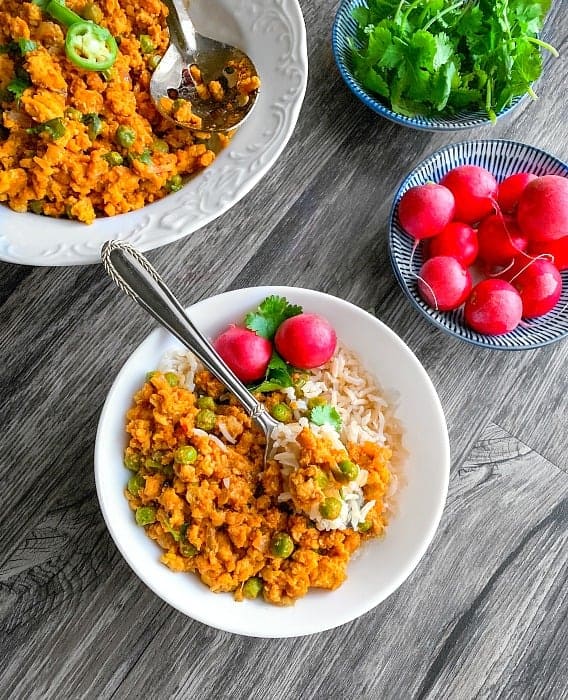 Curried Turkey Rice Bowl is Perfect for Meal Prep:
Perfect for Meal Prep as this can be stored in the fridge for up to a week.
You just NEED to store the Turkey curry separately and rice in a separate bowl.
This is one unique way of adding turkey to your everyday recipes and yet keep it absolutely delicious, healthy and easy to cook.
For more inspiration on Turkey recipes or more details, visit Serve Turkey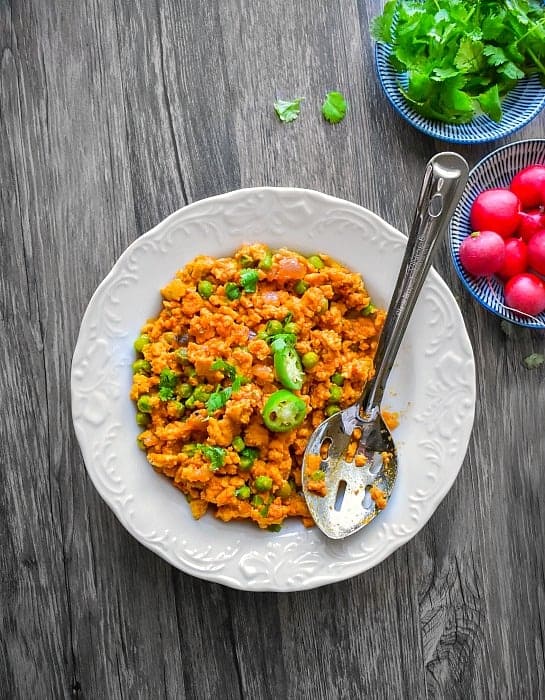 :: You May Also Like ::
---
Tried Our Recipe – AWESOME!!!
Now Quickly SNAP A PICTURE & TAG :
#easycookingwithmolly + @easycookingwithmolly on Instagram –>
Connect with Me Here: Facebook / Pinterest / Instagram / Twitter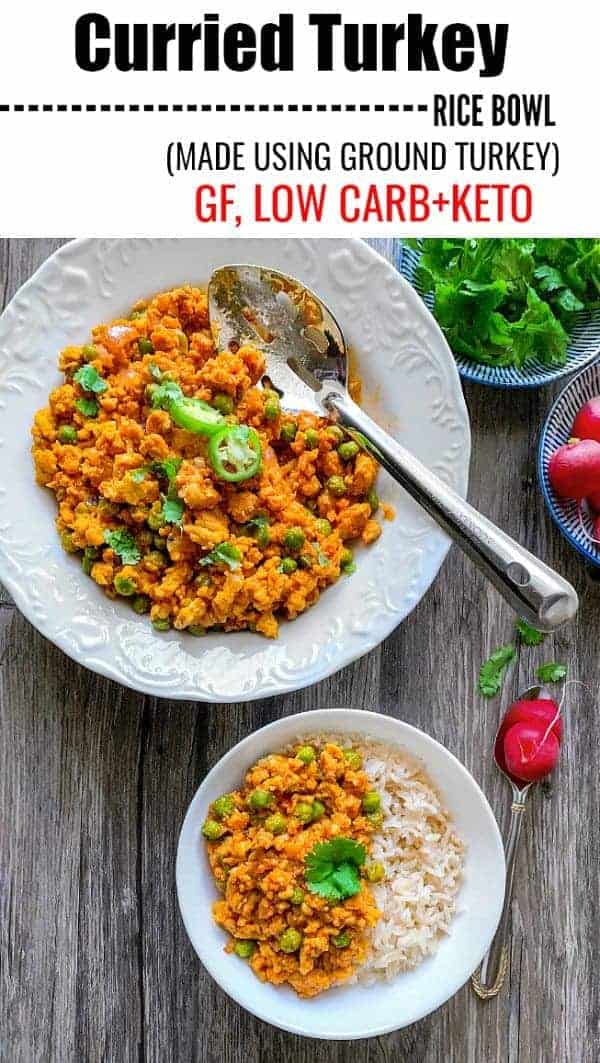 Yield: 2 People
Quick Curried Turkey Rice Bowl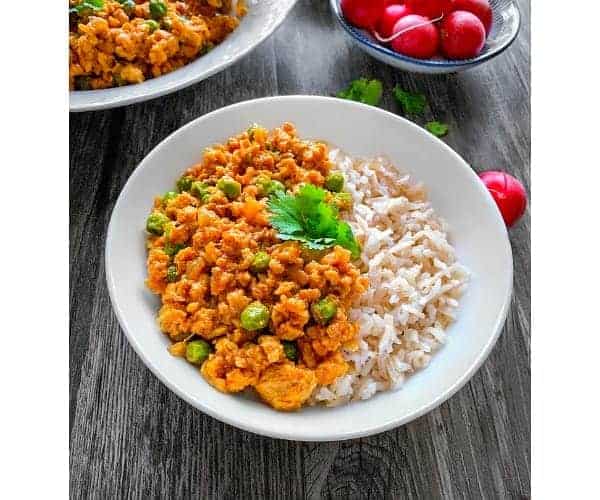 Curried Turkey Rice Bowl is a spicy curried turkey mince with steamed rice is a perfect light meal. It's #glutenfree and perfect for #ketodiet
Ingredients
1 Cup Ground Turkey
1 Large Onion - chopped
1/2 Cup Peas - frozen or fresh
1 Tbsp Tomato Paste **
1/2 Cup Yogurt - use any plain variety or use 2 Tbsp Sour Cream
3 Tbsp Olive Oil
2 Cups Cooked Rice ***
Spices
1/8 Tsp Turmeric
1 Tsp Curry Powder
1 Tsp Garam Masala Powder
1/2 Tsp Red Chili Powder
Salt - as per taste
Instructions
Add 3tbsp oil in a panand heat it for a minute.
Add onion and saute for 1/2 minute (till onion turn golden).
Add all the spices and except curry powder and saute cook for a minute.
Add peas and cook for another minute.
Now, add minced turkey and saute everything together.
Cook for 2-3 minutes on medium heat, till turkey is slightly cooked (keep sautéing in-between).
Now, add the tomato paste, curry powder, yogurt and mix everything together.
Cover the pan with a lid and let turkey cook over low flames for 3-4 minutes. (saute every minute).
Remove the lid after 4 minute, give it a give stir and turn off the heat.
Assemble the Curried Turkey Rice Bowl:
Take two bowls and add rice on both.
Top with freshly made curried turkey.
Now, add toppings of choice like radish / chilies / onions or just sprinkle some lemon and enjoy.
Notes
** Tomato Paste - you can use raw/diced tomatoes
*** Rice - use any variety as per choice or replace with cauliflower rice for #ketodiet or any other grain/side
**** This Recipe can be stored in the Fridge for upto a week. You NEED to store the Turkey Curry in a separate box and rice separately.
Nutrition Information:
Yield:
2
Serving Size:
1
Amount Per Serving:
Calories:

189
Total Fat:

20g
Saturated Fat:

2g
Trans Fat:

0g
Unsaturated Fat:

13g
Cholesterol:

24mg
Sodium:

250mg
Carbohydrates:

23g
Fiber:

5g
Sugar:

2g
Protein:

24g