Indian Jalapeno Pickle (Instant Hari Mirch Achaar) Instant pickle recipe using jalapeno, homemade pickle mix, oil, and vinegar. Stays in the fridge for up to a month.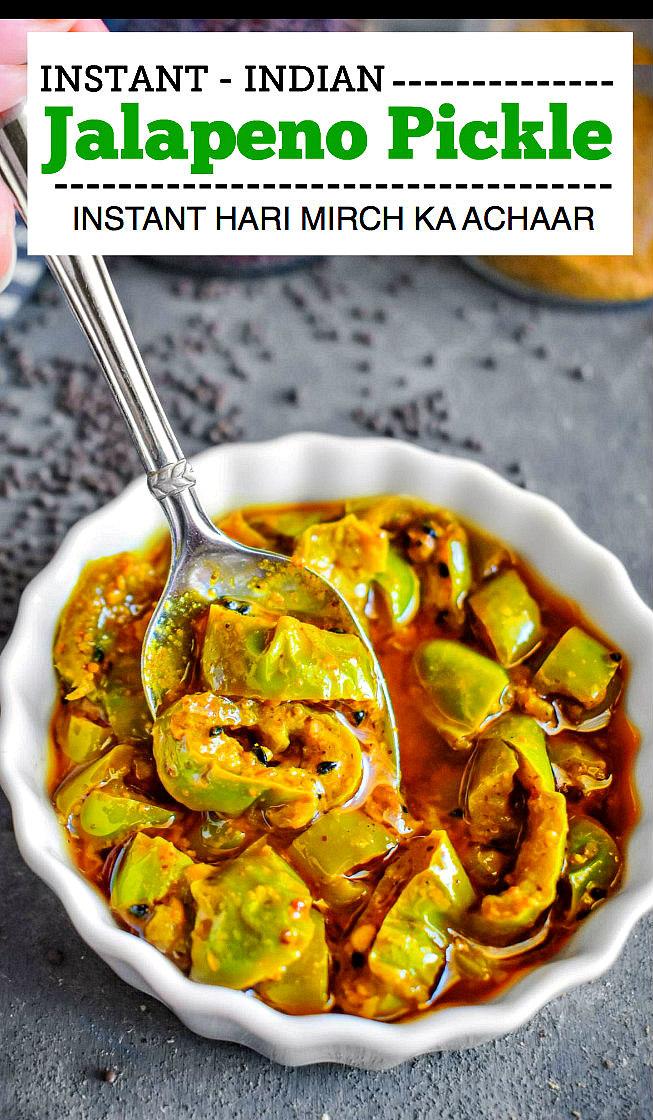 Instant Indian Jalapeno Pickle:
Homemade pickle is a very common side in most Indian homes and this one is extra special as it's my mom's recipe.
I've been making it just the way she taught me for the past many years and the results are always amazing.
Although I'm making it with 'Jalapeno' but can be made with any chili (red or green). It's also popularly known as 'Hari Mirch ka Achaar/Aachar in India (hair = green and mirch = chili).
Ingredients for Hari Mirch ka Achaar:
Just like any homemade pickles, the ingredients are mostly found in our kitchen and are pretty simple:
Jalapeno – use any other chili incase you don't have them.
Homemade Pickle Mix – using mustard seeds, fennel seeds, carrom seeds, coriander seeds, cumin seeds and fenugreek seeds.
Oil – I'm using 'mustard oil' but you can make it in any light or olive oil.
Basic Spices – turmeric, red chili, salt, asafetida (hing), nigella seeds (kalonji)
Vinegar
How to Make Instant Jalapeno Pickle:
We start by 'dry roasting' the pickle mix and then grinding them when cooled.
Then we saute the spices in oil.
Mix the chopped jalapeno and saute everything.
Lastly, add the vinegar and saute some more.
Turn off the heat and transfer to a clean air-tight bowl. It's extremely important to keep any pickles in air-tight clean bowls for longer shelf life.
Once the pickle is cooled, I keep it in the fridge till it's finished. Since it doesn't have many preservatives, I don't keep it for longer.
Tips, Storage and Pairing of Pickle:
You need to make sure that all the ingredients that are used are clean.
The jalapeno needs to be washed and air-dried/patted with a cloth to make sure there is no water in them (this helps longer shelf life without any molds).
If using 'Mustard Oil', you need to heat the oil first till it starts burning and then cools completely. This step takes out the mustard oil smell.
If using any other oil, you can skip the above step.
You can use any of the mustards (black/brown or yellow).
As mentioned above, any achaars, need to be stored in a clean/sterilized (preferred) air-tight container (this prevents any molds/fungus buildup in pickles).
If you are using any other chili, make sure you remove the excess seeds as that's what adds heat to the achaar (incase you do not like much spiciness).
The 'Pickle Mix' or 'Achaar ka Masala' can be made and kept separately in an air-tight jar for up to 3-4 months and used in 'Achari recipes or Pickles'.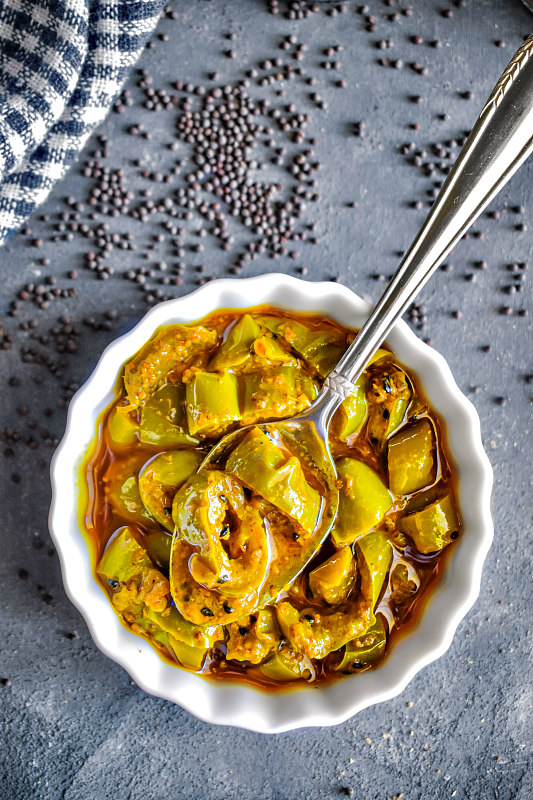 ————————————————————-
Tried Our Recipe – AWESOME!!!
Now Quickly SNAP A PICTURE & TAG :
#easycookingwithmolly + @easycookingwithmolly on Instagram –>
Connect with Me Here: Facebook / Pinterest / Instagram
:: You May Also Like ::
Instant Indian Red Chili Pickle | Lal Mirch ka Achar
Sweet Spicy Tomato Chutney (Instant Tomato Chutney) Video
Best Indian Sweet Mango Chutney Recipe (Chunda)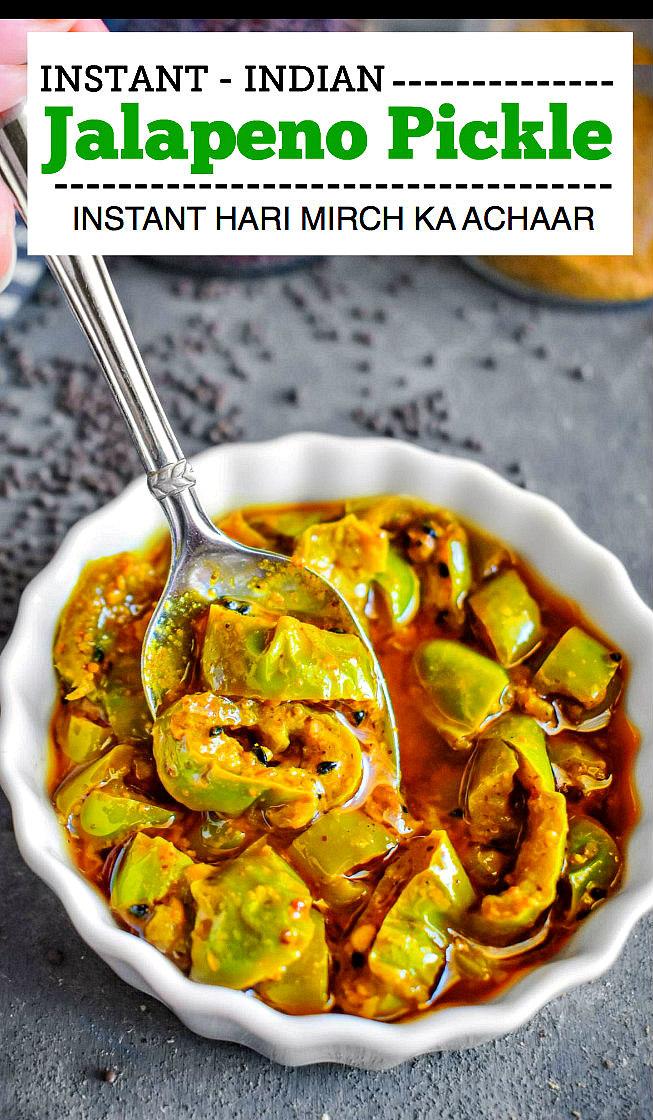 Yield: 1 Big Jar
Indian Jalapeno Pickle Recipe (Instant Hari Mirch Achaar)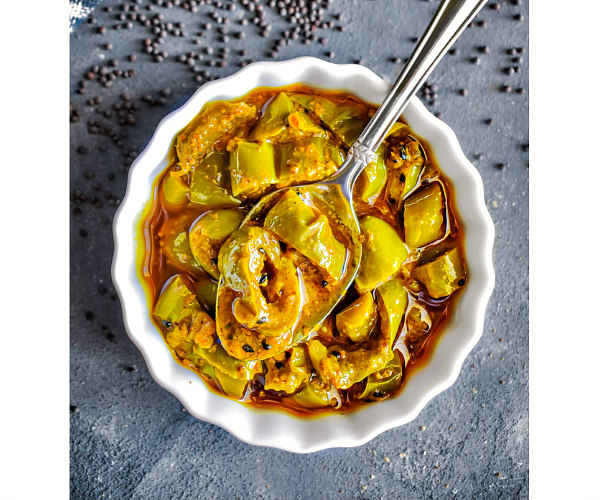 Indian Jalapeno Pickle (Instant Hari Mirch Achaar) Instant pickle recipe using jalapeno, homemade pickle mix, oil, and vinegar. Stays in the fridge for up to a month. This is a Glutenfree + Vegan recipe
Ingredients
15 Jalapenos - medium size
Pickle Mix - Achaar ka Masala:
2 tbsp mustard seeds
21 tsp cumin seeds
2 tsp coriander seeds
1 tsp fennel seeds (saunf)
¼ tsp carom seeds (ajwain)
½ tsp fenugreek seeds (methi)
Other ingredients:
¼ cup mustard oil - can use any light oil
¼ tsp asafetida (hing)
½ tsp nigella seeds (kalonji)
1 tbsp red chili powder
½ tsp turmeric
½ tsp amchur (dry mango powder)
1 tbsp salt
3 tbsp vinegar
Instructions
Prep Work:
Wash the jalapenos and let them air dry completely or use a towel to remove water.
Let it sit outside and dry for few minutes.
Then using a knife or kitchen scissors, cut them into bite-size pieces.
If you want, at this time, you can remove excess seeds to lower the spiciness.

Make the Pickle Mix - Achaar ka Masala
Heat a pan and add the pickle mix seeds.
Dry roast the seeds on low flame until the spices turn aromatic (2 minutes on medium flames)
Once roasted, cool completely.
Add the roasted seeds to a blender jar and make a coarse powder.
Keep aside.

Make the Instant Indian Jalapeno Pickle:
In a large Kadai/non-stick pan, heat the mustard oil for 5 minutes (medium flames) and then turn off the flames.
Let this cool for 5 minutes.
Now, in the same oil, add hing, kalonji, and saute for 30 seconds.
Add chopped jalapeno and stir fry for 2 minutes in the medium flames.
Reduce the flames and add the powdered pickle mix and remaining spices like salt, turmeric, and chili.
Stir everything and let this cook on medium heat for 2-3 minutes.
Turn off the heat and add the vinegar.
Mix well and let this cool to touch.
Transfer to an air-tight jar and keep in the fridge or use immediately..
Notes
mustard oil - can use any light oil
Nutrition Information:
Yield:
10
Serving Size:
1
Amount Per Serving:
Calories:

65
Total Fat:

5g
Saturated Fat:

0g
Trans Fat:

0g
Unsaturated Fat:

4g
Cholesterol:

0mg
Sodium:

500mg
Carbohydrates:

5g
Fiber:

2g
Sugar:

1g
Protein:

2g