Lauki Paneer Kofta Recipe: extremely soft, delicious and quick recipe to make vegetarian kofta using lauki (bottle guard/squash), paneer (cottage cheese) and Indian spices in a luscious tomato gravy/curry.
Lauki Paneer Kofta | Lauki Kofta | Lauki ka Kofta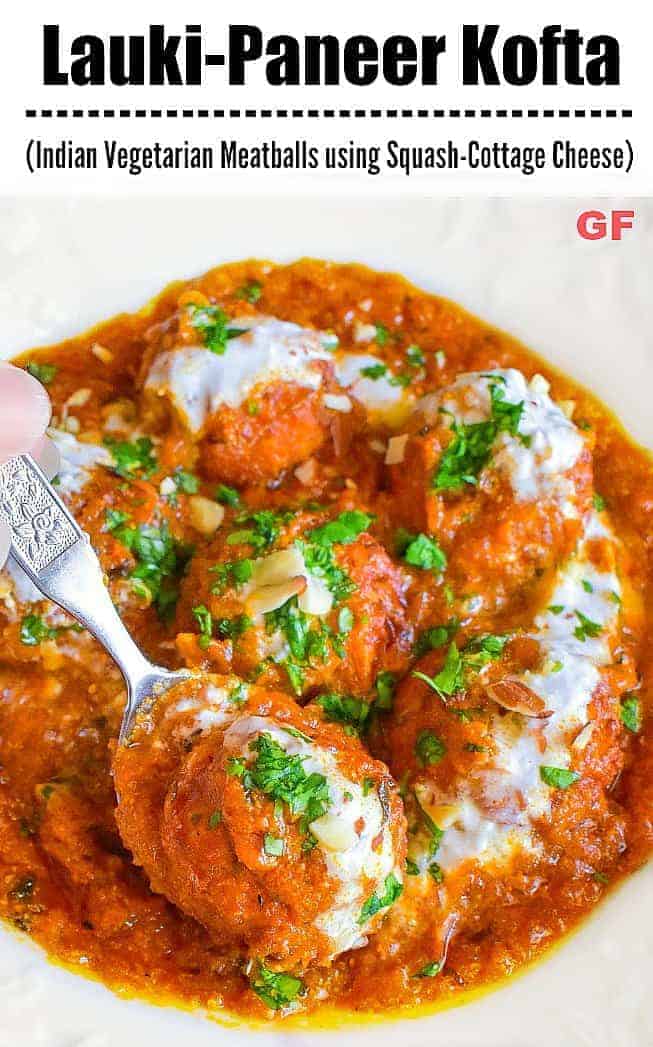 What is Lauki Paneer Kofta or Lauki ka Kofta ?
One of my favorite vegetarian meatballs is Lauki Paneer Kofta, popularly known as Lauki ka kofta.
It's this melt in your mouth, delicious kofta (meatballs) made using lauki and paneer in a saucy delicious gravy.
A quintessential kofta/vegetarian meatballs recipe from the northern part of India.
In India, 'Lauki' also known as Opo / Squash, is a popular summer vegetable and if you have also grown up in India like me, you would have had Lauki in some form….curry/sauteed.
And these Lauki Paneer Kofta are everyone's Favorite be it any age.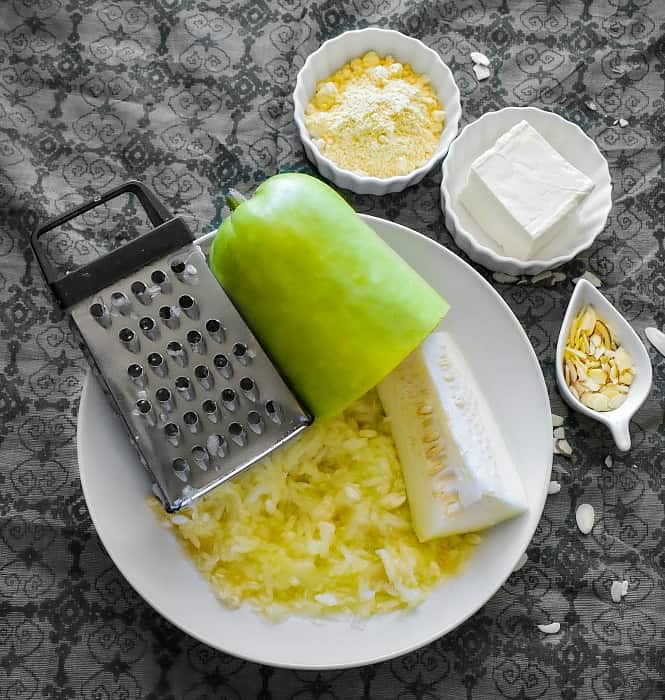 What Did You Need to Make Lauki Paneer Kofta?
It's a simple recipe and you need the following:
For Kofta / Meatballs:
Lauki / Opo Squash – shredded and squeeze any excess water.
Paneer / Cottage Cheese – shredded
Besan / Chickpea Flour (GramFlour) – plain or raw
Basic Spices – turmeric, chili, salt
Fresh Cilantro / Coriander – optional
Making the Lauki Paneer Kofta:
Just mix the mentioned ingredients and form balls.
Then saute/fry the koftas to golden brown perfection over low-medium heat. (this along with less fillers makes this an extremely soft+delicious combination).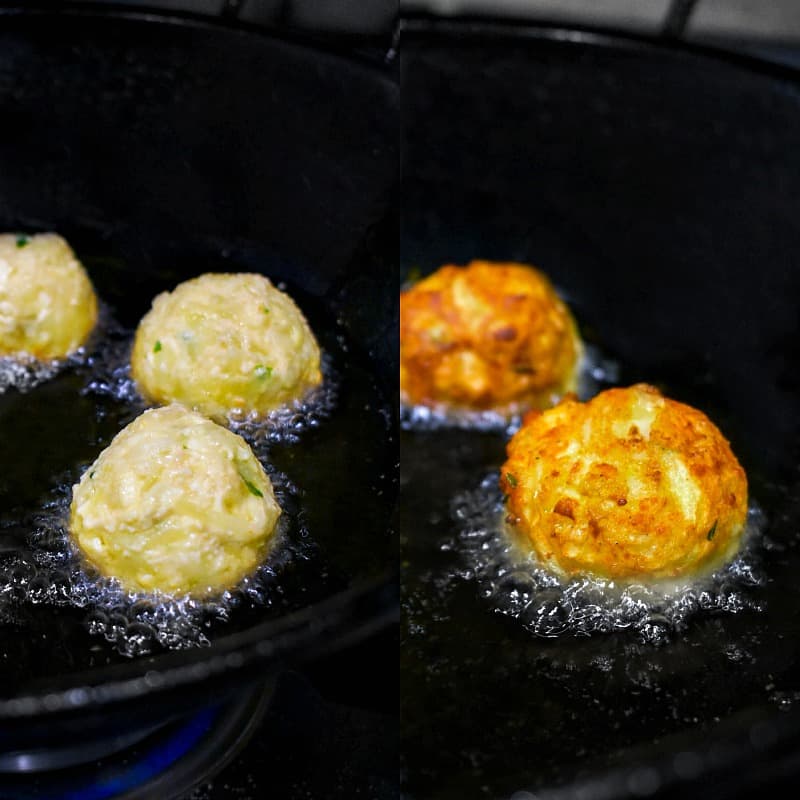 Once the koftas are cooked, keep then in a plate and make the sauce.
Once the sauce is cooked, add the koftas and serve along with a favorite choice of side.
I did go a step further and decorated the kofta's using whisked yogurt (yup, this is light and healthy), fresh cilantro and chopped almonds.
This adds not just a great look but makes it even more delicious.
So, this weekend or even in the week, make these Lauki Paneer Kofta Recipe and surprise your loved ones.
Tried Our Recipe – AWESOME!!!
Now Quickly SNAP A PICTURE & TAG :
#easycookingwithmolly + @easycookingwithmolly on Instagram –>
Connect with Me Here: Facebook / Pinterest / Instagram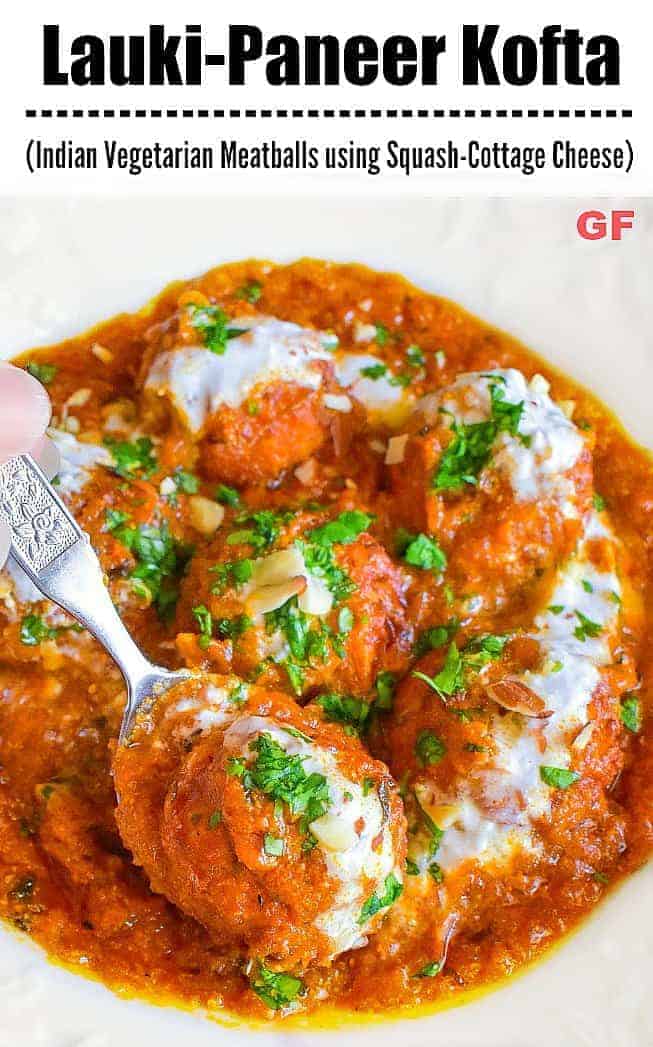 :: You May Also Like ::
Yield: 12 Medium Koftas
Lauki Paneer Kofta Recipe - How to make Lauki Kofta
Lauki Paneer Kofta Recipe:
Ingredients
For Lauki Paneer Kofta/Meatballs:
Lauki (Opo Squash) - shredded and squeeze any excess water.
Paneer (Cottage Cheese) - shredded
Besan (Chickpea Flour / GramFlour) - plain or raw 
Fresh Cilantro / Coriander - optional 
1/4 Tsp Turmeric
1/4 Tsp Chili Powder
1/4 Tsp Salt
1 Cup Olive Oil - or any light oil (to fry the koftas)
For Tomato Gravy/Sauce:
2 Large Onion - thinly chopped
1.5 Tbsp Tomato Paste
1 Cup Plain Yogurt - use any kind - whisked
1 Tbsp Ginger+Garlic Paste
1 Tbsp Kasuri Methi - optional
1/4 Cup Water
3 Tbsp Olive Oil - to cook the gravy
Spices for the Gravy:
2 Bay Leaf
1 Tsp Turmeric
1/2 Tsp Chili Powder
1 Tsp Coriander Powder
1 Tsp Cumin Powder
1 Tsp Garam Masala
1/2 Tsp Salt
Instructions
! Make the Lauki Paneer Kofta/Meatballs:
In a large bowl, add all the kofta ingredients and mix evenly.
Scoop 1.5 tbsp of this mix in your palm and form a round shaped ball.
Keep the ball in a plate and similarly make 10-12 koftas.
Heat 1 cup oil in a deep pan/pot.
Gently place 3-4 koftas in the pot (depending on space) and saute on low flame.
Cook the koftas until golden brown all over and then remove the cooked koftas.
Similarly, fry all the koftas and keep aside.
! Make the Tomato Gravy:
Heat a large non-stick pan.
Add 3Tbsp olive oil and heat for a minute over medium flame.
Add bay leaf, chopped onions and all the spices (except garam masala).
Saute till golden brown (takes 2-3 minutes).
Add ginger+garlic paste and saute for another 2 minutes (low flame).
Now add the tomato paste and saute everything on low flame.
Let this cook for 3 minutes, add water and yogurt.
Whisk and let this cook for 4 minutes or till you see oil separating in corner.
Once the gravy is cooked, add cooked koftas and lightly mix everything.
Cook this for 5-6 minutes over medium flame and turn off the heat.
Transfer Lauki Paneer Kofta in a serving bowl and decorate with whisked yogurt and chopped almonds.
Finally sprinkle fresh chopped cilantro and serve hot.
This can be eaten with rice/roti or any grain.
Nutrition Information:
Yield:
4
Serving Size:
3
Amount Per Serving:
Calories:

216
Total Fat:

53g
Saturated Fat:

15g
Trans Fat:

0g
Unsaturated Fat:

14g
Cholesterol:

25mg
Sodium:

230mg
Carbohydrates:

66g
Fiber:

7g
Sugar:

11g
Protein:

20g