Sweet Earth – Functional Breakfast Burrito (Review & Giveaway): These burritos are perfect for an easy and healthy breakfast that's ready in 90 seconds.
They not only taste delicious but also keeps you full for good 4-5 hours.
I Everyone, hope you had a nice weekend and are continuing on your quest to achieve those New Year resolutions.
Our weekend was mostly indoor due to rains and that means a lot of binge TV marathon, drinking hot beverages, talking to friends endlessly and absolutely no-cooking for a whole day.
But, we didn't divulge from our 'Healthy' New Year resolution as we kept on track with these 'Functional Breakfast Burritos' from SweetEarth which are made of:
Veggies, Plant Proteins like beans, quinoa, tofu.
They provide you with nutrients, proteins, and fiber.
Before, we even go ahead, Have you heard of 'Sweet Earth'?
They make vegan and vegetarian frozen food that helps you sustain a healthy body and are available in many local stores.
I actually came across them in our local Target while looking for healthy yet frozen food options.
For days when I don't want to cook anything or when I don't have time but I still want to eat something healthy …. sounds familiar (you're going to love these even more in few minutes).
Apart from no cooking, my biggest challenge with any health-related resolution has been 'Not Eating Proper Breakfast or Completely Skipping One'.
Trust me the later is THE MOST DANGEROUS one, as then I end up eating everything that comes in front of me (Yep, that very instant I remember all those hidden snacks).
But this year, I'm going to tackle that situation head on rather than being the ostrich, so I literally stacked the freezer section with 'all things healthy'.
Like portioned fresh fruits, smoothie mixes, and the Sweet Earth Functional Burritos along with few other options from them.
Now, the Functional Breakfast Burritos come in 4 choices (My store wasn't carrying the 4rth one) like 'Get Focused', 'Protein Lover's', 'Get Cultured' and 'Lighten Up'.
We did try all three of them but my personal favorite is 'Get Focused' which is a mix of scrambled egg, smoked gouda, kale, peas and meatless grounds – Absolutely DELICIOUS in every bite.
Can you imagine not eating breakfast when you have an option of something this tempting yet healthy, ready in 90 seconds!
So, in 90 seconds, I went from no energy, absolutely grumpy to a smile on your face while thinking about my breakfast burrito getting ready in the microwave.
And once, I got into that happy mood, I ended up making a hot cup of vanilla latte, thawed some frozen fruits and Voila – I have a Super Healthy breakfast ready (2 minutes to assemble all the things on the plate).
It cannot get easier than this and it's definitely helping me keep my 'Healthy Me' resolution in check.
Here's also an exciting news for all of you – Just to give you that extra help on your health goals,
We are doing a GIVEAWAY from Sweet Earth:
– 10 Free Coupons to Try Sweet Earth Products (Check them here)
– A Swag Bag
So while I enjoy my freshly warmed breakfast, do enter the giveaway for a chance to try the SweetEarth products.
You can also find them on the following social media: Facebook / Pinterest / Instagram / Twitter
Until next time ~ Eat Your Breakfast Everyday, Stay Healthy & Keep Up those New Year Resolutions ~
:: You May Also Like ::
---
Tried Our Recipe – AWESOME!!!
Now Quickly SNAP A PICTURE & TAG :
#easycookingwithmolly + @easycookingwithmolly on Instagram –>
Connect with Me Here: Facebook / Pinterest / Instagram / Twitter / Subscribe to our Newsletter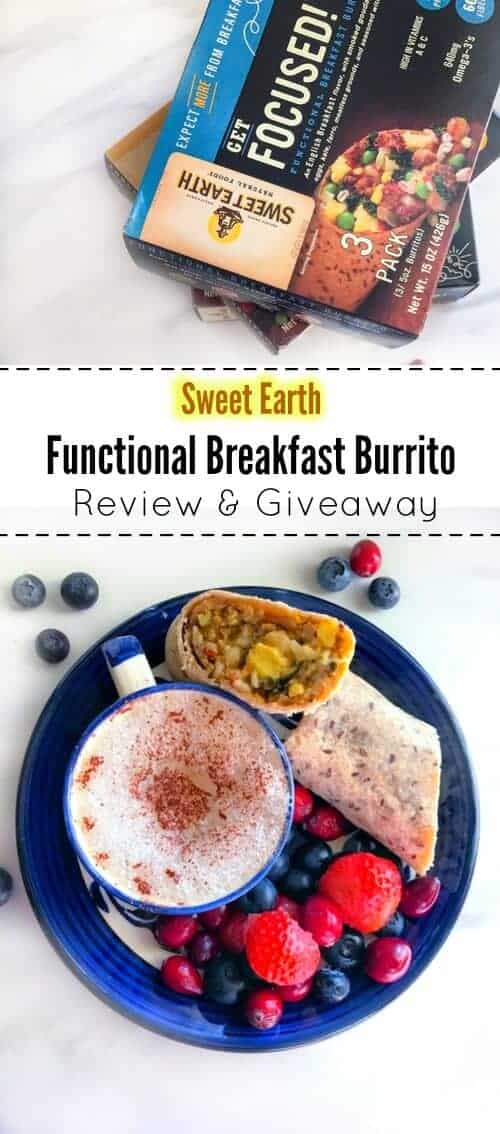 This is a sponsored post from Sweet Earth and All Opinions are Mine.