Gobi Manchurian: learn to make this extremely popular, restaurant-style and delicious gobi (Sweet Spicy Chinese Cauliflower Meatballs) recipe that's sauteed in sweet-spicy Chinese sauce. Made using cauliflower rice vegetarian meatballs.
Post By: Molly Kumar
Happy Friday Folks and I'm making your Friday's, even more, tastier and cozy with this Easy Gobi Manchurian or as many know it 'Sweet Spicy Chinese Cauliflower Meatballs'.
If seriously, I had the option of adding a drumroll after that name, I would as this recipe deserves all that love.
It's a perfect Indian-Chinese fusion cuisine and I've lots of tricks listed below to make them Perfect Everytime
This recipe has been pending for so long that it's become a joke within our friends that they'd rather eat it at our place than get the recipe 😉 So Yes, this post was looooooong due!
Gobi Manchurian or also known as Vegetarian Manchurian or Cauliflower Meatballs is an extremely popular and most ordered dish in any Indo-Chinese restaurant.
What is in the Gobi Manchurian Recipe :
Dumpling / Kofta /Meatballs: made using veggies, flour (I'm using GF option) and few other ingredients.
Saucy Gravy: a mixture of dark soy sauce (tamari for GF), vinegar, ketchup, hot sauce, and few other seasonings.
The pictures above are of the ingredients needed for both the Kofta/Dumping (forgot to add carrot while taking the picture) and the ingredients for the Gravy.
I like to keep the gravy slightly on the saucier/less watery side, however, if you like thin sauce, add more water.
Trick # 1 – Making the Gobi Meatballs / Dumplings / Kofta:
1- You NEED to either use a food processor or hand-held grater to grate the cauliflowers into rice-like consistency.
2- For the PERFECT kofta, you NEED to remove any excess water from the grated cauliflower by pressing it with hands or using a kitchen cloth, etc.
3- You DO-NOT add a lot of flour to make the kofta/meatballs. If you do, the kofta will become hard and dry inside.
4- Once the cauliflower is grated, don't leave it outside for long as it will start turning soggy and become extremely watery.
5- If you don't get fresh cauliflower, you can make them using FROZEN Cauliflower Florets or Cauliflower rice too. Simply remove excess water and follow the process after the grating option.
If you Follow the Tricks above, the Gobi Manchurian kofta/meatballs come out Perfect every time and they DO-NOT Burst while frying.
Trick # 2 – Making sure Manchurian Dumplings/Kofta/Meatballs remains crispy
1- Your gravy should be ready once you are done frying the kofta (this is MOST Important).
2- You can store the kofta/meatballs in an air-tight container in fridge after they are COMPLETELY Cold (hot/semi-cold kofta will turn soggy).
3- If you are using the stored kofta later, slightly fry them to make them crispy again. DO-NOT Microwave them.
Because of all these tricks/tips, my Manchurian recipe is extremely sought after by friends.
We have had so many (it's almost countless now) Manchurian dishes outside but THIS Recipe beats them all! (I'm not saying because its mine, you got to try it to believe it).
It's light, super easy and you do-not need any fancy ingredients to make this Restaurant Style Gobi Manchurian recipe at home.
Infact, it's almost imperative now that whenever this gets cooked, we have to have extra for next day. We have literally eaten it straight out of the fridge and loved it.
Oh and lastly, I usually serve it with steamed rice but it goes great with Chowmein / Noodles or even dinner rolls.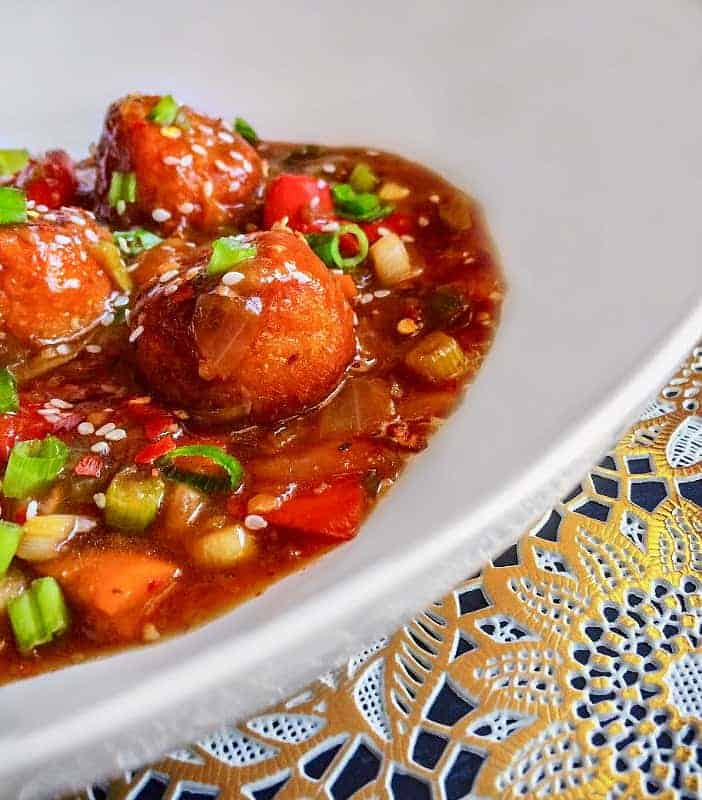 Tried Our Recipe – AWESOME!!!
Now Quickly SNAP A PICTURE & TAG :
#easycookingwithmolly + @easycookingwithmolly on Instagram –>
Connect with Me Here: Facebook / Pinterest / Instagram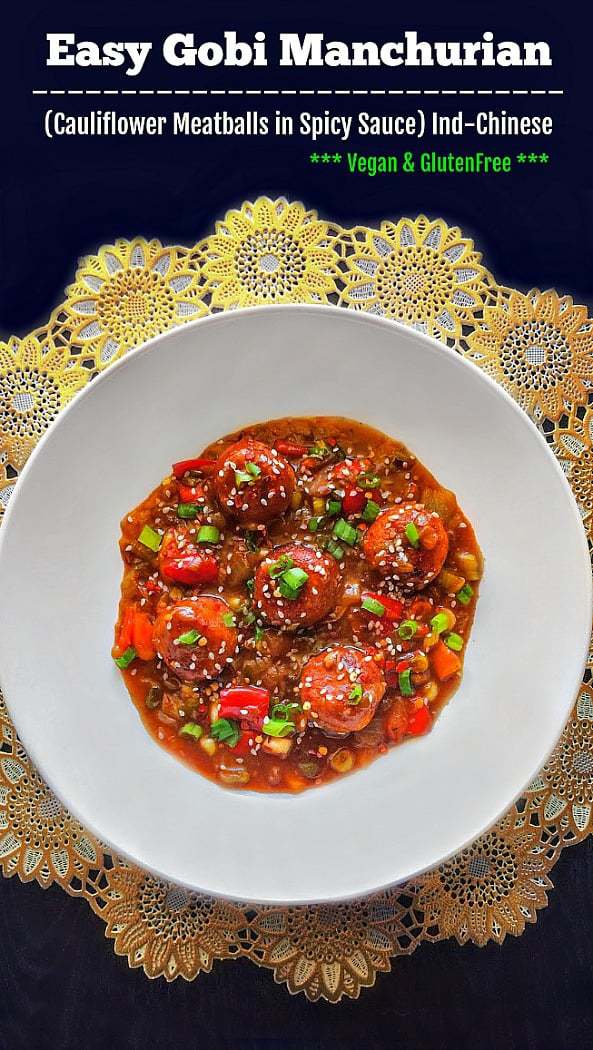 :: You May Also Like ::
Yield: 4 People
Gobi Manchurian Recipe - Sweet Spicy Chinese Cauliflower Meatballs
Learn to make this extremely popular, restaurant style and delicious gobi (cauliflower) manchurian recipe that's sauteed in sweet-spicy Chinese sauce. This recipe is good for 4 people.
Ingredients
1 Medium Cauliflower - cleaned and chopped into large florets
1 Large Carrot - cleaned
2 Tbsp Flour - I'm using glutenfree option
1/2 Cup Olive Oil – for frying the koftas
For Sauce:
1 Large Onion – chopped into small pieces
1 Tsp Fresh Garlic – crushed
1 Tsp Fresh Ginger – shredded
6 Small Colored Bell Pepper – chopped into bite-size pieces
½ Cup Green Onion - chopped into small pieces – OPTIONAL
1 Tbsp Sesame Seeds – for Decoration
3 Tbsp Soy Sauce – I'm using tamari (as I'm making a glutenfree version)
1 Tbsp Chili Sauce
1 Tbsp White Vinegar
¼ Tsp Sugar – You can use any sugar substitute
1 Tsp Cornstarch - Dissolved in 3 Tbsp water - Optional
1/4 Tsp Black Pepper Powder
Salt – As per taste
2 Tbsp Olive Oil – For cooking
Instructions
Make the Sauce / Gravy:
Heat 2 tbsp oil in a pan.
Add, ginger, garlic and saute for a minute.
Add, onions, saute for 2 minutes.
Once the onions are slightly pink in color, add chopped bell pepper, green onions and saute everything over high heat for 2 minutes.
Now add, the soy sauce, vinegar, chili sauce, salt, pepper and mix everything.
Reduce the heat to low and let it cook for 3 minutes.
Turn off the heat after 3 minutes and keep the sauce aside.


Grate the Cauliflower:
Add the florets in the food processor and churn 3-4 times to turn it into a cauliflower rice. (You can use a hand-held grater to grate the cauliflower too)
Make the Gobi Dumplings/Kofta/Meatballs:
In a large bowl, add grated cauliflower, carrots and flour.
Mix by hand or wooden spoon to form a smooth dough.
Make equal balls (about 12-15 depending on size).
Heat oil in a pot/wok.
Add 3-4 kofta/meatball/dumpling and turn on both side to evenly cook them.
Once the kofta are golden brown, remove them and keep on kitchen towel (to soak any excess oil).
Make the Gobi Manchurian:
Heat the wok in which you made the sauce.
Once the sauce begins to bubble, add the gobi dumplings.
Slightly coat each dumpling with sauce and let this cook in medium heat for 1-2 minutes.
Once everything starts to bubble, turn off the heat.
Transfer the Gobi Manchurian to the serving dish.
Sprinkle green onions and sesame seed.
Serve Hot.
Nutrition Information:
Yield:
4
Serving Size:
2
Amount Per Serving:
Calories:

271
Total Fat:

16g
Saturated Fat:

2g
Trans Fat:

0g
Unsaturated Fat:

13g
Cholesterol:

0mg
Sodium:

300mg
Carbohydrates:

30g
Fiber:

7g
Sugar:

13g
Protein:

7g