Homemade Schezwan Sauce – Sweet n Spicy (Vegan + Glutenfree) : quintessential Chinese sauce made using dried red chilies, garlic, soy sauce, honey and seasoning. Easy to make and can be stored in the fridge for up to a month. Also known as Szechuan / 'Sichuan Sauce/ Schezwan Chutney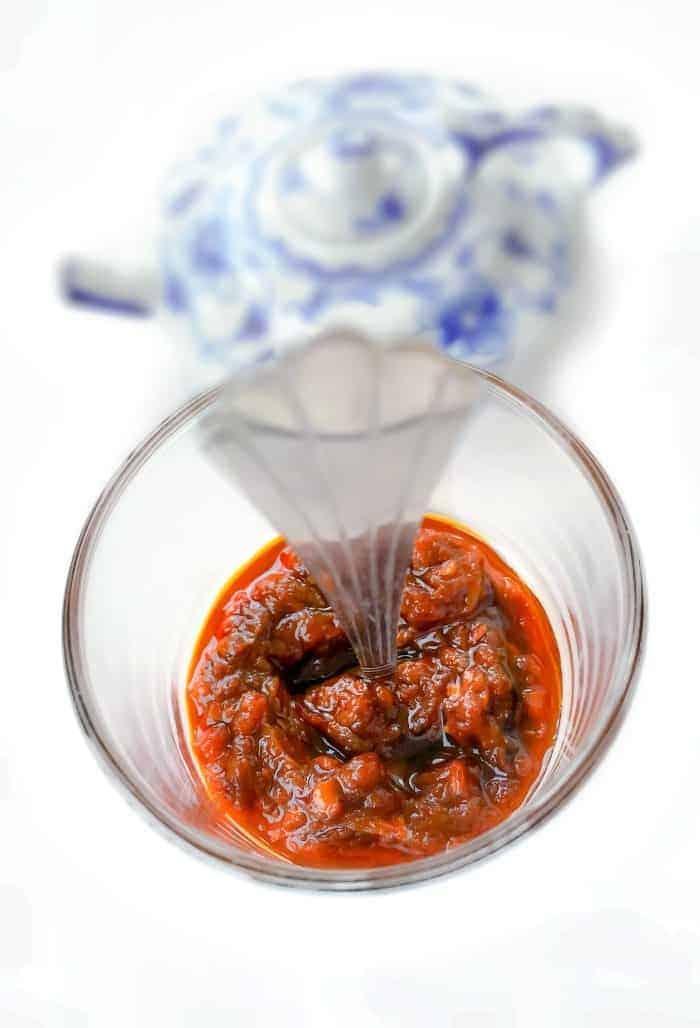 There are moments when you have just the right snack but miss a great dipping sauce, something that's spicy yet sweet and enhances the flavors with every bite.
This is exactly when this Homemade Sweet n Spicy Schezwan Sauce actually comes handy.
Now, this sauce originated from '
Szechwan cuisine
' which is a style of Chinese cooking from the
Sichuan province in southwestern China.
Ingredients for Schezwan Sauce:
Dried Red Chillies
Garlic – fresh or frozen
Black Pepper
Soy Sauce
Honey – for slightly sweet-spicy version
And that place is particularly famous for its 'Hot n Spicy' food.
Before, we go ahead, did you know that the Chinese New Year is just a few days apart and this is the 'Year of the Monkey', lasts from Feb 7th – Feb 13th, 2016. Do you know what's your Chinese Zodiac Sign 🙂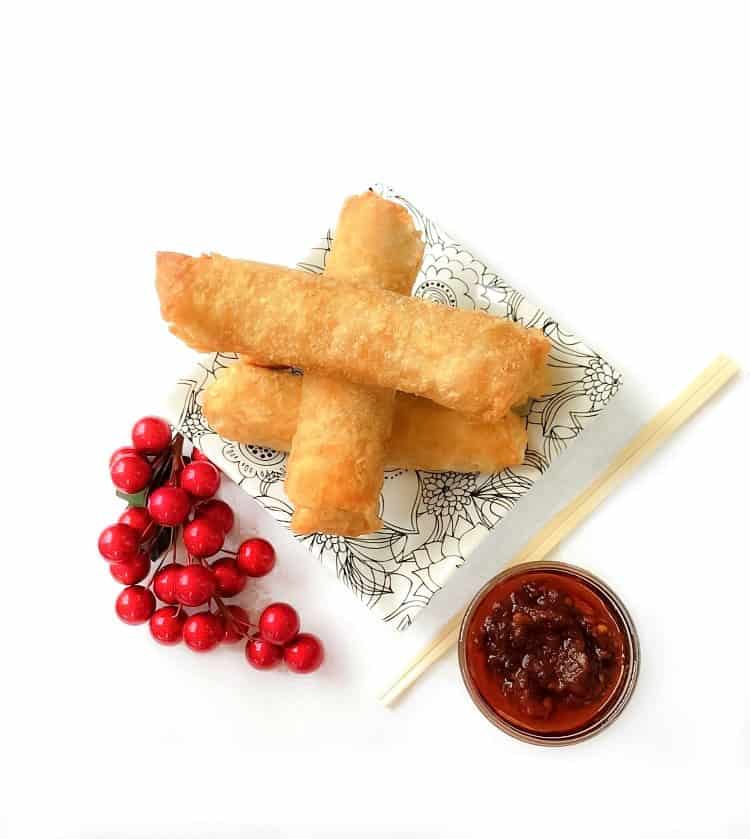 Coming back to our Schezwan Sauce, this particular version is extremely popular or you could say QUINTESSENTIAL in India with 'Indo-Chinese Cuisine'!
It's as important as Ketchup-French Fries Combo.
During one of our quick stop at Walmart, while I was going through the frozen food section, I came across these Pagoda Chicken Eggrolls and they mentioned that it's * '100% white meat chicken', * NO MSG, no artificial colors, *
Everything your hunger demands and seriously that was more than enough to convince me to buy tons of it….okay not tons but bunch of it….they infact have a whole variety of eggrolls/potstickers/crab-rangoons/etc.
And I think most of my cart was filled with their products and on our way home, I had already decided that I'm going to make my Sweet n Spicy Schezwan Sauce with it.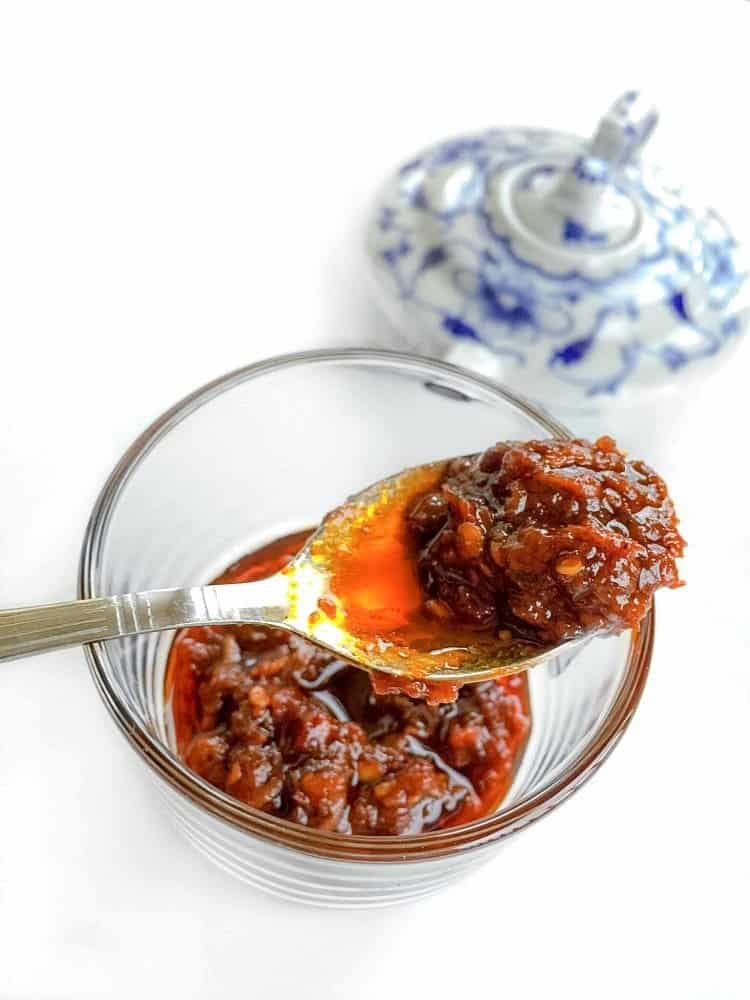 I have mentioned in my previous posts that 'Indo-Chinese Food' is my weakness, it's like comfort food that takes me back home.
Where every area would have their designated street shops selling spicy Chinese food with this particular version of Homemade Sweet n Spicy Schezwan Sauce.
The recipe is so simple and calls for very basic ingredients like red chilies, garlic, oil, soy sauce, vinegar, and sugar.
And as I always say, the best part of making any recipe at home is you can customize it as per your taste…You like spicier – add less sugar, you want sweeter, do the reverse.
For this particular variety, I'm using regular dry-red-chilies but you can use 'Sichuan peppers' too (which are really teeny-tiny but spicy).
Here's a Quick TIP for Schezwan Sauce
If you want to reduce the spiciness of the chilies or recipes where you are adding chilies, just remove their seeds.
The heat primarily comes from seeds, hence you can control it by adding or removing them altogether.
Once the sauce was made, I jumped over to bake the Pagoda Chicken Eggrolls (as per package instructions and they are individually packed).
I baked the first 2, microwaved the other 2 as I was feeling greedy 😉 And if you're the chef, you get to do the tasting in the kitchen itself – Right ? or maybe its just me or maybe it's the eggrolls…I just couldn't stop 🙂
And they tasted absolutely amazing with the sauce.
You should definitely try to pick them on your next visit to Walmart or enjoy them while you celebrate Chinese New Year! Infact, there's a cool deal going on them (Discount coupon) –
here. I'm listing a step by step process for the sauce and also where you can find these eggrolls in Walmart.
I wish you all a 'Happy Chinese New Year – Xīnnián hǎo' and I would love to know 'How you are celebrating it?'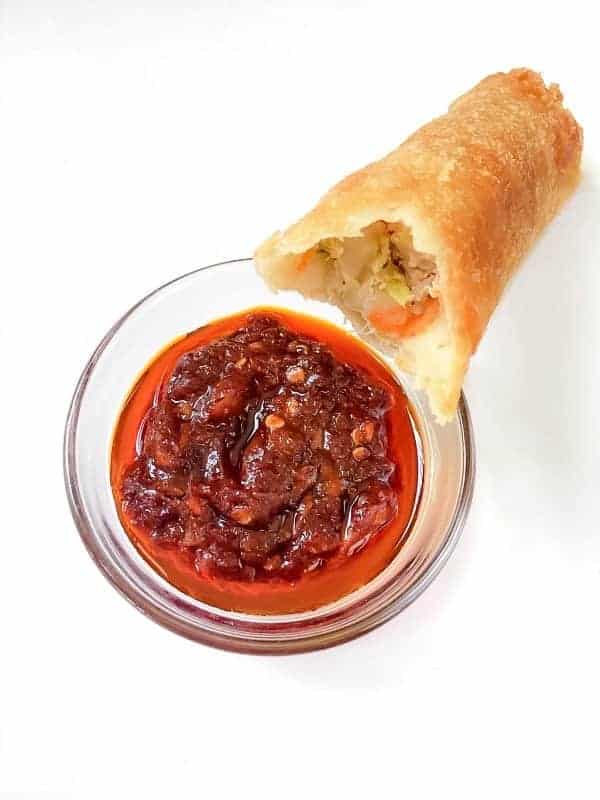 —————–
Tried Our Recipe – AWESOME!!!
Now Quickly SNAP A PICTURE & TAG :
#easycookingwithmolly + @easycookingwithmolly on Instagram –>
Connect with Me Here: Facebook / Pinterest / Instagram

You May Also Like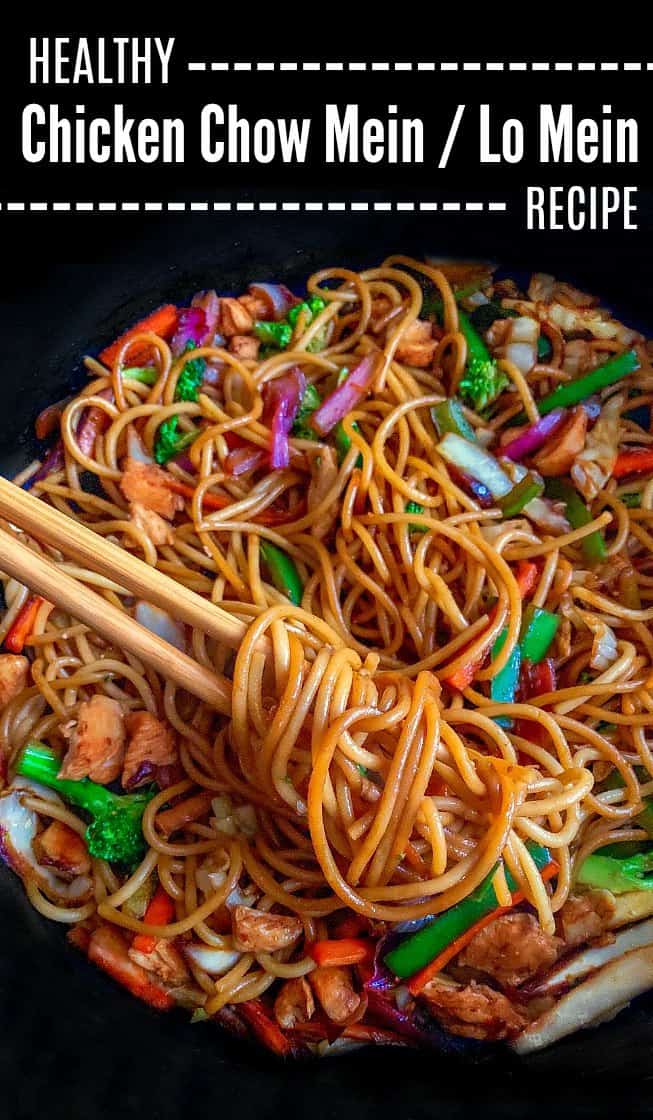 Yield: 25 Servings
Homemade Schezwan Sauce - Sweet n Spicy (Vegan + Glutenfree)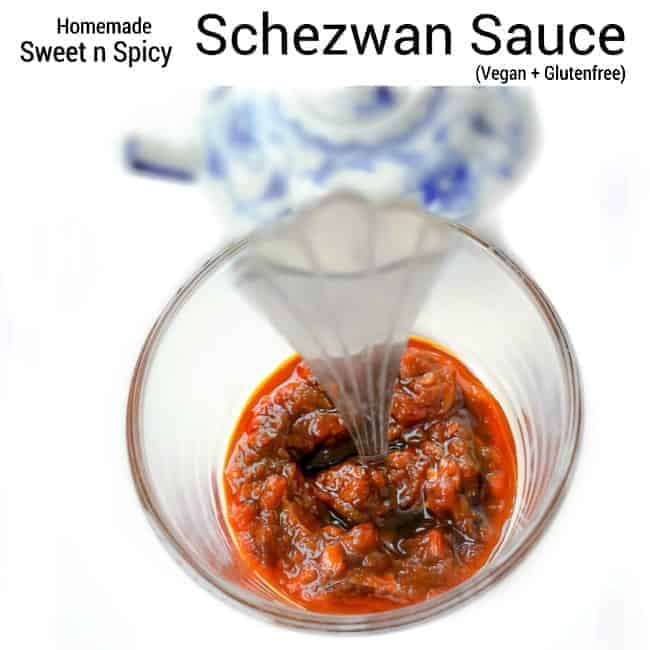 Homemade Schezwan Sauce - Sweet n Spicy (Vegan + Glutenfree): Make this Quintessential dipping sauce/chutney that pairs perfectly with any savory snacks or Chinese food. Also known as 'Sichuan Sauce' or Schezwan Chutney
Ingredients
20-25 Dry Red Chillies
15 Garlic Cloves - Peeled and cleaned (can use fresh or frozen but Don't use paste)
1/4 Inch Ginger - Fresh or frozen
1/4 Tsp Black Peppers - optional (makes the sauce more hot)
3 Tsp Soy Sauce
4 Tsp White Vinegar
4 Tsp Honey - You may use any sweetener of choice
1/4 Tsp Salt - Use as per taste (keep in mind that soy sauce has salt too)
5 Tsp Sesame Oil - you may use olive oil
2 Tsp Sesame Oil (EXTRA) - for storage
2 Cups Warm Water - To soak the chillies
Instructions
! Prep the Chillies & Make the Paste:
** In a large bowl, soak the red chillies in 2 cups of water for 30 minutes
Using a food processor, chop garlic + ginger into tiny pieces (you may use grater too).
After 30 minutes, drain the water from the chilies (they would have plumped up by now).
Using an electric grinder, make a smooth paste of the chilies using as little water as possible.
! How to make the Schezwan Sauce:
Heat sesame oil in a medium non-stick pan.
Add the chopped garlic+ginger and saute for a minute.
Now add the chili paste, saute and cook covered for 2 minutes on low heat.
Remove the cover after 2 minutes, add black pepper, salt, soy sauce, vinegar and cook for a minute.
Saute everything and cook the sauce for 2 more minutes on low heat.
Add honey, give it a quick stir and let it simmer for final 1 minute.
Turn off the heat and transfer to a serving dish.
If storing, add the EXTRA sesame oil to the leftover sauce, stir and store in airtight jar in the fridge.
Notes
** If you are in a hurry, you can boil dry-red chillies in 2 cups of water for 5 minutes.
Nutrition Information:
Yield:
12
Serving Size:
1
Amount Per Serving:
Calories:

93
Total Fat:

4g
Saturated Fat:

1g
Trans Fat:

0g
Unsaturated Fat:

3g
Cholesterol:

0mg
Sodium:

156mg
Carbohydrates:

13g
Fiber:

2g
Sugar:

8g
Protein:

3g
This shop has been compensated by Collective Bias, Inc. and its advertiser.
All opinions are mine alone. #FrozenFromScratch #CollectiveBias