3 Minutes White Russian Eggnog Cocktail: celebrate the holidays with this 5 ingredients, creamy, delicious and boozy cocktail.
Make in a blender for a party or a simple shaker for 2. Great for using leftover eggnog too.
Christmas is right around the corner and I'm getting ready to make these house favourite 3 Minutes White Russian Eggnog Cocktail !
It's absolutely Creamy, Dreamy and Yummmm!
The mix of White Russian with Eggnog is literally perfection.
Also, if you need a Homemade Eggnog Recipe, See My: Spiked-Spiced Eggnog
Cocktails are my jam, I mean you cannot imagine my parties without 1-2 cocktails and every season I try to bring back some house favorites and add new ones.
So, this 3 Minutes White Russian Eggnog Cocktail is literally one of my MOST requested drinks.
And if you love coffee liqueur/coffee-based drinks, then this is literally heaven.
Also, it's super easy to multiply the drink, I love serving it up for holiday parties.
The recipe calls for very few ingredients like:
Coffee Liqueur or Coffee (if you prefer a neat base)
Vodka
Eggnog (Homemade/Storebought)
Whipped Cream
Toppings (optional)
Once you have all these basic ingredients it's super easy to make the White Russian Eggnog Cocktail.
If you have time and you need to, you can further customize this drink and make it 2 Ways –
Shaken
Stirred
It tastes perfect both ways and can even be made in a blender for a big batch.
Well, to be honest, at times, I make a big batch 20-30 minutes before the party starts and keep it in the fridge.
Just add ice and whipped cream later or as you serve.
This quick tip saves a lot of time especially if you are hosting everything by yourself.
and before I leave you to make this deliciousness, some of our friends replace the vodka with bourbon and make this too.
I mean whatever alcohol pleases you between rum, vodka, bourbon, you are free to add.
I like topping mine with a little bit of salted caramel syrup for that extra luscious …. holiday feel.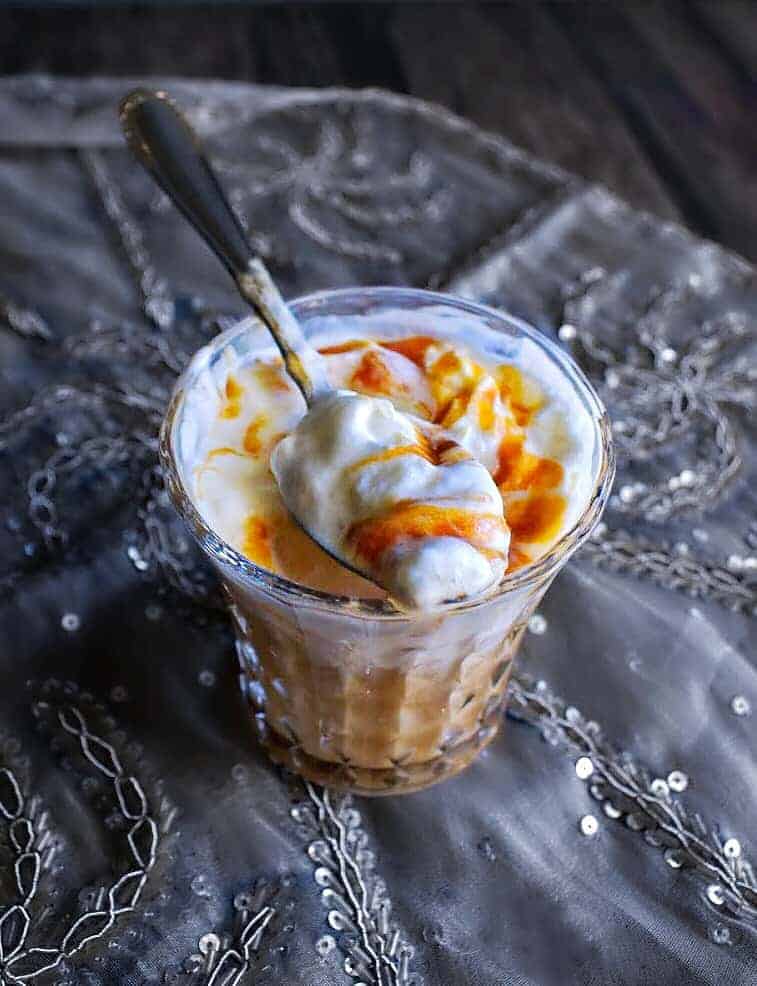 ---
Tried Our Recipe – AWESOME!!!
Now Quickly SNAP A PICTURE & TAG :
#easycookingwithmolly + @easycookingwithmolly on Instagram –>
Connect with Me Here: Facebook / Pinterest / Instagram / Twitter
:: You May Also Like ::
Yield: 4 People
3 Minutes White Russian Eggnog Cocktail (Party Drink)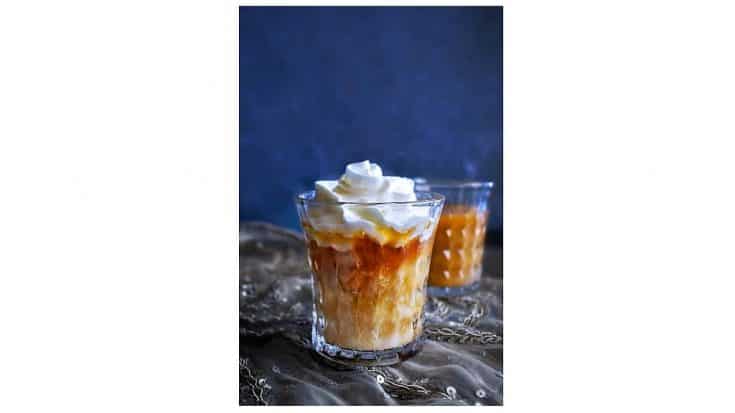 3 Minutes White Russian Eggnog Cocktail: celebrate the holidays with this 5 ingredients, creamy, delicious and boozy cocktail. #eggnog #whiterussian
Ingredients
1 Cup Coffee Liqueur*
1 Cup Eggnog
1/2 Cup Vodka
10 Ice Cubes
Whipped Cream - for topping
Instructions
In a glass add ice and 1/4 cup coffee liqueur
Add 3 Tbsp Vodka
Pour 1/4 cup eggnog on top
Top with whipped cream
Similarly make the other 3 glasses.
Serve immediately and enjoy
Nutrition Information:
Serving Size:
4
Amount Per Serving:
Calories:

334
Total Fat:

3g
Saturated Fat:

2g
Cholesterol:

37mg
Sodium:

40mg
Carbohydrates:

28g
Sugar:

28g
Protein:

3g