Cheesy Monster Dip: spooktacular dip that's filled juicy meatballs, delicious flavors and super easy to make.
This Cheesy Monster Dip is MUST for Halloween
The dip is ready in 15 minutes, glutenfree and can be made in both oven or stovetop.
Are you ready for Halloween? We are gearing up for a BIG Halloween party with this ' Cheesy Monster Dip ' !!!
Just like every year, this dip is my contribution to this year NEW Spooktacular recipe that for Halloween.
Whether your party is big or small, this is a Perfect appetizer that comes together in 15 minutes and is totally glutenfree.
After last years Eye-Popping 'Graveyard Candy Apple Recipe' the pressure was ON and I wanted something equally yummm but totally easy.
A lot of friends suggested 'green dips' but seriously, I think we have seen tons of those in last year party.
So I wanted something different yet eye-catching and this Cheesy Monster Dip definitely checks all our MUST-Haves and much more.
It's SUPER Easy to make and needs ONLY 4 Ingredients if you already have meatballs ready.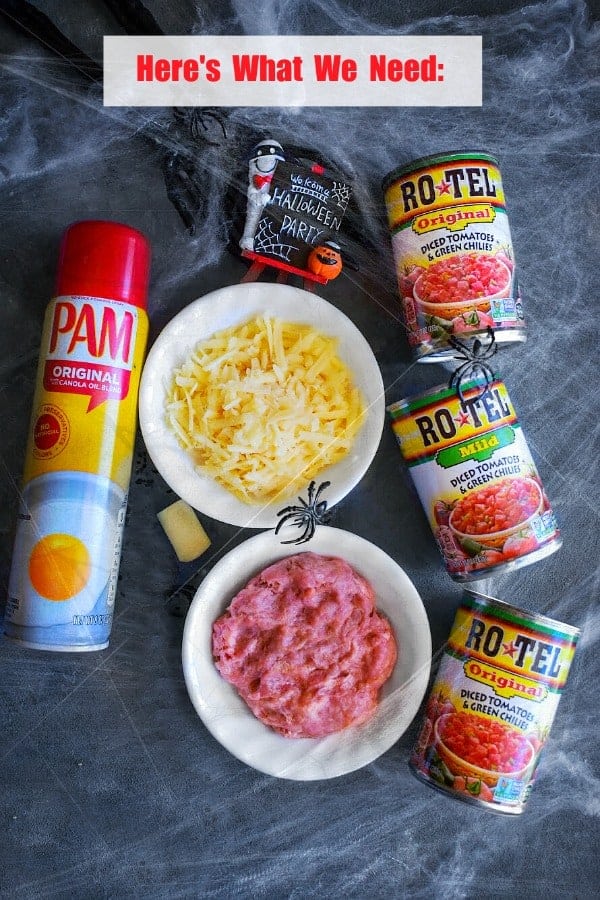 My other reason for loving this Cheesy Monster Dip is that you can make it before hand….like 1-2 days in advance:
Make the Meatballs & Freeze / Store in fridge for Later.
Make the Tomato Sauce Base and store in the fridge for later.
Grate the cheese or simply buy grated cheese
Once you are ready to serve the dish, simply arrange everything as per instructions below and either bake or cook on the stovetop.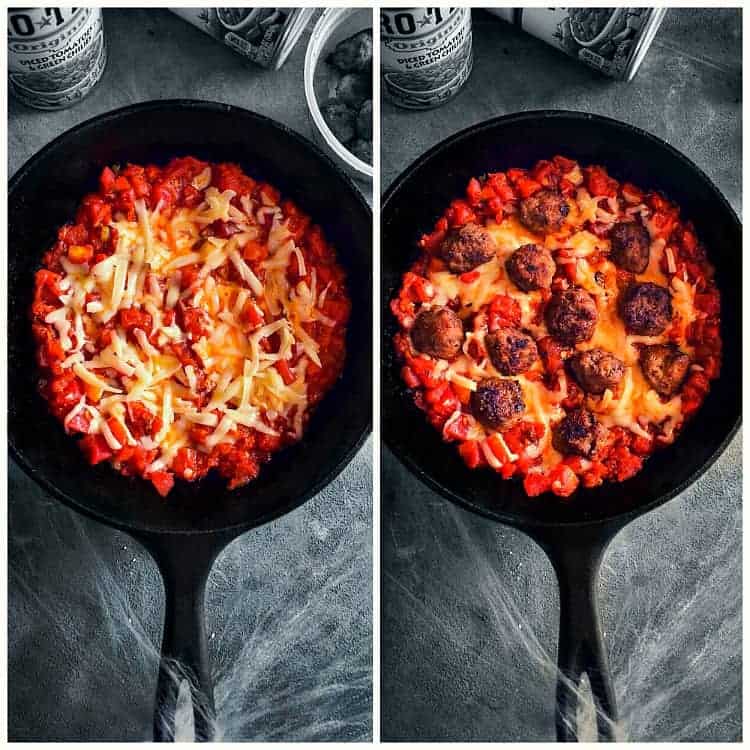 The Cheesy Monster Dip is ready in 15 minutes and can be served with all kind of chips/tortilla or even multigrain crackers.
Perfect for #Halloween !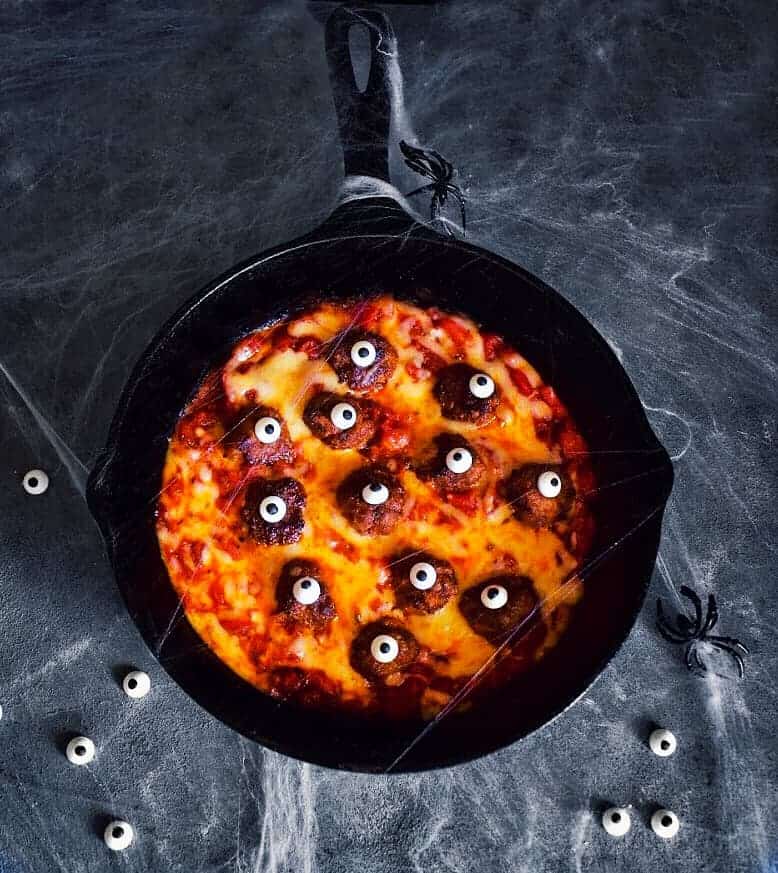 I usually make tiny meatballs so that it's easier to scoop them, however, if you want to use pre-packaged meatballs, go ahead and do so.
You can even slice the larger meatballs in half or quarter and arrange accordingly.
The BEST Part was adding the 'Candy Eyes' to the final recipe.
I tried doing eyes with cheese/olives but seriously, they didn't give the effect as candy eyes do.
So, this Halloween you MUST try this easy peasy spooky Cheesy Monster Dip and enjoy with loved ones.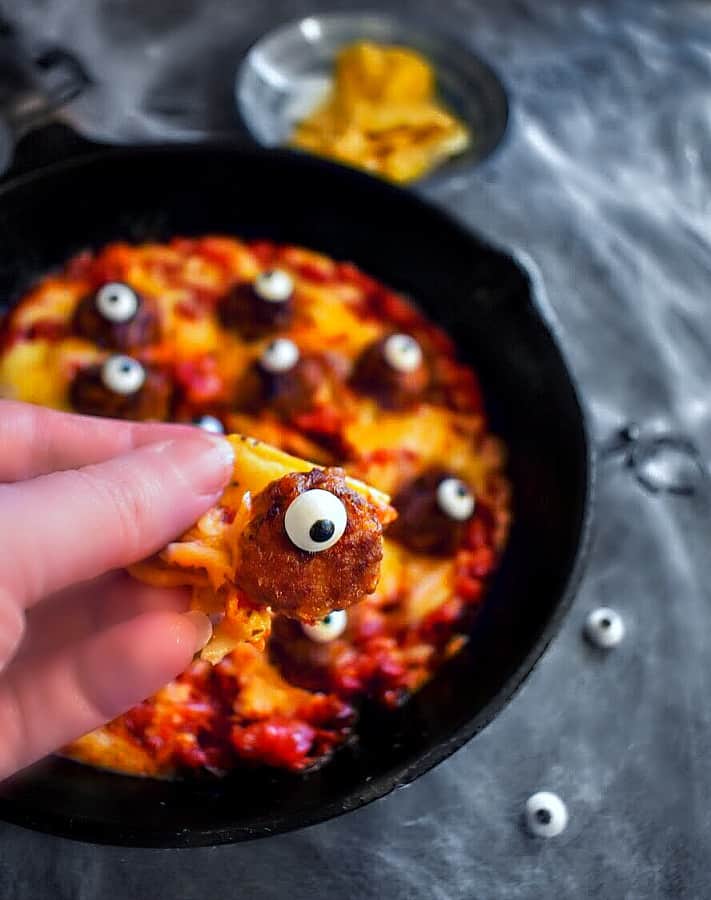 :: You May Also Like ::
---
Tried Our Recipe – AWESOME!!!
Now Quickly SNAP A PICTURE & TAG :
#easycookingwithmolly +  @easycookingwithmolly on Instagram –>
Connect with Me Here:  Facebook / Pinterest / Instagram / Twitter / Subscribe to our Newsletter / Google+
Yield: 1 Large Skillet
Cheesy Monster Dip
Ingredients
2 Can RO*TEL Original Diced Tomatoes & Green Chillies
1 Cup Cheese - I'm using 2 different kinds
1 Cup Minced Turkey - for meatballs
Pam - original spray (to cook the meatballs)
1/2 Packet Candy Eyes
2 Tbsp Taco Seasoning
Salt+Pepper
Chips/Crackers - to serve along with dip
Instructions
In a large bowl, mix minced turkey with 1 tbsp italian seasoning and salt+pepper.
Now divide the mixture into small sized balls.
Heat a skillet and spray with pam.
Add all the mini meatballs and saute till evenly cooked.
Remove from skillet.
Using the same skillet, add diced tomatoes, seasoning and saute for 2 minutes.
Now add cheese on top, meatballs and let this simmer on medium heat for 5 minutes (till cheese melts).
Top with each meatballs with candy eyes.
Transfer to table and serve with chips/crackers
Nutrition Information:
Serving Size:
8 People
Amount Per Serving:
Calories:

47
Total Fat:

3g
Saturated Fat:

2g
Cholesterol:

9mg
Sodium:

202mg
Carbohydrates:

2g
Sugar:

1g
Protein:

3g