Mexican Crab Ceviche Recipe: extremely easy and delicious recipe packed with spicy Mexican flavors and creamy texture. It's a perfect bite for a party or even a light meal for too. The recipe is ready in 5 minutes and goes with drinks as well.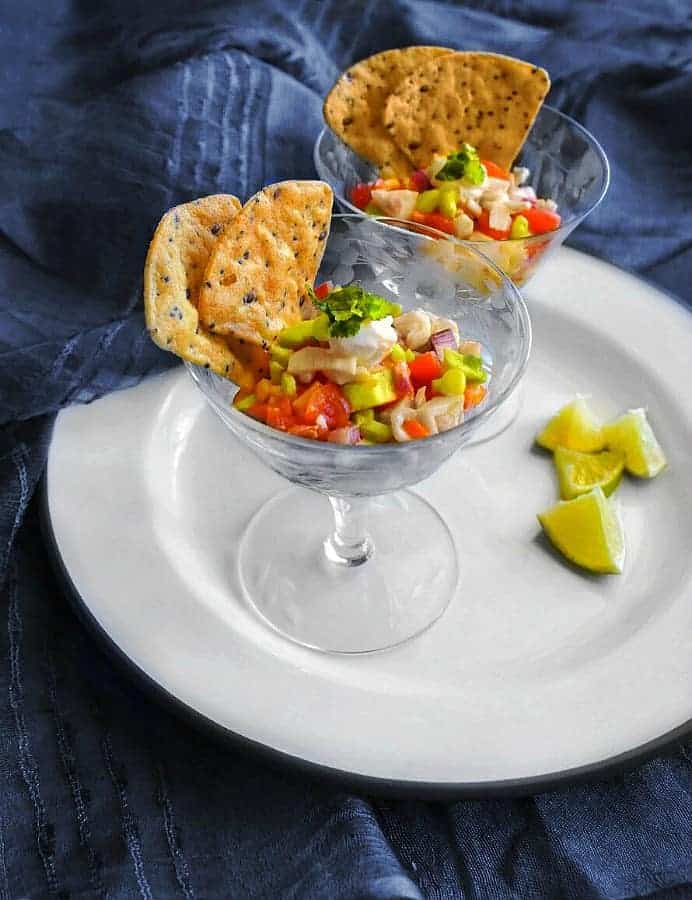 Happy Friday Peeps and I'm calling ALL my Spicy and Mexican food Lovers as we are talking Mexican Crab Ceviche Recipe today.
Ingredients Mexican Crab Ceviche Recipe
1/2 Cup Cooked Crab – chopped
10 Cherry Tomatoes – thinly chopped
1 Small Red Onion – thinly chopped
4 Tbsp Frozen Corn – thawed
2 Tbsp Orange Pepper – thinly chopped
1 Avocado – thinly chopped
Juice of 1 Lime
Few Sprigs of Cilantro – thinly chopped
1 Tbsp Hot Sauce
1 Tsp Taco Seasoning
2-3 Tbsp Sour Cream – optional
As a lot of you know I'm a huge fan of Mexican food, so much so that I can literally eat it everyday!
Infact, as they say, love is kinda crazy 😉 I even turned Mr. into a Mexican food lover (YaaaY).
And this Mexican Crab Ceviche Recipe is the first ceviche recipe that I learned to make after an impromptu trip to San Diego.
We literally had some really exciting and flavorful Mexican food n drinks in that trip and Ceviche was the highlight as we ate it for the first time (almost 8-9yrs back).
And right after that trip, I made this 'Mexican Crab Ceviche' recipe for a wine party at home and it was such a Hit.
Since, then I tweaked the recipe a little here or there, just to make sure that it's perfected to everyone's taste and has easy ingredients.
Also, I feel Ceviche is a very forgiving recipe if you have fresh seafood.
All you do is quickly chop all the other fresh ingredients and mix everything together.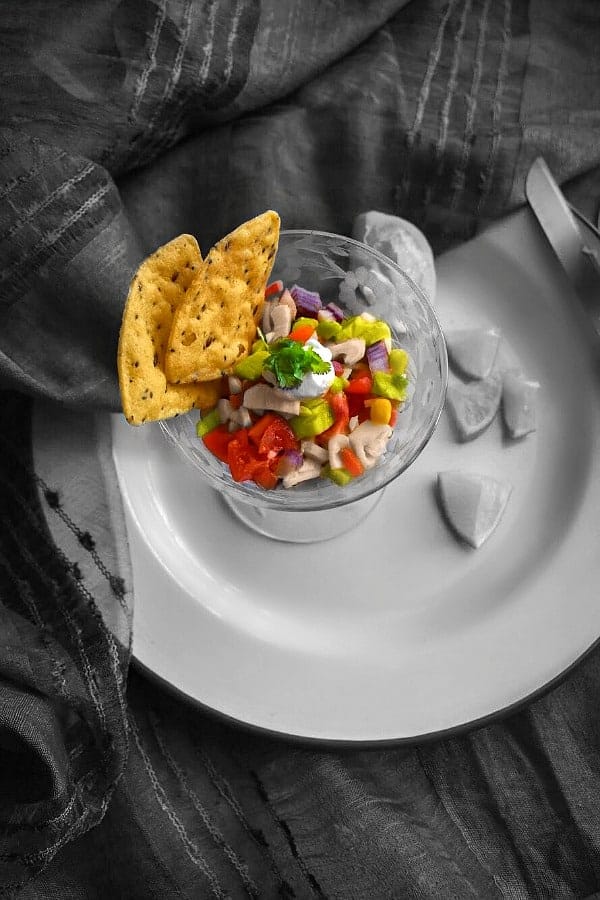 Now, before you try this Mexican Crab Ceviche Recipe or any other Ceviche, always remember these point:
You NEED to have fresh seafood (fish/crab/shrimp/octopus, etc).
Always use FRESH Lime/Lemon Juice (Please don't use bottled or old juice as it makes the ceviche taste bitter.
Chop ALL the Ingredients in same or similar size (it's easier to eat that way).
Ceviche Taste BEST when served FRESH (all that lemon juice starts cooking the seafood, so you lose the freshness).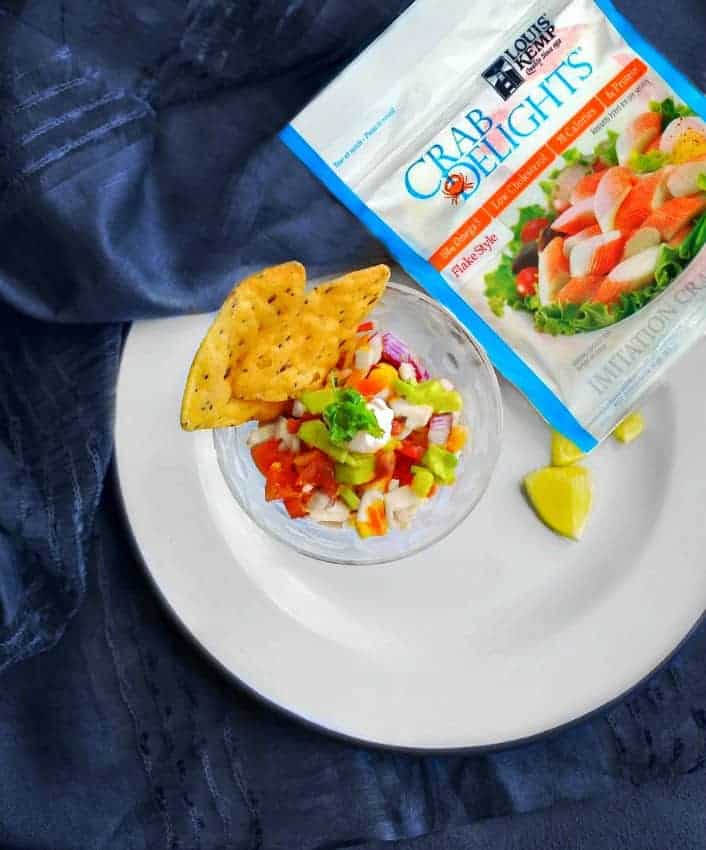 Now, I'm using frozen crab for this recipe, but you can use either fresh or frozen, whichever is easily available to you.
Once the Ceviche is made, just keep them in the fridge before you serve, although I highly recommend serving it immediately once made.
Extra TIP:
If you are making it for a party and NEED to keep it in the fridge for 2-3 hours before serving.
Then I would suggest that you keep the seafood separate from other ingredients.
Just mix the seafood just before serving to retain that Freshness that Ceviche is known for.
Tried Our Recipe – AWESOME!!!
Now Quickly SNAP A PICTURE & TAG :
#easycookingwithmolly + @easycookingwithmolly on Instagram –>
Connect with Me Here: Facebook / Pinterest
:: You May Also Like ::
Yield: 1 Medium Bowl
Mexican Crab Ceviche Recipe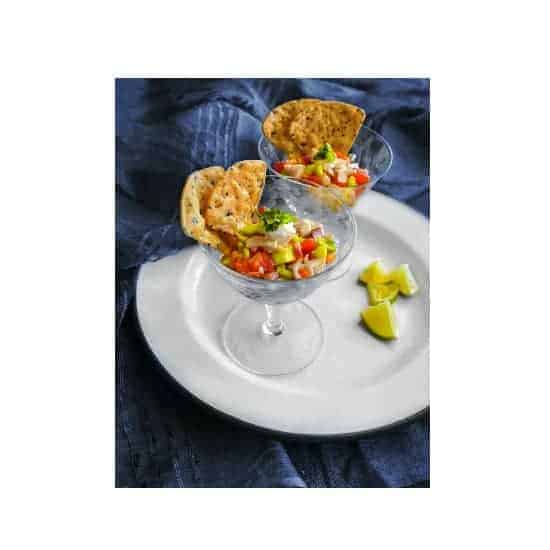 Extremely easy and delicious recipe packed with spicy Mexican flavors and creamy texture. #ceviche
Ingredients
1/2 Cup Cooked Crab - chopped
10 Cherry Tomatoes - thinly chopped
1 Small Red Onion - thinly chopped
4 Tbsp Frozen Corn - thawed
2 Tbsp Orange Pepper - thinly chopped
1 Avocado - thinly chopped
Juice of 1 Lime
Few Sprigs of Cilantro - thinly chopped
1 Tbsp Hot Sauce
1 Tsp Taco Seasoning
2-3 Tbsp Sour Cream - optional
Instructions
In a large bowl, add all the ingredients.
Add hot sauce, seasoning, salt and lime juice.
Mix everything evenly and transfer to a serving bowl or cups.
Top with sour cream and some cilantro.
Serve Chilled & Enjoy
Notes
Cooked Crab - you can use real crab meat or imitation crab
Nutrition Information:
Yield:
2
Serving Size:
1
Amount Per Serving:
Calories:

272
Total Fat:

18g
Saturated Fat:

5g
Trans Fat:

0g
Unsaturated Fat:

10g
Cholesterol:

25mg
Sodium:

200mg
Carbohydrates:

10g
Fiber:

7g
Sugar:

6g
Protein:

10g