This shop has been compensated by Collective Bias, Inc. and its advertiser. All opinions are mine alone. #CollectiveBias #MorningStarFarms #MakeRoomOnYourGrill
Ultimate Veggie Po-Boy Sandwich: a vegetarian/vegan twist to the extremely famous 'Po-Boy' sandwich.
Filled with sweet-spicy flavors and crunchy in every bite. Extremely delicious and a healthier option for your upcoming parties or even football party.
Nothing says Tailgating more than burgers/sandwiches and this year, we are taking it a notch higher with these Ultimate Veggie Po-Boy Sandwich.
It's everything you desire in a party or football snack, extremely easy to make, delicious and did we say ' packed with 27 grams of protein' !!!
Yup, you read it right, it's made using the MorningStar Farms® Meat Lovers Burgers, which not only packs a punch of flavors in every bite but also packed with good for you plant proteins.
No artificial ingredients, made with non-GMO Soy, and Vegan options, MorningStar Farms® is a perfect, healthier meal solution for any occasion.
Whether it's Meatless Monday, a summer barbeque, or kicking off football season.
Now, how many times have you grabbed a burger that's seriously this Good for You?
Just like every year, we host football parties at home and this year I wanted to do recipes which are not only delicious but soooo good for you (in every sense).
And also, after attending so many summer parties/get-together or even sundown parties with heavy meaty dishes, I wanted to do something which was light and right!
So when I came across these NEW MorningStar Farms Quarter Pound Veggie Burgers at Walmart.
I knew they were going to be a Great addition to our healthier menus/lifestyle.
Also, as we do have tons of friends/family members who are vegetarian or vegan (attending our parties/gatherings), this is a MUST from now on.
So, for the Ultimate Veggie Po-Boy Sandwich, I gathered lots of fresh produce along with these Meat Lovers Burgers and I'm doing a creamy 'Cashew Slaw'.
For anyone wondering what's a 'Po-Boy' sandwich?
It's an extremely popular/sweet-food sandwich from Louisiana.
It's usually packed with fried meat/seafood (mostly shrimp) and served on a buttered baguette with a remoulade sauce.
Now, it's like a Perfect Game-Night food as it's crunchy-munchy along with a sweet-spicy flavor.
However, I gave it an extremely easy and 'good for you' twist by turning it into a Veggie Po-Boy Sandwich (vegan too).
Here's What I'm Replacing:
Meat with Meat Lovers Burgers (Veggie).
Remoulade Sauce with Cashew Sauce (vegan).
Cashew Sauce is very simple (recipe below) and the slaw is mostly freshly produced diced and mixed along with sauce + seasoning.
It's extremely simple yet packed with flavors. Once that's taken care of, I have grilled the Meat Lovers Burger in our home grill using very little oil.
The Meat Lovers Burger actually cooks really fast and plump up once nicely hot.
That's the maximum cooking you need to do for the Veggie Po-Boy Sandwich and then it's all about layering with all things delicious.
One more thing, I'm using 'French Rolls' as the base as baguette makes it quite hard if kept for longer.
I'm also not buttering the rolls as I want to keep them all fresh and moist.
Once layered, I just added these cute tags (seen below) and I'm ready for my Football party along with these Ultimate Veggie Po-Boy Sandwich !!!
As I mentioned above, I found these MorningStar Farms® Meat Lovers Burgers at Walmart along with all the other ingredients in this recipe.
Also, definitely check this ibotta offer before you head out to buy these burgers.
The MorningStar Farms Burger Bar Truck will be driving around to visit Walmart stores around the country, click below to see if they are coming to a Walmart near you!
NEW MorningStar Farms Quarter Pound Veggie Burgers, delicious, perfectly crafted burgers that will fill your bun with MORE and leave you satisfied every time.
Each quarter-pound burger is perfectly seasoned and packs each bite with plant-based protein and tasty veggies!
They have these two New Options apart from other products:
Meat Lovers Burger: A "beef-like" taste and texture that packs 27 grams of positive Plant Based Protein.
Veggie Lovers Burger: A better for you burger packed with 12 different veggies, 2 seeds & 2 grains, plus 10 grams of Plant Based Protein.
So grab these Ultimate Veggie Po-Boy Sandwich and celebrate the Summer festivities with your loved ones!
:: You May Also Like ::
---
Tried Our Recipe – AWESOME!!!
Now Quickly SNAP A PICTURE & TAG :
#easycookingwithmolly + @easycookingwithmolly on Instagram –>
Connect with Me Here: Facebook / Pinterest / Instagram / Twitter / Subscribe to our Newsletter / Google+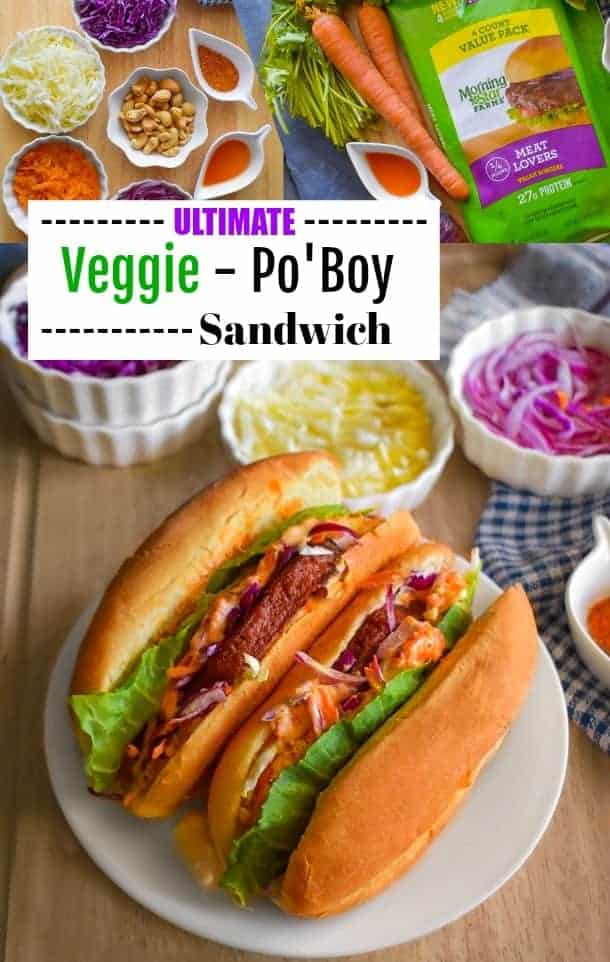 Yield: 4-5 People
Ultimate Veggie Po-Boy Sandwich
Ultimate Veggie Po-Boy Sandwich: It's filled with sweet-spicy flavors and crunchy in every bite for a healthier option for your parties. #poboy
Ingredients
3 MorningStar Farms® Meat Lovers Burgers
6 French Rolls
2 Lettuce Leaves - cut into 6 pieces.
1 Tsp Oil
Cashew Sauce Ingredients:
1/4 Cup Raw Cashews
4 Tbsp Hot Water
1 Tsp Vegan Yogurt
1/4 Tsp Creole Seasoning
Red Chili Flakes
Salt - as per choice
Crunchy Slaw Ingredients:
1/2 Cup Green Cabbage - thinly sliced
1/4 Cup Red Cabbage - thinly sliced
2 Carrots - cleaned and diced
1 Small Red Onion - thinly sliced
Instructions
Heat a grill and thaw the Morning Stars Burgers (if need be).
Now brush the Morning Star Burgers with oil on both sides and place on hot grill (you may use stovetop too).
Cook on both sides till golden in color (takes 3 minutes to cook 3 burgers).
Remove from grill and let it cool.


Make the Cashew Sauce:
In a blender add all the sauce ingredients and pulse to form a smooth sauce.


Make the Slaw:
Add 3 tbsp of cashew sauce along with sliced veggies in a bowl.
Mix everything using a fork.


Make the Ultimate Veggie Po-Boy Sandwich:
Open the french rolls and slather 1 side with the slaw.
Place half a burger and add some slaw on top.
Add a lettuce leaf on top and close the roll.
similarly, make all the Po-Boy sandwich and transfer to serving plate.
Enjoy with chilled beverage of choice.
Nutrition Information:
Yield:
6
Serving Size:
1
Amount Per Serving:
Calories:

252
Total Fat:

11g
Saturated Fat:

3g
Trans Fat:

0g
Unsaturated Fat:

7g
Cholesterol:

33mg
Sodium:

150mg
Carbohydrates:

25g
Fiber:

2g
Sugar:

3g
Protein:

14g