Authentic Spanish Gazpacho: a delicious – MUST have Summer soup from Spain. It needs absolutely no cooking and ready in less than 10 minutes.
Spanish Gazpacho – Cold Tomato Soup can be served in any meal or simply dunk a toasted slice of bread and Nosh!
Authentic Spanish Gazpacho | Cold Tomato Soup
For the past few days, if you're in Delhi, there is a common discussion everywhere and that is the Soaring Temperature…..
I mean we just crossed ***43 Celsius or 110 Fahrenheit*** on Sunday and you could literally feel the heat outdoor or indoors.
It's Seriously H O T !!!!
The water coolers/air-conditioners maintenance teams could be seen running the entire city and you can see people sweating everywhere.
With all this heat, food is the last thing on my mind…I'm not sure if it happens with you too but whenever it gets that HOT, all I want to do is drink chilled stuff or eat chilled food.
The kitchen is literally shut except for making cold salads/dips and chilled soup or eating chilled leftover from the fridge.
That's when I thought of making this Authentic Spanish Gazpacho.
I first had this soup during a vacation to Portugal in August 2011 and completely fell in love with its color and freshness.
Mr. and I, toured the city along with our friends and by evening we were even tired of a proper sit-down meal.
That's when a local suggested trying the 'Cold Soup' which sounded absolutely perfect.
We ended up finding this cute little family restaurant run by an old Spanish lady making basic soups + tapas and they both tasted absolutely delicious.
Not only we enjoyed the scrumptious meal but the lady was kind enough to share her Spanish food traditions.
And few recipes and this soup is something very similar (except her kitchen garden tomatoes & homemade vinegar).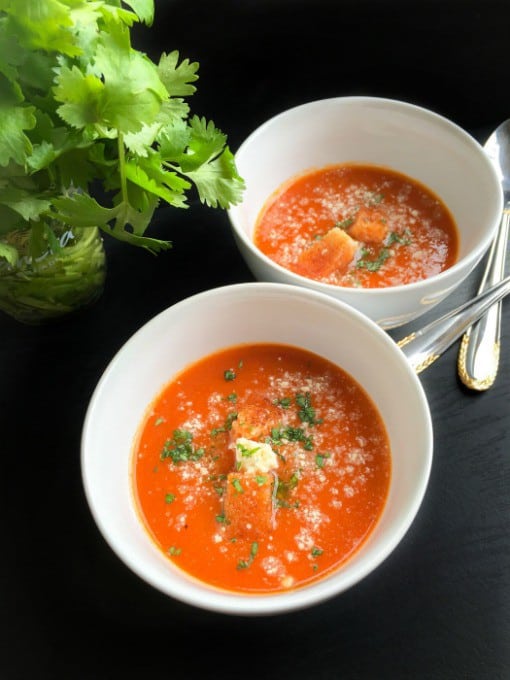 This Spanish Gazpacho soup originated from the Southern Spanish region of Andalusia and it's way to Portugal too.
It's made using vine-ripened tomatoes (for taste & rich red color), along with few other fresh ingredients and a piece of stale bread.
All the ingredients are either crushed using 'Mortar-Pestle' (to avoid any foam on top) or blended.
Hence we can say that the Traditional Cold Soup – Gazpacho does have a slight texture and taste, unlike any soup you've had.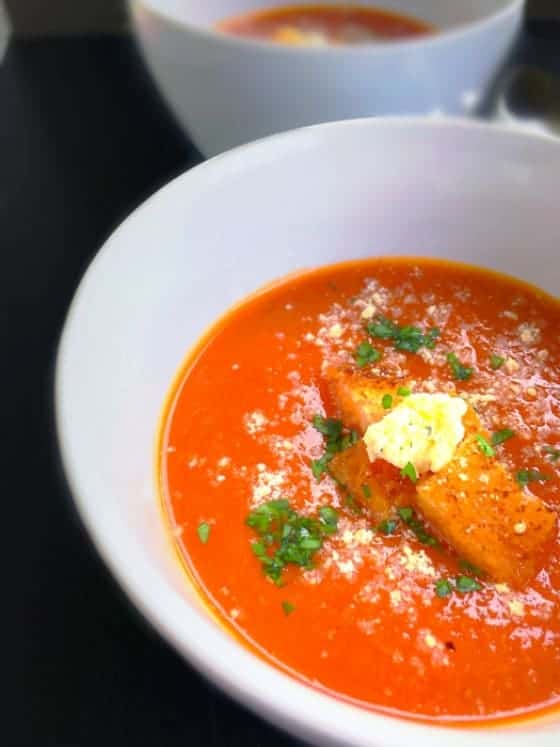 So for me, this Spanish Gazpacho – Cold Tomato Soup is a perfect summer meal along with few nicely toasted slices of bread slathered with butter or cream cheese dips.
It's so easy to make as there's absolutely no cooking involved and can be made in advance and stored up to 1-2 days.
As mentioned above, the ingredients are really simple and few.
And you can change any of them as per your choice of veggies and that's the beauty of this soup.
It turns out delicious everytime you make it (even with slightly changed ingredients).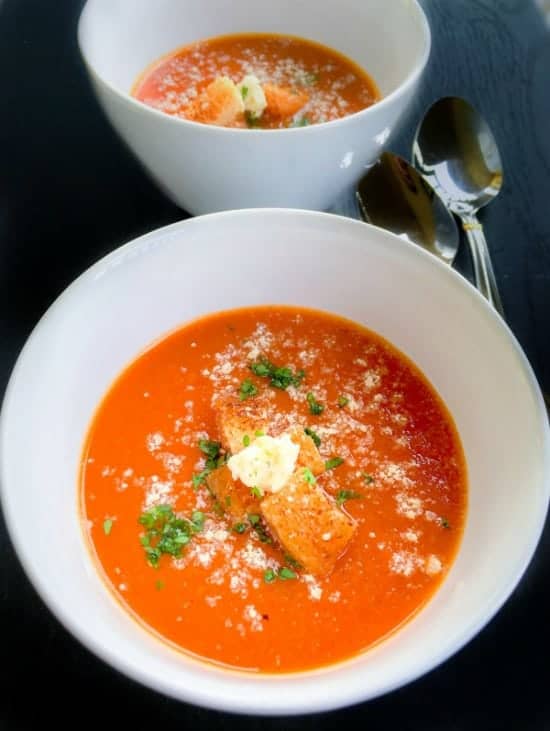 I actually ended up making this Spanish Gazpacho – Cold Tomato Soup recipe twice on the same day!!
First, were to click pictures and then after devouring the first bowl, we wanted another too as it's sooo crazy hot and this looks like the best thing EVER!
I ended up consuming most of this Easy Spanish Gazpacho – Cold Tomato Soup and had to cover up my guilt by making another batch almost immediately!
: You May Like This Also :
Mexican Crab Ceviche (5 Minutes Recipe & Served Chilled)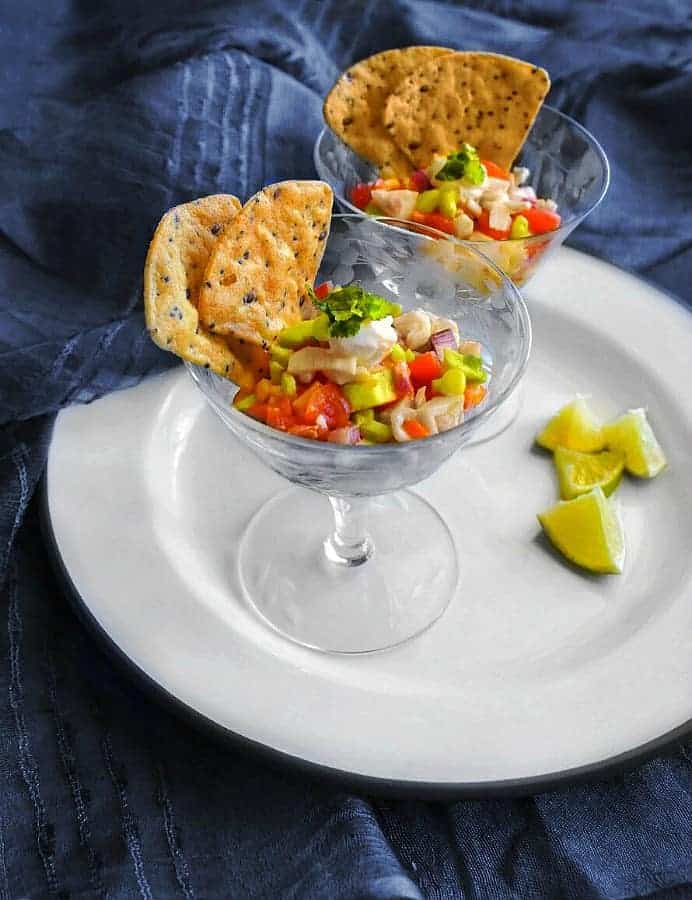 ---
As always, I Looove when you try my recipes and send me pictures & feedback.
You can tag my recipes tried by you using #easycookingwithmolly on any of the social media below:
Connect with Me Here: Facebook / Pinterest / Instagram

Yield: 4
Authentic Spanish Gazpacho (Cold Tomato Soup)
Authentic Spanish Gazpacho (Cold Tomato Soup) a delicious and a must have summer soup from Spain. It needs absolutely no cooking and ready in less than 10 minutes.
Ingredients
6 Fresh Vine Ripened Tomatoes
1 Clove Garlic
1 Small Shallot or Onion - optional
1 Slice Sourdough Bread - you can use any plain bread or just skip this ingredient
1 Tsp Sherry Vinegar - you may use plain or any other variety
4 Tbsp Olive Oil
1 Tsp Salt
1/2 Tsp Crushed Pepper
2 Cups of Water
For Decoration:
Few Croutons - optional
1 Tsp Shredded Cheese
Springs of Cilantro - thinly chopped
Instructions
Heat 2 cups of water in a pot, when boiling add all the tomatoes.
Let it boil for 2 minutes and then turn off the heat.
Place the tomatoes on ice or under cold water (till they are cool to touch).
Peel the skin on tomatoes, cut them into 4 slices and scoop outthe seeds.
Add the cleaned sliced tomatoes in a blender along with garlic, shallot, vinegar and pulse to form a smooth consistency.
Add bread, olive oil, salt, pepper and pulse till bread gets mixed and smooth.
Strain the soup into a jar or large pan.
Store in fridge for chilling further or transfer to serving glasses, decorate with croutons, cheese and cilantro.
Serve Fresh or Chilled.
Nutrition Information:
Yield:
4
Serving Size:
1
Amount Per Serving:
Calories:

232
Total Fat:

15g
Saturated Fat:

2g
Trans Fat:

0g
Unsaturated Fat:

12g
Cholesterol:

1mg
Sodium:

775mg
Carbohydrates:

21g
Fiber:

2g
Sugar:

4g
Protein:

4g
A Picture from our memorable trip to Portugal: