Quick Collagen Smoothie with Cheery Rose: 2 minutes smoothie to channel the inner goddess! Filled with sweet flavors of cherry, rose, almond, and collagen to support healthy you today and forever.
This Quick Collagen Smoothie is what I call my daily Elixir of calmness, energy and super youth.
How many of you wake up tired or feel completely drained out by the time you hit the bed? Sound familiar, then hang on.
Today's post is all about 'US – The Woman', the warriors who put yourself aside and selflessly + endlessly work to make sure your house, family, friends, professional commitment or just about everything in the world is working fine.
While we make sure everything else is running smooth, we tend to forget our own body and after several years of neglect, there might come a day, where you might hear a meek voice 'I Just Can't Take This Anymore'!
Yup….been there and that's why I learned it the hard way BUT You don't have to go so far and take it from me – Take Care of Yourself!
Take care of the body, mind and soul we have been given as there's no-one like us. If you don't believe me Ask your Loved ones 🙂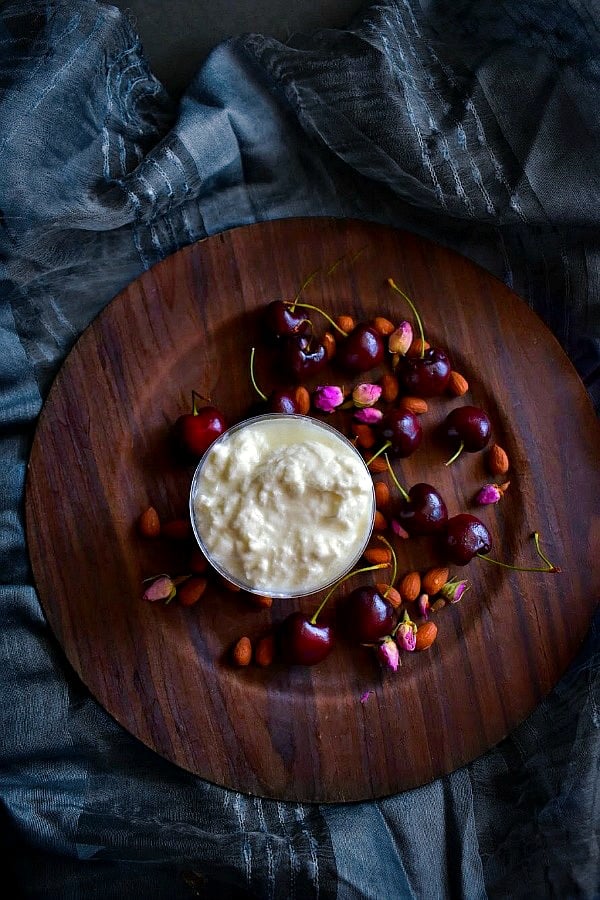 So after all the hectic routines, skipping meals, no-time to sleep, etc, I finally realized and started listening to my body.
Hey, I'm no 'Benjamin Buttons' and I needed something to SUPER Charge myself out of the years of self-neglect….enter the Collagen Cherry Rose Smoothie or my literal translation of 'Channeling the Inner Goddess/Diva'.
Why not make yourself feel Special Everyday in the Morning maybe just for 10-15 minutes…
So instead of telling your spouse/partner 'You look Amazing Today' or instead of telling your child ' You're such a good kiddo', why not first tell yourself 'You are Amazing / Great / Kind / Motivator '.
I urge you to do it and see the difference…feel that extra bounce in every step or that sweet smile on your face when you do it and along with that, make yourself this Collagen Cherry Rose Smoothie.
I recently (almost a few months back) discovered 'Collagen' and Girl, what a discovery it is as its changing my life one glass at a time 🙂
Collagen is a protein and the main components of the connective tissues of our body.
They make-up for of 25% to 35% of the whole-body protein content. But as we age, the collagen production starts to go down and it's kinda downhill from there (if not taken care of).
I'm not saying you'd feel 30 one day and 50 the other day but gradually, the aches, pains, the degeneration of bones/muscles start.
So to take charge of all those issues, 'Collagen' is the answer to a lot of our womanly issues too, think:
Hair, Nail, Skin
Joint – Bone Pain
Muscular Issues
Gut / Digestion / Harmons
Mood & Weight (Helloooo Mood Swings)!!
So, I finally found a great brand and I'm sticking to it.
I've started adding it to my smoothies/breakfast (as that's the first meal of the day and I want to start it supercharged).
The 'SkinnyFit' Super Youth collagen that I'm using is colorless, odorless and tasteless, hence it makes for a great addition in just about any recipe.
Now, I do call this Collagen Cherry Rose Smoothie as my 'Channeling the Inner Goddess' Smoothie or you can call it the 'Glow Smoothie' too as that's what I feel when I drink it.
First: the color is this gorgeous-gorgeous hue of pink
Second: the taste is super creamy and delicious. I'm sure, it Goddess every wanted to have a smoothie, this would be it 🙂
Just look at that color and you get different shades of pink by adding or reducing base ingredient.
Although I'm using plain yogurt, but you can use any fruity (mostly berry) flavor yogurt or even milk or nut milk.
Just add all the listed ingredients in a blender and pulse for a minute or two (depending on the power of the blender).
So that's it about our Collagen Cherry Rose Smoothie and I hope you try this soon and start that first step to take care of yourself.
: Other Smoothie Recipe :
Tried Our Recipe – AWESOME!!!
Now Quickly SNAP A PICTURE & TAG :
#easycookingwithmolly + @easycookingwithmolly on Instagram –>
Connect with Me Here: Facebook / Pinterest / Instagram
:: You May Also Like ::
Yield: 1 Large Glass of Smoothie
Quick Collagen Smoothie with Cherry Rose
Quick Collagen Smoothie with Cherry Rose: Filled with the sweet flavors of cherry, rose, almond and collagen to support healthy you today and forever. #collagen
Ingredients
1 Scoop Skinny Fit SUPER YOUTH Collagen
1/2 Cup Cherries - pitted
1/4 Cup Almonds
1/2 Tsp Rose Water or Edible Dried Rose Leaves
Base of Choice (Use Yogurt/Milk/Vegan Options).
Instructions
Add all the ingredients in a blender jar and blend to a smooth mix.
Transfer to a glass and decorate with dried edible rose petals, sliced cherry, slivered almonds and chocolate syrup.
Enjoy Cold
Nutrition Information:
Yield:
1
Serving Size:
1
Amount Per Serving:
Calories:

234
Total Fat:

18g
Saturated Fat:

1g
Trans Fat:

0g
Unsaturated Fat:

16g
Cholesterol:

0mg
Sodium:

203mg
Carbohydrates:

25g
Fiber:

5g
Sugar:

17g
Protein:

15g