Chocolate – Maca Smoothie: creamy, delicious and nutritious smoothie, ready in two minutes and completely Vegan and GlutenFree. Perfect for breakfast, snack or even workout routine.
This Chocolate – Maca Smoothie is our first smoothie recipe in 2018 and we couldn't be happier with the taste and creaminess of the smoothie.
Who doesn't like peanut butter and then you add chocolate, superfood like maca powder, chia seeds, hemp seeds and you get yourself a glassful of deliciousness!
Now, before we get started on the ingredients and details of the smoothie, I wanted to ask you'll a question – Have you visited your nearest Grocery Outlet recently?
If you haven't then, you're missing out on some MAJOR Discounts (40-70% and sometimes even more) on Organic + Superfood Food/Ingredients!!!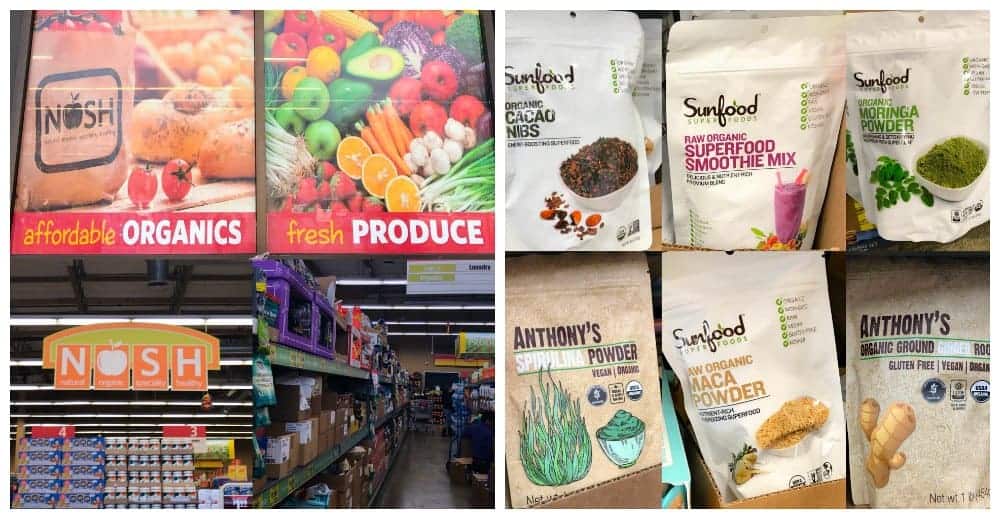 I'm a frequent visitor of grocery outlet store (near my house).
They sure help me achieve my health goals by always providing me with healthy-natural food at discounted prices.
However, on my recent visit, I was pleasantly surprised by their NOSH Aisle (Natural Organic Speciality Healthy) .
They had all kind of superfood items like chia seeds, spirulina, turmeric, ginger, maca, smoothie mixes and at amazing pricing.
So I quickly picked some for myself and some for my smoothie lover friend too (who doesn't love a good priced product – right!)
How to Make Chocolate – Maca Smoothie
So, I would definitely recommend you visit your nearest grocery outlet and check out the NOSH Aisle for your favorite SuperFood.
Now, coming back to our luscious superfood Chocolate – Maca Smoothies.
It's absolutely easy-peasy to make, just add everything in blender and pulse to a smooth consistency.
Now, here's what I usually do with my winter smoothies, I add fresh fruits rather than frozen ones as that not only achieve a thin, easy to gulp consistency but also it's less icy.
If it's summer, then I can add frozen fruits for thicker and icy smoothies.
I also blend the smoothies a little longer for a much smoother and frothy look … almost look like a luscious milkshake!
Now, I'm also using a thicker, richer almond milk for this smoothie, however, any kind of milk would do (not the fruit flavored ones).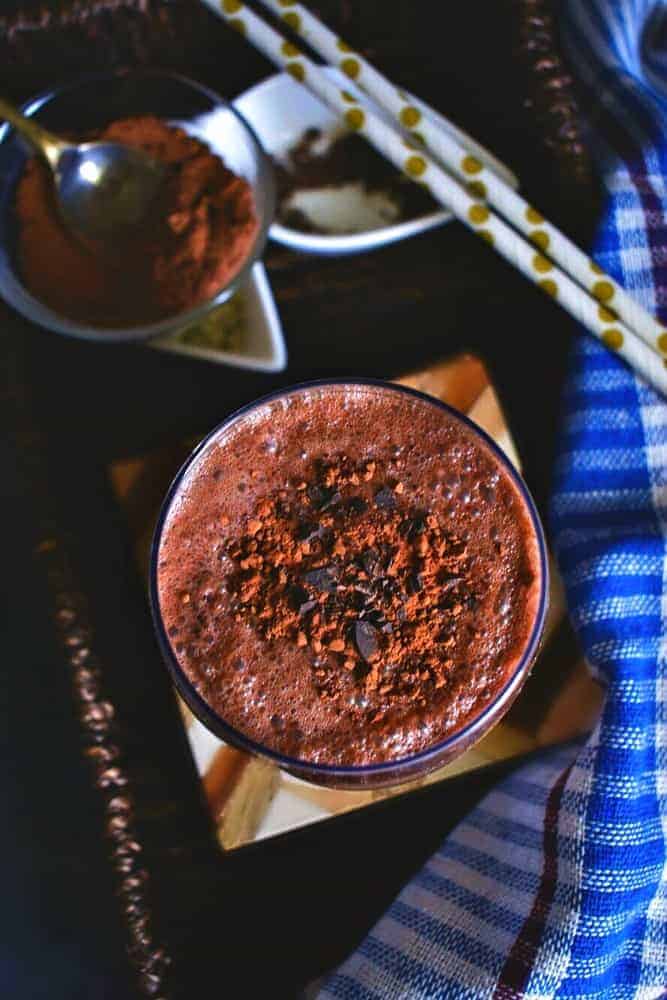 Once, the smoothie is ready, I added our favorite toppings like hemp seeds, cacao nibs and a dash of chocolate 🙂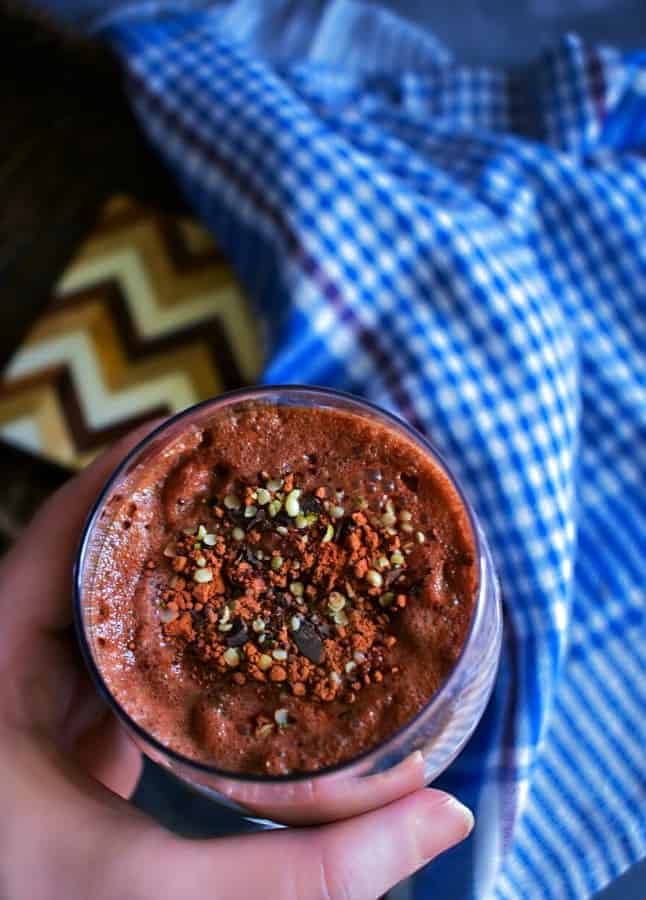 You could keep this smoothie for a day in the fridge however, I always recommend drinking smoothies asap (especially if they are all fruit smoothies – the fresher the better).
This smoothie makes a perfect workout snack too as Superfoods give us that extra boost of energy along with several vitamins+minerals.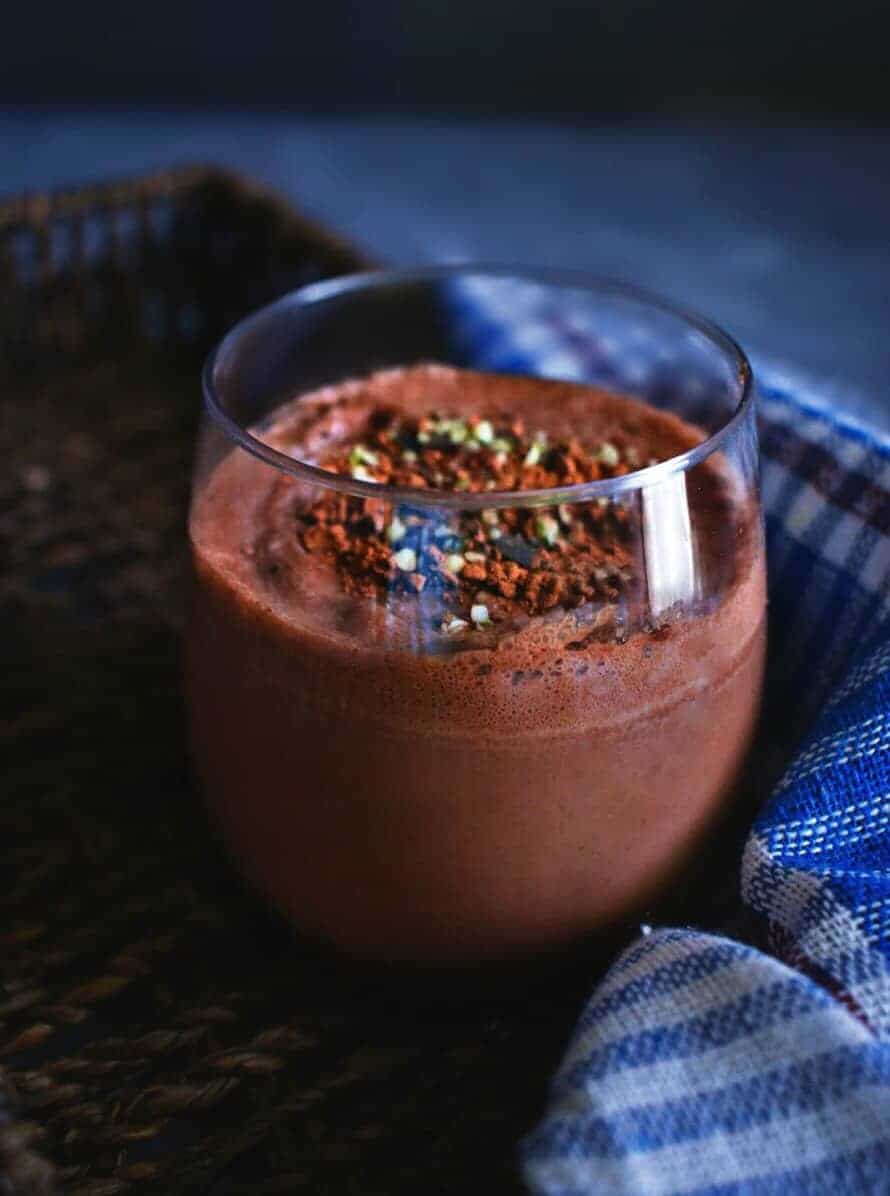 Go ahead and try this easy-peasy yet luscious Chocolate – Maca Smoothie ASAP.
And also visit the grocery outlet near you to snag some amazing deals on healthy/organic products.
Tried Our Recipe – AWESOME!!!
Now Quickly SNAP A PICTURE & TAG :
#easycookingwithmolly + @easycookingwithmolly on Instagram –>
Connect with Me Here: Facebook / Pinterest / Instagram

:: You May Also Like ::
Yield: 2 Glasses
Chocolate - Maca Smoothie (V+GF)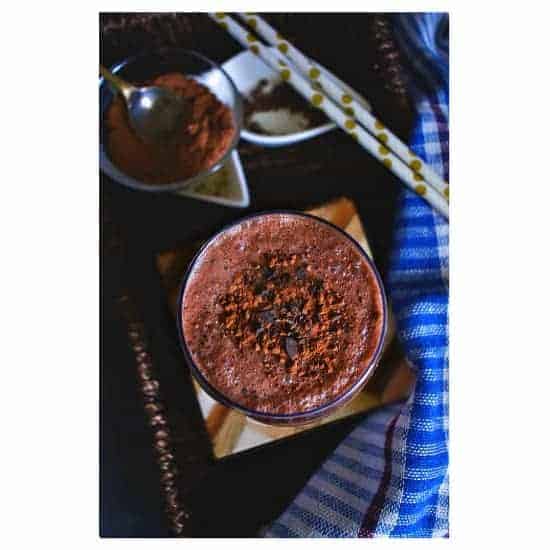 Chocolate & Maca Smoothie: creamy, delicious and nutritious smoothie, ready in two minutes and completely Vegan and GlutenFree.  Perfect for breakfast, snack or even workout routine.
Ingredients
2 Cups Milk
1/2 Cup Ice
2 Tbsp Peanut Butter
4 Tbsp Unsweetened Cocoa Powder
1 Tbsp Cacao Powder 
1 Tsp Maca Powder 
1 Bananas - ** check note
1 Tbsp Hemp Seeds
Sweetener - optional - if need be
:: Toppings :: (optional)
1 Tsp Chocolate Powder
1 Tsp Cacao Nibs
1 Tsp Hemp Seeds
Instructions
Place all the smoothie ingredient in a blender/vitamix and pulse to form a smooth paste like consistency.
Transfer to serving glasses and add favorite toppings.
Serve Immediately.
Notes
Bananas - You may use fresh bananas for thinner and quick to gulp smoothie or if the
weather is cold
You may use frozen ones if you want a thicker - more chunkier smoothie.
Nutrition Information:
Yield:
2
Serving Size:
1
Amount Per Serving:
Calories:

250
Total Fat:

19g
Saturated Fat:

6g
Trans Fat:

0g
Unsaturated Fat:

10g
Cholesterol:

20mg
Sodium:

208mg
Carbohydrates:

42g
Fiber:

6g
Sugar:

10g
Protein:

18g