Chickpea Quinoa Pilaf Pulao: absolutely delicious, easy and healthy recipe using quinoa-rice blend along with chickpeas and vegetables. It's power-packed with nutrients and twist to traditional rice pilaf or pulao recipe.
We made this Chickpea Quinoa Pilaf Pulao for Friday night potluck dinner and it was an instant hit.
Once every month, we do potluck dinner with friends and this time I wanted to take something really healthy and hearty.
Because of the #football season, we are already snacking a lot since the last few days and I wanted to keep the potluck recipe light.
What's needed for the Chickpea Quinoa Pilaf Pulao?
Chickpeas – cooked, storebought or homemade
Quinoa – I'm using a blend of quinoa-rice, you can use just quinoa too
Vegetable Stock – can use plain water too
Spices – garam masala, salt, cinnamon, and red chili powder
Cranberries – optional and for decoration
So, all I did was, replace the regular rice in the traditional pulao/pilaf recipe with TruRoots Sprouted Rice and Quinoa Blends.
And the Chickpea Quinoa Pilaf Pulao turned out to be a hit, everyone devoured it till the last grain and we came back home with no-leftovers 🙂
This is not the first time that I had used these blends, as I'm a fan of TruRoots products (I bought mine from Target) and keep adding their products in our everyday meal like :
Spouted Green Lentils, Red Quinoa, Chia Seeds, Sprouted quinoa and much more.
I love the fact that they are an organic brand with so many varieties to choose.
Hence, you can replace any grain or lentil in your traditional recipes to add that healthy pin/flavors.
How to Make Chickpea Quinoa Pilaf Pulao?
The process is extremely simple and just like any one-pot rice dish:
Saute the chickpeas and veggies for a few minutes
Add quinoa, spices and saute for a couple of more minutes.
Add vegetable stock and simmer on low heat till quinoa is nicely cooked.
Once read, fluff the pilaf/pulao and transfer to serving the dish.
Decorate and serve hot.
I have actually been experimenting a lot with their sprouted blends and it fits perfectly in this recipe.
You can call it a blend of traditional and modern healthy cuisine.
You get the same delicious flavors of the traditional pulao but with the added benefit of quinoa + rice blend.
Also, as chickpeas are high in proteins, fiber and low in fat, this makes an extremely healthy meal and a great option for a quick lunch.
Also, did you know: Chickpea and Quinoa both keep us full for longer.
That means the digestive system takes longer to break the grains, digest, and process ahead.
I've also replaced regular water with vegetable stock to make it even more flavorful, however, you can just add water and the pulao is going to taste great.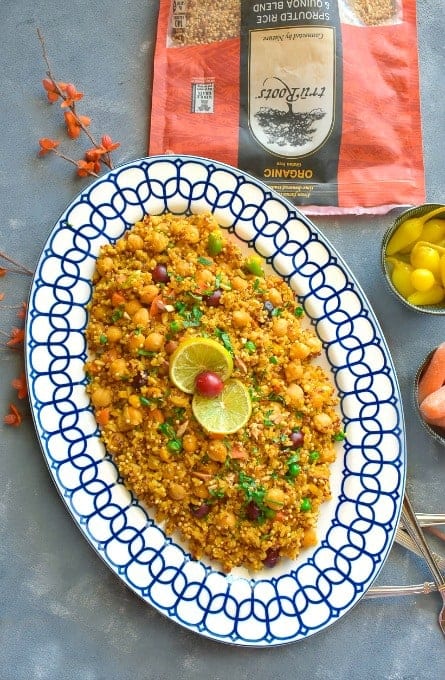 So, before you go ahead and make this recipe, take advantage of the 'Target Cartwheel Offer on Tru Roots Products!
I did stock up on my favorite TruRoots products using the same offer.
This Chickpea Quinoa Pilaf Pulao also makes a great office lunch as they are absolutely easy to pack and taste as good once reheated.
Tried Our Recipe – AWESOME!!!
Now Quickly SNAP A PICTURE & TAG :
#easycookingwithmolly + @easycookingwithmolly on Instagram –>
Connect with Me Here: Facebook / Pinterest / Instagram
:: You May Also Like ::
Yield: 2 People
Chickpea Quinoa Pilaf Pulao (Vegan & Glutenfree)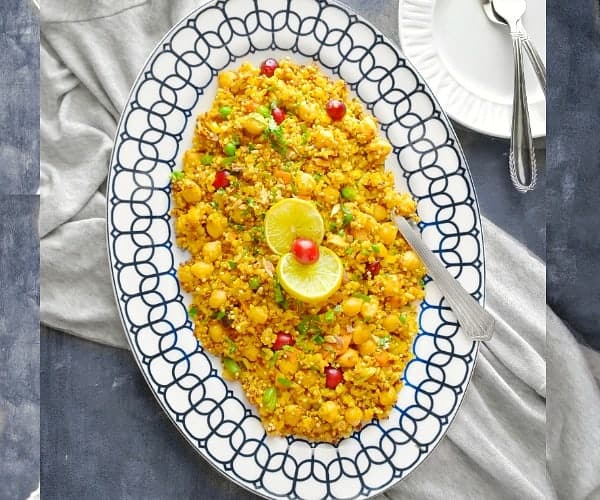 Chickpea Quinoa Pilaf Pulao: absolutely delicious, easy and healthy recipe using quinoa-rice blend along with chickpeas and vegetables. It's power-packed with nutrients and twist to a traditional rice pulao recipe. Vegan & Glutenfree
Ingredients
1 Cup Quinoa - I'm using TruRoots Rice Blend
1/2 Cup Cooked Chickpeas - storebought or homemade
1 Cup Frozen Mixed Vegetable
1/4 Tsp Ginger + Garlic Paste
2 Cups Vegetable Stock - you may use water too
3 Tbs Olive Oil
2 Tbsp Cranberries - optional (to decorate)
1 Tbsp Chopped Fresh Cilantro - to decorate
Whole Spices
2 Dry Bay Leaf
3 Whole Green Cardamom (Elaichi) - crushed
2 Cloves
1/2 Tsp Whole Cumin Seeds (Zeera) 
1/4 Cinnamon Stick (Dalchini)
Powdered Spices
1/2 Tsp Garam Masala
Pinch Black Pepper
1/2 Tsp Chili Powder
1/2 Tsp Salt
Instructions
How to Make Chickpea Quinoa Pilaf Pulao:
In a pressure cooker, add olive oil and all the whole spices.
Saute this over low flame for 30 seconds.
Now add frozen vegetables, chickpeas and saute for 2-3 minutes over low heat.
Add powdered spices and the quinoa blend.
Saute this mix for 2-3 minutes over medium heat.
Now add vegetable stock or water (whatever you're using) and stir once.
Close the pressure cooker lid and let it cook for 2-3 minutes (you'll get 3-4 steams).
Turn off the heat and let the pressure cooker cool completely.
Open the lid carefully and transfer the content to serving dish.
Decorate with cranberries and chopped cilantro (I added 1/2 tsp crushed almonds too).
Serve hot.
Nutrition Information:
Yield:
3
Serving Size:
1
Amount Per Serving:
Calories:

210
Total Fat:

17g
Saturated Fat:

2g
Trans Fat:

0g
Unsaturated Fat:

14g
Cholesterol:

0mg
Sodium:

403mg
Carbohydrates:

20g
Fiber:

7g
Sugar:

4g
Protein:

8g