Bengali Patishapta Recipe (Saffron Cardamom Indian Crepes) soft crepes made using rice flour and filled with light coconut cream, saffron, cardamom, and pistachio.
Bengali Patishapta Recipe also called as Patishapta Pithe
They are a perfect light Indian dessert to serve this Holi (Festival of Colors) or any of your gatherings.
Bengali Patishapta Recipe – delightfully fluffy, soft and delicious crepes
Holi, the 'Indian Festival of Color' is fast approaching and it means there will be lots of fun parties with friends-family that would be laden with Indian food, especially dessert.
Desserts are the heart and soul of any Indian gatherings….we might not be worried about the appetizer or main course that much!
But
'dessert'
is what rules most of our soul and festivals are just an added treat as we make a lot of Traditional desserts along with some quick ones.
One such favorite dessert recipe of ours is Patishapta Recipe – Saffron Cardamom Indian Crepes.
The name Patishapta is enough to make us dream about them all day long and literally drool 😉
If you've never had them before, think sweet crepes filled with luscious cardamom milk pudding – Totally Yummmm!!
They are an extremely popular dessert recipe from Kolkatta (Bengal, eastern side of India).
Patishapta or also known as Patishapta Pitha is a popular dessert recipe from Bengal and a must during their New Year celebrations which happened a few days back.
These crispy rice crepes filled with thickened milk, jaggery and nut mixture.
How to Make Bengali Patishapta?
The process is divided into two main parts:
Making the Batter:
The traditional batter is made using flour, rice flour, semolina, and milk.
Making the Filling:
The filling also known as 'Kheer/Rabdi', a mix of thickened milk mixture (almost pudding consistency).
It's mixed with a special date palm jaggery called 'khejur gur' which you usually get during winters, nuts and coconut mixture.
—————-
Now, we do love the traditional recipe however, we don't get to enjoy it that often as it takes slightly longer to make and become heavy, so you can't eat 2-3 of them 😉 which you'd want too.
Hence, I've been making this lighter version of Patishapta using more of rice flour (making it glutenfree) and mixing coconut milk instead of regular milk+jaggery.
Also, I've replaced the 'Kheer/Filling' with light and fluffy coconut whipped cream (just whisk a can of chilled pure coconut milk), saffron, cardamom, and pistachio.
The mix of saffron + cardamom + pistachio is enough to give it an absolutely delicious-sweet flavor and it literally reminds you of India or Indian dessert.
Also, I'm using US Grown 'White Jasmine Rice' as that also gives these crepes a light fragrant flavor.
I just pulsed some white jasmine rice to make the rice flour at home and then proceed ahead to make the crepes.
The recipe of the crepes is just the way you make any other crepes, mixing dry ingredients to wet and then whisking to make a lump-free pourable consistency batter.
Then just make the crepes and once they are cooled, add the filling.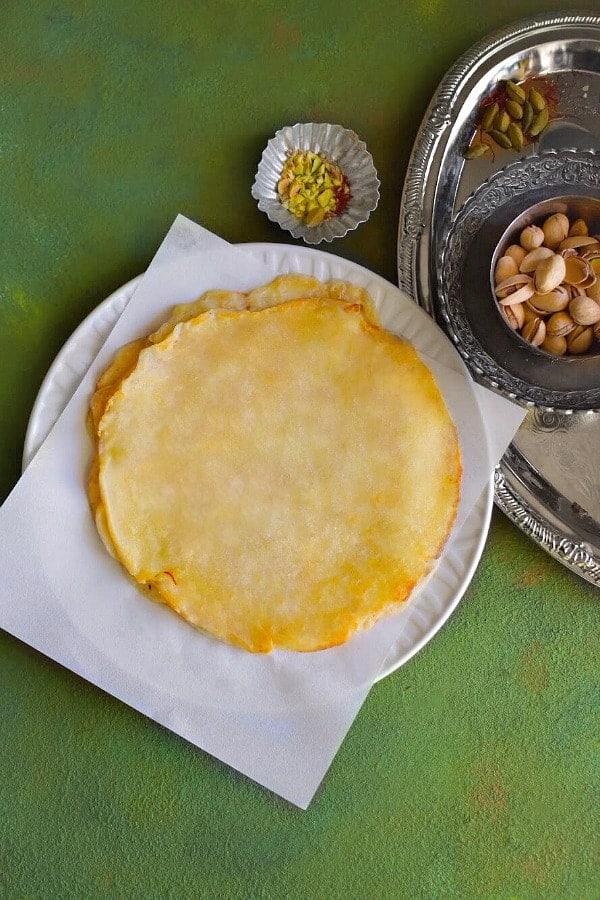 One thing to remember while making crepes are that since it's a rice crepe and there is no gluten involved, these are extremely tender and break easily.
Hence you need a nice flat spatula to flip them.
Also, one of the thing that always scares me is the first crepe…they always come out slightly 'not as per expectation' in shape. But the ones after that are always Perfect!
You should always 'make all the crepes first' and pile them on 'top of each other' so that they stay soft. Once the crepes are cool to touch, you can add the filling.
Just spread the coconut cream and sprinkle the saffron-cardamom-pistachio mix on it.
Then fold the crepe as per your desire. They actually hold really well and stays in shape for next few hours.
You can simply fold the crepes and if not serving immediately, then cover them with cling wrap and store in fridge (upto 4-6hrs).
Just before serving Patishapta, you can sprinkle some of that saffron mixture on top along with some powdered sugar and trust me, your crepes would look simply out of a classy restaurant!
The mix of coconut, rice and the saffron nut mixture is absolutely divine!!!
It Smells Sweet and Tastes Simply Heavenly !!!
So try this easy-peasy recipe of a traditional Bengali dessert given a modern twist.
Here are Our Reader's Fav Holi Recipes:
Gujiya Recipe – Indian Dessert Empanadas (Fried + Baked)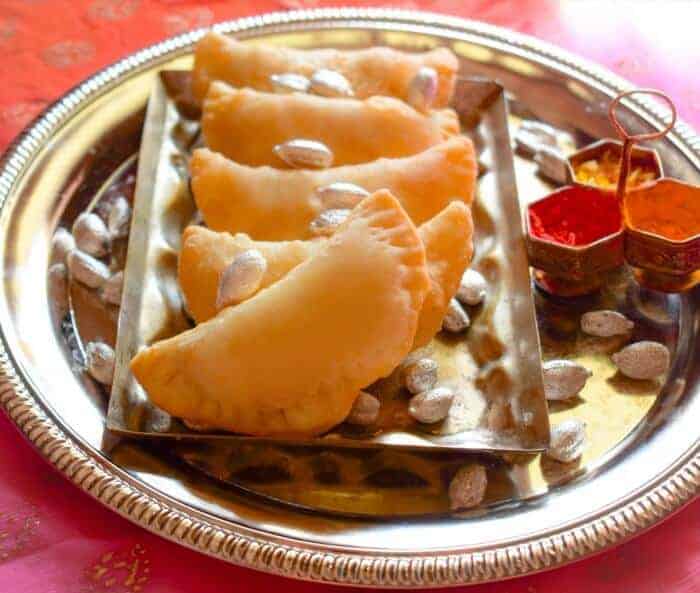 —————
Tried Our Recipe – AWESOME!!!
Now Quickly SNAP A PICTURE & TAG :
#easycookingwithmolly + @easycookingwithmolly on Instagram –>
Connect with Me Here: Facebook / Pinterest / Instagram
Yield: 15 Patishapta / Crepes
Bengali Patishapta Recipe – Saffron Cardamom Indian Crepes
Patishapta - soft Indian crepes made using rice flour and filled with light coconut cream, saffron, cardamom, and pistachio.
Ingredients
For the Rice Crepe Batter:
1/2 Cup Thai Rice
1/2 Cup Coconut Milk - the batter should be slightly thicker
1/4 Cup Water
4 Tbsp Sugar
Olive Oil - 3 Tbsp - you may use any light oil or ghee if you eat it
Few Saffron Strands - crushed by hand
4-5 Green Cardamom Pods - crushed (about 1sp powder)
1 Tsp Thinly Chopped Pistachio
1 Tbsp Dry Coconut Powder - optional
1 Thick Napkin
For the Filling:
1/2 Cup Coconut Cream - you may use regular whipped cream or any kind of fruit flavored cream too.
1/4 Tsp Crushed Green Cardamom
Few Saffron Strands - crushed by hand
1 Tbsp Dry Coconut Powder - optional
2 Tbsp Thinly Chopped Pistachio
Instructions
Make the Rice Crepe:
In a blender/mixer, add rice and make a fine flour like consistency.
In a large bowl, rice flour, sugar, 1/2 tsp crushed cardamom and few saffron strands. Whisk to mix everything.
Now add coconut milk and water to this mixture. Whisk everything to form a lump-free batter.
Heat a non-stick pan/large griddle or a crepe pan.
Pour few drops of oil on the hot pan and spread it using the napkin.
Using a Ladle, pour 2 heaps full of batter and spread it in circular motion (using the paddle or moving the pan).
Let the rice crepe cook over medium heat (for about 15-20 seconds).
Using a spatula, turn the crepe to the other side and cook for another 10 seconds. (both side should be cooked evenly when you remove the crepe).
Remove the cooked crepe and similarly use the batter to make all the crepes.
(You can line the crepes upon each other).
Add the Filling to Rice Crepe:
Start this process once the crepes have almost cooled down or the filling will melt.
Take a crepe and place it over a clean flat surface / plate will do.
Take 1 Tbsp whipped cream and spread it evenly towards the inner circle of the crepe (leaving the edges).
Sprinkle saffron, cardamom, coconut and pistachios.
Fold the crepes gently into desired shape.
Similarly stuff all the crepes and arrange them in a serving plate.
Sprinkle some more saffron strands, cardamom, coconut and pistachio on top.
Serve immediately.
Nutrition Information:
Yield:
15
Serving Size:
2
Amount Per Serving:
Calories:

135
Total Fat:

9g
Saturated Fat:

5g
Trans Fat:

0g
Unsaturated Fat:

4g
Cholesterol:

5mg
Sodium:

13mg
Carbohydrates:

13g
Fiber:

1g
Sugar:

10g
Protein:

1g