Indian Chicken Stew: extremely delicious, rustic, healthy and nourishing stew under 20 minutes using holistic/healing Indian herbs and spices like ginger, cloves, cardamom. Enjoy with a side of your choice or serve it Indian style with roti/rice.
Indian Chicken Stew recipe
It's been a while since we noshed on some typical Indian style – homecooked meal.
So I'm planning to make my Mom's Nourishing Indian Chicken Stew which is a simple yet comforting dish.
It has a light base and uses healing spices to quickly energize the body.
Growing up in India, I used to love weeknight dinner, as that was a time where everyone would sit together for dinner.
Talk about the rest of our day and gorge on mom's homemade chicken stew with lots of rice and maybe some fresh yogurt dip called 'raita' – yes, that's perfect comfort food for us!
This Indian Chicken Stew was also one of the first chicken dishes that I'd learned to cook from mom.
I always admire her knowledge of spices, ingredients, and her ease, comfort in cooking with them and I simply wanted to cook like her.
Those were the days when in the afternoon after all her work, she used to sit with her cooking magazines/books.
And I used to cling to her like a lil monkey and observing her going through each and every recipe…
Marking ingredients/spices which needs to be ordered from special stores (usually International ingredients).
Till date, we discuss / facetime about a new ingredient/spices that I found and ways to use them.
Yes, that's one of our favorite moment which the men in the family fail to understand 😉 …
my Dad n D are always wondering WHY that odd looking ingredient resulted in 20 mins of excited chat …hehehhe!!!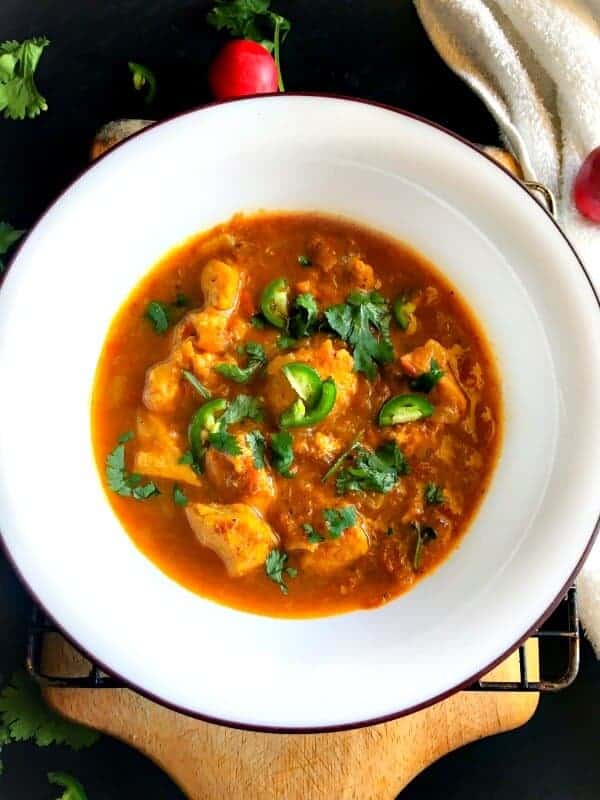 Okay, before I forget, let's get back to the nourishing Indian chicken stew which is basically chicken cooked in a mild yet a very flavorful runny gravy/stew.
We have used spices such as clove, cardamom, mace, nutmeg, cinnamon which heals our tummy and is nourishing for our system.
Off-course, there's garam masala too without which our Indian curries/stews are incomplete.
Hope you give this recipe a try soon and enjoy it as much as we do 🙂
Our other Weeknight Fav Chicken Recipes:
---
Tried Our Recipe – AWESOME!!!
Now Quickly SNAP A PICTURE & TAG :
#easycookingwithmolly + @easycookingwithmolly on Instagram –>
Connect with Me Here: Facebook / Pinterest / Instagram

Yield: 4
Nourishing Indian Chicken Stew - Healthy and Quick Recipe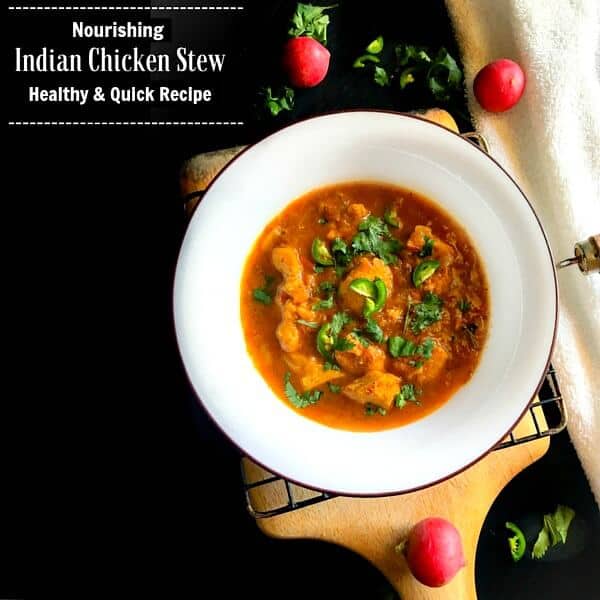 Indian Chicken Stew: rustic, healthy and nourishing stew under 20 minutes.
Ingredients
1 lb Chicken – Cut into bite sizes pieces
1/2 Cup Plain Yogurt
1 Cup Onion - chopped thinly
1 Tsp Ginger Garlic Paste
1 Tsp Tomato Paste - you can use fresh tomato too
4 Tbsp Olive Oil - can use any light oil
2 Cups Water
Spices:
1/2 Cinnamon Stick
1 Black Cardamom
2 Green Cardamom
2 Cloves
Pinch of Nutmeg Powder
Pinch of Mace Powder
1 Tsp Coriander Powder
1 Tsp Cumin Powder
1 Tsp Red Chili Powder
1 Tsp Garam Masala
2 Tsp Salt
Instructions
Heat oil in a non-stick pan.
Add all the mentioned spices and sauté for 30-40seconds.
Add onion, ginger+garlic paste, and fry till onions are pink in color.
Now add chicken, sauté nicely and cook on a medium flame, till the chicken is almost cooked (10-12 mins).
Add yogurt, tomato paste and sauté evenly and cook till the dish leaves oil on the sides. (5-6 mins)
Now add water, cover with the lid and cook on medium heat for 7 minutes.
Turn off the heat.
Once cooled, transfer to a serving bowl, decorate with some fresh cilantro and serve hot.
Nutrition Information:
Yield:
4
Serving Size:
1
Amount Per Serving:
Calories:

134
Total Fat:

10g
Saturated Fat:

7g
Trans Fat:

0g
Unsaturated Fat:

13g
Cholesterol:

45mg
Sodium:

324mg
Carbohydrates:

12g
Fiber:

3g
Sugar:

6g
Protein:

30g