How To Make Momos At Home: step by step recipe on How to make momos/dumpling at home from scratch including the cover and filling. These momos/dumplings can be frozen for upto a month. Easiest techniques for How To Make Momos At Home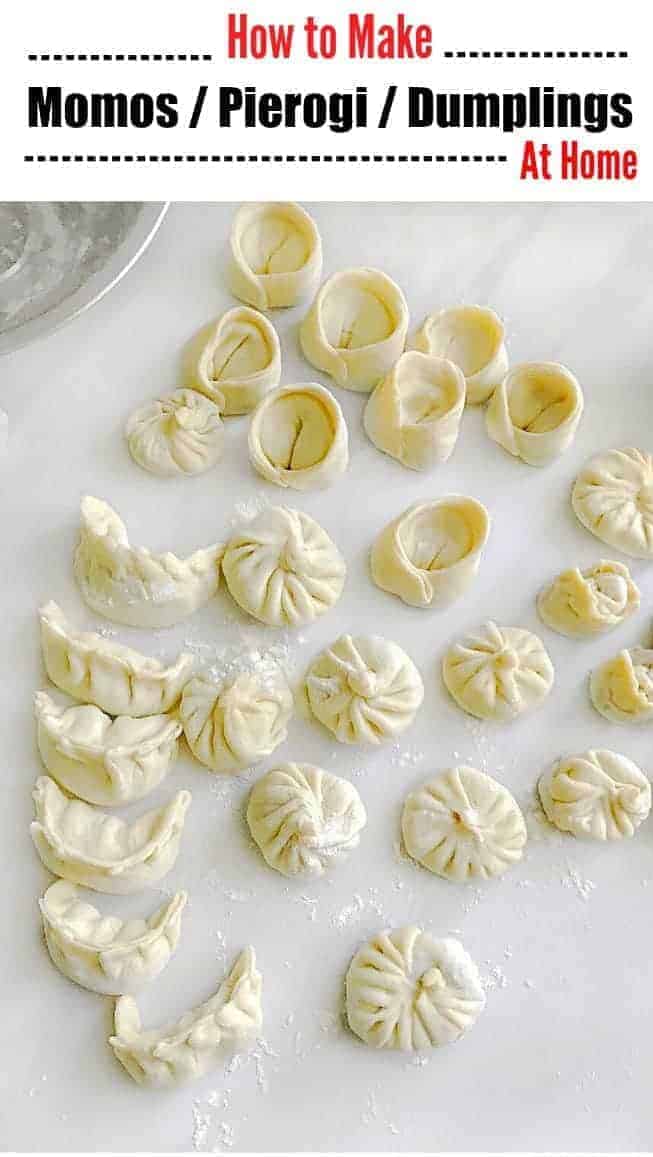 There's no other word happier that 'Weekend' after a long tiring weekend and I'm so happy to share my How To Make Momos At Home recipe with you'll today.
It's one of those posts that's been long pending and even today as I'm sharing it with you.
I'm kinda sulking as the pictures that I took from my DSLR somehow came out all blur 🙁 So, we are going to have to do with iPhone pictures for now.
But nevertheless, here I am sharing our MOST Fav snack recipe with you'll.
Momos
are basically stuffed dumplings and is the most popular snack from Nepal.
It's also very similar to the Japanese #Gyoza (pan-fried dumplings) or #Pierogi which is from Central/Eastern Europe.
Call it by any name, it's Simply Delicious!!!!
Now, there are tons of methods to make them but I find this the easiest.
As I mentioned above, the How To Make Momos At Home is basically making them from scratch.
——————–
BASIC Ingredients that you NEED to Make a Momos are (Pic above):
Momo Cover – hence we need a dough.
Filling – there are tons of varieties but I'm talking about our favorite one, which is chicken.
Steamer – you can use a traditional bamboo steamer or any other kind of steamer you have.
——————–
Once, you have these basic ingredients, you can make the momos easily at home and shape them as per choice.
For me, the easiest shape is the 'Half Moon' and then you crimp the edges with fingers to seal it.
But this time, I went all out and tried all the shapes to my heart's content 😉
TIP for Momo Cover:
The only thing you need to remember while making the momo cover is that the edges need to be 'thin' and the center needs to be 'thick'.
You need thin edges as they need to be crimped and sealed and you need a thick center cause it's going to hold the stuffing.
The MOST IMPORTANT thing is the center, it needs to be thick or your stuffing might tear the cover while steaming.
Once, these momos were ready, I divided them into two batches, one would be frozen and the other would be steamed.
Momo Freezing Instructions:
I usually freeze them in medium freezer bags (about 8-9 pieces/bag) and date them.
It's easier to pack them in small batches and thaw according to need.
Just add the frozen momos to boiling water for 5 minutes and they are ready to use.
I usually freeze them for 30 days (especially if they have meat as filling).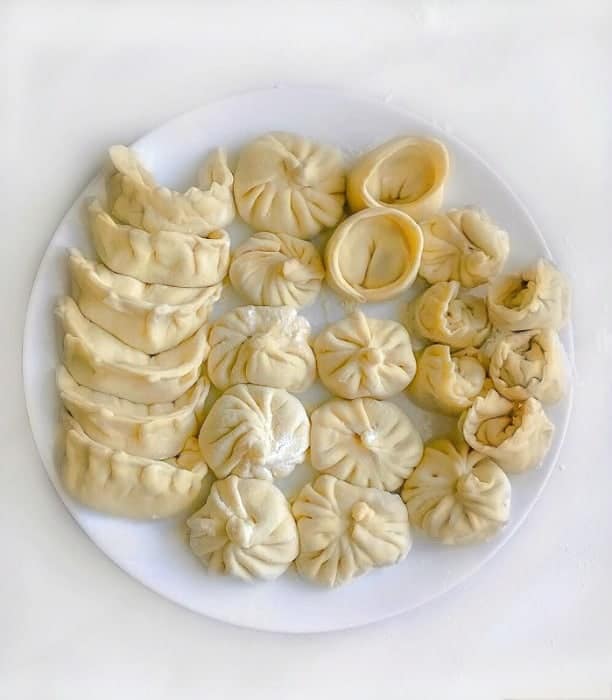 Once the momos are all ready to be steamed, I just use a big (deep) pan and fill it halfway with water.
Then just bring the water to a boil and then add the bamboo steamer on top.
Steaming Momo's the Right Way:
*You need either a cabbage leaf or parchment paper to steam the momos in a steamer.
If you place them directly on the steamer, they'll stick to the bottom and you'll end up tearing the cover from the bottom while picking them up.
Once the steamer is ready, add the leaf/paper and place the momos on it with some gap in between (never stuff them next to each other as they need some space to fluff while steaming).


Once the momos are steamed, you need to serve them asap as they tend to stick to the filling and become hard when cold.
So to enjoy the fresh taste, you need to serve them asap once done.
Serving the Momo:
I usually serve them with a light soy sauce/chili sauce or sometimes with chili oil.
That's it, these were the steps needed on How To Make Momos At Home'or /dumplings/pierogi/gyozo.
So, go ahead and try this How To Make Momos At Home this weekend and surprise your loved ones with something different.
Also, I used Bamboo Streamer from IMUSA.
Tried Our Recipe – AWESOME!!!
Now Quickly SNAP A PICTURE & TAG :
#easycookingwithmolly + @easycookingwithmolly on Instagram –>
Connect with Me Here: Facebook / Pinterest / Instagram
:: You May Also Like ::
Yield: 25 Momos
How to Make Momos at Home
How To Make Momos At Home: step by step recipe on How to make momos/dumpling at home from scratch including the cover and filling. These momos/dumplings can be frozen for upto a month.
Total Time
1 hour
20 minutes
Ingredients
Momos/Dumpling Cover Ingredients:
1 Cup All Purpose Flour 
2 Tbsp Oil 
6-7 Tbsp Boiling Water
Filling Ingredients:
1/4 Cup Cabbage - finely chopped
1 Stalk Spring onions - finely chopped
1/2 Inch Ginger - finely chopped
1 Green chilli - finely chopped
5 French beans - finely chopped
1 Small Carrot - finely chopped
1/2 Cup Chicken Mince
Salt to taste - adjust as per the quantity of soy sauce which also has salt
Light soy sauce 1/2 tablespoon
1 Tsp Sesame Oil
Steaming the Momos/Dumplings:
1 Large Deep Pan (Slightly bigger than your steamer)
2-3 Cups of Water - to fill the pan half way through
Instructions
Preparing the Momos / Dumpling Cover Dough:
In a bowl, Mix flour with oil and water.
Now, knead the flour mix into a soft dough.
Cover with a damp cloth and set aside for15 minutes.
Making the Filling:
Add all the filling ingredients in a bowl and mix well.
Preparing the Momos / Dumpling:
Divide the dough into small balls.
Roll in dry flour and roll into small disc keeping the edges thin and the centre thick.
Take 1Tsp stuffing and place it in the centre of the rolled disc.
Lift one edge of the cover and start folding the memos towards the top (round shape).
Crimp and seal the top. (look at pic# )
Similarly, fill the stuffing in each cover and fold the desired shape (round, moon, wonton, etc).
Steaming the Momos / Dumplings:
Heat water in the pan.
Line a bamboo steamer basket with cabbage leaves or thick parchment paper.
Apply a little sesame oil on the momos and place them in the basket (leaving some gaps in between for them to puff lightly).
Cover the basket and place it over the the pan
Steam for 10-12 minutes or till done.
Remove the basket from the pan.
Transfer the memos to serving plate and serve hot with favorite sauce.
Nutrition Information:
Yield:
25
Serving Size:
3
Amount Per Serving:
Calories:

59
Total Fat:

3g
Saturated Fat:

1g
Trans Fat:

0g
Unsaturated Fat:

2g
Cholesterol:

7mg
Sodium:

89mg
Carbohydrates:

5g
Fiber:

0g
Sugar:

0g
Protein:

3g