Shrimp and Potato Croquettes (Bengali Style Shrimp Cutlet): Absolutely 'melt-in-your-mouth' croquettes/cutlets recipe that's filled with a delicious mix of potatoes with shrimp.
Shrimp and Potato Croquettes: also known as Bengali Style Shrimp Cutlet.
It's crispy on the outside and tastes even more delectable with a hot cup of tea.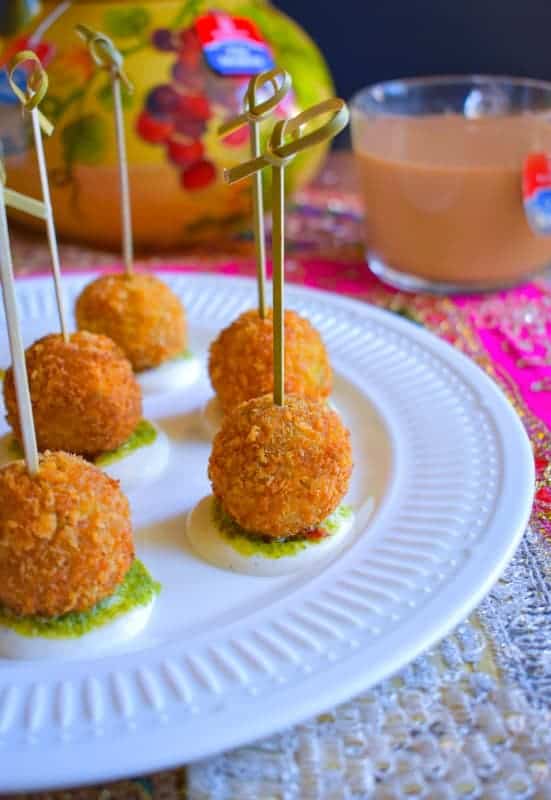 Hey Everyone, I'm back with another gameday recipe and this time, it's Shrimp and Potato Croquettes (Bengali Style Shrimp Cutlet) that pairs perfectly with a high adrenaline game of cricket.
Did you watch the ICC Champions Trophy Match between Ind vs Pak on June 04th?
We had a fabulous get-together with our die-hard cricket friends and my 'Stuffed Samosa Curry Buns' along with hot piping Taj Mahal tea were an instant HIT !!!.
I literally made 3 batches (each batch makes 16 buns) and not even crumbs were left….infact note to self for the next game (I should make and freeze some extra).
So for the next match which is at our friend's house, I've decided to make my favorite Shrimp and Potato Croquettes (Bengali Style Shrimp Cutlet).
If your family is anything like mine, then you know they are very particular about their food and most importantly 'Cricket' !
Every ball, wicket, and shot is seriously discussed and I'd never seen as much passion and dedication over a game of cricket ….. Gosh, I'm so impressed and most definitely in awe!!!
Hence, I thought what better way to relive those moments and make one of his favorite snack to share the same emotions and deliciousness with our friends this time.
So, let's discuss our croquettes, which is a mix of potatoes, shrimp, spices, that's cooked together and then rolled in a batter and then shallow fried (less oil).
The traditional recipe has lot many spices, chilies and usually fried in heaps of oil.
However, I'm trying to keep them lighter (as I know they'll be noshing on more than 2-3), hence, I'm not only shallow frying them but also baking some of them for our friends who don't eat much fried food.
Now, if you've never baked croquettes before, then just follow these quick steps and you'll have a hot, piping batch ready in no time:|
————- Baking Tips —————-
1. Preheat the oven at 375

2. Place the croquette balls in a lined baking tray.
3. Spray each ball with cooking oil or brush them generously.

4. Bake for 12-15 minutes (turn them in-between and keep an eye).
(The ones above are baked). Also, this recipe of Shrimp and Potato Croquettes (Bengali Style Shrimp Cutlet) can be made in advance and can also be frozen for about a month.
Tips on Freezing the Croquettes:

1. Prepare the croquette balls.
2. If using a container, then line the bottom with a parchment paper or foil and place the balls over it (giving some space). The box can only have a single layer.
3. If using a ziplock bag, then just freeze the balls separately on a plate and then transfer the frozen balls into a ziplock.
4. Always 'Date' the frozen food so that you consume them within that particular time period.
If you saw my previous post, I did mention that these facts on 'Taj Mahal' tea which is India's first premium tea brand –
"fostering excellence to savor the best & exquisite flavor of the best tea leaves from the choicest gardens of Upper Assam".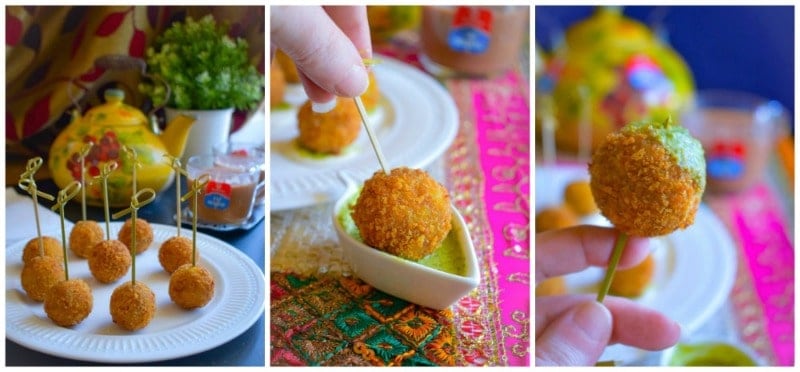 And go ahead and make these delicious Shrimp and Potato Croquettes (Bengali Style Shrimp Cutlet).
Enjoy them with the upcoming game of cricket with a hot piping ' Taj Mahal ' tea and don't forget to say "Wah Taj"!
As always, I Looove when you try my recipes.
You can tag my recipes tried by you using #easycookingwithmolly:
Connect with Me Here: Facebook / Pinterest / Instagram
:: You May Also Like ::
Yield: 15 Croquettes
Shrimp and Potato Croquettes (Bengali Style Shrimp Cutlet)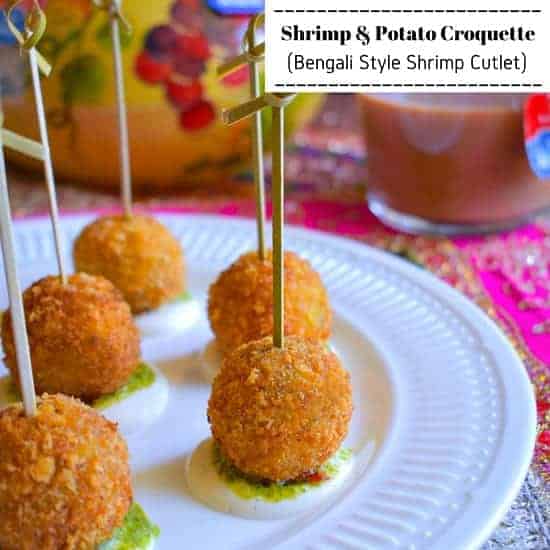 Absolutely 'melt-in-your-mouth' croquettes/cutlets recipe that's filled with a delicious mix of potatoes with shrimp.
Ingredients
1 Cup Cooked and Cleaned Shrimp
5 Small Boiled Potatoes - peeled
1 Small Onion - thinly chopped
1/4 Tsp Ginger Paste
1/8 Tsp Garlic Paste
1 Egg - whisked
1/2 Cup Bread Crumbs
1/4 Cup All Purpose Flower
1 Cup Oil - for frying the croquette
Cooking Spray - if baking the croquette
Spices:
1/4 Tsp Turmeric Powder
1/2 Tsp Red Chili Powder - use as per taste
1/4 Tsp Coriander Powder
1/4 Tsp Garam Masala
Pinch of Cinnamon Powder
Hint of Nutmeg
Salt - as per taste
1/4 Tsp Sugar
1/8 Tsp Black Pepper Powder
Instructions
Prep Work:
Add shrimp in a food processor and pulse to shred them slightly (till they resemble a crumb).
Remove the shredded shrimp and keep aside.
Grate the boiled potatoes and keep aside.
Making the Croquette Filling:
Heat 2 Tbsp oil in a large non-stick pan.
Add chopped onion and sauté till golden brown (takes 2 minutes).
Add ginger+garlic paste and sauté for 2 more minutes.
Now, add add the spices along with shredded shrimp and saute evenly.
Cook this mixture for 3-4 minutes over low flame till onions are nice cooked.
Finally, add the grated potatoes and saute everything evenly.
Cook for another minute and turn off the heat.
Transfer the mixture in a bowl and cool slightly.
Making the Croquettes:
Once the mixture is cool to touch, form equal sized balls (I made 15).
Keep the balls in a plate.
Now, take one ball and roll it evenly in the flour coating all sides.
Place the coated ball in whisked egg bowl and evenly coat all sides with egg.
Next, place the coated egg ball in the bread crumb mix and evenly coat all sides.
Place the bread crumb coated ball on a separate plate.
Similarly, coat all the balls and keep aside.
! Frying the Croquettes:
Heat 1 cup in a medium deep pan. (takes 2 minutes to heat properly).
Turn the flames to medium and place 2-3 coated croquettes in it.
Shallow fry the croquettes evenly or till a golden color is achieved.
Remove the cooked croquettes from pan to a lined plate.
Similarly, fry all the croquettes.
! Baking the Croquettes:
Preheat the oven to 375F
Place the croquettes 2 inches apart on a lined baking tray or muffin pan.
Spray each croquettes with cooking spray to lightly coat its surface with oil.
Bake for 10 minutes.
Switch off the oven and turn the croquettes upside down and spray with oil again.
Bake for another 8-10 minutes or till croquettes are golden brown
(Please keep an eye on temperature an adjust accordingly to prevent burning of food).


Transfer the cooked croquettes on a plate and serve with favorite dip.
Nutrition Information:
Yield:
15
Serving Size:
2
Amount Per Serving:
Calories:

218
Total Fat:

17g
Saturated Fat:

2g
Trans Fat:

0g
Unsaturated Fat:

14g
Cholesterol:

37mg
Sodium:

195mg
Carbohydrates:

14g
Fiber:

1g
Sugar:

1g
Protein:

5g
(This is post is sponsored by Brooke Bond Taj Mahal Tea. All opinion expressed here are mine)

What's more, if you're around any of the following stores, you must go to pick up the ingredients for this recipe over the weekend!
There are going to be fun activations and you'll have a chance to get free boxes of 'Brooke Bond Taj Mahal Tea' as well !:
1.Cermak Produce – Naperville – Chicago – 11 June & 17 June
2. Tulsi Grocers- Schaumburg – Chicago – 10 June & 18 June
3.India Bazaar (West Plano) – Dallas – 11 June & 17 June
4. Patel Brothers (Valley Ranch) , Tx 75063 – Dallas – 10, 11 June & 18 June
5. INDIA CASH & CARRY (SF) -> 16 June
6. New India Bazaar – SF – 11 June
7. INDIA CASH & CARRY – SF – 18 June
8. TRINETHRA – SF – 10 June & 17 June
9. Patel Brothers – NJ – 10 June & 17 June
10. Subzi Mandi – NJ – 11 June and 18 June
Here are the sweepstake details:

1 Simple question, updated everyday, you can answer
Grand Prize – Trip for 2 to Hawaii and 12 boxes of Taj Mahal Tea
Weekly Prize – Tea Brewing Pot worth $220 and 6 boxes of Taj Mahal Tea

Complementary Willow & Gaana+ subscriptions for all participants
→ Participate Now ←