Skinny Butternut Squash and Red Pepper Bisque is a creamy soup filled with smokey flavors from roasted butternut squash, red peppers, and tomatoes.
Butternut Squash and Red Pepper Bisque(Vegan & Glutenfree)
It's delicious and an absolute comfort food in every bite.
Who's ready for some super easy and yummy Skinny Butternut Squash and Red Pepper Bisque cause that's my recipe for this weekend nosh.
It's also popular as Skinny Butternut Squash Soup or Butternut Squash Bisque too.
It's been raining on and off this entire week (here in California) and I've been feeling so sad looking at all those grumpy-grey clouds, lifeless trees.
And with rain forecasted for the entire week ahead, I really needed something warm, comforting and colorful.
Working from home does give you the advantage that you can snuggle up in your fav blankie, sit in jammies the whole day.
Along with doing your business at the same time but rainy week+work from home is not fun at all.
So, to drive away some of those winter blues, I'm having few of my friends come over and we all are going to work from my home.
(I'm not sure about the work part but I can guarantee there's going to be whole to of chitter-chatter 😉 ).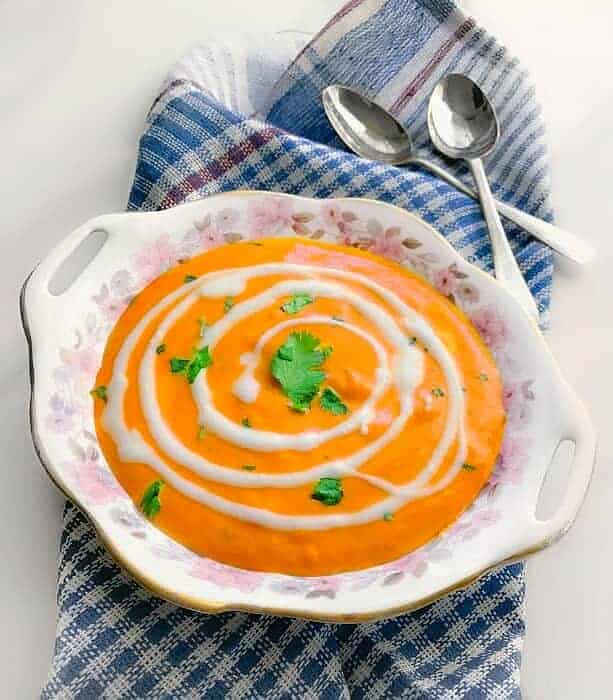 So, before the girls arrive, I'm planning the menu and on top of my list is this Skinny Butternut Squash and Red Pepper Bisque along with garlic bread and my fav lemon yogurt cake.
Now, I was thinking of a mixed vegetable chili but the girls really love bisque and bisque it is.
Now, for anyone who's not familiar with the term 'Bisque' (don't worry, I was too as growing up, we knew only soup or creamy soup…no bisque).
It's a french, cream based smooth soup usually made with seafood, however, we do have a vegetarian version of them too like tomato, pumpkin, squash or peppers.
I've been making bisques for 5-6 years now and one thing that I've learned is that you need to be patient with it.
You can definitely make one in 15 minutes too but for a rustic, flavorful version, there is no shortcuts and no rush.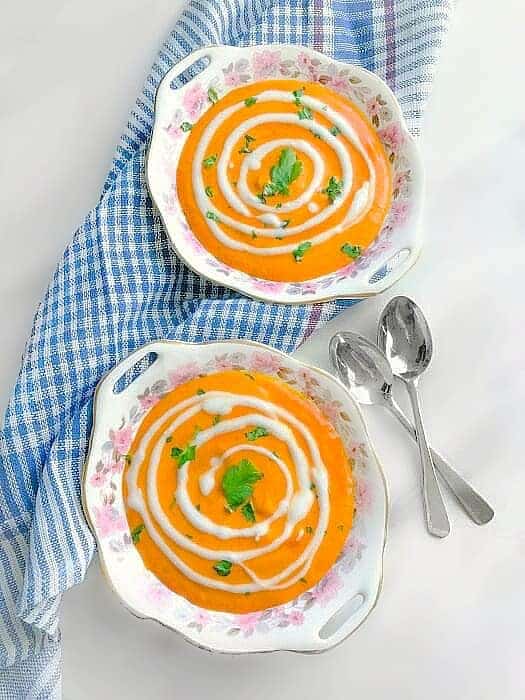 To make this gorgeous – creamy bisque with flavor in every spoonful:
You NEED to Follow These Steps:
1. Roast the vegetables in the oven for 30-45 minutes.
2. Cook the roasted vegetables and seasoning.
3. Puree the cooked mix, add cream (Cream has to be at room temperature)
4. Simmer for 10 more minutes.
5. Serve Fresh.
It's not tough to make a bisque but it does require some time for that perfect flavor.
I usually make them a day before and keep it in the fridge and next day simmer for another 10-15 minutes which makes the bisque extra creamy and rich with flavors.
For this particular version, I'm simply decorating with coconut cream (pour in a ziplock and decorate like icing) and some fresh cilantro.
However, you can use nuts, meats or any other topping of choice.
:: You May Also Like ::
---
As always, I Looove when you try my recipes and send me pictures & feedback.
You can tag my recipes tried by you using #easycookingwithmolly on any of the social media below:
Connect with Me Here: Facebook / Pinterest / Instagram
Yield: 6
Skinny Butternut Squash and Red Pepper Bisque
a creamy soup filled with smokey flavors from roasted butternut squash, red peppers, and tomatoes.
Ingredients
1 Large Butternut Squash - Peeled & Cubed (you can use fresh or frozen)
2 Large Red Peppers - Cubed
1 Large Tomato - Cubed
1 Large Yellow Onion - Cubed
2 Garlic Clove
4 Basil Leaves
3 Cups Vegetable Broth - homemade or store-bought
1 Can Coconut Milk - I'm using low fat
5 Tbsp Extra Virgin Olive Oil
Cilantro - for decoration
1 Tbsp Coconut Cream - for decoration - optional
Seasoning
1 Bay Leaf
1 Tsp Italian Seasoning
1/8 Tsp Ground Pepper
1 Tsp Salt - use as per taste
1/4 Tsp Black Pepper
Instructions
Roast the Vegetables:
Preheat oven at 375F.
Place cubed butternut squash, red peppers, tomato, onion, clove in a large baking tray.
Sprinkle salt and pepper.
Add 3tbsp olive oil (you can use a olive oil spray too) and mix everything evenly (make sure the veggies are properly coated with oil +salt+pepper).
Roast in oven for 25-30 minutes.
Turn off the oven and place the baking tray on a slab to cool.
Make the Skinny Butternut Squash and Red Pepper Bisque:
Place the roasted veggies in a blender and pulse to form a smooth soupy mix. (keep aside).
Heat a large non-stick pot or dutch pot.
Add 2 tbsp olive oil and add the bay leaf.
Pour the blended veggies, vegetable broth and stir everything together.
Add seasoning, basil leaves and let this simmer on medium flame for 10 minutes (stir in-between).
Finally add the coconut milk and mix everything.
Let this simmer for another 5 minutes.
Turn off the heat and check the soup using a spoon for seasoning (please be careful it will be extremely hot).
Transfer the soup to serving bowls, top with coconut cream and add some chopped cilantro on top.
Serve Hot and enjoy
Nutrition Information:
Yield:
6
Serving Size:
1
Amount Per Serving:
Calories:

290
Total Fat:

26g
Saturated Fat:

15g
Trans Fat:

0g
Unsaturated Fat:

10g
Cholesterol:

0mg
Sodium:

542mg
Carbohydrates:

15g
Fiber:

2g
Sugar:

7g
Protein:

3g
Enjoy the warm Skinny Butternut Squash and Red Pepper Bisque with your loved ones.
Until Next Time ~ XoXo