How to make Coconut Matcha Latte (3 minutes-2 ways): addictively delicious, healthy and takes 3 minutes to prepare. A tiny cup of this magical drink can do wonders for your mind, body, and soul.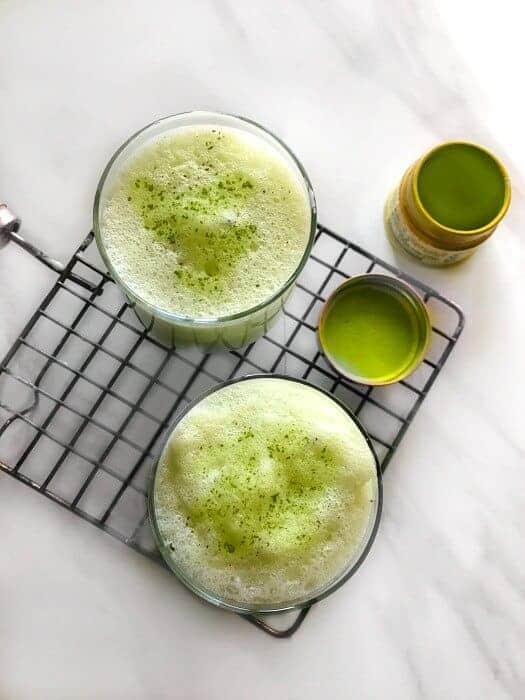 Hey Everyone, hope you had a great unwinding weekend and I've been waiting all energized to share these gorgeous ' How to make Coconut Matcha Latte (3 minutes-2 ways) ' with you'll.
They by far top my easy/healthy drinks list (did I mention they are super yum too) and they are my winter favorite because of all the antioxidants and vitamins it packs in one small cup.
As always, before we jump right into the recipe, let's talk a little about Matcha in case you were wondering what's this all about?
Matcha / Matcha Powder is nothing but green tea leaves, stone ground with precise technique to form this delicate looking green powder that's packed with 10 times the power of your regular green tea.
It was a part of Japanese tea ceremonies originating way back in 12th century.
And they till date follow a process called 'Chanoyu' where they prepare matcha tea in a beautiful yet step-by-step process.
Although we keep calling it a tea but the process of making it is nothing close to steeping it in water, instead it's whisked into water/choice of liquid and the particles are suspended to form this foamy earthy drink.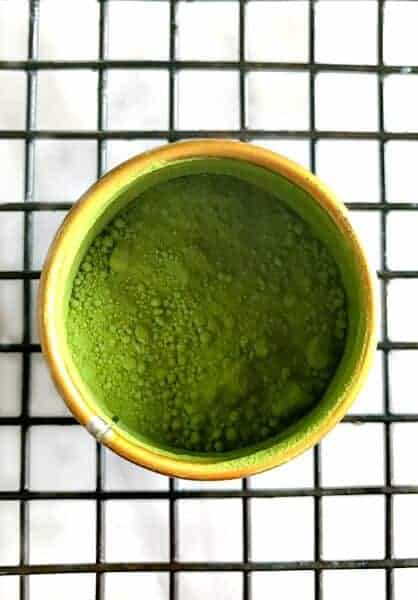 I wasn't a fan of matcha till about 3-4 years back but after tasting it a couple of times during transit / other occasions.
The taste just grew on me and reached a level where the only thing I would look for in Japanese stores or airport stores is good quality matcha powder.
On my recent international visit, I ended up buying 6 boxes of high-quality matcha powder from Japan (they are seriously my priced possession these days).
Upon returning home, I realized in all that matcha excitement, I dropped the bamboo whisk, bamboo teaspoon, and sifter (a must for proper matcha drinking ceremony) somewhere while shopping.
So, we are using the good old frother or my favorite small mason jar (seriously, don't give me those looks) to make these frothy lattes.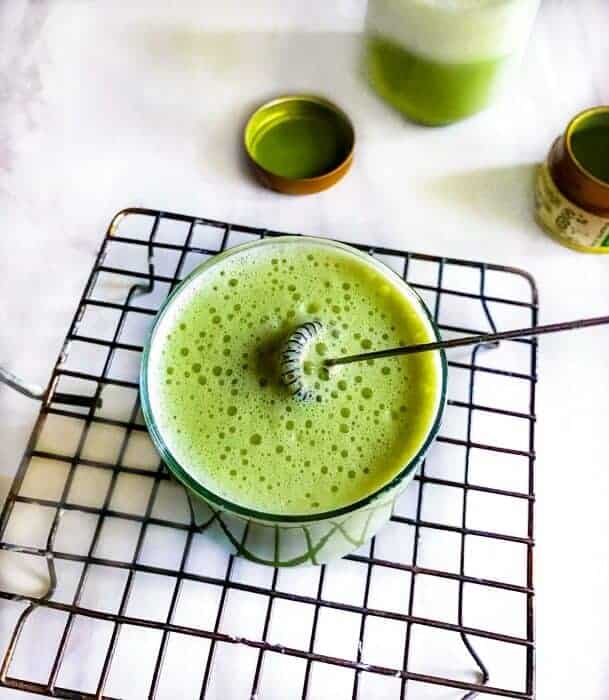 If you're wondering, darling, we thought we were discussing ' How to make Coconut Matcha Latte (3 minutes-2 ways) '
And there's no coffee mentioned till now (for lattes), well guess what :
Matcha Powder + Milk = Matcha Lattes.
It's that simple, there's no coffee involved and since, we are making them using coconut milk, we are calling them ' Coconut Matcha Latte '.
If it's the first time you're drinking it, you're definitely in for a treat as it tastes so yum
Hnd has this really calming effect which is almost zen or a feeling you get while meditating.
Over a period of time, it's also become one of my stress buster drink.
And the effect is such that whenever I even think of this drink, it makes me happy and making it is pure bliss.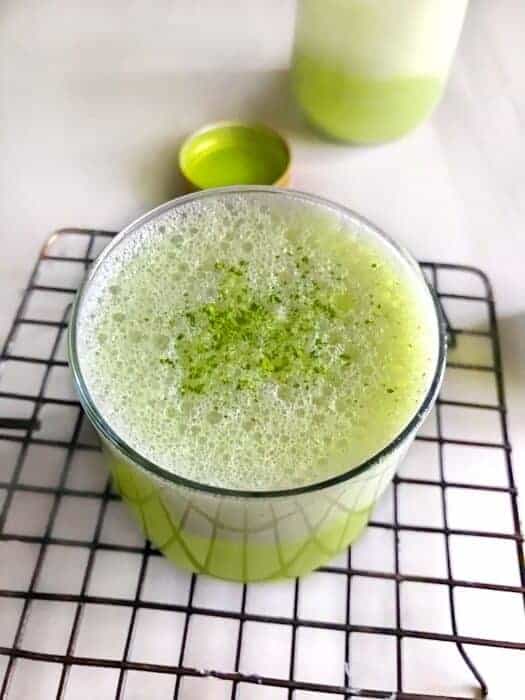 All, we need is coconut milk (any other if you'd like), matcha powder and any kind of whisk or frother.
Next, warm the milk to your liking and turn off the gas and then you have 2 ways to make it:
First Way:
Using a frother/whisker – Add milk, matcha powder and whisk till the foam is really thick.
Second Way:
Mason Jar / Any kind of closed tumbler – Add milk, matcha powder, close the lid and get ready for some arms exercise 😉
You're going to shake the jar for a minute to get this evenly mixed – foamy matcha lattes.
It's really simple I told you and the taste is delicious.
There are times when I drink it without mixing any kind of sweetener but when I do, I always use honey to sweeten these lattes.
I just feel it adds to the authentic taste and keeps it earthy.
But, feel free to add sugar/sugar-free/agave any other sweetener of choice.
That's it for now, give these How to make Coconut Matcha Latte (3 minutes-2 ways) a try soon and do tell me your experience.
:: You Can Also Try ::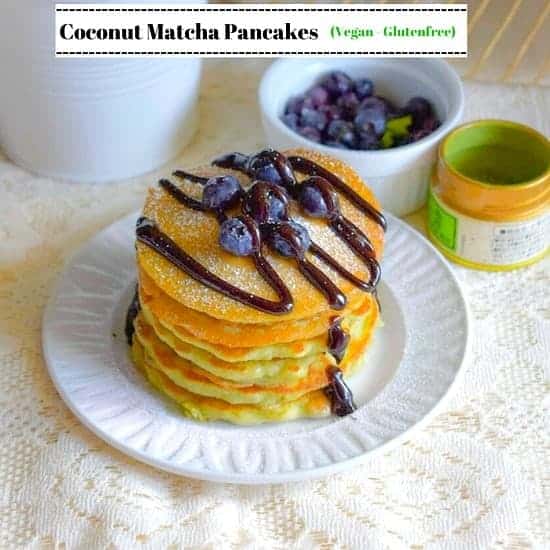 Until Next Time ~ XoXo
---
Tried Our Recipe – AWESOME!!!
Now Quickly SNAP A PICTURE & TAG :
#easycookingwithmolly + @easycookingwithmolly on Instagram –>
Connect with Me Here: Facebook / Pinterest / Instagram
Yield: 2 Cups
How to make Coconut Matcha Latte (3 minutes-2 ways)
How to make Coconut Matcha Latte (3 minutes-2 ways): These vegan-glutenfree coconut matcha lattes are not only addictively delicious but absolutely healthy.
Ingredients
2 Cups Coconut Milk or any other milk or choice
1/2 Tsp Matcha Powder - you may add 1/4 tsp more for a stronger taste.
Honey - incase you need to sweeten it or any other sweetener
Instructions
Warm milk in a medium pan and turn off the gas. (you may heat it extra for an extra hot latte).
Add matcha powder.
Use a frother to whisk the powder and milk together.
Continue whisking till you attain the foamy texture you like (I use a battery operated whisk and use it for a minute).
Once the lattes are made, add honey/sweetener of choice and whisk again.
Transfer to glasses and serve immediately.
Nutrition Information:
Yield:
2
Serving Size:
1
Amount Per Serving:
Calories:

234
Total Fat:

51g
Saturated Fat:

44g
Trans Fat:

0g
Unsaturated Fat:

3g
Cholesterol:

10mg
Sodium:

94mg
Carbohydrates:

22g
Fiber:

0g
Sugar:

9g
Protein:

9g