I have received information and materials from ©Johnson & Johnson Consumer Inc. 2017.The opinions stated are my own. This is a sponsored post. #ForWhatMattersMost #CollectiveBias
Tropical Mango Coconut Smoothie with Turmeric: A delicious and creamy blend of tropical flavors with a hint of turmeric for natural healing.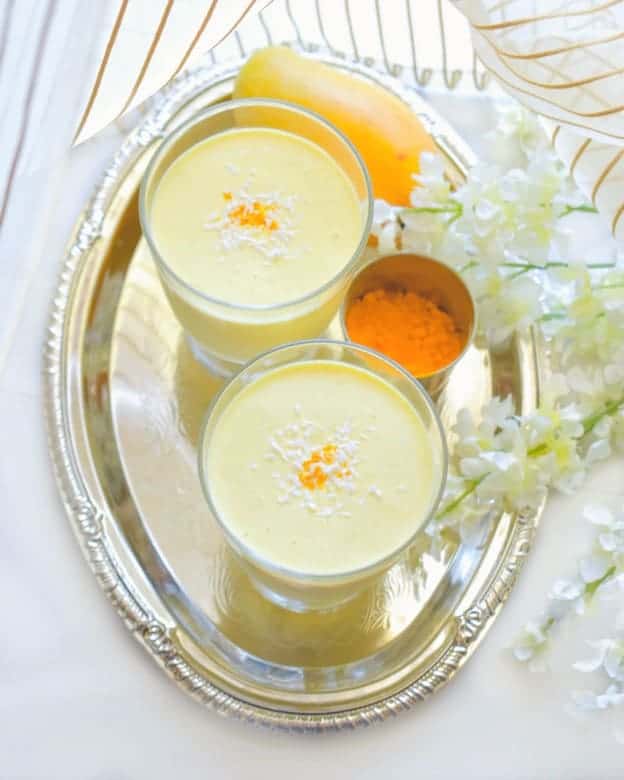 Another weekend went and here we are staring at a brand new Monday
And I'm sharing this delicious Tropical Mango Coconut Smoothie with Turmeric to cheer you'll up for a bright and sunny week ahead.
As I mentioned in my previous post, we just came back from a week-long vacation.
That means extra work like unpacking the bags, extra laundry, sorting tons of pictures on both our phones+camera, getting started on our spring activities, weekend party plans and etc.
Just thinking about all this, is making my head spin and my legs are already giving up after all the walking we did on our trip.
But thankfully as soon as I came back home, I took TYLENOL® 8 HR Muscle Aches & Pain to help ease the pain.
I've been taking them for quite some time now and they've definitely proven effective for my minor muscular pain.
With all the jetlag, travel exhaustion and the week looking jam-packed, I took up the duty of cleaning our garage (hahhah, what was I thinking 😉 ) before our next weekend party.
That means, disposing of old furniture, sorting postal mails (yes, the ones we casually toss around), cleaning up the shelves and getting our shoe rack fixed …phew!
Thankfully, hubby offered to move around the old heavy furniture (till we donate them) and while he was doing all that.
I quickly made these Tropical Mango Coconut Smoothie with Turmeric as the temperature already started to soar (it was 83F by afternoon) and we definitely needed a chilled drink.
Along with the smoothies, we both had TYLENOL® 8 HR Muscle Aches & Pain, to help us deal with the pains due to all that heavy lifting and moving around.
It took us almost 3-4 hrs to get the garage sorted but I would say it was all worth it.
It's one spring activity that's a must every year and I don't know why we keep pushing it but finally, it's done and next thing to tackle is camping tents+gears (but I guess we'll leave it to another weekend).
But one thing that's always by my side to get all the spring activities done (especially the heavy duty weekend stuff) is TYLENOL®.
As it helps me take control of those minor aches and pains due to spring activities and it's always there in my bag too (while running errands).
I got TYLENOL® from Target and they're available in Cold and Cough Aisle.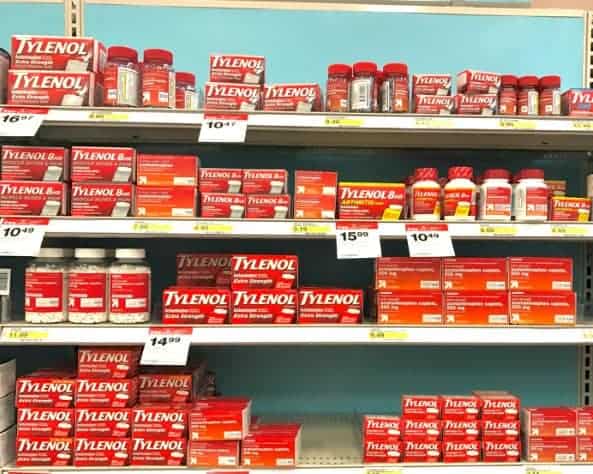 Now, let talk a little about our delicious Tropical Mango Coconut Smoothie with Turmeric which is a perfect springtime smoothie, absolutely easy to make and can be prepared overnight too.
You just need coconut, mango, pineapple for that tropical flavor and a dash of turmeric.
That is, just blend everything together to a creamy consistency and you have yourself a gorgeous looking springtime drink.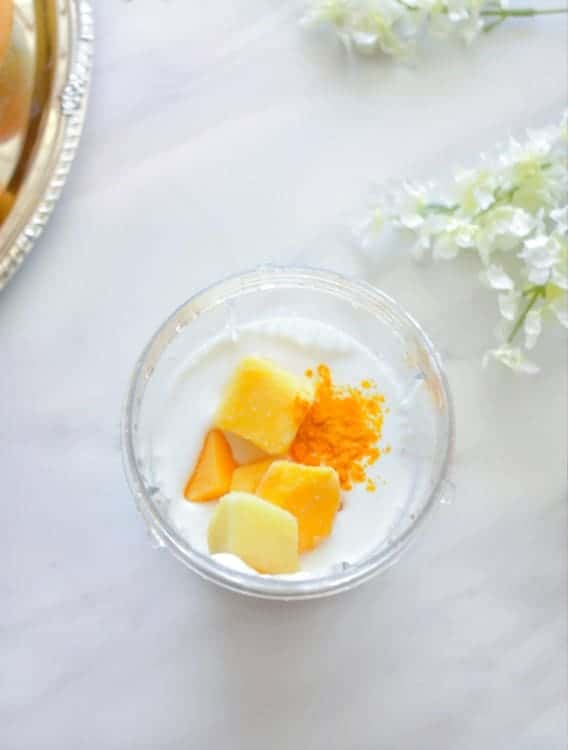 I actually froze the chopped pineapples before adding them to the smoothie as it gives a creamier texture.
The less water or ice we use, the creamier our smoothie gets…so it's totally upto you whether you want to add them frozen or fresh.
Go ahead, try this Tropical Mango Coconut Smoothie with Turmeric and take control of your springtime activities, become the #weekendwarriors .
Keep TYLENOL® along with you to drive those minor aches and pains away. You can visit Target or TYLENOL® for more information.
: More Smoothies to Try :
Blueberry Chocolate Protein Smoothie
---
As always, I Looove when you try my recipes and send me pictures & feedback.
You can tag my recipes tried by you using #easycookingwithmolly on any of the social media below:
Connect with Me Here: Facebook / Pinterest / Instagram / Twitter / Subscribe to our Newsletter / Google+
Yield: 3 Cups
Tropical Mango Coconut Smoothie with Turmeric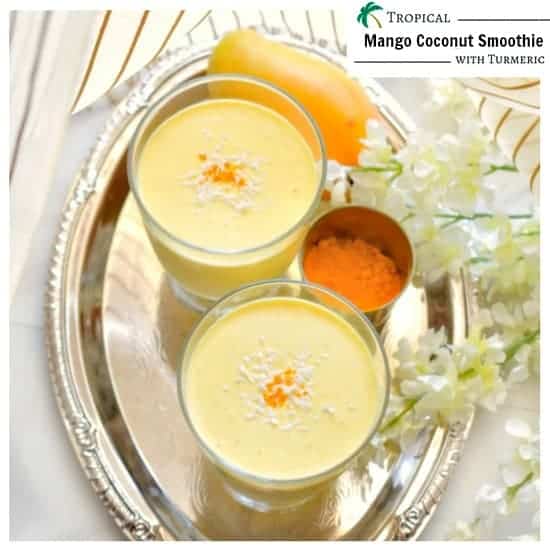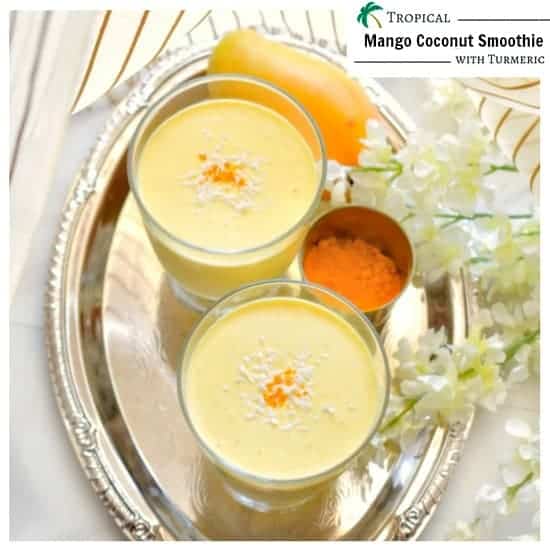 Ingredients
1 Can Coconut Milk (13.5 oz) - if using any other milk, take 1.5 cup
1 Medium Mango - peeled and chopped
1/4 Cup Frozen Pineapple
1/8 Tsp Turmeric Powder
1/2 Cup Ice - optional
Topping
1 Tsp Coconut Flakes
Pinch of Turmeric Powder
Instructions
Add all the ingredients (except topping) in a blender jar and pulse to form a smooth creamy mixture.
Transfer to serving glasses.
Sprinkle coconut flakes and turmeric on top.
Serve Chilled.
Nutrition Information
Yield
3
Serving Size
1
Amount Per Serving
Calories

389
Total Fat

30g
Saturated Fat

26g
Trans Fat

0g
Unsaturated Fat

2g
Cholesterol

7mg
Sodium

63mg
Carbohydrates

30g
Fiber

2g
Sugar

20g
Protein

7g
"I am not a medical expert, and this post is not medical advice.
Always seek the advice of your physician or another qualified health provider with any questions you may have regarding a medical condition.
©Johnson & Johnson Consumer Inc. 2017.
The third-party trademarks used herein are trademarks of their respective owners."