Fudgy Nutella Brownies with Raspberries (5 Ingredients): They are fudgy, rich with nutella flavor and a perfect treat to bake for that someone special. This recipe makes about 12 brownies and takes 25 minutes to bake. You can freeze them for up to a month.

These Fudgy Nutella Brownies with Raspberries (5 Ingredients) are definitely my all-time favorite Valentines dessert recipe.
There's always something extra special about brownies and when you add Nutella and raspberries to it – It's like Love All Over Again! (haha…atleast for me)
Long time back I read a quote somewhere – True love is when there are ONLY two brownies left and he takes the smaller one !!
And that's it, this quote till date is stuck in my mind and every time we have a similar situation, he always takes the smaller one ….Aweee right 😉
Now, these Fudgy Nutella Brownies with Raspberries didn't happen just like that, infact, it took us 3-4 Nutella jars + 1 year to get this one perfected or rather just the way we like it – FUDGY
( and that my dear friend is the answer to all the brownie situation for us).
Don't get me wrong, I would never say 'NO' to a brownie but yes my favorite is the fudgy…e..r types. And to discuss that further, let's talk about what is the basic difference?
We have 3 Main categories of brownies:
Fudgy – dense, rich in texture+flavor and you usually get this effect by adding more butter + chocolate (saturated fat makes them dense and you can use normal butter or flavored ones).
Chewy – slightly sticky brownies and you get that effect from adding more flour + oil (unsaturated fat) and also taking out the brownies from the oven slightly before time or undone. They get that chewy effect while cooling outside.
Cakey – they are airier, lighter and a mix of a brownie & a cake. You get this by adding a leavening agent like baking soda and reducing the butter.
By now, you must have already found your kind of brownie and no matter which brownie you choose, the procedure to make then remains the same.
You just add or subtract the ratio of ingredients to give them a fudgy/chewy or cakey taste. Once, that is sorted, let's come to a very important point in baking perfect brownies everytime –
Adding a parchment paper (or foil) to the bottom of the baking tray and keeping the paper hang loosely over both sides (almost like a pull-on tray).
This particular addition actually results in taking out the brownies perfectly or without any of it being stuck in the pan.
Cause, trust me, no matter how much grease/spray you add towards the bottom of the baking tray, the brownies WILL STICK to the BOTTOM of the PAN!
I must have omitted this step number of times due to sheer laziness and regretted it every minute while scraping out the brownies – So Please, add that extra paper towards the bottom.
While we nosh on these brownies…which I'm going to make again for Valentines, here's the recipe for you'll to try at home.
If you want to be generous or adventurous, you may add vodka/rum to make it a slightly adult version or just for the two of you. Another thing, these brownies freeze really well and I kept them for a month in the freezer.
Just thaw them in the fridge a night before and slightly warm them in the oven for that extra fudgy luxurious taste.
You Can Try These Other Recipes:
3 Ingredient Strawberry Mousse (V+GF)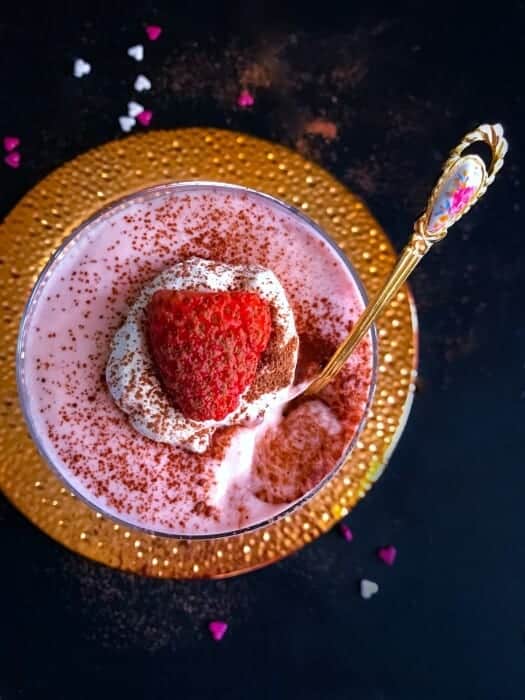 Lemon Poffertjes – Easy Dutch Pancakes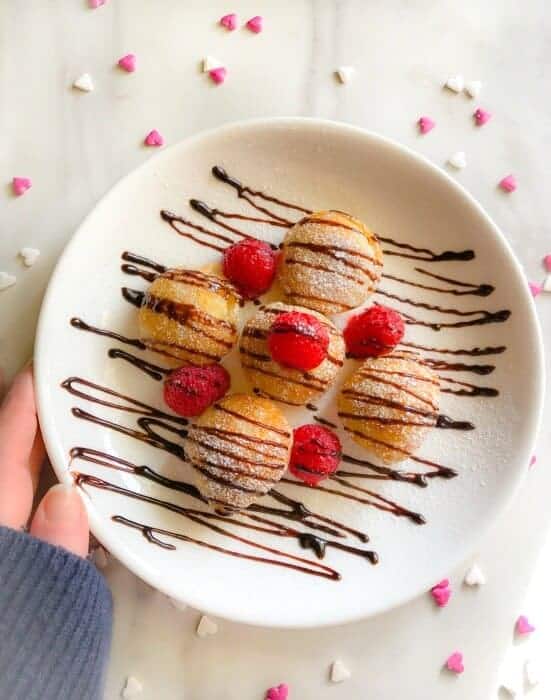 Until Next Time ~ XoXo
---
As always, I Looove when you try my recipes and send me pictures & feedback.
You can tag my recipes tried by you using #easycookingwithmolly on any of the social media below:
Connect with Me Here: Facebook / Pinterest / Instagram / Twitter / Subscribe to our Newsletter / Google+
Yield: 12 Brownies
Fudgy Nutella Brownies with Raspberries (5 Ingredients)
Fudgy Nutella Brownies with Raspberries (5 Ingredients): They are fudgy, rich with nutella flavor and a perfect treat to bake.
Ingredients
1 cup Nutella - room temperature (check notes)
2 Large Eggs
1/2 Cup All Purpose Flour
1 Tbsp Butter - room temperature
2 Tbsp Cocoa Powder
Decoration:
4 Tbsp Nutella
12 Fresh Raspberries
2 Tbsp Powdered Sugar
Instructions
Preheat oven to 180c
Take a 9x9 baking tray or oven safe glass utensil and spray it with oil.
Take a 15x15 parchment paper (or cut a slightly longer paper that acts like a pull-up)
In a large bowl, add butter, eggs and whisk to form a thick batter.
Now, add the nutella, cocoa powder and whisk to make an even batter.
Finally, add the flour and fold the mixture till flour is completely mixed.
Pour the brownie batter into the lined baking tray and bake for 20-25 mins.
Insert a toothpick in the center of the brownie to check for doneness (there shouldn't be any damp batter stuck to it).
Remove the brownie from the oven and cool completely.


Decoration:
Using a butter knife or spatula, slather the nutella over the cooled brownies.
Cut the brownies into 12 pieces.
Place raspberries into each of those 12 squares.
Dust with powdered sugar and serve fresh.
Notes
You need room temperature nutella. If the nutella is thick, you can transfer it to a microwave bowl and heat for 20 seconds.
Nutrition Information:
Yield:
12
Serving Size:
2
Amount Per Serving:
Calories:

185
Total Fat:

9g
Saturated Fat:

8g
Trans Fat:

0g
Unsaturated Fat:

1g
Cholesterol:

34mg
Sodium:

30mg
Carbohydrates:

22g
Fiber:

2g
Sugar:

15g
Protein:

3g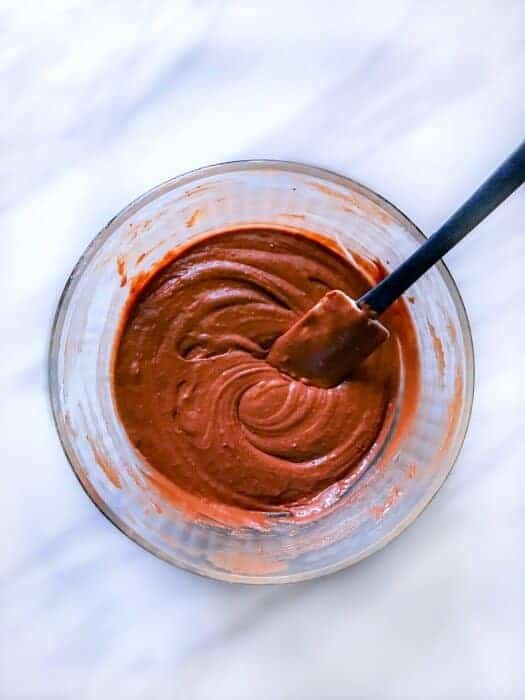 ---