Gingerbread Cookie Truffles (with leftover cookies): Super easy truffles made using leftover gingerbread cookies and ready in 15 minutes. They make a perfect festive gift for your loved ones and a great way to use all the leftover gingerbread /gingerbread snap cookies.
Gingerbread Cookie Truffles (with leftover cookies)

Hello Everyone, I hope you had a great Christmas with friends and family.
I know many of you would have already started saying no to food after all the delicious Christmas feasts but hang tight as we still have the New Year feast approaching us 😉
Now, if you're thinking of what to do with those tons of gingerbread/gingersnap cookies that you just cannot gulp anymore?
Then here's a quick solution – Gingerbread Cookie Truffles (with leftover cookies)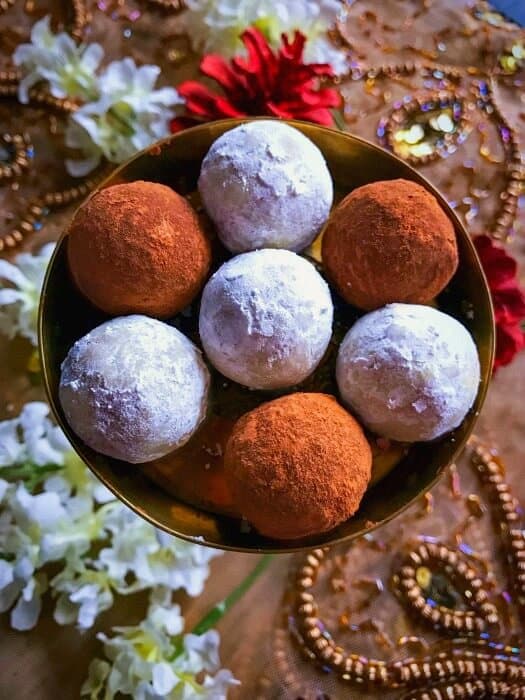 I made them last week as I suddenly became a proud owner of almost 2 pounds of gingerbread cookies courtesy my dear friends.
Who decided to gift me not 1, not 2 but 3 gingerbread house made with various cookies+add-on.
We did have fun devouring the first gingerbread house but soon it was just tooooooo much for us and can you believe all that sugar rush along with a couple of drinks (you do drink rum with gingerbread – right?).
Just, to stop yourself from eating any more of it, I literally foil wrapped the whole gingerbread house and completely hid it out of sight.
But it wasn't out of mind plus I hate throwing up food or any gifts given to me, hence these Gingerbread Cookie Truffles (with leftover cookies) happened.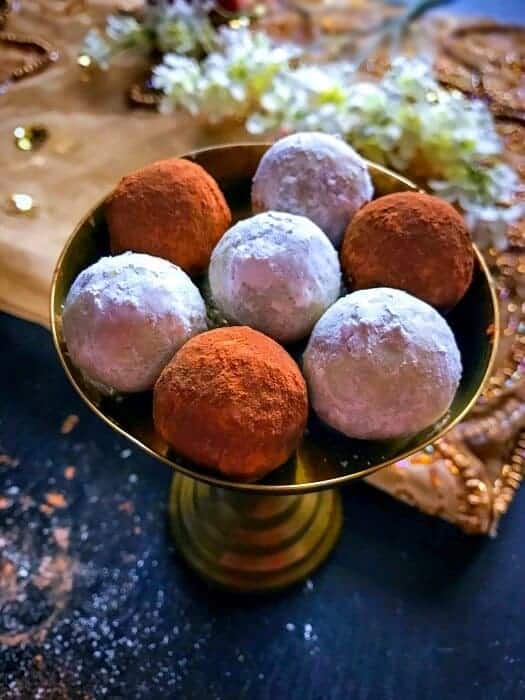 There couldn't be an easier recipe than these Gingerbread Cookie Truffles (except milkshakes) but I wanted to create something different and guess who got them as a gift !!!
The same friends who gave the gingerbread house to me, BUT they couldn't believe it was made from the house.
It seriously looked that gorgeous and tasted fabulous. Infact, the cocoa one was the first to disappear.
And, off-course I had to share the recipe as I know many of you along with my friends and family were in similar shoes – left with too many gingerbread cookies.
This is such a fun recipe that you can even make them with your kids (absolutely no-cooking involved).
Just powder the gingerbread cookies or snaps using a food processor or any blender that you have and mix the rest of the ingredients with that powder and room temperature cream cheese.
The process to Make Leftover Gingerbread Cookie Truffles
Use room temperature cream cheese as you don't want to melt that cheese in a microwave.
The rest of the steps are pretty easy and the most fun part is rolling them in cocoa or powdered sugar (I made 2 different variety).
Here's a quick recap of how we made them:
I know a lot of you tried my recent Christmas appetizer and drinks menu (here) as I did receive your lovely comments,
So I hope you try this absolutely delicious and easy Gingerbread Cookie Truffles (with leftover cookies) and surprise your loved ones.
Storage:
These can be stored in the fridge in an air-tight box for upto 2 weeks.
——————-
DID YOU TRY MY RECIPE – AWESOME!!!
Now Quickly SNAP A PICTURE & TAG :
#easycookingwithmolly at easycookingwithmolly on Instagram –>
Connect with Me Here: Facebook / Pinterest / Instagram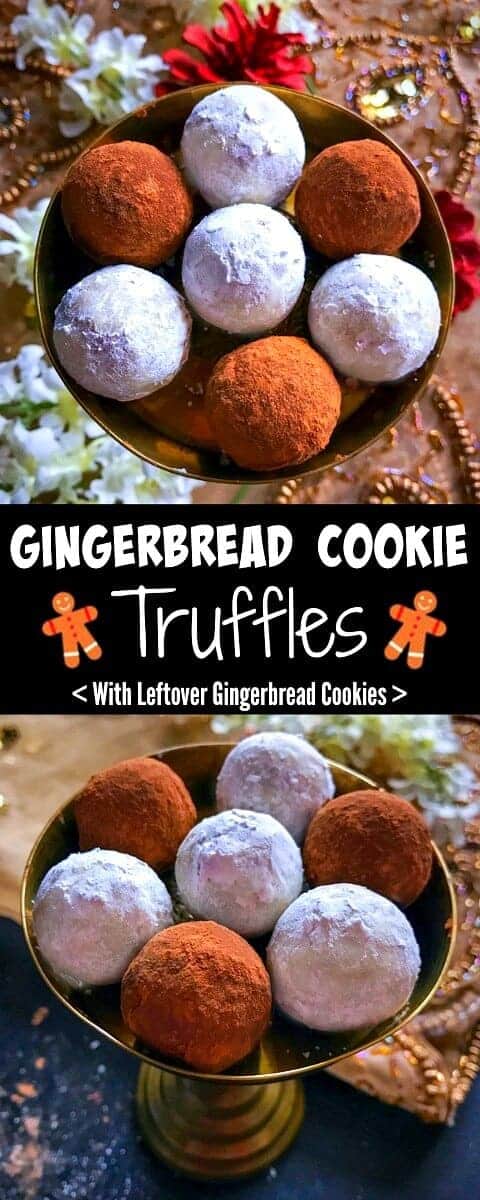 Other Holiday Recipes:
Yield: 15 Truffles
Gingerbread Cookie Truffles (with leftover cookies)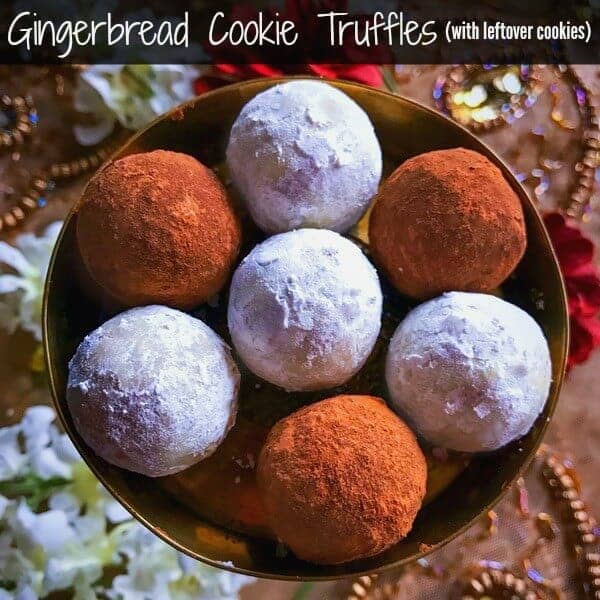 Super easy truffles made using leftover gingerbread cookies and ready in 15 minutes.
Ingredients
1 Cup Gingerbread Cookie
1/2 Package Cream Cheese - room temperature
1Tsp Vanilla Essence - or any light essence
1/2 Cup Cocoa Powder
1/2 Cup Powdered Sugar
Instructions
Place the gingerbread cookies in a food processor and blend to form a crumbly powder.
Transfer the powdered cookies in a large bowl.
Add room temperature cream cheese and whisk everything (use a whisk or fork).
Once whisked properly, use hands to form a smooth dough (knead for a minute or 2).
Grease your hands evenly.
Now take 1.5 Tbsp mix in your palms and roll the dough to form smooth balls.
Similarly, make balls out of the entire dough.
Place Chocolate Powder and Powdered sugar in separate bowls.
Roll some balls in chocolate powder and some in powdered sugar.
Place on parchment paper or plate.
Keep in freezer for 5 minutes (to quickly firm up) - or skip this step.
Serve the truffles and enjoy
Notes
They can be stored in fridge in an air-tight jar for a day.
You can store the plain truffles in fridge for longer (without rolling in chocolate or powdered sugar). The powder makes it watery in fridge and the truffles will become moist on top.
Nutrition Information:
Yield:
15
Serving Size:
2
Amount Per Serving:
Calories:

92
Total Fat:

3g
Saturated Fat:

1g
Trans Fat:

0g
Unsaturated Fat:

1g
Cholesterol:

9mg
Sodium:

52mg
Carbohydrates:

16g
Fiber:

1g
Sugar:

9g
Protein:

2g