Pomegranate New Year's Punch (with Rum and Vodka) Perfect New Year's drink to help you celebrate with your loved ones. This sweet-tart delicious punch is absolutely gorgeous and can be made in advance.
Who's ready to party?? I know I'm and with this Pomegranate New Year's Punch (with Rum and Vodka) recipe!!
It will surely make you want to put your dancing shoes on and welcome 2017! Before, we go further, can you believe that we'll be in 2017 in like 2 days?
Seriously, the year went by so quickly and I'm not even ready for my New Year goals (or should I say, haven't even completed all of my 2016 goals).
Are you hosting a New Years party or going to one?
We are actually doing both in next two days and I'm so ready with my punch drink which not only packs that needed punch for a party but is budget friendly too.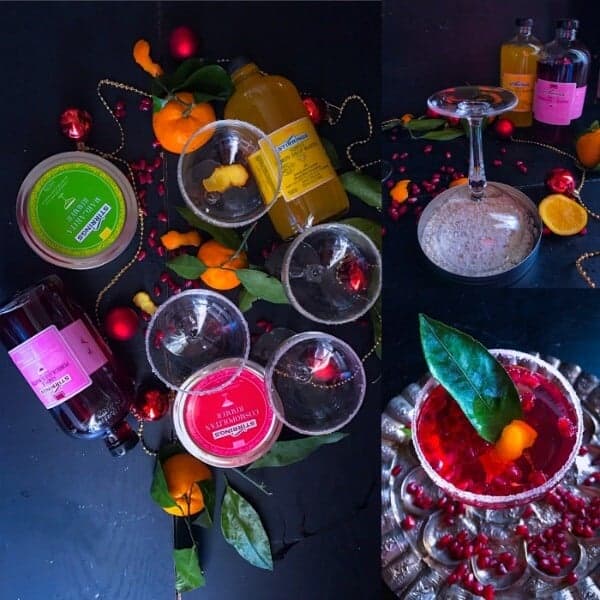 And, did I mention that I also entered into the "Stir It Up Holiday Blogger Mixology Challenge" at Stirrings (who make cocktail mixers and rimmers) #StirringsMixologyContest.
So for this blogger challenge, I could choose any of their 2 cocktail mixers and for me, it was the pomegranate and lemon mixers.
Since it was also going to be my New Year party drink, I'm adding both rum and vodka along with fresh pomegranate seeds and orange peel
(the peel add that refreshing citrus flavor in the drink)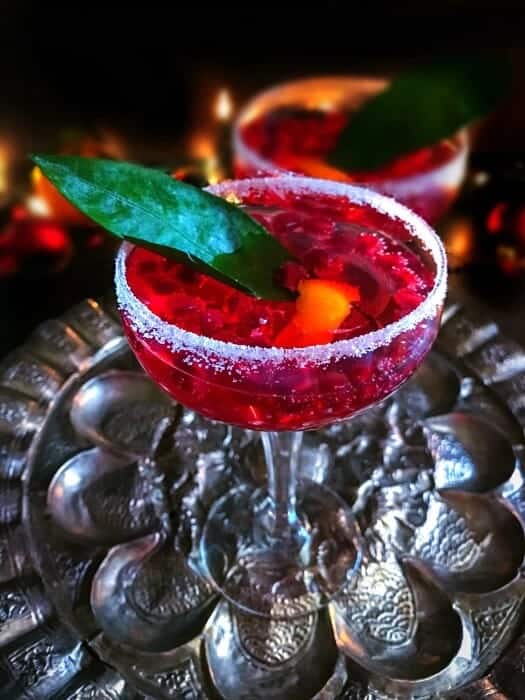 Every year, when we are hosting, I try to include one special recipe that becomes a focus of our party and this year it's going to be this Pomegranate New Year's Punch (with Rum and Vodka).
I'm definitely going over and above to give it that extra pop of color by adding fresh pomegranate arils and lights.
If you don't drink alcohol, you can definitely make it without any liquor by adding orange flavored soda.
One more thing that I like about this drink which I mentioned above is that it's pretty economical as a big batch drink.
This particular recipe makes 10 glasses and I know with so much food and other drinks, not many will have more than 2.
The recipe is very easy and you can make this drink a good 2-3 hours before the party, just add the soda and pomegranate before serving (for that crisp taste).
I used two types of rimmers – one is a margarita rimmer (salty) and the other is a pomegranate rimmer (sweet).
I'm sure my guests are going to have a fun time deciding which one they want.
Since it's my last recipe of 2016, I wanted to make it extra special, bright and something that's absolutely easy to make but packed with a punch.
~ I WISH YOU'LL A HAPPY, HEALTHY, PROSPEROUS & LOVING NEW YEAR 2017 ~
~ XOXO – MOLLY ~
:: You May Also Like ::
---
DID YOU TRY MY RECIPE – AWESOME!!!
Now Quickly SNAP A PICTURE & TAG :
#easycookingwithmolly + @easycookingwithmolly on Instagram –>
As I Loooove to see you recreate my recipes.
Connect with Me Here: Facebook / Pinterest / Instagram / Twitter / Subscribe to our Newsletter / Google+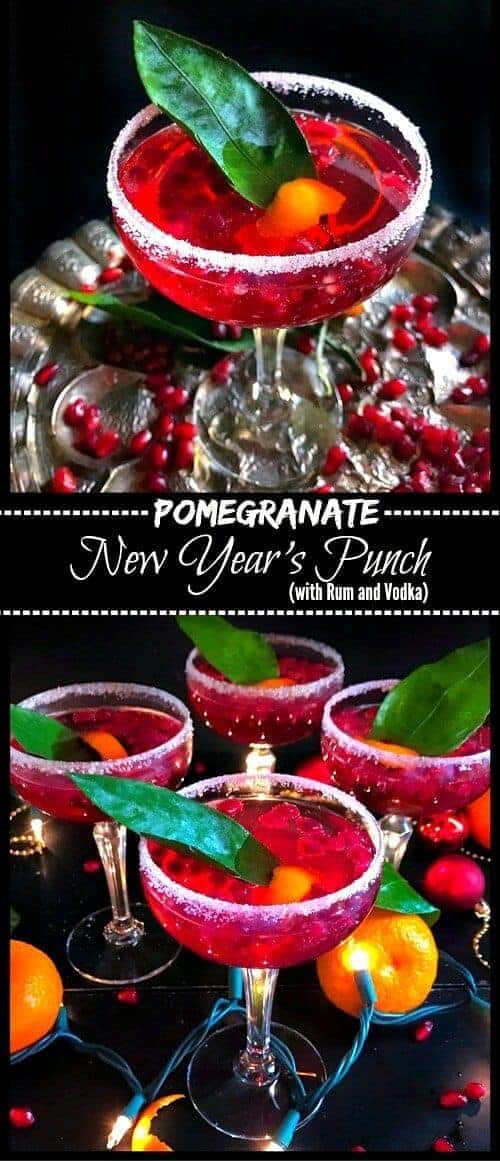 Yield: 10 Glasses
Pomegranate New Year's Punch (with Rum and Vodka)
Ingredients
2 Cups Pomegranate Mix - I'm using Stirrings Pomegranate Martini Mix
1 Cup Lemon Mix - I'm using Stirrings Lemon Drop Martini Mix
1 Can Soda - any citrus flavor
1 Cup Vodka
1/2 Cup Rum
1/2 Cup Pomegranate Seeds
Decoration:
10 Slices of Orange Rinds - large slice
10 Orange Leaves - cleaned - OPTIONAL
Glass Rimmers - I'm using pomegranate and lemon rimmers from Stirrings
Instructions
Take a large bowl or jar.
Add all the drink ingredients in the bowl/jar and give it a quick stir.
Take a serving glass and coat the tip with an orange slice.
Dip it into the rimmer mix and coat the glass tip evenly with rimmer.
Coat all the glasses similarly.
Pour the punch in all the glasses evenly.
Place the orange rind slices and leaves in each glass.
Serve Immediately.
Notes
You can use any pomegranate juice and lemon juice too.
Nutrition Information:
Serving Size:
1
Amount Per Serving:
Calories:

846
Total Fat:

2g
Carbohydrates:

211g
Sugar:

168g
Protein:

17g