Kadai Chicken – Indian Stir Fry Chicken: light and quick stir fry Indian chicken recipe using spices, veggies, yogurt, and herbs. This recipe can be stored in the fridge for upto 3 days. It's also known as Karahi Chicken or Indian Kadai Chicken and perfect for keto

Today's topic is my all-time favorite – Comfort Food (Indian Stir Fry Chicken – Kadai Chicken )…recipes that keep you coming back for more and just give you that warm fuzzy feeling.
Sounds Familiar …Right?
Ingredients for Kadai Chicken – Indian Stir Fry Chicken:
Chicken
Capsicum
Onion
Ginger + Garlic Paste
Yogurt
Indian Spices
I'm sure you have a few such recipes that bring a smile to your face and make you hungry at the very thought of them.
Being a complete foodie and a food blogger, it's always been so tough for me to answer this question "What is your favorite food?".
Growing up in a typical Indian family surrounded with friends and family (think 40-50 cousins), we always had some sort of get-together/festival or just a casual meet-up happening.
And, I don't have to mention, food was always the "center attraction" …so now you might understand the reason behind me being a complete FOODIE.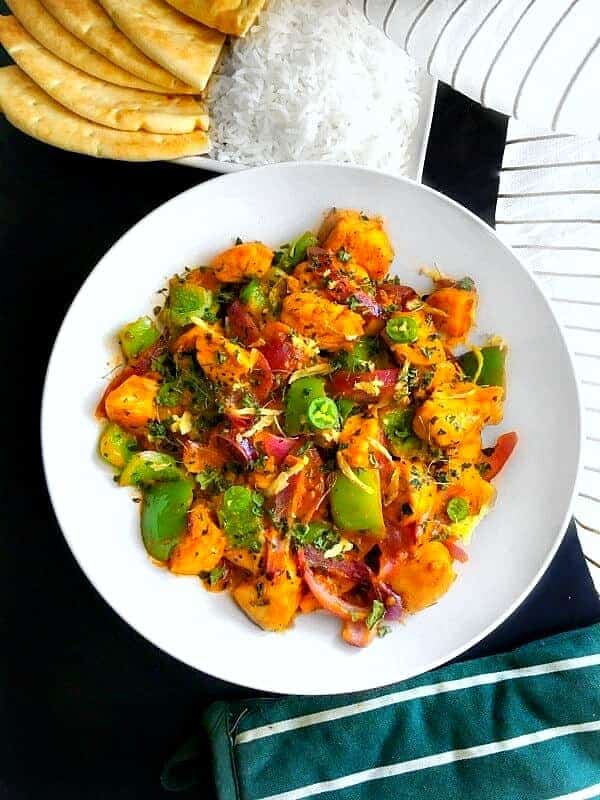 But getting back to our topic of discussion, my all-time favorite comfort food is Kadai Chicken.
It's one recipe that I've grown up eating weekends after weekends and we still crave it (if not cooked within 15-20 days).
How to Make Kadai Chicken – Indian Stir Fry Chicken
The original recipe is made using a lot of cream + ghee + spices but I guess being passed from generation to generation.
Some tweaks or changes were bound to happen to the original recipe….blame it on the time or just a need for change.
I've also made changes to my favorite Kadai Chicken recipe by making it slightly lighter (cream gets replaced by yogurt) and easier to prepare (no long marinating time).
So I'm calling it my 'New Comfort Food'. It's a lighter, easier version of my traditional favorite.
To make the Kadai Chicken, I'm using none other than Foster Farms Simply Raised Chicken, which has no antibiotics ever, is fed a 100% vegetarian diet.
It has no added hormones or steroids and is American Humane Certified.
I'm a total believer in the idea that the highest quality ingredients make the best food, hence why I use locally grown, antibiotic-free chicken!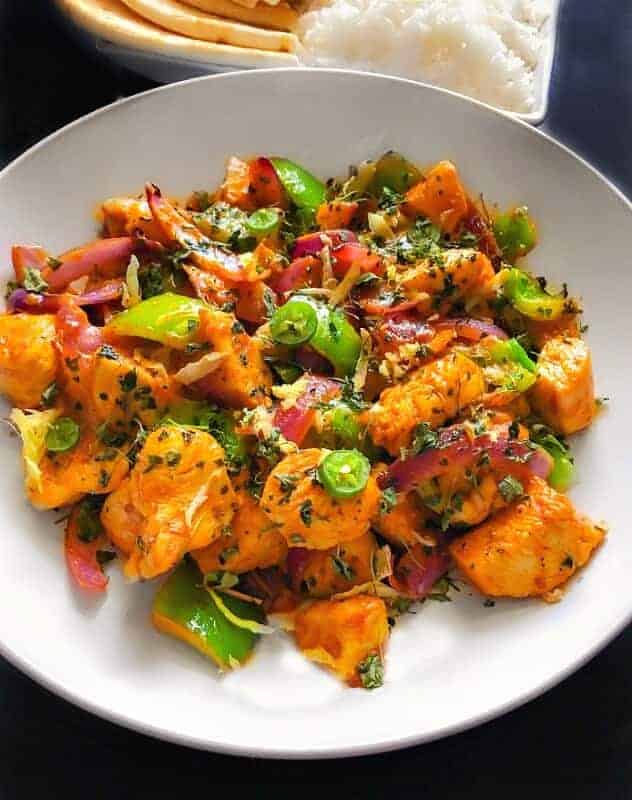 'The New Comfort Food' is an evolution from traditionally heavy, rich foods to a healthier, more conscious way of eating.
Today's comfort food meals feature local, fresh and premium quality ingredients, produced with no antibiotics ever.
The New Comfort Food is no longer an indulgence, but something you can feel good about eating every day!
With all of our hectic schedules and multi-tasking, I'm always trying to create recipes that suit not just our busy routines but also taste delicious.
In other words – make people believe that you've spent a good 1-2 hrs making this delicious meal 😉 But no matter what recipe or ingredients.
I Follow the Following Guidelines:
Poultry needs to be antibiotic-free
Ingredients should be healthy
There's nothing like fresh ingredients
Always try and cook with seasonal ingredients
Now, let's get started on the Kadai Chicken – Indian Stir Fry Chicken or Karahi chicken recipe, which is easy-peasy-delicious.
All you need is Foster Farms Simply Raised Chicken, some basic spices (all listed in the recipe below).
Fresh produce, lots of yogurt and a little bit of cream (remember, the key to healthy cooking and living is all about moderation).
So, I hope you get to try my Indian Stir Fry Chicken – Kadai Chicken soon and adopt it as one of your own. Also, check out more 'New Comfort Food' recipes on the Foster Farms website.
Their Simply Raised chicken is locally grown on the West Coast with no antibiotics ever and 100 percent vegetarian fed. It is the perfect foundation for your New Comfort Food meals!
Tried Our Recipe – AWESOME!!!
Now Quickly SNAP A PICTURE & TAG :
#easycookingwithmolly + @easycookingwithmolly on Instagram –>
Connect with Me Here: Facebook / Pinterest / Instagram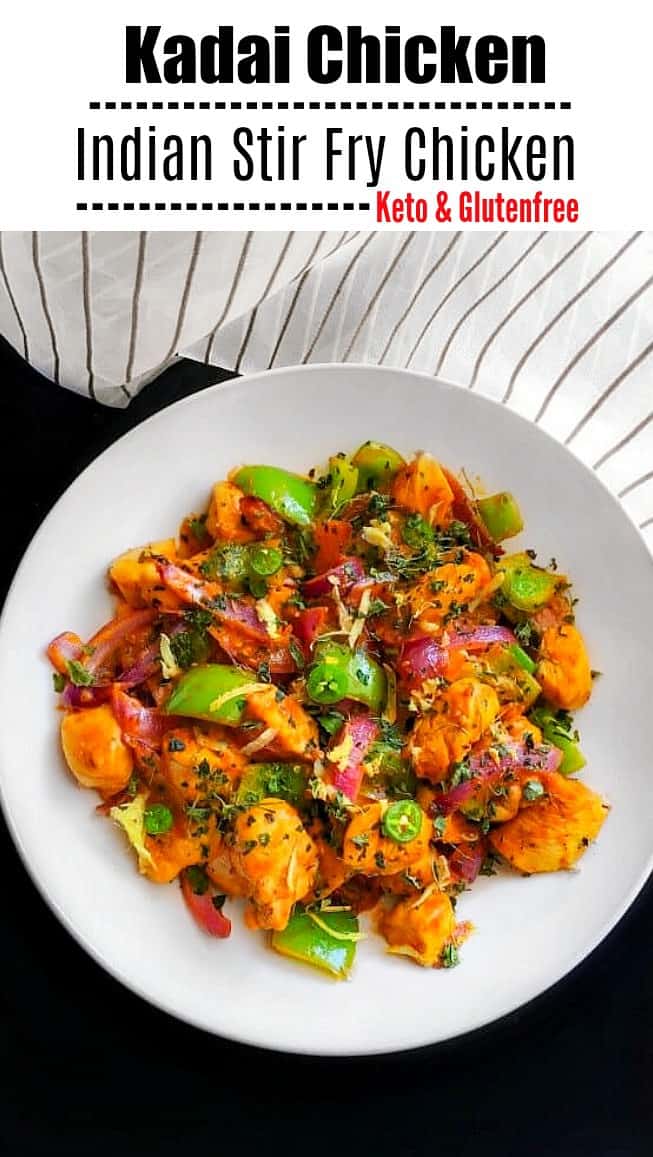 Here are some other Indian Chicken Recipes:
Yield: 4 People
Kadai Chicken - Indian Stir Fry Chicken (Keto Chicken)
Kadai Chicken - Indian Stir Fry Chicken: light and quick stir fry Indian chicken recipe using spices, veggies, yogurt and herbs. Perfect for a Keto Diet
Ingredients
1 pack Chicken Breasts, I'm using Foster Farms Simply Raised
1 Large Capsicum – diced
2 Large Onion – diced
½ Cup Plain Yogurt
1 Tbsp Cream
1 Tsp Ginger Paste
1 Tsp Garlic Paste
1 Tbsp Tomato Paste
4 Tbsp Olive Oil
1 Stalk Cilantro Leaves, optional – for decoration
1 Tsp Shredded Ginger
1 Green Chili - chopped
--- Spices ---
1 Tsp Coriander Powder
1 Tsp Cumin Powder
½ Tsp Turmeric Powder
Red Chili Powder– as per taste
Salt – as per taste
Instructions
How to Make Kadai Chicken - Indian Stir Fry Chicken:
Chop the chicken into bite-size pieces and keep aside.
In a large wok, add 2 tbsp olive oil and heat.
Add diced onion, capsicum and stir-fry for 2 minutes.
Remove from pan and keep aside
Add 2 tbsp olive oil, chicken and stir for on medium flame for 5 minutes (or till chicken is cooked).
Add all the spices and stir-fry for another 2 minutes.
Now add the yogurt-cream mixture and mix evenly.
Stir-fry on medium heat for 2 more minutes.
Add the onions and capsicum mix and stir-fry everything together.
Let it cook for a minute and then turn off the heat.
Transfer to a serving plate.
Sprinkle with cilantro, shredded ginger, and green chilies.
Serve Hot.
Nutrition Information:
Yield:
4
Serving Size:
1
Amount Per Serving:
Calories:

275
Total Fat:

35g
Saturated Fat:

9g
Trans Fat:

0g
Unsaturated Fat:

15g
Cholesterol:

35mg
Sodium:

350mg
Carbohydrates:

16g
Fiber:

3g
Sugar:

5g
Protein:

23g
This is a sponsored post written by me on behalf of Foster Farms Simply Raised Chicken.