Spiced Kumquat Marmalade: An easy and delicious kumquat marmalade recipe using kumquats, ginger, sugar, spices and without preservatives. It's perfect to use with bread, crepes or desserts. Stays in the fridge for 4-5 weeks.
Spiced Kumquat Marmalade | How to Make Kumquat Marmalade
This Spiced Kumquat Marmalade is made without using any preservative and you can use the same recipe with any other citrus fruit as a substitute (check notes).
I'm a self-proclaimed
Marmalade Hoarder
and out of all of them,
Spiced Kumquat Marmalade
is my most favorite
(hence the How to Make Spiced Kumquat Marmalade recipe below).
I tasted something similar called Kumquat Marmalade during our stay in Portugal (almost 6 years).
It absolutely made me fall in love with its sweet-tangy flavor (which is very unlike the other store-bought citrus marmalade we are used to).
Before we go further, let's talk KUMQUATS – they resemble an orange, a much smaller round/oval variety.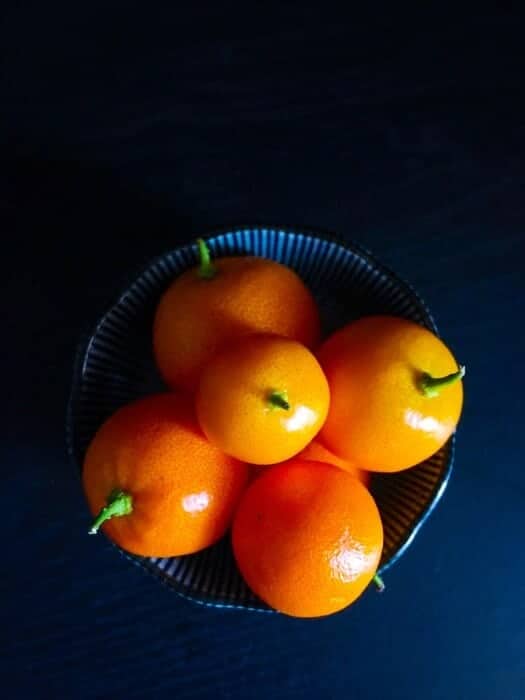 The peel has a sweet flavor but the fruit has a sour center and they are usually a short tree or bonsai.
You might have come across them in American/Asian stores (as they are extremely popular in Asian countries + a good luck symbol).
And where I live, I'm literally surrounded by kumquats tree/bonsai.
As I'd mentioned in a couple of my posts, my mom is an expert in making pickles/chutney/jams and when she visits us, we're literally pampered with a variety of them.
So when we recently got a bagful of fresh kumquats from a friend, she suggested why don't I make a Kumquat Marmalade …
I've to confess, this was the first time when even thoughts of making marmalade at home crossed my mind (okay, the heart said YES but the head said, Gosh, it's tedious).
And Mom looked super excited over my very first marmalade in the making.
As if that wasn't enough, I suggested why don't we add some spices/seasoning (just like the way she makes spiced marmalade) and pat came the reply, off course !!
So here we go, everyone with my How to Make Spiced Kumquat Marmalade.
Here're her Notes (trust me, this is coming from someone who's been making them for 10-15 yrs) :
How to Make Spiced Kumquat Marmalade:
Get the Spices, Kumquats, Utensils ready.
Clean, cut and marinate the fruit in sugar, juice/water + spice mix.
Simmer the soaked fruit mix on medium/low heat.
Remove, pour, eat and drool 😉
If any left over, then cover and seal for later use.
Step by Step Picture Process to Make Kumquat Marmalade
First, we cleaned the kumquats and cut them into a quarter.
Then removed the thin white lining in the center of the fruit and all the seeds too…so welcome to the hardest part of making marmalade, from there onwards, it was a cakewalk.
I literally spent 30 minutes removing those tiny, almost invisible seeds (seriously, call me an OCD).
Although mom kept saying that the tiny seeds really didn't matter but I had to get each and everyone out (Did you hear me sighing).
Then we marinated the chopped kumquats for 15 minutes and placed the same utensil over high heat till the first boil.
Then it was mixed for 5 minutes on high heat and then reduce the heat to medium and do your happy dance as you are halfway done.
So, after my happy dance and literally telling everyone at home to be ready for sweet-tangy marmalade in 20 minutes.
We got some cheese (I had blue cheese + some brie) and bread ready on our breakfast nook.
Please do check upon the marmalade every 5 minutes, give it a good stir and let it cook till the mixture becomes slightly thick and can easily coat the back of your spoon (it takes 30 minutes).
Now, I'm not adding any preservative as I'm absolutely 100% sure that this Spiced Kumquat Marmalade will be gone within a week.
Also, if you're wondering – why hasn't she added any thickener to it, cause citrus fruits are rich in pectin (the substance that helps create a jelly), which is found in their peels.
So if you're cooking with peels on, you really don't need any thickener.
So, here's our marmalade all bottled up and shining like an orange-gold star in the fading sunlight.
We slathered it on french bread + cheese and it was like a slice of Heaven!
Little sweet, tangy, with a hint of ginger and clove.
Perfect to perk up your taste buds and leave you wanting more n more of this goodness.
I've been having this marmalade for breakfast, snack + midnight in between work snack 😉 and I think we are almost running out of the 2nd bottle out of 3.
For any of you, who would like some substitutes or variations, here are some of them.
Substitutes:
No Kumquats – Not a problem, you can use any citrus fruit like orange/tangerine to make this marmalade. Just adjust sugar as per your taste.
Don't like Spiced Marmalade – Just don't add the mentioned spices in the instruction and you're good to go. The other ingredients+measurement remains the same.
No Sugar – You can use honey/agave or even stevia for the same.
Don't like Marmalade – You can turn it into a jam. After marinating, just squeeze all the pulp by hand or strainer. You would have to use some kind of thickener/pectin to form the jelly consistency.
After this experience, I'm really excited to try new varieties of marmalade and my mind is already brimming with ideas and some really unheard combination.
So, keep an eye, as you'll definitely see some more marmalade recipes coming in the future and of course some kumquats recipes too!
Do, try this Gorgeous & Delicious Spiced Kumquat Marmalade.
I can GUARANTEE, it will definitely perk up your mood and taste.
Until Next Time – XoXo
Tried Our Recipe – AWESOME!!!
Now Quickly SNAP A PICTURE & TAG :
#easycookingwithmolly + @easycookingwithmolly on Instagram –>
Connect with Me Here: Facebook / Pinterest / Instagram
You can also try:
Yield: 2 Medium Masor Jars
How to Make Spiced Kumquat Marmalade (No Preservative Recipe)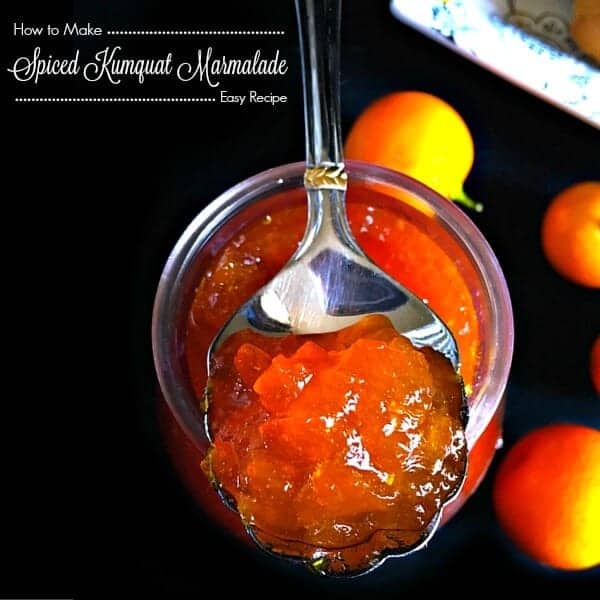 Spiced Kumquat Marmalade: An easy and delicious kumquat marmalade recipe using kumquats, ginger, sugar, spices and without preservatives. It's perfect to use with bread, crepes or desserts. Stays in the fridge for 4-5 weeks.
Ingredients
2 Cups Kumquats - chopped and cleaned
1.5 Cups Sugar - check substitute in post for options
1 Cup Water
1/2 Cup Lemon Juice - optional
Spices
1 Tsp Ginger Powder - you can use fresh ginger too (1/2 tsp)
1 Whole Cinnamon Stick
4-5 Cloves
1/2 Tsp Salt
Instructions
How to Make Kumquat Marmalade:
In a large pot, add chopped kumquats, water, juice, sugar, spices.
Mix everything and marinate for 15 minutes.
Place the same pot on high flames till the first boil comes.
Stir on high flames for 5 minutes and then reduce the flame and cover cook for 30 minutes.
Stir every 5 minutes.
After 30 minutes, the marmalade mix would have thickened a little and it will coat the back of the spoon evenly.
Turn off the heat.
You can remove the cinnamon stick and cloves (as per choice).
Let the marmalade cool and it will thicken up as it cools.
Pour into sterilized bottle/jar and keep in a fridge for later use.
Slather evenly on toast / cheese or fruits and enjoy.
Nutrition Information:
Yield:
25
Serving Size:
2
Amount Per Serving:
Calories:

62
Total Fat:

0g
Saturated Fat:

0g
Trans Fat:

0g
Unsaturated Fat:

0g
Cholesterol:

0mg
Sodium:

51mg
Carbohydrates:

16g
Fiber:

1g
Sugar:

14g
Protein:

0g