Indian Apple Ginger Chutney: quick, easy and delicious sweet-spicy chutney is a perfect treat made using apple, ginger and Indian spices. Ready in 12 minutes and great as gift.
Indian Apple Ginger Chutney |Spiced Apple Chutney | Apple Ginger Chutney
Indian Apple Ginger Chutney and a slice of toasted bread are what I call Perfect Autumn Bliss!!
The warming spices in this chutney, tease your taste buds enough to leave you wanting more and more of this delight.
Chutney/Jams/Pickles are one of the 'Must Have' in any Indian household whether you go to any part of the world.
The funny thing is that we cannot differentiate between that love as we love all three of them equal.
So as soon as the fresh apple season starts in India, many grandma's / mom's would take out one day to make homemade Jams/Chutney.
Ingredients for the Chutney:
Red Apples – peeled, cored and chopped in tiny pieces
Fresh Ginger – finely chopped
Olive Oil
White Vinegar
Indian Spices: turmeric, red chili powder, clove powder
How to Make Indian Apple Ginger Chutney
And this Indian Apple Ginger Chutney is what my mom made every single year and to date whenever she visits us in the USA, she makes a big batch for us.
Trust me, that batch no matter how Big, always magically disappears within a few months as we literally slather it on anything or everything.
Be it on a toast, crackers, cheese, meats, or just a spoonful, this is simply amazing!
So this season, as soon as we got the fresh red apples from our local farmers, we made this spiced apple chutney (another name for it).
I followed my mom's recipe and just added 'Cloves' for a smoky flavor that goes so well with both apple and ginger.
And it was quite a pleasant surprise for everyone at home as I don't usually make chutney/jams.
But I couldn't let go of another apple season without my Mom's famous – Indian Apple Ginger Chutney
The apple chutney is absolutely easy peasy to make at home and this one gets ready in 12 minutes.
It usually serves 6 people (if everything takes 2tbsp) and can be stored in the fridge for 15 days.
Please make sure the jar you use to store this Indian Apple Ginger Chutney is absolutely clean and dry (fresh storebought is preferred).
Also, as everyone we know loooooves this chutney, this season I've decided to make a couple of extra jars as gifts.
They make a perfect homemade gift for loved ones or teachers at your kid's school.
Just add some fancy bread/cookies or wine if you please and turn this into a holiday gift basket.
Tried Our Recipe – AWESOME!!!
Now Quickly SNAP A PICTURE & TAG :
#easycookingwithmolly + @easycookingwithmolly on Instagram –>
Connect with Me Here: Facebook / Pinterest / Instagram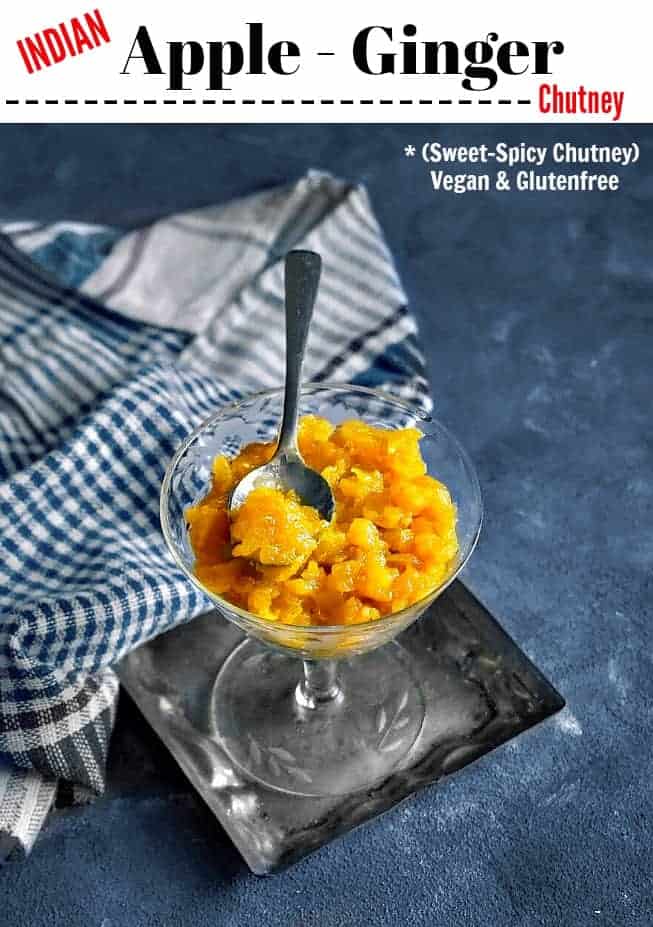 :: You May Also Like ::
Yield: 1 Large Bottle
Indian Apple Ginger Chutney (12 Minutes) Video Recipe
quick, easy and delicious sweet-spicy Indian Apple Ginger Chutney is a perfect treat. Goes with breads/ cheese/ meats or as is.
Ingredients
3 Red Apples - peeled, cored and chopped in tiny pieces
1 Tbsp Fresh Ginger - finely chopped
2 Tbsp Olive Oil
2 Tbsp White Vinegar
3-4 Cloves
1/4 Tsp Turmeric Powder - for a bright yellow color, you may omit as per choice
1/2 Tsp Salt
1 Tsp Red Chili Powder
1 Tbsp Lemon juice
Instructions
Heat oil in a large pot.
Add ginger, 3 cloves and saute for 30-40 seconds.
Now add apple and saute for 2 minutes on low heat.
Now add sugar, vinegar and saute for another minute (apple will begin to soften now).
Add chili powder, salt and saute for 2-3 minutes on medium heat.
Finally add water and stir everything evenly.
Cover the pot with a lid and let this cook on low heat for 5 minutes (stir every now and then).
Remove the cover and add the lemon juice.
Taste test for seasoning and turn off the heat.
Let this cool completely and serve with choice of bread/meats/fruits.

Notes
This can be stored in fridge in a clean air-tight jar for 2 weeks.
Makes a Perfect Fall Gift.
Nutrition Information:
Serving Size:
12 Spoons
Amount Per Serving:
Calories:

21
Total Fat:

2g
Sodium:

104mg