Bengali Kacha Golla: light and flavorful Indian sweet made using ricotta cheese, cardamom, saffron and rosewater. This recipe is made using Ricotta cheese. Post updated in November 2018.
Post By: Molly Kumar
Bengali Kacha Golla
Bengali Kacha Golla is one sweet that I cannot resist and thankfully it's one of the few Indian sweets which is light and extremely easy to make too.
As the month of August concludes, we have a lineup of Indian festivals coming up and these Bengali Kacha Golla recipe makes for a perfect recipe to get them started.
How to Make Bengali Kacha Golla
Step by Step pictures to make Kacha Golla recipe.

Bengali Kacha Golla is a popular sweet from Kolkata (West Bengal – India) but because of its popularity, it's available in many other Indian states.
The main reason for its popularity is the lightness of the recipe.
Unlike traditional Indian sweets which are either fried or soaked in rich sugary syrup, this one is a refreshing change.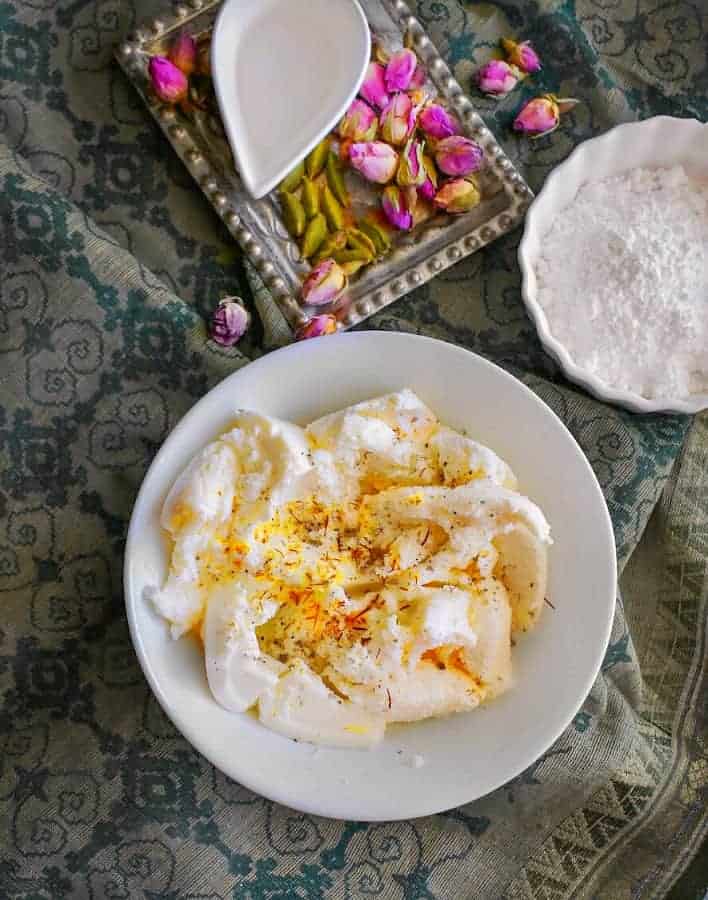 Bengali Kacha Golla Ingredients:
Paneer (Indian Cheese) or Ricotta (Full Fat)
Sugar
Rose Water
Cardamom
Saffron
Pistachio
These ingredients are very typical to any Indian home and if need be, all of them can be easily found in Indian grocery stores or even American grocery stores.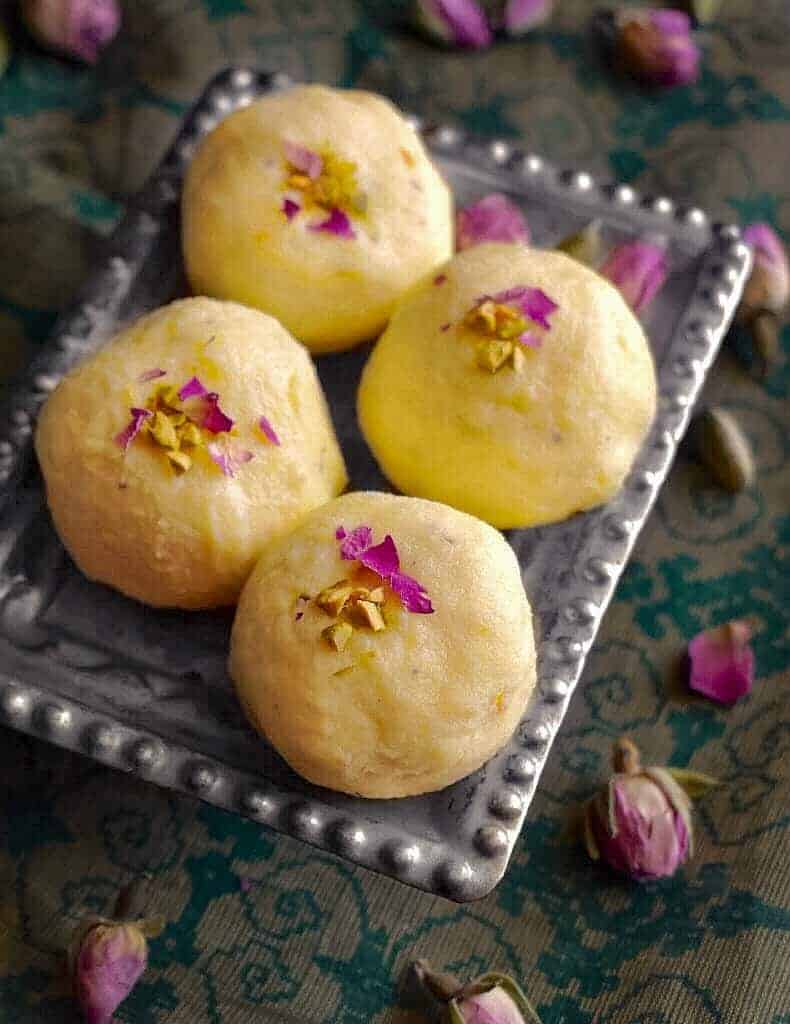 The only thing we need to remember if using Paneer (Indian Cheese):
The Cheese should be dry (not much water in it).
So if you are using paneer, just crumble and saute it over low heat for 2-3 minutes (till water evaporates).
We DO NOT want to cook the panner/cheese but simply want to evaporate the water.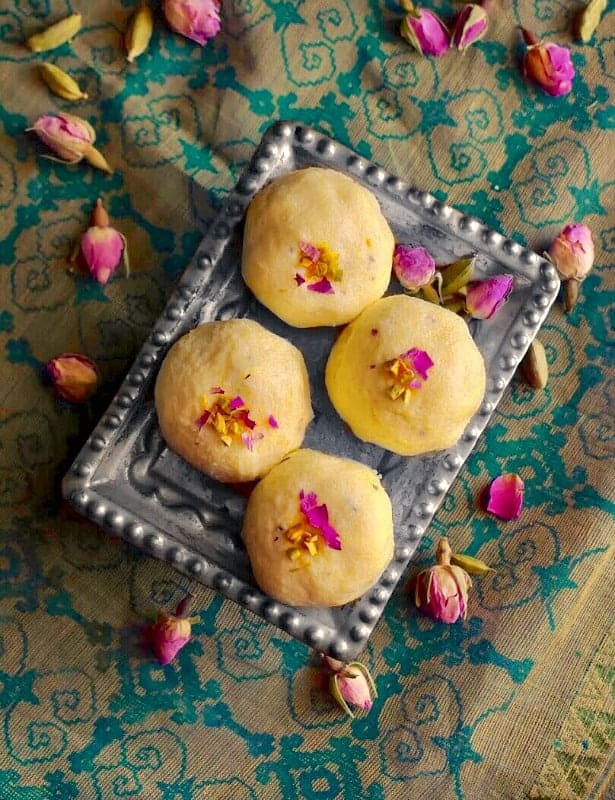 * Although they taste best if served when it's made however sometimes they are so soft, that they might break.
Hence I kept them in the fridge for 2 hrs before serving.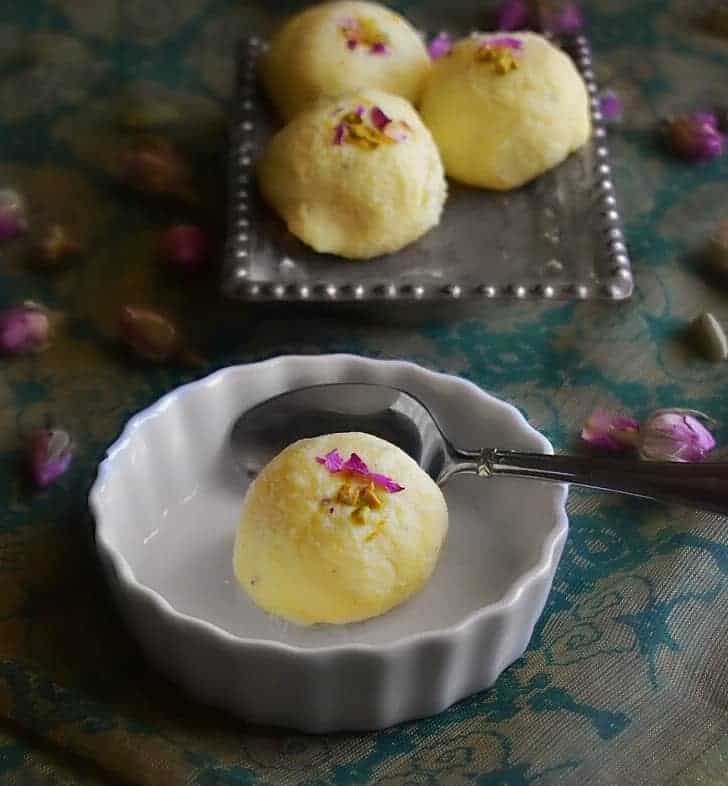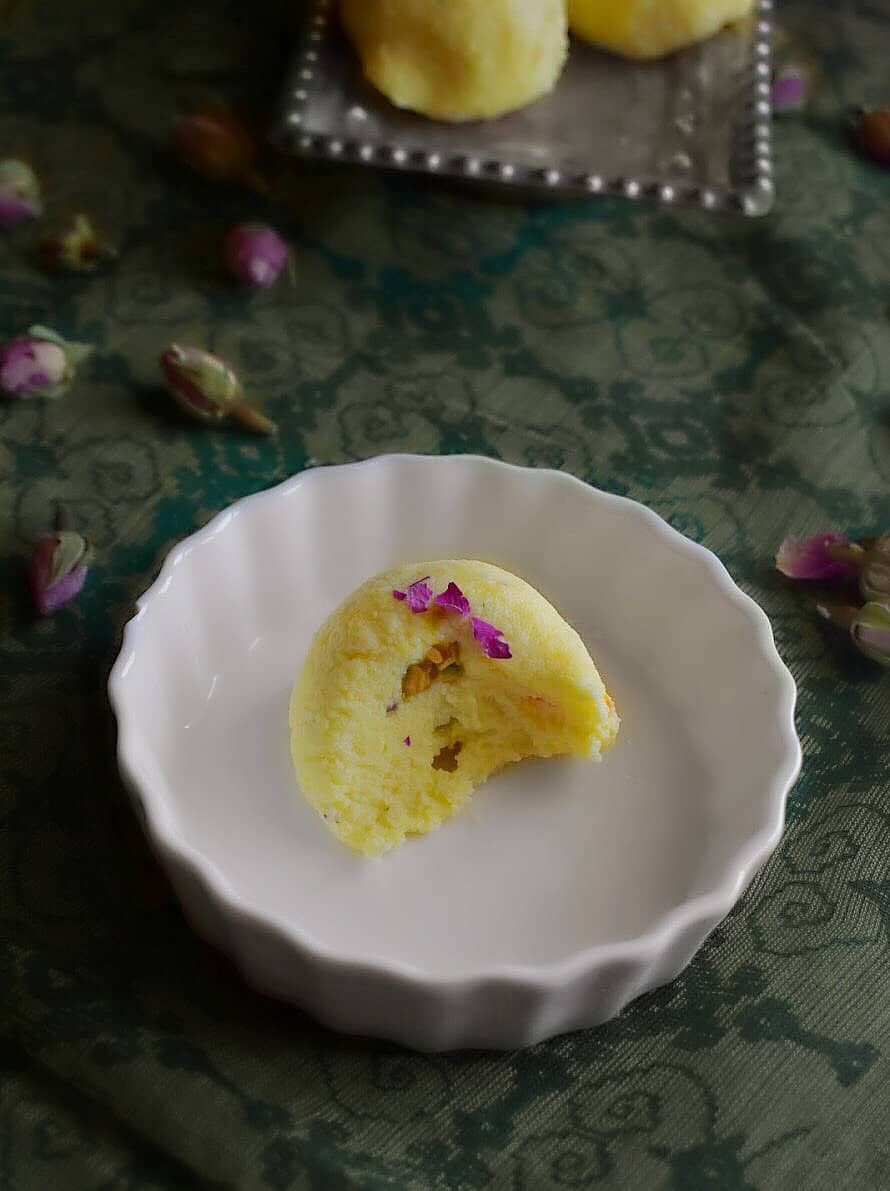 It's extremely aromatic and refreshing because of its light ingredients. It can be served for festivals, brunches or even high tea.
Tried Our Recipe – AWESOME!!!
Now Quickly SNAP A PICTURE & TAG :
#easycookingwithmolly + @easycookingwithmolly on Instagram –>
Connect with Me Here: Facebook / Pinterest / Instagram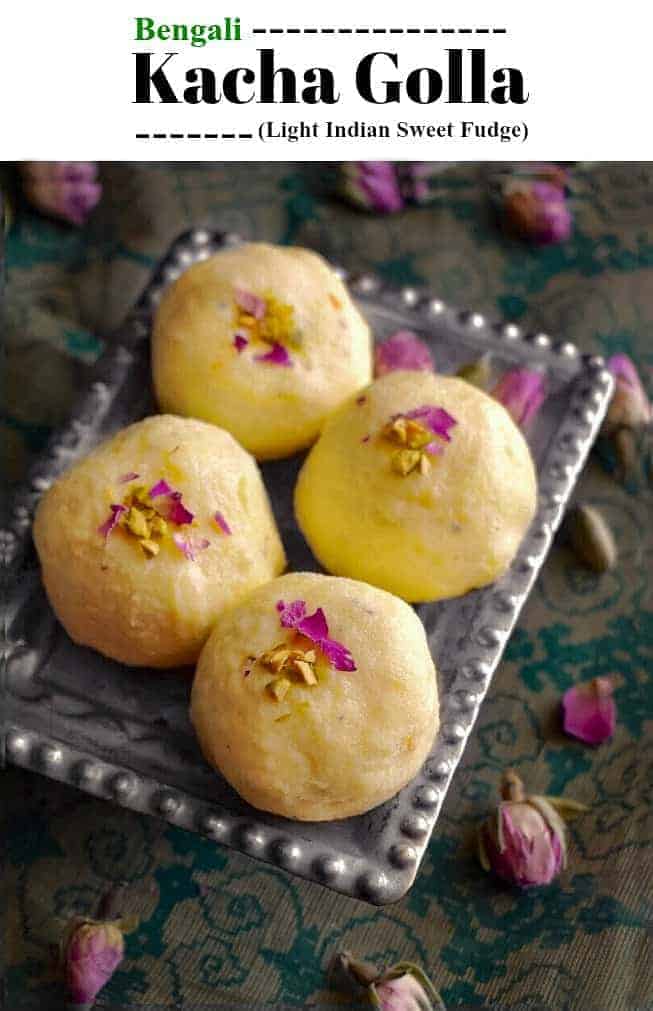 :: You May Also Like ::
Yield: 12 Pieces
Bengali Kacha Golla (Ricotta Cheese Sweets)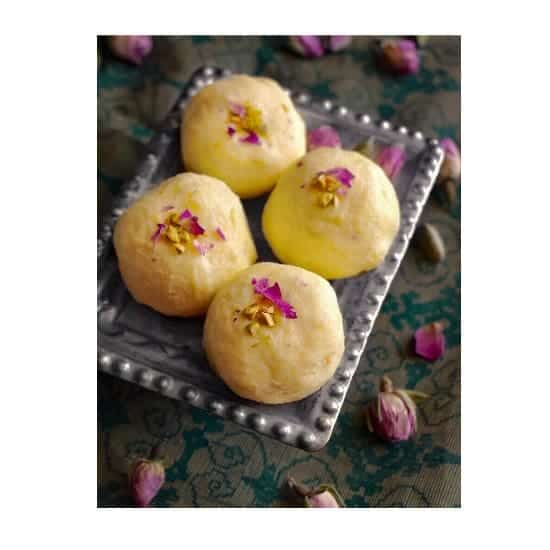 Bengali Kacha Golla: light and flavorful Indian sweet made using ricotta cheese (homemade paneer), cardamom, saffron, and rosewater. It's a light and non-fried sweet
Ingredients
1 Cup Full Fat Ricotta or you can use Fresh Homemade Crumbled Paneer– remove all excess water from paneer/chana
5 Tbsp Sugar – I'm using fine sugar
½ Tsp Cardamom Powder
1 Tsp Rose Water - Optional
Few Strands of Saffron
2 Tbsp Chopped Pistachio for decoration - Optional
Instructions
Special Note:
As mentioned above, please do make sure that the ricotta/paneer doesn't have any water left in it. You may use cheese-cloth to remove excess water.

Making the Kacha Golla
Place ricotta/paneer in a large bowl and knead by hands for 10-15min. (We don't want to use a food processor to knead this as it will result in a very loose runny paste).
NOTE: if the cheese is watery, then lightly saute it over medium heat for 2-3 minutes (till water evaporates but not more as we DO NOT Want the cheese to cook).
Once we attain the smooth, non-grainy dough, add rose water, cardamom powder, saffron, and sugar.
Mix well and knead the dough for another 3-4mins.
Now, the dough consistency will be very light and smooth. Divide the entire dough into 11-12 equal portions.
Form into round balls (making sure there are no cracks or lines) and place them into the cupcake liner.
Decorate each kacha golla with crushed pistachio and rose petals.
Serve fresh or refrigerate for 3-4hrs and serve cold.
Nutrition Information:
Yield:
6
Serving Size:
2
Amount Per Serving:
Calories:

160
Total Fat:

11g
Saturated Fat:

6g
Trans Fat:

0g
Unsaturated Fat:

4g
Cholesterol:

35mg
Sodium:

100mg
Carbohydrates:

14g
Fiber:

0g
Sugar:

12g
Protein:

9g