Beer Battered Fish: extremely simple recipe to make 'restaurant style' Fish n Chips at home.
I'm using cod fish fillet fried to crispy golden crust covered in a beer-infused batter.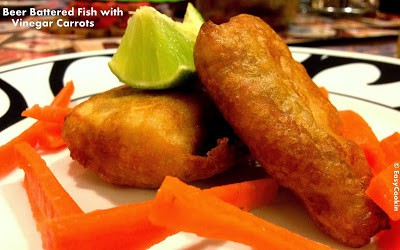 "Fish n Chips" ~ it's like pair made in heaven….. I've had many versions of this dish from many parts of the world but the best I ever tasted was in London.
It was hot crispy beer battered fish along with hot potato fries sprinkled with pinch of salt n malt vinegar along with hot cuppa chocolate…..oh it was just perfect on a rainy morning !!!
Infact this dish also originated from UK and you would find tons n tons of fish n chips takeaway scattered all over.
It taste best in fresh cod fish as it gives a better crispy taste however you can use any other thick white fish as per availability just make sure there are no bones in it.
Also, make the beer batter just before frying so that the beer bubbles don't fall flat as fresh beer adds to the lightness n crispness of the dish and gives it the rich almost orange color. Enjoy !!!
Serves: 4-6 People

Serving Suggestion:
Serve freshly fried with potato chips n cole slaw / Fresh Cut Veggies / Ketchup.
Tools:
2 Medium Bowl – To mix dry ingredients
1 Large Bowl – To mix all the ingredients
1 Medium/Large Non-Stick Frying Pot – Use as per availability
1 Large Plate – For dredged fish fillet
1 Tong – For Fish Batter
Dishes/Serving Plates
: Ingredients : 
For Fish Batter:
8 Fresh Fish Fillet – I'm using Cod Fish
1 Cup All Purpose Flour (Maida)
1 Pint Light Beer – Cold
½ Tsp Baking Powder
For Dredging:
6 Tbsp Cornstarch
1 Tsp Pepper Powder
½ Tsp Red Chili Powder
½ Tsp Salt
For Frying:
1 Cup Oil – I'm using canola oil
For Vinegar Carrots:
1 Large Bowl
5-6 Clean Large Carrots – Cut into ¼ in length
¼ Cup Vinegar
1 Tbsp Fresh Lemon Juice
Pinch of Salt
: Method :
Note: In a large bowl, mix all the ingredients for vinegar carrots and keep in the fridge.
Pat the fish fillet dry with kitchen towel making sure, they are completely dry and no water drips out of it.
In a medium bowl, mix together cornstarch, pepper, chili, and salt.
Now take 1 fish fillet and coat it evenly with the cornstarch mixture on both sides (Dredge) keep aside on a plate and follow the same process for all the remaining fillet.
In a large bowl, pour a cold beer and mix in flour and baking powder till a smooth pancake-like batter is prepared.(Making sure no lumps are formed and the mixture is not runny or dry).
Heat oil in a non-stick pot for 5-6 minutes or till you see some fumes starting from the oil.
Now using a tong (Chimta), take 1 fish fillet at a time, dip it in the beer mixture evenly coating both side and tap it in the side of the bowl to remove any excess batter.
Now place the battered fish fillet in hot oil and cook till both sides are evenly golden brown (4-5min)
Follow step 6-7 till all fillets are coated and fried.
Dab any excess oil off the fried beer battered fish using a paper towel and sprinkle some salt on it.
Serve freshly fried along with cold vinegar carrot.
---
DID YOU TRY MY RECIPE – AWESOME!!!
Now Quickly SNAP A PICTURE & TAG :
#easycookingwithmolly +  @easycookingwithmolly on Instagram –> As I Loooove to see you recreate my recipes:
Connect with Me Here:  Facebook / Pinterest / Instagram / Twitter / Subscribe to our Newsletter / Google+